ANALISIS KUALITAS JASA DALAM MENINGKATKAN KEPUASAN KONSUMEN DI BAKER STREET CAFE BANDUNG
Adisty Arindiaty

Fakultas Ekonomi dan Bisnis, Universitas Padjadjaran, Bandung

Merita Bernik

Fakultas Ekonomi dan Bisnis, Universitas Padjadjaran, Bandung
Abstract
The globalization at present has brought a great impact on the business
world development. The alternative selected products offered to the customers
vary and make the customer expectation more to get something they want.
This condition requires for every company to try to give the best satisfaction
to its customers. This is done in order that the business people can maintain
their business in facing the tough competition. This research tried to assess
the customer satisfaction toward the service quality of Baker Street Café,
Bandung. The research method used here was the descriptive qualitative
one, using sampling technique, that is, the technique of probability sampling
and purposive sampling method. The data were collected using a field study
consisted of observation, interviews, questionnaires, and literature study. The
method of performance analysis was used to assess the customer satisfaction.
The result of the study showed that the service quality provided by Baker Street
Café, Bandung was categorized as " good" with the average highest score for the
dimension of reliability by 4,074 and the lowest for dimension of empathy and
assurance by 3,93. At this customer expectation level, the average highest score
was for the dimension of assurance by 4,55 and the lowest for the dimension of
reliability by 4,5, which means that the customers were unsatisfied because
their expectation was higher than the performance demonstrated by Baker
Street Café, Bandung.
Downloads
Download data is not yet available.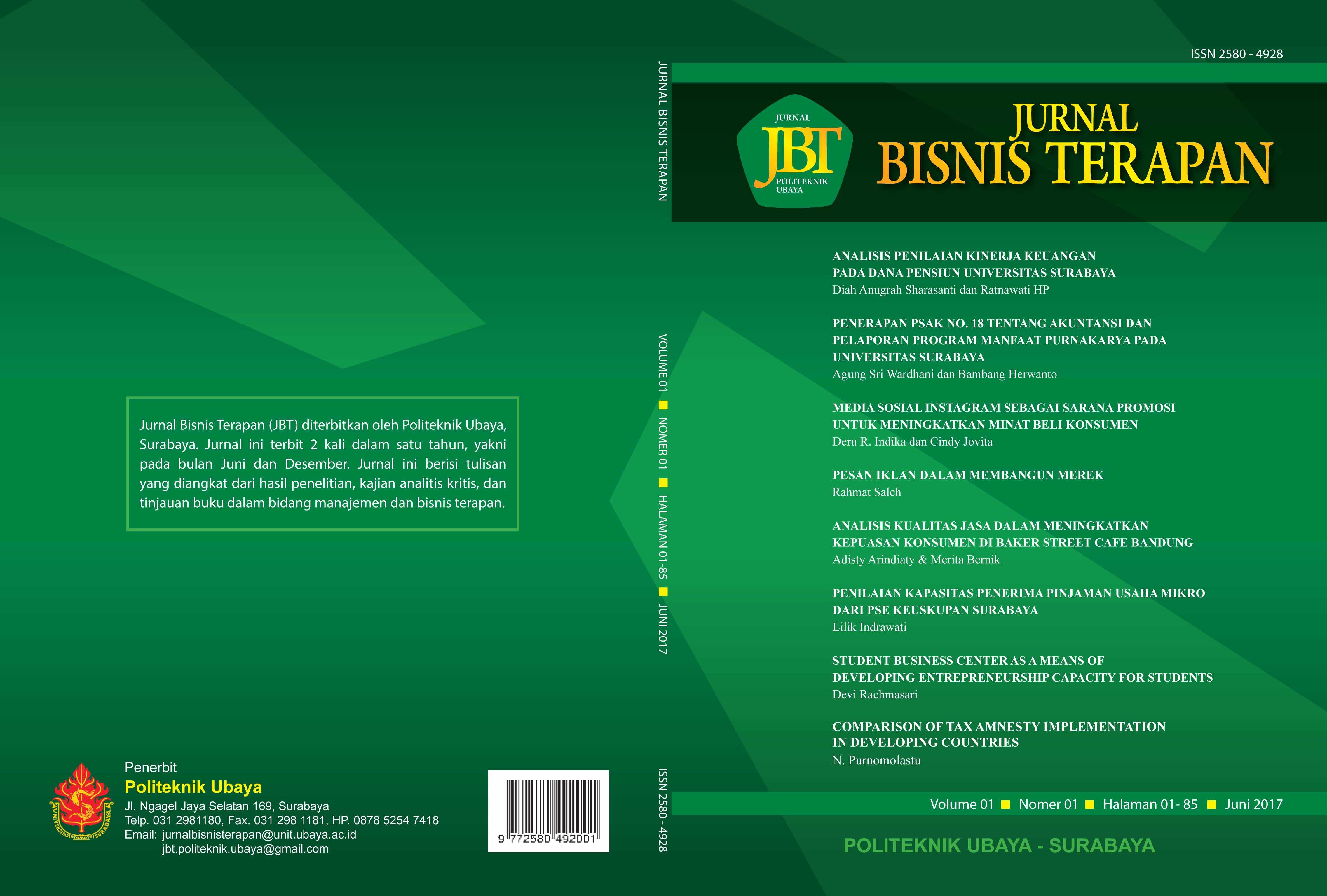 Ciptaan disebarluaskan di bawah Lisensi Creative Commons Atribusi-NonKomersial-BerbagiSerupa 4.0 Internasional.
Articles published in Jurnal Bisnis Terapan are licensed under a Creative Commons Attribution-NonCommercial-ShareAlike 4.0 International (CC BY-NC-SA 4.0) license, which permits anyone to copy, transform, or redistribute articles for any lawful purpose in any medium, provided appropriate credit is given to the original author(s) and Jurnal Bisnis Terapan is recognized as its original publisher. A link to this license should also be provided. Any derivative work of an article published in Jurnal Bisnis Terapan must also be shared under the same (or compatible) license.

Both copyright and publishing rights on articles are retained by the respective author(s), without restrictions. Only a non-exclusive license is granted to Jurnal Bisnis Terapan to publish the article and identify itself as its original publisher.