PENGARUH PENGUNGKAPAN CSR TERHADAP KINERJA KEUANGAN PERUSAHAAN SEKTOR PERTAMBANGAN YANG TERDAFTAR DI BEI PERIODE 2012-2015
Yumiko Setiya Setiya Sakti

Eko Pudjolaksono
Abstract
Now, every company is required not only increasing profit, but required to disclosure their Corporate Social Responsibility (CSR). It is done as a form of responsibility's companies for environment, and company's stakeholders. In addition, doing CSR activities can also used as a form of closer themselves to the local people around their companies. This research aims to know the effect of CSR disclosure on financial performance in mining sector that registered at Indonesian Stock Exchange. This research used quantitative method with using 138 samples for 4 years (2012-2015). For measured CSR activities, this research used Global Reporting Initiative (GRI). The result of this research showed that there are no significant effect between CSR disclosure and financial performance for ROA and ROE. But, this research find that there is a positives effect between CSR disclosure and financial performance for EPS and profit margin.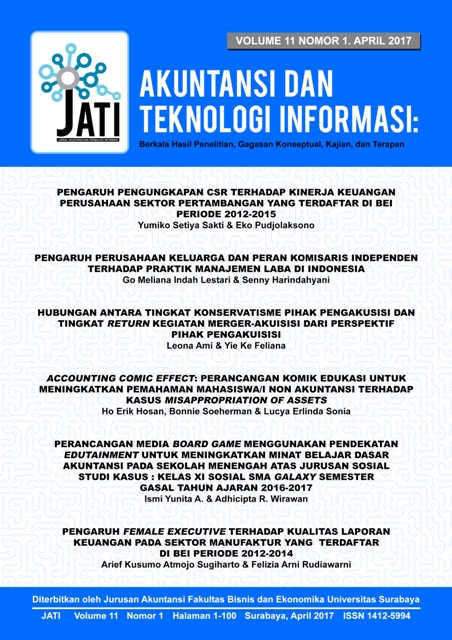 How to Cite
SAKTI, Yumiko Setiya Setiya; PUDJOLAKSONO, Eko. PENGARUH PENGUNGKAPAN CSR TERHADAP KINERJA KEUANGAN PERUSAHAAN SEKTOR PERTAMBANGAN YANG TERDAFTAR DI BEI PERIODE 2012-2015.
Jurnal Akuntansi dan Teknologi Informasi
, [S.l.], v. 11, n. 1, p. 1-12, aug. 2017. ISSN 1412-5994. Available at: <
http://journal.ubaya.ac.id/index.php/jati/article/view/270
>. Date accessed: 22 jan. 2018.
This work is licensed under a Creative Commons Attribution-ShareAlike 4.0 International License.