ANALISIS TINGKAT PROFITABILITAS BANK DENGAN METODE RISK BASED BANK RATING
Meliske Sitanaya

Jurusan Ilmu Ekonomi, Fakultas Bisnis dan Ekonomika, Universitas Surabaya
Abstract
This research aims to analyze whether the, Non-Performing Loan (NPL), Loan to Deposit Ratio (LDR), Net Interest Margin (NIM),) and Capital Adequacy Ratio (CAR) have significantinfluencesimultaneously and partially toward Return On Asset (ROA). This research classifiedthe verifiation research. The population is conventional commercial bank period 2006-2015. Sample was determined by the higher bank asset, a total of ten companies. The secondary data were taken such as from financialreport of Banks started from 2006 until 2015. The technique of data analysis in this research using panel regression analysis. ROA as a dependent variable, NPL, LDR, NIM and CAR as independent variables. Data processing using E-views 6. The result provides evidence that NPL and CAR have significantinfluencesimultaneously toward ROA, while NIM and LDR are not significantinfluencesimultaneously toward ROA. NPL partially have negative significantinfluencetoward ROA, LDR and NIM partially positive are not significantinfluencetoward ROA, and CAR partially have positive significant influence towd ROA.
Downloads
Download data is not yet available.
References
Amilia, L. S., & W. H. (2005). Analisis Rasio Camel Terhadap Prediksi Kondisi Bermasalah Pada Lembaga Perbankan Perioda 2000-2002. Jurnal Akuntansi & Keuangan, 131-147.

Adyani, L. R., & MM, D. R. (2010). Analisis Faktor-Faktor Yang Mempengaruhi Profitabilitas (ROA). 1-25

Aini, N. (2013). Pengaruh CAR, NIM< LDR< NPL< BOPO< dan Kualitas Aktiva Produktif terhadap Perubahan Laba (Studi Empiris Pada Perusahaan Perbankan yang Terdaftar di BEI) Tahun 2009-2011. Jurnal Dinamika Akuntansi, Keuangan dan Perbankan, 14-26.

Asih, B. (2013). Pengaruh Profitabilitasdan Tingkat Suku Bunga SBI Terhadap Likuiditas Perbankan Pada Bank Umum Yang Terdaftar Di Bursa Efek Indonesia (BEI) Periode 2009-2011. Likuidity, Probability, SBI Rate, 1-8.

Dahlan, S. (1999). Manajemen Lembaga Keuangan Kebijakan Moneter dan Perbankan. Edisi Kelima. Jakarta.: Fakultas ekonomi Universitas Indonesia.

Dendawijaya, L. (2005). Manajemen Perbankan, Edisi Kedua, Cetakan Kedua. Bogor Jakarta: Ghalia Indonesia

Kasmir. (2014). Manajemen Perbankan. Jakarta: PT. Raja Grafindo Persada

Kasmir, S. (1998). Bank dan Lembaga Keuangan Lainnya. Jakarta: PT RajaGrafindoPersada.

Kasmir, S. M. (2004). Bank dan keuangan Lainnya Edisi Keenam. Jakarta: PT RajaGrafindo Persada

Kasmir, S. M. (2010). Bank dan Lembaga Keuangan Lainnya Edisi Revisi. Jakarta: PT RajaGrafindo Persada

Kowanda, D., & Paramitha, G. (2015). ProfitabilitasBank Di Indonesia Dengan Metode Risk Based Bank Rating Pada Emiten Perbankan Bursa Efek Indonesia vol. 11, No. 1. 15-30.

M, M. S., M. A., & Habbe, A. H. (2012). Pengaruh Rasio Kesehatan Bank Terhadap Kinerja Keuangan Bank Umum Syariah dan Bank Konvensional Di Indonesia. Jurnal Analisis, 79-86.

Martono. (2002). Bank dan Keuangan Lain. Yogyakarta: EKONISIA.

Nurul Ichsan Hasan, M. (2014). Pengantar Perbankan. Jakarta: Gaung Persada Press Group.

Permatasari, M., Sudjana, N., & Saifi,M. (2015). Penggunaan Metode Risk Based Bank Rating Untuk Menganalisis Tingkat Kesehatan Bank (Studi Pada Bank Yang Terdaftar Dalam Papan Pengebangan Bursa Efek Indonesia Tahun 2011-2013. Jurnal Adminstrasi Bisnis Vol.22, No.1, 1-9.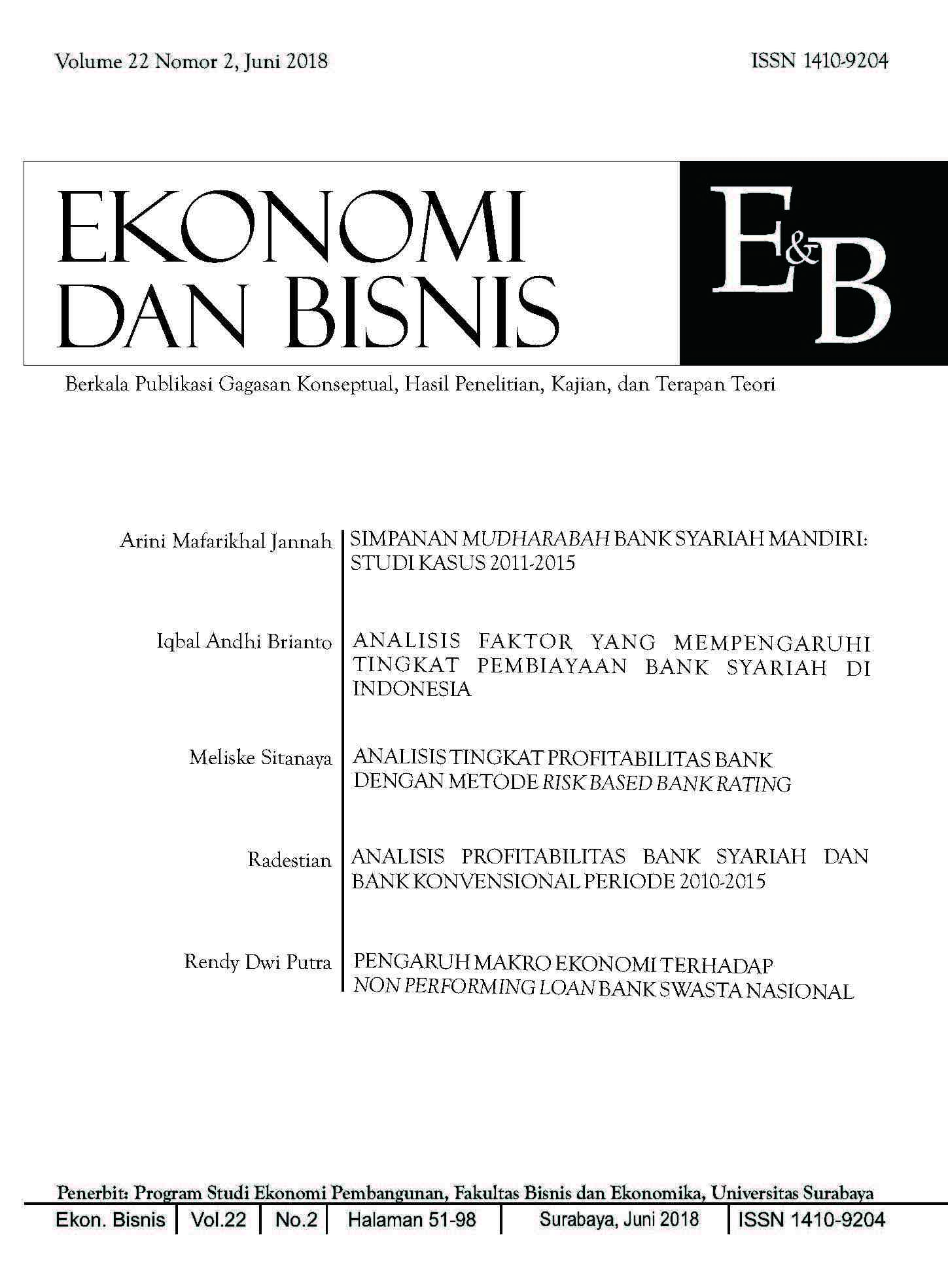 http://creativecommons.org/licenses/by-nc-nd/4.0