ANALISIS PROFITABILITAS BANK SYARIAH DAN BANK KONVENSIONAL PERIODE 2010-2015
Radestian Radestian

Jurusan Ilmu Ekonomi, Fakultas Bisnis dan Ekonomika, Universitas Surabaya
Abstract
This study aims to analyze the profitabilitybetween Islamic Banks and Conventional Banks in Indonesia. This study uses data from 2010 to 2015. The samples used in this study consists of 3 Islamic Banks and 3 Conventional Banks. While the data used is obtained from the financialstatements of each bank stored in the bank website address. Data analysis technique is done by t-test and regression analysis with SPSS 18 application. The estimation results on the t-test showed that the banks used in this study did not have significantmean differences. The result of the regression test shows simultaneously the independent variable of DPK, Equity and Loan only affects the ROA of conventional bank. While partially on conventional banks DPK has a negative effect is not significantto ROA, Equity has a positive effect is not significantto ROA, Loans has a positive effect is not significantto ROA. In Islamic banks DPK has a positive effect is not significantto ROA, Equity has a negative effect is not significantto ROA, Loans has a negative effect is not significantto ROA. From these results can be said that conventional banks more profitablewhen compared to Islamic banks.
Downloads
Download data is not yet available.
References
Abdurrachman, A. (1993). Ensiklopedia Ekonomi Keuangan Perdagangan. Jakarta: Pradnya Paramita.

Ansari, S., dan Rehman, A. (2010). Financial Performance of Islamic and Conventional Banks in Pakistan: A Comparative Study. International Conference on Islamic Economics and Finance, p. 1-19.

Antonio, M. S. (2001). Bank Syari'ah: Dari Teori ke Praktek. Jakarta: Gema Insani.

Bank Indonesia. (2017). Jumlah Bank. Diakses melalui www.bi.go.ig pada 13 Januari 2017.

Dendawijaya, L. (2009). Manajemen Perbankan. Edisi Revisi. Bogor : PT Ghalia, Indonesia.

Gazali, D.S., dan Usman, R. (2010). Hukum Perbankan. Jakarta: Sinar Grafika

Martono. (2002). Bank dan Lembaga Keuangan Lain. Yogyakarta: Ekonisia.

Patmiwati, W. M., Yuesti, A., dan Sudiartana, I. M. (2016). Pengaruh Kecukupan Modal, Dana Pihak Ketiga dan Pertumbuhan Kredit Terhadap ProfitabilitasPada Perusahaan Perbankan Yang Terdaftar di BEI. Lembaga Penelitian dan Pemberdayaan Masyarakat (LPPM) UNMAS Denpasar: Bali.

Ramlana, H., dan Adnana, H. S. (2016). The Profitabilityof Islamic and Conventional Bank: Case study in Malaysia. Procedia Economics and Finance. Vol. 35, pp. 359 – 367.

Samad, A., dan Hassan, M. K. (2000). The Performance of Malaysian Islamic Bank During 1984-1997: An Exploratory Study. International Journal of Islamic Financial Services. Vol. 1 No.3.

Sukma, Y. S. (2009). Pengaruh Dana Pihak Ketiga, Kecukupan Modal dan Risiko Kredit terhadap Profitabilitas(Perusahaan Perbankan yang Terdaftar di BEI). Skripsi. Universitas Negeri Padang.

Sukmawati, N. M. E., dan Purbawangsa, I. B. A. (2016). Pengaruh Pertumbuhan Dana Pihak Ketiga, Pertumbuhan Kredit, Risiko Kredit, Likuiditas, dan Kondisi Ekonomi Terhadap Profitabilitas.E-Jurnal Manajemen Unud. Vol. 5, No.9.

Suldiarta (2012). Analisis Pengaruh Jumlah Ekuitas, LDR, NPL, BOPO dan NIM Terhadap Rentabilitas Perbankan. Tesis, Universitas Diponegoro.

Susanti, N. (2014). Pengaruh Debt Financing, Equity Financing, dan Non Performing Financing (NPF) Terhadap Kinerja Keuangan Bank Umum Syariah. Skripsi. Universitas Islam Negri Sunan Kalijaga; Yogyakarta.

Zainah. (2005). Analisis Faktor-Faktor yang Mempengaaruhi ProfitabilitasPerbankan Period 2000 – 2002 (Studi Empiris: Bank Umum di Indonesia). Tesis. Program Pascasarjana Magister Managemen Undip, Semarang.

Arta, I. W. J., dan Kesuma, I. K. W. 2014. Pengaruh Tingkat Perputaran Kas, Tingkat Suku Bunga Kredit dan Pertumbuhan Kredit Terhadap ProfitabilitasLembaga Perkreditan Desa (LPD) Di Kecamatan Tegalalang, Gianyar. E-Journal Manajemen. Universitas Udayana.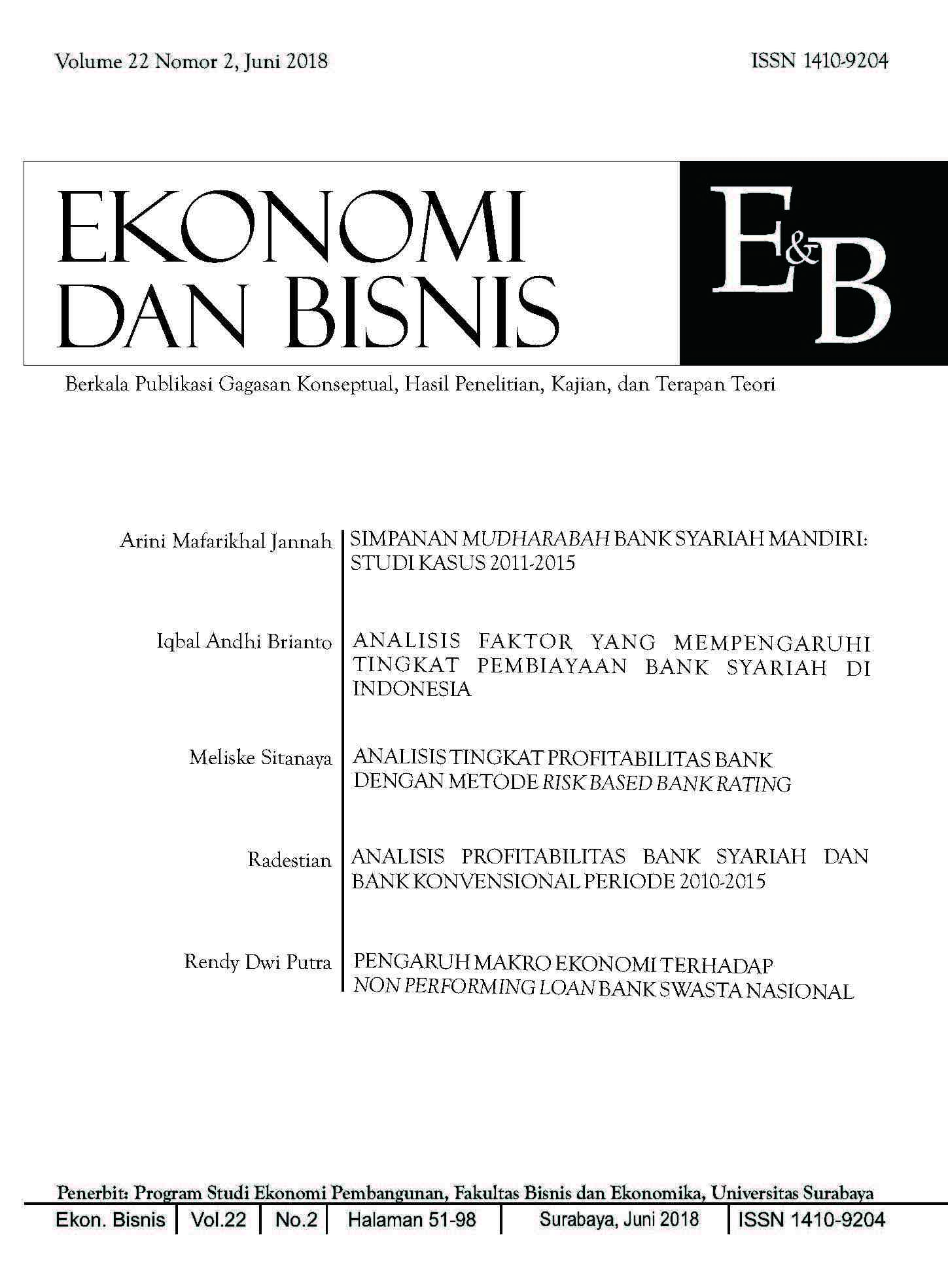 http://creativecommons.org/licenses/by-nc-nd/4.0