PENGARUH SIKAP MACHIAVELLIANISM DAN SOCIAL RESPONSIBILITY TERHADAP PERILAKU TAX AVOIDANCE YANG DILAKUKAN OLEH WAJIB PAJAK DI INDONESIA (JAWA TENGAH DAN JAWA TIMUR)
Aditya Santoso Gunawan

Jurusan Magister Akuntansi Fakultas Bisnis dan Ekonomika Universitas Surabaya

Dedhy Sulistiawan

Jurusan Magister Akuntansi Fakultas Bisnis dan Ekonomika Universitas Surabaya
Abstract
Penelitian ini bertujuan mengkonfirmasi hipotesis dari peneliti, dimana faktor internal seperti Machiavellianism dan faktor eskternal seperti social responsibility diindikasikan memeiliki signifikansi dari perilaku tax avoidance yang dilakukan oleh wajib pajak khususnya Jawa Tengah dan Jawa Timur dimana dari penelitian terdahulu di luar negeri terdapat fakta bahwa social responsibility dan machiavellianism cenderung memiliki korelasi negatif  Penelitian ini termasuk ke dalam penelitian kuantitatif dan termasuk ke dalam basic research, dimana penelitian ini berfungsi untuk menguji teori atas hipotesa yang telah dibuat peneliti mengenai bagaimana kaitan antara social responsibility dan machaivellianism dengan tax avoidance dimana penelitian ini dilakukan dengan menyebar kuisioner Dalam kehidupan sosial , adanya faktor internal dan eksternal yang mempengaruhi perilaku seseorang, salah satunya perilaku mengenai Tax Avoidance. Faktor internal yaitu Machiavellianism dimana perilaku ini cenderung merugikan orang lain serta faktor eksternal yaitu social responsibility dimana perilaku ini cenderung terbentuk karena lingkungan sekitar. Dari hasil penelitian, didapatkan hasil bahwa semakin tinggi tingkat Machiavellianism maka semakin tinggi orang untuk melakukan tax avoidance, sedangkan semakin tinggi tingkat social responsibility maka seseorang cenderung untuk melakukan tax avoidance. Hal ini agak unik karena di Indonesia adanya ketidakpercayaan terhadap birokrasi pemerintahan yang cenderung korup membuat adanya kompensasi perilaku tanggung jawab sosial ke bidang lainnya selain pajak. 
Downloads
Download data is not yet available.
References
Abbot, Walter F., R. Joseph Monsen. 1978. "On the Measurement of Corporate Social Responsibility: Self-Reported Disclosures as a Method of Measuring Corporate Social Involvement". Academy of Management Journal 1979, Vol.22, No. 3, pp. 501-515.

Abell, Loren,. Et all. 2015. "Machiavellianism, emotional manipulation, and friendship functions in women friendship". Elsevier Journal: Personality and Individual Differences 88 (2016) pp. 108-113.

Ajzen, I. dan Fishbein, M. 1975, Understanding Attitudes and Predisting Social Behavior. Prentice-hall, Englewood Cliffs : New Jersey

Akamah, Herita T. and Hope, Ole-Kristian and Thomas, Wayne B., Tax Havens and Disclosure Aggregation (August 6, 2016). Rotman School of Management Working Paper No. 2419573

Alabede, O James., et all. 2011. "Determinants of Tax Compliance Behavior: A Proposed Model For Nigeria". EuroJournals : International Research Journal of Finance and Economics Issue 78.

Akuntanonline. 2013. "Banyak Kasus Konsultan Pajak Nakal". 25 Januari 2016. http ://akuntanonline.com/show detail.php?mod=art&id=225&t=% 20 Banyak%20Kasus,%20%20Konsultan%20Pajak%20%20Nakal&kat=Perpajakan

Ang, S.H., Leon, S.M. 2000. "Out of the mouths of babes: business ethics and youths in Asia". Journal of Business Ethics, Vol. 28, pp. 129-44.

Axinn, C.N., et all. 2004. "Comparing ethical ideologies across cultures". Journal of Business Ethics, Vol. 54, pp. 103-19.

Adriana, Padma., et all. 2014. "Determinan Pembuatan Keputusan Etis Konsultan Pajak". Jurnal Akutansi, Vol. 4 : Malang

eritasatu.com. 2013. "Putusan Denda Asian Agri Bisa Tingkatkan Kepatuhan Pajak". 25 Januari 2016. http://www.beritasatu.com/ekonomi/90357-putusan-denda-asian-agri-bisa-tingkatkan-kepatuhan-pajak.html.

Bono, Joyce E., Timothy A. Judge,. 2001. "Relationship of Core Self-Evaluations Traits- Self-Esteem, Generalized Self Efficacy, Locus of Control, and Emotional Stability- With Job Satisfaction and Job performance: A Meta- Analysis": Journal of Applied Psychology 2001, Vol. 86, Np. 1,pp. 80-92.

Carroll, A. B. (1999). Corporate social responsibility. Evolution of a definitional construct. Business and Society, 38(3): 268–295.

Christie, R., & Geis, F. L. 1970. "Studies in Machiavellianism". New York. NY: Academic Press.

Dahling, J. J., et all. 2009. "The development and validation of a new Machiavellianism scale". Journal of Management, 35: 219-257.

Devinney, T. M. (2013). Taking the 'non' out of 'nonmarket' strategy. Global Strategy Journal, 3: 198–203.

Drory, A.,Gluskinos, U. M. 1980. "Machiavellianism and leadership". Journal of Applied Psychology, 65: 86-86.

Ferdinand. 2006. Metode Penelitian Manajemen: Pedoman Penelitian untuk skripsi, Tesis dan Disertai Ilmu Manajemen. Semarang: Universitas Diponegoro.

Ghura, D. (1998). Tax Revenue in Sub-Saharan Africa: Effects of Economic Policies and Corruption. September 1998

Ghosh, D, Crain, T.L. 199, "Ethical standards, attitudes toward risk, and intentional noncompliance: an experimental investigation". Journal of Business Ethics,Vol. 14, pp. 353-65.

Ghozali, Imam. dan Fuad. 2005. "SEM, Teori, Konsep dan Aplikasi dengan Program LISREL 8.80". Semarang: Badan Penerbit Universitas Diponegoro.

Ghozali, Imam. dan Fuad. 2008. "Structural Equation Modelling". Semarang: Badan Penerbit Universitas Diponegoro.

Ghozali, Imam. 2009. "Analisis Multivariable Lanjutan dengan Program SPSS Cetakan IV". Semarang: Badan Penerbit Universitas Diponegoro.

Ghozali, Imam, 2013. Aplikasi Analisis Multivariate Dengan Program SPSS, Edisi Tujuh, BP Universitas Diponegoro, Semarang.

Hair, et al. 2006. Multivariate Data Analysis 6th Ed. New Jersey: Pearson Education

Hegarty, W.H., Sims, H.P. Jr. 1978. "Some determinants of unethical decision behaviour: an experiment". Journal of Applied Psychology, Vol. 63 No. 4, pp. 451-7.

Hegarty, W.H., Sims, H.P. Jr. 1979. "Organizational philosophy, policies, and objectives related to unethical decision behavior: a laboratory experiment", Journal of Applied Psychology, Vol. 64 No. 3, pp. 331-8.\

Holland, J. L. (1973). Making vocational choices. Englewood Cliffs, NJ: Prentice Hall.

Inancsi, Tamas,. et all. 2015. "Machiavellianism and Adult Attachment in General Interpersonal Relationships and Close Relationships". Europe's Journal of Psychology.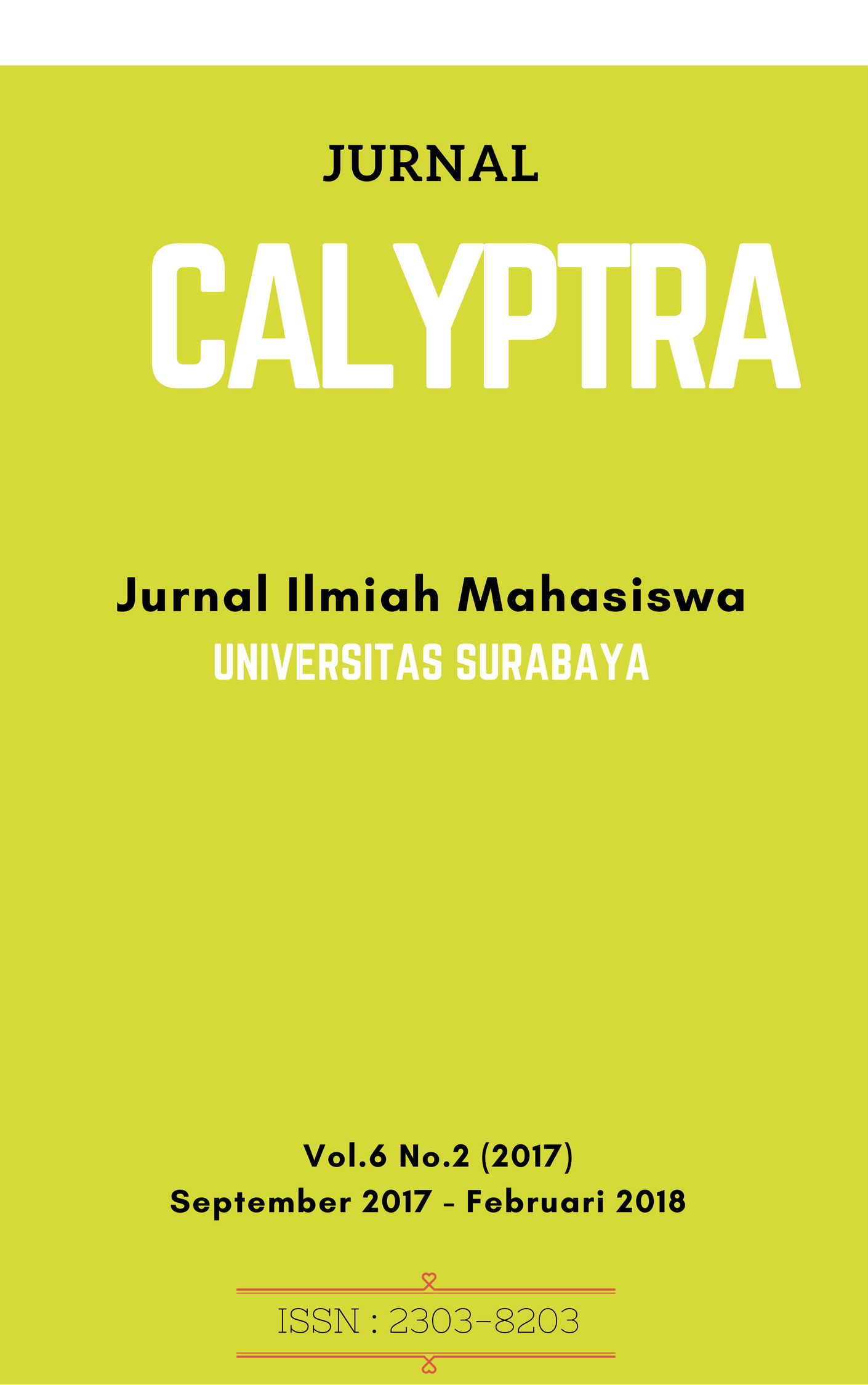 How to Cite
GUNAWAN, Aditya Santoso; SULISTIAWAN, Dedhy. PENGARUH SIKAP MACHIAVELLIANISM DAN SOCIAL RESPONSIBILITY TERHADAP PERILAKU TAX AVOIDANCE YANG DILAKUKAN OLEH WAJIB PAJAK DI INDONESIA (JAWA TENGAH DAN JAWA TIMUR).
CALYPTRA
, [S.l.], v. 6, n. 2, p. Hal. 1432 – 1451, sep. 2017. ISSN 2302-8203. Available at: <
http://journal.ubaya.ac.id/index.php/jimus/article/view/1070
>. Date accessed: 24 mar. 2019.
Section
Bidang Magister Akuntansi (MAK)