PENGARUH GOOD CORPORATE GOVERNANCE DAN DISCLOSURE TERHADAP FIRM VALUE PADA PERUSAHAAN TERBUKA YANG MENGIKUTI PROGRAM CGPI PERIODE 2009-2014
Cindy Laurensia

Jurusan Akuntansi Fakultas Bisnis dan Ekonomika Universitas Surabaya
Abstract
Tujuan dari penelitian ini adalah untuk mengetahui pengaruh good corporate governance dan disclosure dengan nilai perusahaan. Nilai perusahaan dinilai dengan menggunakan TOBIN'S Q. Sedangkan, good corporate governance (GCG) dilihat dari sisi Corporate Governance Perception Index (CGPI) yang di nilai oleh badan independen Indonesian Institute for Corporate Governance (IICG) dan disclosure yang dinilai berdasarkan kelengkapan pengungkapan yang telah di atur oleh Bapepam. Objek penelitian menggunakan perusahaan yang memiliki Corporate Governance Perception Index (CGPI) yang diselenggarakan oleh Indonesian Institute for Corporate Governance (IICG) periode 2009-2014. Penulis menggunakan metode analisis regresi untuk mengatahui seberapa besar pengaruh variabel CGPI dan RQI terhadap nilai perusahaan. Hasil dari penelitian ini adalah CGPI sebagai proksi GCG berpengaruh positif signifikan dengan TOBIN'S Q sebagai proksi nilai perusahaan, RQI sebagai proksi kelengkapan pengungkapan laporan tahunan tidak berpengaruh dengan TOBINS'S Q, terdapat hubungan signifikan negatif antara GROWTH dan LEVERAGE dengan TOBIN'S Q dan tidak ada pengaruh signifikan antara SIZE dengan nilai perusahaan.
Downloads
Download data is not yet available.
References
Baek, J.S., Kang, J.K. dan Park, K. S. 2004. Corporate governance and firm value: evidence from the Korean financial crisis. Journal of Financial Economics, Vol. 71 (2): 265-313.

Bokpin, Godfred A. 2013. Determinants and value relevance of corporate disclosure. Journal of Applied Accounting Research, Vol. 14 (2): 127-46.

Borgia, F. 2005. Corporate governance & transparency role of disclosure: how prevent new financial scandals and crimes?. http://traccc.gmu.edu/pdfs/publications/
money_laundering_publications/borgia02.pdf. (diunduh tanggal 26 November 2016).

BPKP. Pengertian Good Corporate Governance. http://www.bpkp.go.id/dan/konten/299/good-corporate.bpkp (diunduh tanggal 02 Juni 2016).

Chen, Jean J. et al. 2014. Do higher value firms voluntarily disclose more information? Evidence from China. The British Accounting Review, Vol 46: 18-32.

Cortez, Michael Angelo, dan Stevie Susanto. 2012. The determinants of corporate capital structure: evidence from japanese manufacturing companies. Journal of International Business Research, Vol. 11 (3): 121-33.

Fama, E. 1978. The effect of a firm's investment and financing decisions on the werlfare of its security holders. The Modern Theory of Corporate Finance, Vol. 68 (3): 22-38.

Fama, E. dan Jensen, M. 1983. Separation of ownership and control. Journal of Law and Economics, Vol. 26 (2): 301-25.

Ghozali, Imam. 2006. Aplikasi Analisis Multivariate Lanjutan dengan Program SPSS. Badan penerbit Universitas Diponegoro: Semarang.

Gultom et al. 2013. Analisis faktor-faktor yang mempengaruhi nilai perusahaan pada perusahaan farmasi di bursa Indonesia. Jurnal Wira Ekonomi Mikroskil, Vol. 3 (1): 51-60.

Jensen, M. dan Meckling, W. 1976. Theory of the firm: managerial behavior, agency costs and ownership structure. Journal of Financial Economics, Vol. 3 (4): 305-60.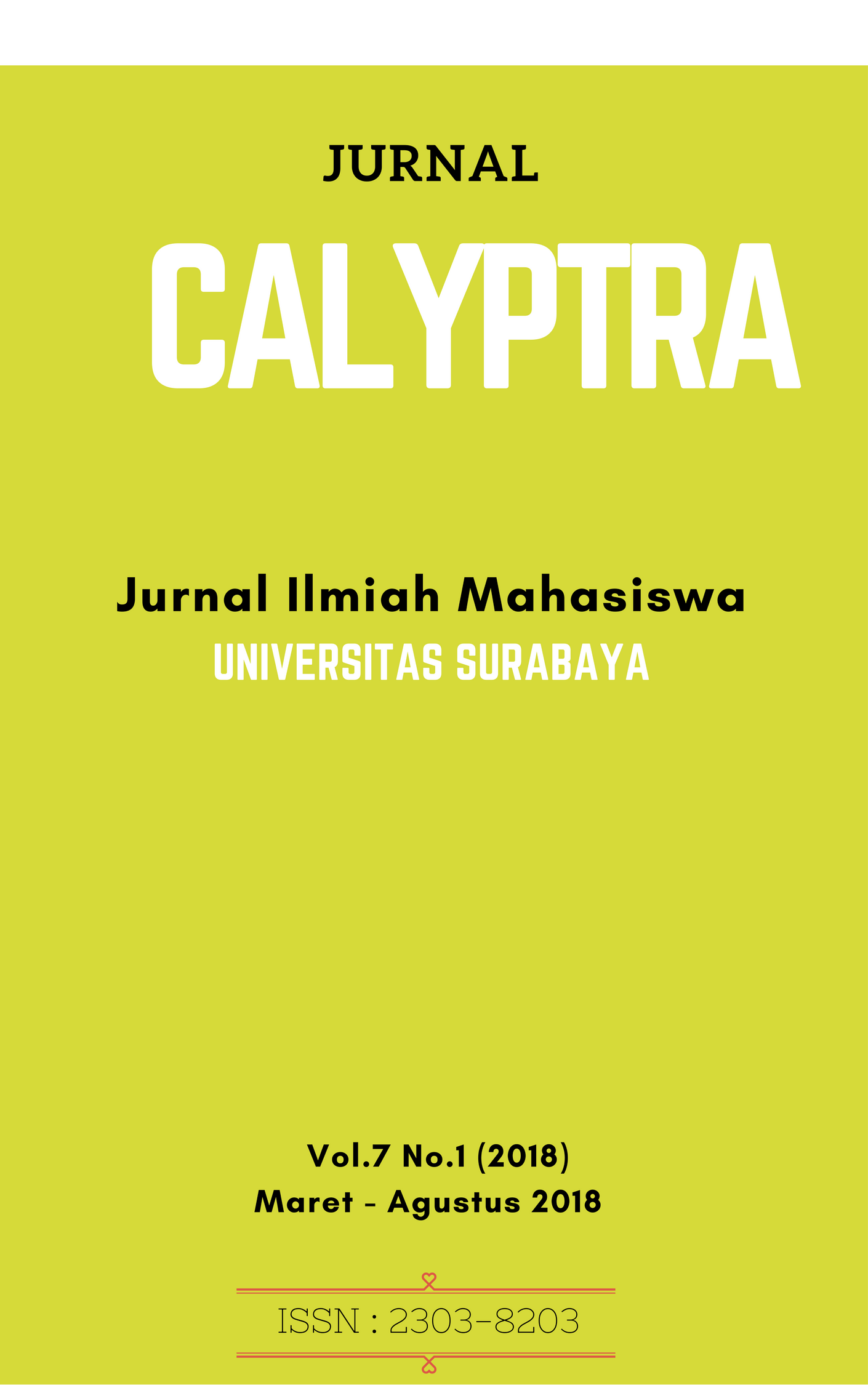 How to Cite
LAURENSIA, Cindy. PENGARUH GOOD CORPORATE GOVERNANCE DAN DISCLOSURE TERHADAP FIRM VALUE PADA PERUSAHAAN TERBUKA YANG MENGIKUTI PROGRAM CGPI PERIODE 2009-2014.
CALYPTRA
, [S.l.], v. 7, n. 1, p. Hal. 95 - 108, mar. 2018. ISSN 2302-8203. Available at: <
http://journal.ubaya.ac.id/index.php/jimus/article/view/1129
>. Date accessed: 19 june 2019.
Section
Bidang Akuntansi (AK)