PENERAPAN NON-FINANCIAL PERFORMANCE MEASURES UNTUK MENINGKATKAN KINERJA FRONT OFFICE DEPARTMENT ROYAL JELITA HOTEL BANJARMASIN
Jennifer Viony Tjoaputri

Jurusan Akuntansi Fakultas Bisnis dan Ekonomika Universitas Surabaya

Ria Sandra Alimbudiono

Jurusan Akuntansi Fakultas Bisnis dan Ekonomika Universitas Surabaya
Abstract
Semua industri perhotelan berlomba untuk menjadi yang terbaik bagi pelanggan. Hal ini menyebabkan hotel harus terus melakukan perbaikan dan evaluasi untuk meningkatkan kinerja. Untuk itu penting bagi badan usaha untuk menerapkan berbagai teknik sistem pengukuran kinerja untuk dapat mengukur kinerja yang telah dicapai oleh badan usaha. Pengukuran kinerja finansial tidak cukup sehingga diperlukan pengukuran kinerja non finansial dimana pengukuran ini mengarah kepada kegiatan operasional yang lebih memperinci kegiatan yang sedang berlangsung juga berdasarkan aktivitas karyawan itu sendiri serta dapat menganalisis kelemahan yang terdapat dalam badan usaha kemudian dapat dilakukan perbaikan - perbaikan guna meningkatkan kinerja badan usaha yang akan membantu dalam tercapainya tujuan badan usaha tersebut. Royal Jelita Hotel merupakan badan usaha jasa yang bertempat di Banjarmasin. Royal Jelita Hotel telah menerapkan beberapa pengukuran kinerja yaitu berdasarkan kedisiplinan waktu kerja, kepatuhan pada tugas, pemahaman materi kerja, inisiatif, attitude dan penampilan serta loyalitas karyawan. Namun dalam penerapan ini masih memiliki kelemahan, oleh karena itu, penelitian ini bertujuan untuk dapat memberikan saran bagi hotel terkait dengan perbaikan dari permasalahan yang ada serta menambahkan indikator pengukuran kinerja lain yang dapat membantu dalam pengambilan keputusan.
Downloads
Download data is not yet available.
References
Ahmad, K., and S. Mohamed. 2016. The Application of Non-Financial Performance Measurement in Malaysian Manufacturing Firms. Procedia Economics and Finance, Vol. 35 : 476-484.

Anggraeni, D. (2008). Pengaruh Motivasi dan Disiplin Kerja Terhadap Kinerja Karyawan pada PT. Hutama Karya Wilayah Semarang. Semarang : UNNES. Hal, 19-20

As'ad, M. 2002. Psikologi Industri Seri Ilmu Sumber Daya Manusia. Edisi KeEmpat. Yogyakarta: Liberty.

Bell, S.J., and L. James. A. 2006. Coping with customer complaints. Journal of Service, Sage Publications.

Biro Pusat Statistik, 2016. Tingkat Penghunian Kamar pada Hotel Berbintang di 27 Provinsi di Indonesia. https://www.bps.go.id/linkTableDinamis/view/id/980 (diunduh tanggal 9 Juni 2016).

Biro Pusat Statistik, 2015. Jumlah Akomodasi, Rata-rata Pekerja dan Jumlah Tamu per Hari Menurut Provinsi, Tahun 2015 (Hotel Bintang). https://bps.go.id/linkTabelStatis/view/id/1373 (diunduh tanggal 9 Juni 2016).

Darsono, Harry. Buku panduan: Penampilan Pegawai Bank Indonesia. Jakarta. 2001

Gijsel, P.V. 2012. The Importance of Non-Financial Performance Measures During the Economic Crisis. Tilburg University School of Economic and Management.

Hastuti, Sri dan Luky. 2009. Kinerja Manajerial : Hasil Kerjasama Tim dan Perbaikan Berkesinambugan, Jurnal Riset Ekonomi dan Bisnis Vol.9 No.1, Maret

Hongren, Charles T., Gary L. Sundem., Stratton, O, William., 2002, "Introduction to Management Accounting," 12 th Edition. Upper Saddle River: Prentice Hall International Inc.

Hussain, Md. Mostaque and Zahirul Hoque, 2002. Accounting, Auditing & Accountability Journal Vol. 15 No. 2, 2002 pp. 162-183 : Understanding Non Financial Performance Measurement Practice in Japanese Banks.

Kotler, Philip. 2003. Marketing Management. New Jersey: Prentice Hall.

Merchant, K. A., and W. A. Van der Stede. 2003. Management Control System: Performance Measurement, Evaluation and Incentives. Prentice Hall International Inc : England.

Neely, A. 2002. Business Performance Measurement, UK Cambridge University Press.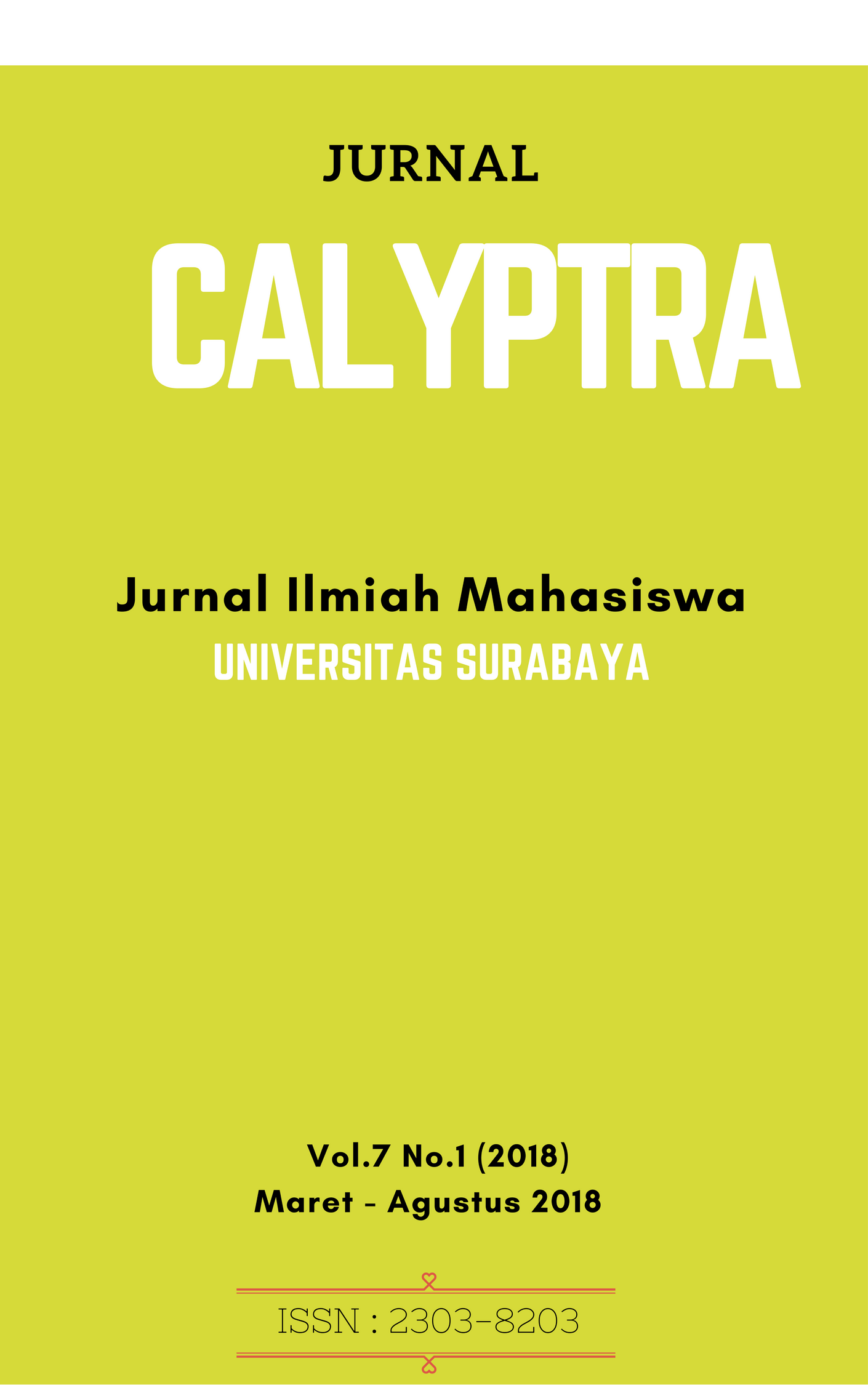 How to Cite
TJOAPUTRI, Jennifer Viony; ALIMBUDIONO, Ria Sandra. PENERAPAN NON-FINANCIAL PERFORMANCE MEASURES UNTUK MENINGKATKAN KINERJA FRONT OFFICE DEPARTMENT ROYAL JELITA HOTEL BANJARMASIN.
CALYPTRA
, [S.l.], v. 7, n. 1, p. Hal. 275 - 293, mar. 2018. ISSN 2302-8203. Available at: <
http://journal.ubaya.ac.id/index.php/jimus/article/view/1154
>. Date accessed: 17 oct. 2018.
Section
Bidang Akuntansi (AK)