PENGARUH KARAKTERISTIK DEWAN KOMISARIS TERHADAP AGGRESSIVE TAX PALNNING PADA PERUSAHAAN YANG TERDAFTAR DI BEI PERIODE 2013-2015
Elissa Virginia Gunawan

Jurusan Akuntansi Fakultas Bisnis dan Ekonomika Universitas Surabaya

Dedhy Sulistiawan

Jurusan Akuntansi Fakultas Bisnis dan Ekonomika Universitas Surabaya
Abstract
Penelitian ini bertujuan untuk mengetahui pengaruh karakteristik dewan komisaris terhadap aggressive tax planning pada perusahaan yang terdaftar di BEI periode 2013-2015 di Indonesia. Penelitian ini menggunakan profitabilitas (ROA) dan ukuran perusahaan sebagai variabel kontrol. Aggressive tax planning pada penelitian ini diukur dengan effective tax rate sebagai variabel dependen. Populasi dalam penelitian ini adalah perusahaan-perusahaan yang terdaftar di Bursa Efek Indonesia selama periode 2013 sampai dengan 2015. Hasil pengujian menunjukkan bahwa tidak ada  pengaruh antara karakteristik dewan komisaris yang diukur menggunakan gender, komisaris independen, dan ukuran dewan.
Downloads
Download data is not yet available.
References
Abor, J. 2007. Corporate Governance and Financing Decisions of Ghanaian Listed Firms.Corporate Governance, Vol. 7(1): 83-92.

Al- Najjar, B., & Hussainey, K. 2011. Revisiting the Capital Structure Puzzle: UK Evidence.The Journal of Risk Finance, Vol.12(4), 329-338.

Khaoula, A., and Zarai, M.A. 2012. Demographic Diversity in the Board and Corporate Tax Planning. Journal Business Management and Strategy, Vol.3(1), 72-86.

Baldry, J.C. 1987. Income Tax Evasion and the Tax Schedule: Some Experimental Results. Public Finance, Vol. 42 (2): 357-383.

Beasley, M. S., & Petroni, K. R. 2001. Board Independence and Audit-Firm Type Auditing: A Journal of Practice and Theory, Vol 20: 97-114.

Betz, M., Lenahan, O. and Shephard, J.M. 1989. Gender Differences in Proclivity for Unethical Behavior. Journal of Business Ethics, Vol. 8 (5): 321-324.

Bhasin, K. 2003. Memahami Gender. Jakarta. Teplok Press.

Booth,Alison L. and Patrick J.Nollen . 2009 . Gender Differences in Risk Behaviour: Does Nurture Matter? Australian National University University of Essex and IZA.Discussion Paper No.4027.

Boussaidi,A., and Mounira,S.H. 2015. The Impact of Governance Mechanism on Tax Aggresiveness: Empirical Evidence from Tunisian Context. Asian Economic and Social Society,Vol.5(1), 1-12.

Burr, V. 2002. "Gender and Social Psychology". London: Routledge. Centre for Tax Policy and Administration. 2004. Compliance Risk Management : Managing Improving Tax Compliance Organization for Economic Cooperation and Development

Cerbioni,F. and Antonio,P. 2007. Exploring the Effects of Corporate Governance on Intellectual Capital Disclosure: An Analysis of European Biotechnology Companies. European Accounting Review, Vol 16(4): 791-826.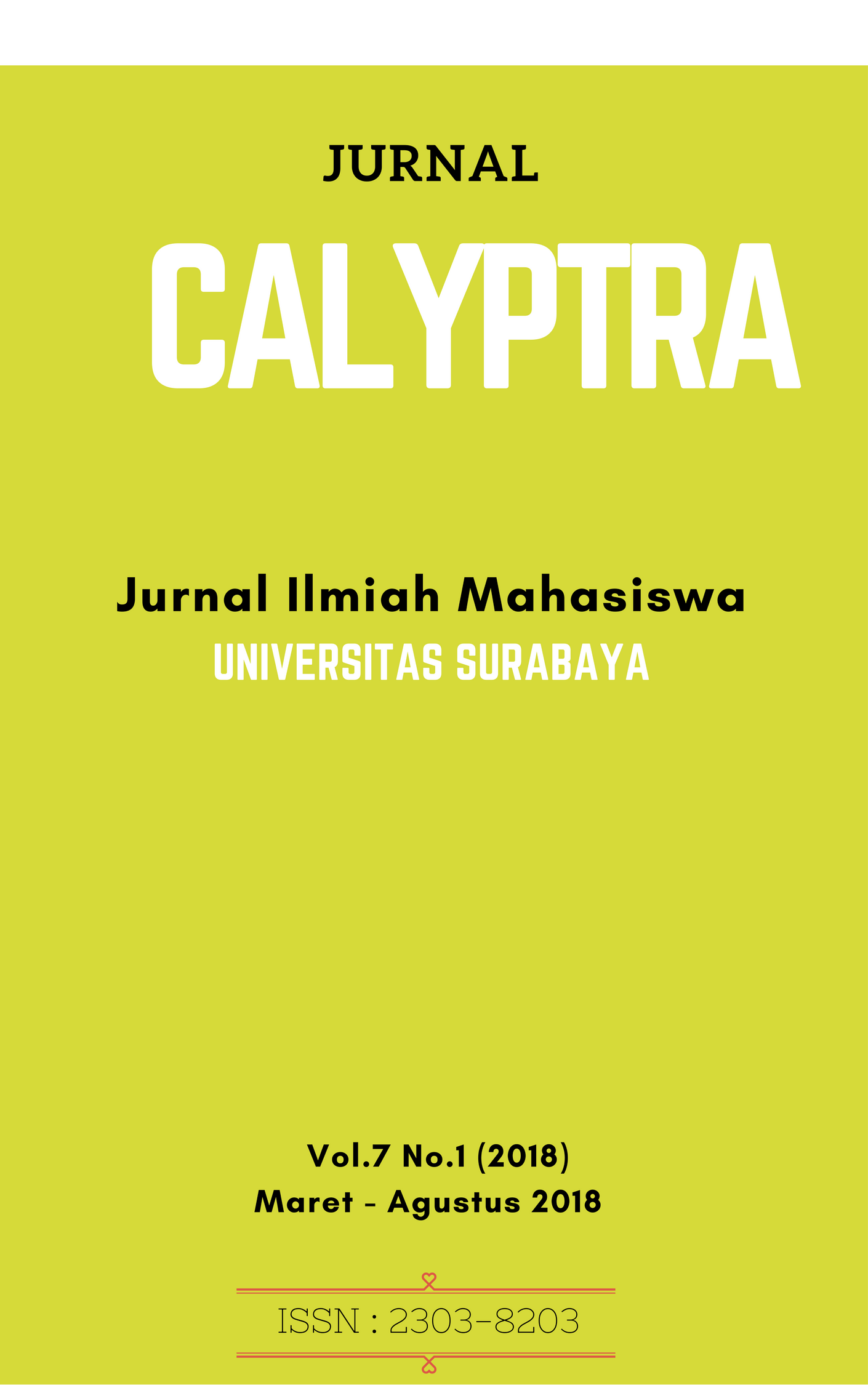 How to Cite
GUNAWAN, Elissa Virginia; SULISTIAWAN, Dedhy. PENGARUH KARAKTERISTIK DEWAN KOMISARIS TERHADAP AGGRESSIVE TAX PALNNING PADA PERUSAHAAN YANG TERDAFTAR DI BEI PERIODE 2013-2015.
CALYPTRA
, [S.l.], v. 7, n. 1, p. Hal. 407 - 431, mar. 2018. ISSN 2302-8203. Available at: <
http://journal.ubaya.ac.id/index.php/jimus/article/view/1169
>. Date accessed: 19 june 2019.
Section
Bidang Akuntansi (AK)