PENERAPAN MEKANISME GOOD CORPORATE GOVERNANCE TERHADAP KUALITAS LAPORAN KEUANGAN PADA PERUSAHAAN YANG TERDAFTAR DI BURSA EFEK INDONESIA PERIODE 2014-2015
Felisia Meliani

Jurusan Akuntansi Fakultas Bisnis dan Ekonomika Universitas Surabaya

Yie Ke Feliana

Jurusan Akuntansi Fakultas Bisnis dan Ekonomika Universitas Surabaya
Abstract
Tujuan penelitian ini adalah untuk mengetahui hubungan penerapan mekanisme Good Corporate Governance terhadap kualitas laporan keuangan. Kualitas laporan keuangan diukur dengan 2 proksi, yaitu Earning Management dan Earnings Response Coefficient, sebagai variabel dependen. Variabel independen yang digunakan adalah mekanisme Good Corporate Governance, antara lain Board Size, Board Independence, Board Meetings, Audit Committee Meetings, dan Audit Committee Expertise. Penelitian ini menggunakan penelitian kuantitatif dan diuji dengan metode regresi  linier berganda. Obyek dari penelitian ini adalah seluruh perusahaan yang terdaftar di Bursa Efek Indonesia periode 2014-2015 selain sektor keuangan. Total sampel yang digunakan sebanyak 420  perusahaan. Hasil dari penelitian ini menunjukkan bahwa mekanisme Good Corporate Governance tidak berpengaruh terhadap kualitas laporan keuangan dilihat dari Earning Management dan Earnings Response Coefficient, kecuali Board Size berpengaruh terhadap Earnings Response Coefficient.
Downloads
Download data is not yet available.
References
Ajiwanto, Awan Werdhy dan Herawati, Juni. 2013. Pengaruh Good Corporate Governance terhadap Return Saham Perusahaan yang Terdaftar di Corporate Governance Perception Index dan Bursa Efek Indonesia Periode 2010 – 2012". Universitas Brawijaya. Malang.

Anggraini, Vivi. 2015. Pengaruh Pengungkapan Islamic Social Reporting (ISR), Profitabilitas, dan Leverage terhadap Earnings Response Coefficient (ERC). Jakarta.

Anthony, R.N. dan Reece, J.S. 1989. Accounting, Text, and Cases. 8 th ed. Romewood, Richard D. Irwin.

BAPEPAM. 2004. Keputusan Ketua Badan Pengawas Pasar Modal No. KEP-29/PM/2004 (Peraturan No IX.I.5) tentang Pembentukan dan Pedoman Pelaksanaan Kerja Komite Audit.

Belkaoui, Ahmed Riohi. 2004. Accounting Theory. Jakarta, Salemba Empat.

Bellovary, N., A. B. Farris, D. Hackel, M. Kumershek, B. Pederson., dan C. Thistle. 2005. Current corporate income tax developments: Northeast Region. Journal of State Taxation, Summer, 23 (1), 51-.

Boediono, Gideon. 2005. Kualitas Laba: Studi Pengaruh Mekanisme Corporate Governance dan Dampak Manajemen Laba dengan Menggunakan Analisis Jalur. Simposium Nasional Akuntansi (SNA) VIII Solo.

Chandra, Alvin. 2011. Pengaruh Efektivitas Komite Audit terhadap Relevansi Nilai Laba Bersih dan Arus Kas dari Kegiatan Operasi. Skripsi Fakultas Ekonomi Magister Manajemen Universitas Indonesia.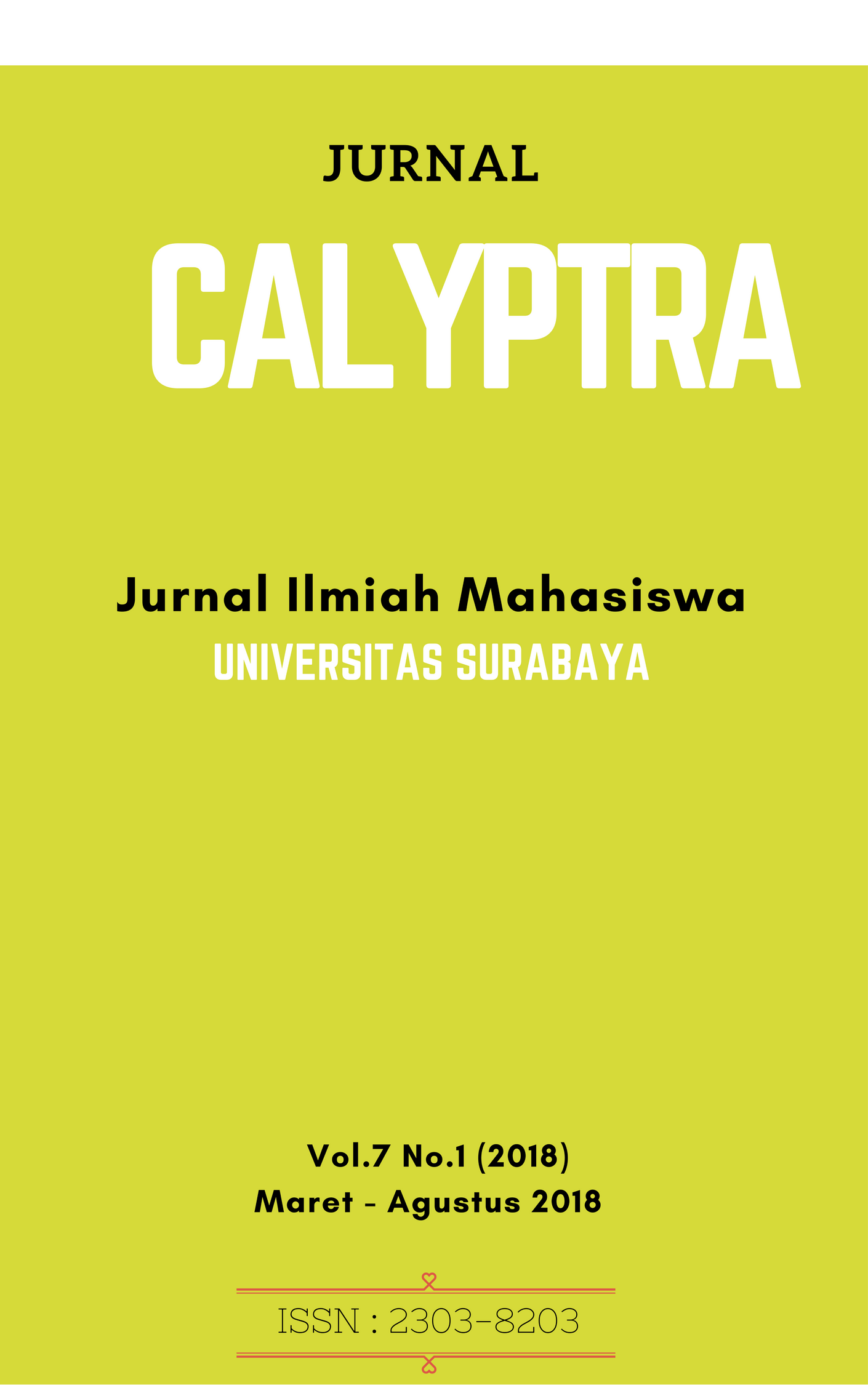 How to Cite
MELIANI, Felisia; FELIANA, Yie Ke. PENERAPAN MEKANISME GOOD CORPORATE GOVERNANCE TERHADAP KUALITAS LAPORAN KEUANGAN PADA PERUSAHAAN YANG TERDAFTAR DI BURSA EFEK INDONESIA PERIODE 2014-2015.
CALYPTRA
, [S.l.], v. 7, n. 1, p. Hal. 461 - 479, mar. 2018. ISSN 2302-8203. Available at: <
http://journal.ubaya.ac.id/index.php/jimus/article/view/1172
>. Date accessed: 17 june 2019.
Section
Bidang Akuntansi (AK)