PENERAPAN PERSONNEL DAN CULTURAL CONTROL DALAM MENGATASI TURNOVER KARYAWAN PADA CV "X" DI SURABAYA
Vincent Daniel Wijaya

Jurusan Akuntansi Fakultas Bisnis dan Ekonomika Universitas Surabaya
Abstract
Penelitian ini bertujuan untuk menjelaskan hubungan antara penerapan nilai dalam sistem pengendalian manajemen yaitu personnel dan cultural control untuk mengatasi turnover karyawan. Penelitian ini dilakukan untuk mengetahui penerapan personnel dan cultural control dalam badan usaha dan menganalisis peranannya terhadap turnover karyawan. Jenis Penelitian yang  digunakan adalah applied research dengan metode pendekatan kualitatif. Penelitian ini berusaha memberikan rekomendasi dalam mengatasi turnover karyawan dalam badan usaha dengan penerapan personnel dan cultural control yang terdapat pada badan usaha. Hasil penelitian menemukan adanya personnel dan cultural control yang perlu diatasi pada CV "X" di Surabaya , karena lemahnya sistem pengendalian manajemen dan adanya motivational problem yang terjadi dalam badan usaha.
Downloads
Download data is not yet available.
References
Anthony, Roberth N., dan Vijay Govindarajan. 2007. Management Control System, 12th ed. New york: Mc Graw Hill Companies, Inc.

Ali Turkyilmaz Gulsen Akman Coskun Ozkan Zbigniew Pastuszak, 2011,"Empirical study of public sector employee loyalty and satisfaction", Industrial Management & Data Systems, Vol. 111 Iss 5 pp. 675 - 696

Denison, Daniel R.1990. Corporate Culture and Organizational Effectiveness. NY. John Willey & Sons.

Destyananda, Helen. 2014 Survei SDM Perbankan diakses dari : . (http://finansial.bisnis.com/read/20140515/90/228134/survei-sdm- perbankan-turnover-karyawan-15-motif-utamanya-cari-tunjangan-lebih- menjanjikan)

Gordon, Judith R. 1991. A Diagnostic Approach to Organizational Behavior. Massachussets: Allyn & Bacon, Inc.

Luthans, F. 1992, Organizational Behaviour, 6th ed., McGraw-Hill, New York, NY, p.s.126.

Mathis, Robert L dan Jackson, John H, 2004. Manajemen Sumber Daya Manusia, Buku kedua. Salemba Empat. Jakarta

Merchant, K.A., and W.A. Van der Stede. 2007. Management Control System: Performance Measurement, Evaluation, and Incentives, 2nd edition. London, Uk: Prentice Hall

Merchant, K. A., & Stede, W. A. 2012. Management Control System. Hampsire: Prentice Hall

Michal Biron Corine Boon, 2013,"Performance and turnover intentions: a social exchange perspective", Journal of Managerial Psychology, Vol. 28 Iss 5 pp. 511 - 531

Pearson, C.A. 1991, "An assessment of extrinsic feedback on participation, role perceptions, motivation, and job satisfaction in a self-managed system for monitoring group achievement", Human Relations, Vol. 44 No. 5, pp. 517-37.

Steers, R. M., & Porter, L. W. 1983. Motivation and Work Behavior. Third Edition. New York : McGraw Hill Book Company.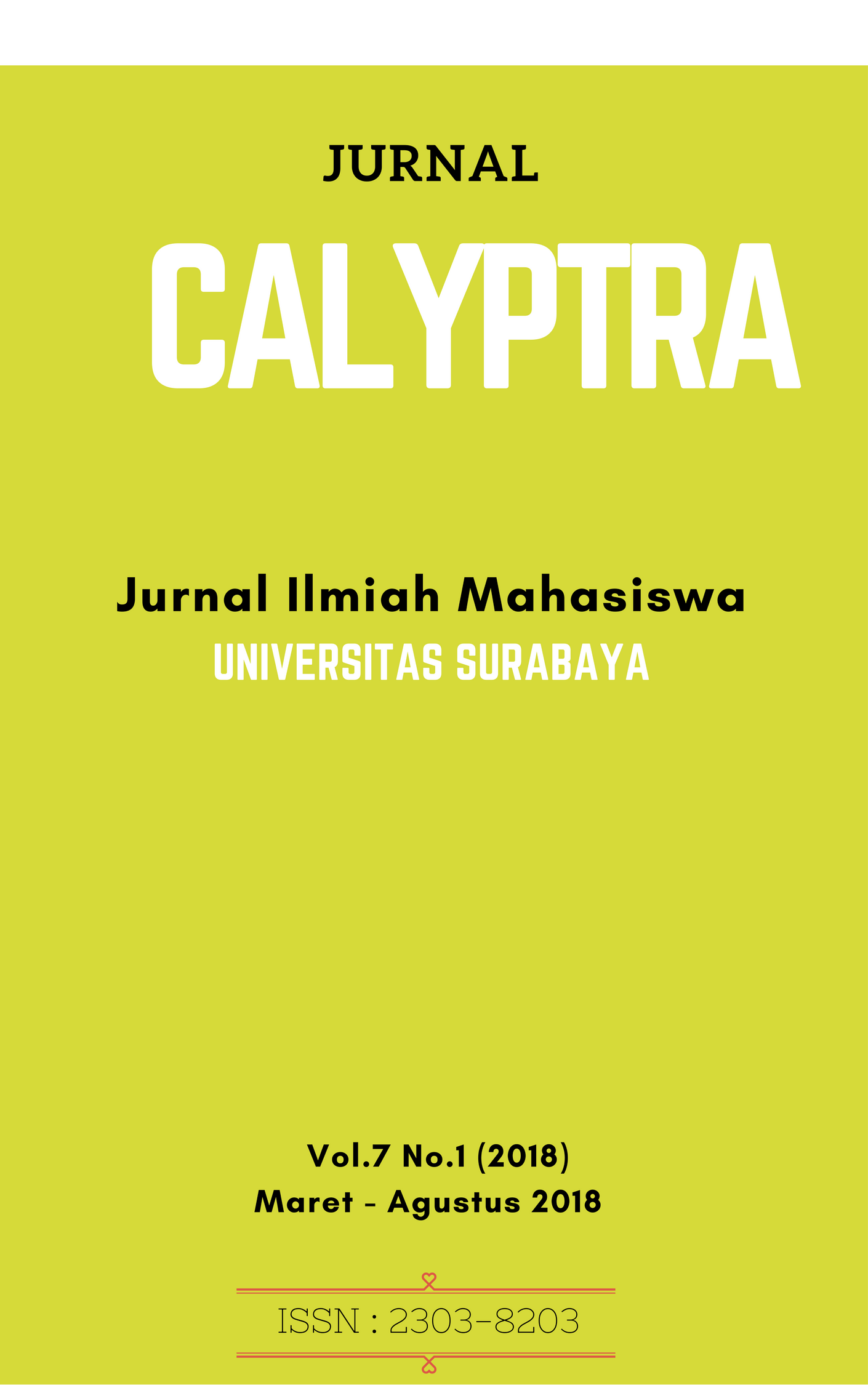 How to Cite
WIJAYA, Vincent Daniel. PENERAPAN PERSONNEL DAN CULTURAL CONTROL DALAM MENGATASI TURNOVER KARYAWAN PADA CV "X" DI SURABAYA.
CALYPTRA
, [S.l.], v. 7, n. 1, p. Hal. 615 - 625, mar. 2018. ISSN 2302-8203. Available at: <
http://journal.ubaya.ac.id/index.php/jimus/article/view/1184
>. Date accessed: 17 june 2019.
Section
Bidang Akuntansi (AK)