PENGARUH TUNNELING, SIZE DAN RASIO KEUANGAN TERHADAP KINERJA PERUSAHAAN DI MASA YANG AKAN DATANG DAN FINANCIAL DISTRESS PADA SEKTOR CONSUMER GOODS DI BURSA EFEK ASEAN PERIODE 2011-2015
Steffi Felicia

Jurusan Manajemen Keuangan Fakultas Bisnis dan Ekonomika Universitas Surabaya
Abstract
Penelitian ini bertujuan untuk mengetahui pengaruh tunneling, profitability, leverage dan size sebagai variabel independen terhadap future firm performance sebagai variabel dependen, dan juga pengaruh variabel tunneling, profitability, asset turnover, leverage, sales growth dan size terhadap financial distress pada sektor consumer goods yang terdaftar di Bursa Efek ASEAN periode 2011-2015. Penelitian ini menggunakan pendekatan regresi linier dan regresi logit dalam bentuk data panel untuk keseluruhan data observasi yang digunakan. Jumlah observasi pada penelitian ini sebanyak 568 (regresi linier) dan 710 (regresi logit) yang terdiri dari 142 perusahaan (45 perusahaan negara Malaysia, 30 perusahaan negara Indonesia, 30 perusahaan negara Thailand, 24  perusahaan negara Singapore, 8 perusahaan negara Vietnam dan 5 perusahaan negara Philippine) selama periode 2011-2015. Hasil temuan penelitian ini menunjukkan bahwa pada model future firm performance, tunneling dan size berpengaruh negatif signifikan terhadap future firm performance. Profitability berpengaruh tidak signifikan terhadap future firm performance. Sedangkan leverage berpengaruh positif signifikan terhadap future firm performance Pada model financial distress, variabel tunneling dan leverage berpengaruh positif signifikan terhadap financial distress. Profitability, asset turnover dan size berpengaruh negatif signifikan terhadap financial distress. Sedangkan sales growth berpengaruh tidak signifikan terhadap financial distress
Downloads
Download data is not yet available.
References
Atansil. L, 2011, Studi Eksistensi Dynamic Trade-Off Capital Structure pada Badan Usaha Non-Finansial di BEI Periode 2002-2009, Thesis, Universitas Surabaya

Brigham dan Houston, 2006, Dasar-Dasar Manajemen Keuangan, Jakarta:Salemba Empat

Brundy, Edwin P., 2014, Pengaruh Mekanisme Pengawasan Terhadap Aktivitas Tunneling, Skripsi, Universitas Atma Jaya

Dawar, Varun., 2014, Agency Theory, Capital Structure and Firm Performance: Some Indian Evidence, Managerial Finance, Vol. 40 Iss 12: 1190 – 1206.

Fidyati. N, 2003, Faktor-Faktor yang Mempengaruhi Kebijakan Hutang Perusahaan, Jurnal Ekonomi, Manajemen dan Akuntansi, Vol.1:17-34

Gamayuni, R.R., 2011, Analisis Ketepatan Model Altman sebagai Alat Ukur untuk Memprediksi Kebnagkrutan, Jurnal Akuntansi dan Keuangan, Vol. 16

Gujarati, Damodar N., dan Porter, Dawn, 2012, Dasar-dasar Ekonometrika, Buku 2, Jakarta: Salemba Empat.

Horne, V., James, C. dan Wachowicz, J.M., 2013, Prinsip-Prinsip Manajemen keuangan, Diterjemahkan oleh Aria Farahmita, Amanugrani, dan Taufik Hendrawan, edisi ketiga belas, Jakarta: Salemba Empat

Jiang, G., Lee, M.C.C dan Yue, H., 2010, Tunneling through Intercorporate Loans: The China Experience, Journal of Financial Economics, Elsevier

Jumingan, 2006, Analisis Laporan Keuangan, Jakarta: PT Bumi Aksara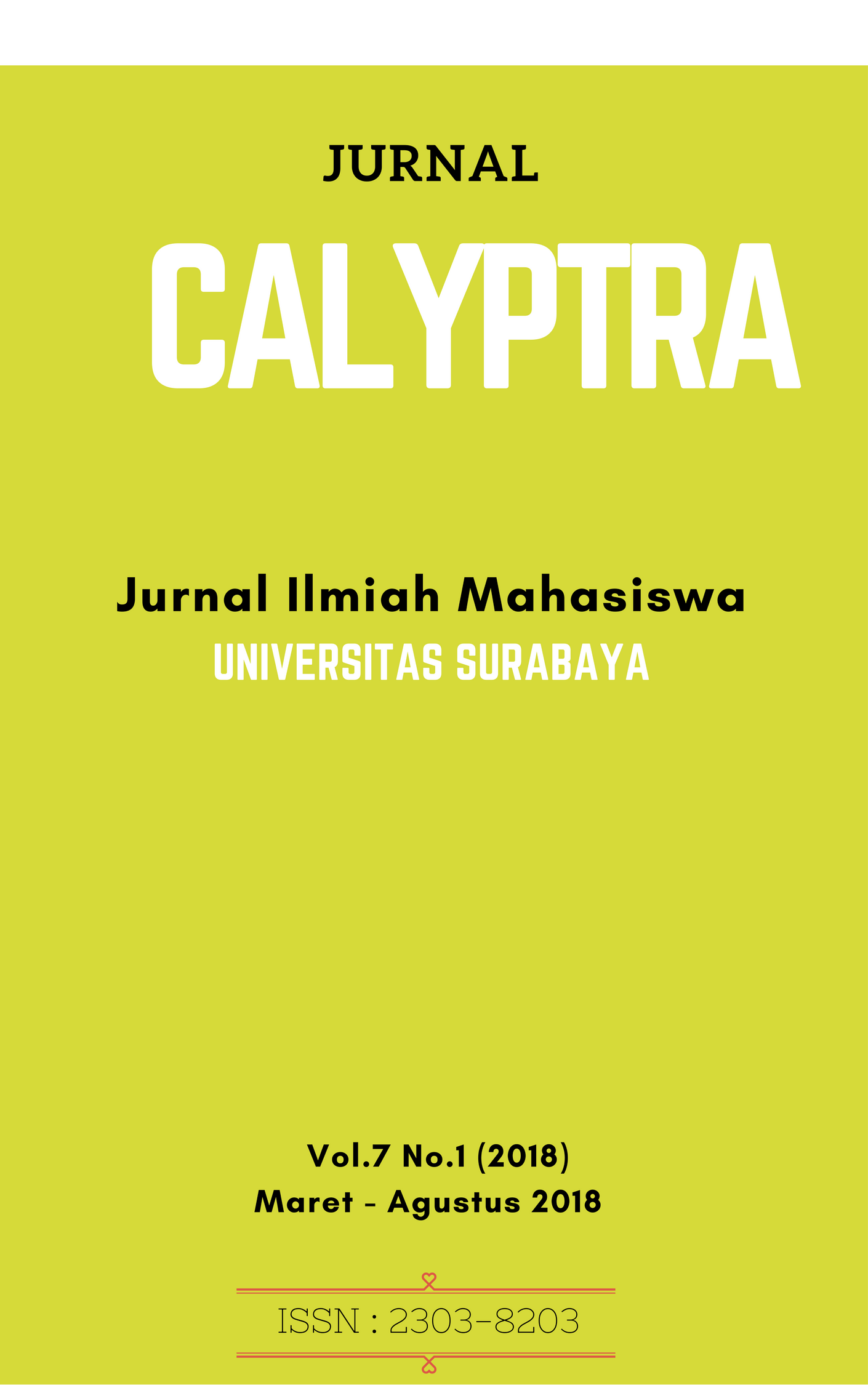 How to Cite
FELICIA, Steffi. PENGARUH TUNNELING, SIZE DAN RASIO KEUANGAN TERHADAP KINERJA PERUSAHAAN DI MASA YANG AKAN DATANG DAN FINANCIAL DISTRESS PADA SEKTOR CONSUMER GOODS DI BURSA EFEK ASEAN PERIODE 2011-2015.
CALYPTRA
, [S.l.], v. 7, n. 1, p. Hal. 1183 - 1195, mar. 2018. ISSN 2302-8203. Available at: <
http://journal.ubaya.ac.id/index.php/jimus/article/view/1248
>. Date accessed: 17 oct. 2018.
Section
Bidang Manajemen (M)