EVALUASI PENERAPAN ACTION CONTROL DAN RESULT CONTROL DALAM UPAYA MENINGKATKAN KUALITAS LAYANAN CV "X" CABANG SEMARANG
Cyinthia Dewi Soendoro

Jurusan Akuntansi Fakultas Bisnis dan Ekonomika Universitas Surabaya
Abstract
Tujuan penulisan skripsi ini termasuk explanatory research  karena fokus dari penulisan ini mengevaluasi penerapan action control dan result control dalam upaya meningkatkan kualitas layanan CV "X" cabang Semarang. Hasil penelitian menunjukkan bahwa CV "X" telah menerapkan action control dan result control yang bertujuan memberikan suatu layanan yang baik sehingga pelanggan memiliki penilaian positif. Namun, masih terdapat beberapa kelemahan dalam dimensi kualitas layanan yang ditimbulkan dari service quality gap yang terjadi sehingga membuat layanan menjadi kurang optimal. Oleh karena itu, dibutuhkan sistem pengendalian manajemen yang lebih baik untuk mengatasi masalah-masalah terkait kualitas layanan. Dalam penerapannya, action control dan result control akan saling melengkapi kebutuhan badan usaha dalam meningkatkan kualitas layanan yang diberikan. Dengan adanya peningkatan kualitas layanan, diharapkan perusahaan dapat memenuhi harapan konsumen sehingga menciptakan kepuasan dan loyalitas yang tinggi dan tujuan perusahaan pun dapat tercapai.
Downloads
Download data is not yet available.
References
Adiwaluyo, Eko. 2013. Massindo group berikan apresiasi bagi para dealer terbaik. Marketeers Magazine. (http://www.the-marketeers.com/archives/massindo-group-berikan-apresiasi-bagi-para-dealer-terbaik.html#.U3lpFnaNnIU). Diakses pada tanggal 18 mei 2014.

Fitzimmons, James A., and Mona J. Fitzimmons. 2004. Service Management : Operations, Strategy, and Information Technology, 4th edition. New York : Mc Graw Hill Companies, Inc.

Hadioetomo. 2009. Manajemen Ritel. Jakarta: PT Erlangga.

Ho, J.L., Cheng-Jen Huang & Anne Wu. 2011. The Impact of Management Control Systems on Efficiency and Quality Performance – An Empirical Study of Taiwanese Correctional Institutions. Asia-Pacific Journal of Accounting & Economics 18, pp. 77-91.

Merchant, K. A and W. A Van der Stede. 2003. Management Control System : Performance Measurement, Evaluation and Incentives. London : Prentice Hall.

Ostergren, K., dan Inger Stensaker. 2011. Management control without budgets: A field study of "beyond budgeting" in practice. NHH Norwegian School of Economics and Business Administration.

Parasuraman, A. Parasuraman, Valerie A. Zeithaml. Leonard Berry. 1985. A conceptual Model of Service Quality and Its Implication for Future Research. Journal of Marketing, Volume 49.

Parasuraman, A. Parasuraman, Valerie A. Zeithaml. Leonard Berry. 1994. Improving Service Quality in America : Lesson Learned. Academy of Management Executive, Volume 8.

Setyoningsih ,L.D. 2005. Analisis Pengaruh Dimensi Kualitas pelayanan terhadap kepuasan pelanggan Toko Mall Luwes Palu Karanganyar. Universitas Negeri Surakarta.

Stamm, E.J.P. 2007. Action Control by Implementation Intentions: Effective Cue Detection and Efficient Response Initiation. Social Cognition, Vol. 25, No. 2, 2007, pp. 248-266.

Stix, M.M. 2010. The interrelationship between management control systems and strategy. Department of Strategic Management WU Vienna.

Sulutpromo. 2012. Spring Air produk Indonesia terbaik di dunia. (http://sulutpromo.com/en/umum/spring-air-produksi-indonesia-terbaik-di-dunia) . Diakses pada tanggal 18 mei 2014.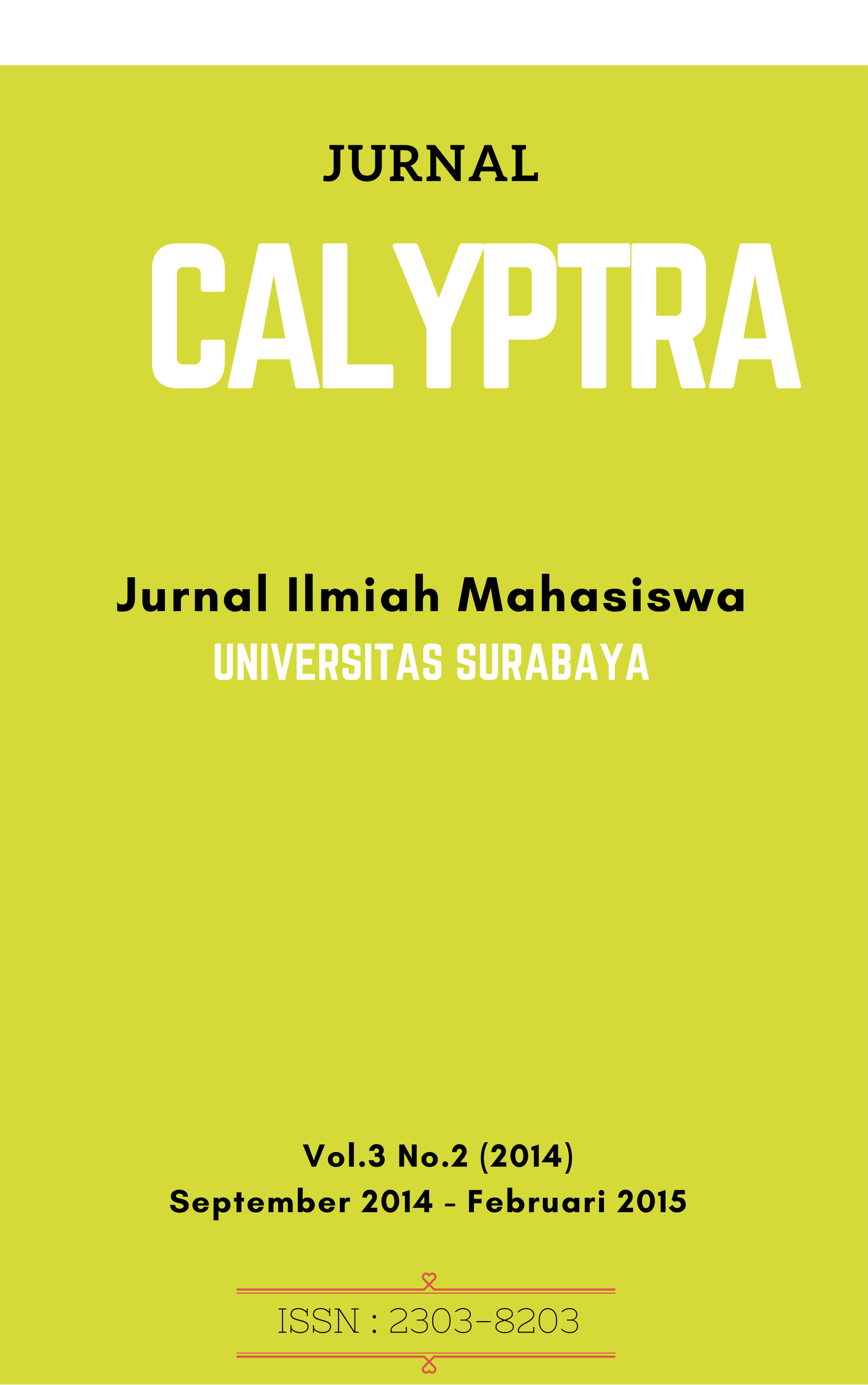 How to Cite
SOENDORO, Cyinthia Dewi. EVALUASI PENERAPAN ACTION CONTROL DAN RESULT CONTROL DALAM UPAYA MENINGKATKAN KUALITAS LAYANAN CV "X" CABANG SEMARANG.
CALYPTRA
, [S.l.], v. 3, n. 2, p. Hal. 1 - 20, sep. 2014. ISSN 2302-8203. Available at: <
http://journal.ubaya.ac.id/index.php/jimus/article/view/1346
>. Date accessed: 16 sep. 2019.
Section
Bidang Akuntansi (AK)