PENERAPAN NON FINANCIAL PERFORMANCE UNTUK MENINGKATKAN KINERJA BAGIAN PRODUKSI PADA CV. KARYA MOTOR NUSANTARA DI TANGERANG
Feny Tjongarta

Jurusan Akuntansi Fakultas Bisnis dan Ekonomika Universitas Surabaya

Dianne Frisko

Jurusan Akuntansi Fakultas Bisnis dan Ekonomika Universitas Surabaya
Abstract
Penilaian kinerja membutuhkan 2 penilaian yaitu secara financial dan non financial. Financial mengukur perusahaan berdasarkan laba yang didapatkan pada tahun tersebut dan memberikan tujuan jangka pendek. Non financial mampu mendukung pengukuran financial dengan mengambil keputusan jangka panjang seperti dengan mengevaluasi strategi atau kinerja yang telah dibuat, dijalankan, dan akan dikembangkan. Pengukuran non financial performance, badan usaha dapat mengetahui kinerja yang tidak dicantumkan dalam laporan financial. Penelitian ini merupakan penelitian kualitatif. Pengambilan data pada penelitian ini dilakukan dengan interview, obeservasi, dan dokumentasi yang termasuk dalam explanatory research. CV. KMN merupakan home industry yang memproduksi helm. Pengukuran financial CV. KMN melihat dari jumlah order dan laba yang meningkat. Sisi non financial lebih ditekankan pada penggunaan bahan baku, karena mengikuti peraturan pemerintah. Tidak adanya aturan atau standar baku yang diterapkan sehingga kesalahan produksi terus terjadi yaitu banyaknya barang cacat karena karyawan yang asal-asalan memproduksi. Hasil dari penelitian ini menekankan pada penerapan non financial ini dibuatkan standar baku untuk meminimalkan barang cacat.
Downloads
Download data is not yet available.
References
Anthony, Robert, N and Govindarajan, Vijay, 2007. Management Control System. 12th Edition, New York: The McGraw-Hill Companies,Inc.

Deloitte Touche Tohmatsu 2007, " In the Dark : What Many Boards and Exceutive Still Don't Know About The Health of Their Businesses" http://www.deloitte.com/inthedark#. diakses Rabu, 28 November 2013

Financial safety. 2007, "Bussines System News for Finance and IT Professionals :Why Measuring Non Financial KPIS is Still a Black Art". http://www.fsn.co.uk/channel_financial_reporting/why_measuring_non_financial_kpis_is_
still_a_black_art. diakses Kamis, 5 Desember 2013

Gaspersz, Vincent. 2003. Total Quality Management. Jakarta : PT Gramedia Pustaka Utama.

Hongren, Charles T, George Foster, dan Srikant Datar (2000), "Cost Accounting: A Managerial Emphasis", Tenth edition. Prentice Hall International Inc., Englewood Clitfs, New Jersey.

Majalah SWA 2013, "Nissan Tidak Mau Pelanggannya Ganti Mobil ke Merek Lain". http://swa.co.id/business-strategy/nissan-tidak-mau-pelanggannya-ganti-mobil-ke-merek-lain

Moullin, M. (2002), Delivering Excellence in Health and Social Care, Open University Press,Buckingham

Neely, A.D., Adams, C. and Kennerley, M. (2002), The Performance Prism: The Scorecard for Measuring and Managing Stakeholder Relationships, Financial Times/Prentice Hall, London

Ross, Stephen A., Randolph Westerfield, dan Jeffrey Jaffe (1996), Corporate Finance, New York : MacGraw-Hill Book Company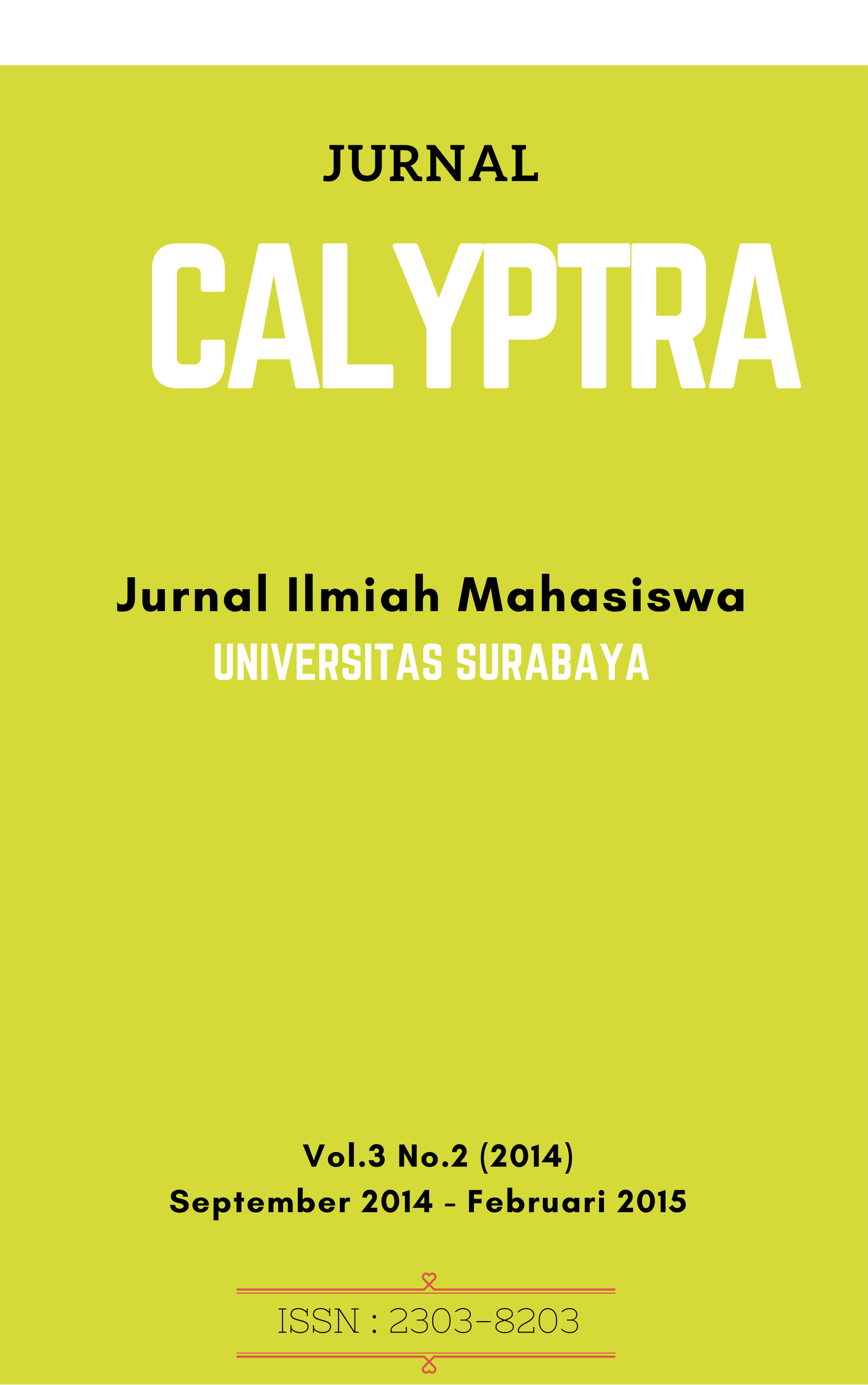 How to Cite
TJONGARTA, Feny; FRISKO, Dianne. PENERAPAN NON FINANCIAL PERFORMANCE UNTUK MENINGKATKAN KINERJA BAGIAN PRODUKSI PADA CV. KARYA MOTOR NUSANTARA DI TANGERANG.
CALYPTRA
, [S.l.], v. 3, n. 2, p. Hal. 1 - 10, sep. 2014. ISSN 2302-8203. Available at: <
http://journal.ubaya.ac.id/index.php/jimus/article/view/1370
>. Date accessed: 24 july 2019.
Section
Bidang Akuntansi (AK)