EVALUASI MANAGEMENT CONTROL SYSTEM DALAM MENINGKATKAN CONTROL PADA AKTIVITAS OPERASIONALPADA CV "X" DI SURABAYA
Teguh Ariyanto

Jurusan Akuntansi Fakultas Bisnis dan Ekonomika Universitas Surabaya
Abstract
Bisnis Keluarga merupakan badan usaha yang sering kali dijumpai dibanyak negara. Bisnis keluarga sendiri merupakan sumber penciptaan kekayaan pribadi dan juga merupakan perekonomian regional khususnya wilayah asia. Bisnis keluarga sendiri tidak terlepas dari suatu masalah. Adapun masalah yang dihadapi antara bisnis keluarga antara satu dan yang lain berbeda-beda. Oleh karena itu diperlukan sebuah sistem pengendalian manajemen untuk mengatasi suatu masalah tersebut.Pada penelitian ini obyek yang digunakan adalah CV "X" yang dimana juga merupakan bisnis keluarga yang bergerak pada bidang jasa yang khususnya jasa perbaikan kapal serta kontraktor. Penelitian juga merupakan applied research yang bertujuan untuk memberikan rekomendasi pada CV "X" Surabaya mengenai sistem pengendalian manajemen dalam upaya untuk meningkatkan kontrol pada aktivitas operasionalnya. Pendekatan pada penelitian ini adalah pendekatan secara kualitatif.Temuan yang didapatkan selama observasi atau masa penelitian adalah masih lemahnya kontrol pada aktivitas operasional pada CV "X" yang dimana berdampak pada penyelesaian pekerjaan serta kualitas hasil yang tidak sesuai dengan harapan dari seorang pemilik. Dalam hal ini CV "X" perlu memperbaiki sistem pengendalian manajemen agar control yang ada dalam CV "X" meningkat dan pekerjaan dapat terselesaikan sesuai tepat pada waktunya dan kualitas hasil pekerjaan sesuai dengan apa yang diharapkan.
The family business is a business entity that is often found in many countries. Family business itself is a source of personal wealth creation and also the regional economy, especially the Asian region. The family business is inseparable from the problem. The problems facing the family business between one and the other is different. Therefore we need a management control system to overcome the problem.In this study, the object used is the CV "X" which is also a family business which engaged the services of a particular field of ship repair services as well as contractors. Research is also an applied research that aims to provide recommendations on the CV "X" Surabaya on management control systems in an effort to improve control on operational activities. The approach in this study is a qualitative approach.The findings obtained during the observation or study period is still lack of control on the operational activity in CV "X" that is where the impact on the completion of the work and the quality of the results that are inconsistent with the expectations of the owner. In this case the CV "X" needs to improve management control system so that the control is in the CV "X" increases and the work can be completed on time and the corresponding quality of the work in accordance with what is expected.
Downloads
Download data is not yet available.
References
Agustian, Widi. 2012. 40 daftar Orang Terkaya di Indonesia. (online) ( www.okezone.com., diakses tanggal 16 maret 2014).

Anthony, Robert N., and Vijay Govindarajan. 2007. Management Control System,12 th Edition. NewYork: McGraw Hill Companies, Inc

Athanassiou, N., Crittenden, W.F., Kelly, L.M., dan Marquez,P. 2002. Founder Centrality Effects on the Mexican family Firms's Top Management Group : Firm Culture, Strategic Vision and Goals, and Firm Performance. Vol 37

Dewi, Arfiyan C.E dan Dhewanto, W. 2012. Key Success Factors of Islamic Family Business. Elsevier.Ltd.

Efferin, Sujoko dan Soeherman, Bonnie. 2010. Seni Perang Sun Zi dan Sistem Pengendalian Manajemen: Filosofi dan Aplikasi.Jakarta : Elex Media Komp.

F.Deil, siska amelie. 2013. Erick Thohir Beli klub Kaya Inter Milan darimana Duitnya. (online)( www.liputan6.com ., diakses tanggal 16 maret 2014)

Gracia, Khara. 2013. JCG Dekat dengan Penguasa Tidak Jamin Bisnis lancar. (online)( www.beritasatu.com. Diakses tanggal 16 maret 2014)

Iskandar, Eddy Dwinanto. 2011. Credit Suisse Kuliti 3568 Bisnis Keluarga di Asia.(online)( www.swa.co.id., diakses tanggal 16 maret 2014)

KPMG. 2013 . KPMG and Family Business Australia Survey of family business 2013.Australia. KPMG

Malmi, T., dan Brown, D.A. 2008. Management Control System as a Package-Opportunities, Challenges, and Research Directions. Management Accounting Research, Vol 19.

Merchant, K.A., dan Van der Stade, W.A.2007. Management Control System: Performance Measurement, Evaluation and Incentives. London, UK : Prentice Hall.

Pieper, M. Torsten. 2010. Non Solus: Toward a Psychology of Family Business. Vol 1

Pratiwi, Gustyanita. 2013. Pembelajaran Berharga dari Konflik Bisnis Keluarga.(online)(www.swa.co.id., diakses tanggal 16 maret 2014)

S. Reid, Renee dan S. Adams, John.2001. Human resource Management- a survey of practices within family and non-family firm, Vol 25.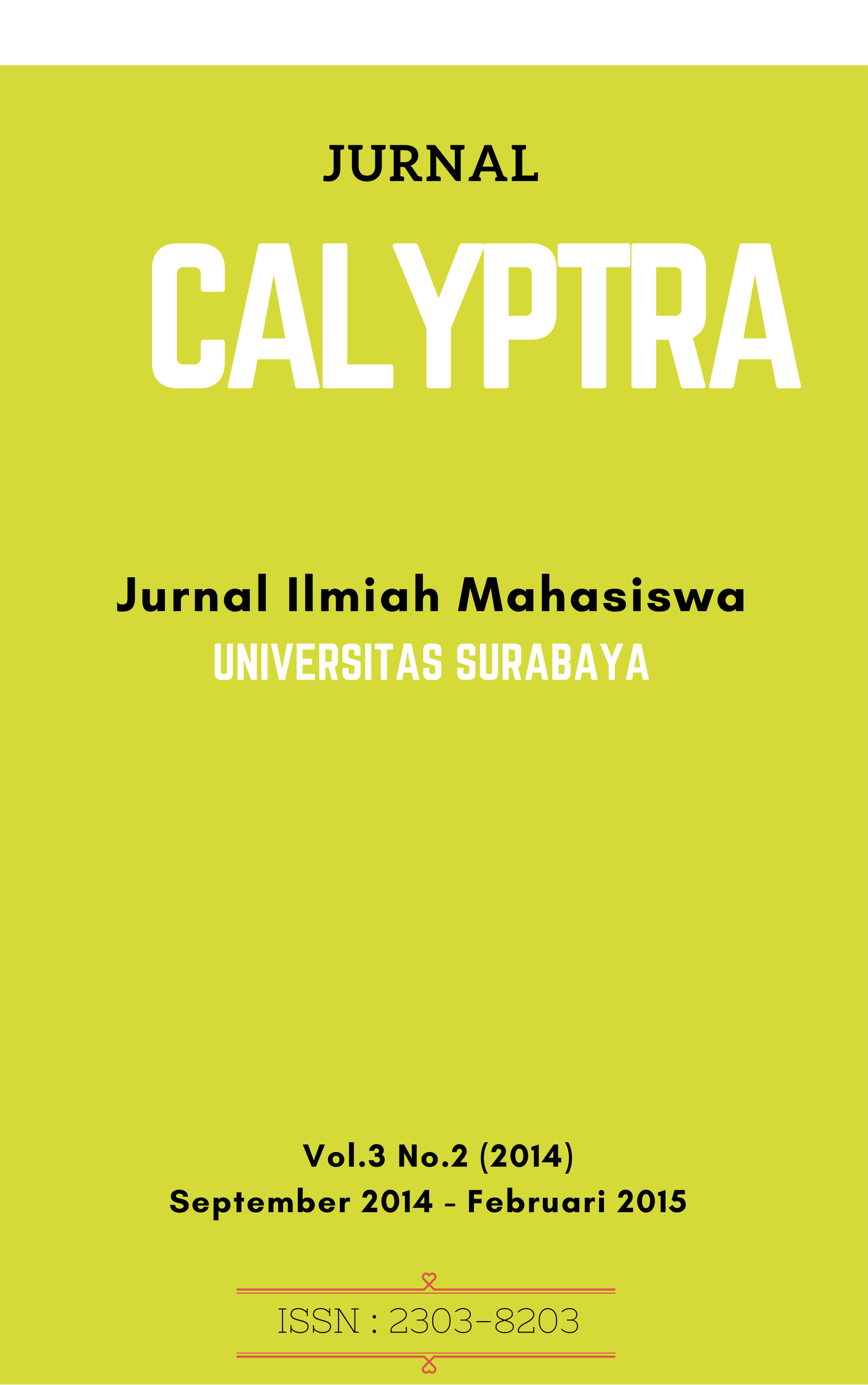 How to Cite
ARIYANTO, Teguh. EVALUASI MANAGEMENT CONTROL SYSTEM DALAM MENINGKATKAN CONTROL PADA AKTIVITAS OPERASIONALPADA CV "X" DI SURABAYA.
CALYPTRA
, [S.l.], v. 3, n. 2, p. Hal. 1 - 16, sep. 2014. ISSN 2302-8203. Available at: <
http://journal.ubaya.ac.id/index.php/jimus/article/view/1373
>. Date accessed: 16 sep. 2019.
Section
Bidang Akuntansi (AK)