PENERAPAN AUDIT OPERASIONAL UNTUK MENGEVALUASI EFEKTIVITAS PENGENDALIAN INTERNAL TERHADAP AKTIVITAS PENJUALAN PT. VARIA USAHA BETON DI WARU
Echa Putri Rachmawati Yullanda

Jurusan Akuntansi Fakultas Bisnis dan Ekonomika Universitas Surabaya
Abstract
This study purpose to examine the application of operational audits in order to improve the effectiveness of internal control over sales activity in the  PT. Varia Usaha Beton. PT. Varia Usaha Beton is a business entity engaged in the provision of products Ready Mix Concrete, Precast Concrete, Concrete Masonry and Stone Broke, and other building materials are made from cement. Internal controls implemented in PT. Varia Usaha Beton need to be evaluated in order to assess the effectiveness of internal controls in achieving its objectives. Internal controls are evaluated through operational audits of internal control is applied in order to be more effective, especially in the sales activity. Operational audit aims to assess the effectiveness of the entity's internal controls and provide recommendations for improvement to improve enterprise performance. Operational audit begins with a stage of pre-liminary survey aims to describe the business entities in depth and continued in the evaluation of internal control is applied entity based on the COSO framework. The results obtained from this phase some things that are considered as critical problem areas. Critical problem areas are further developed through the stages of the audit program, field work, and the development of audit findings. The results of these stages produce audit findings have been further developed to give recommendations for improvement on the audit findings to management. Recommendations for improvements reported in the reporting phase. This improvement recommendations intended that activities related to sales activities PT. Varia Usaha Beton become more effective in achieving its objectives.
Penelitian ini bertujuan untuk menguji penerapan audit operasional dalam rangka mengevaluasi efektivitas pengendalian internal terhadap aktivitas penjualan pada PT. Varia Usaha Beton.  PT. Varia Usaha Beton merupakan badan usaha yang bergerak di bidang penyediaan produk-produk Beton Siap Pakai, Beton Precast, Beton Masonry dan Batu Pecah, serta bahan bangunan lainnya yang berbahan baku semen. Pengendalian internal yang diterapkan di  PT. Varia Usaha Beton perlu dievaluasi guna untuk menilai keefektifan pengendalian internal dalam mencapai tujuannya. Pengendalian internal dievaluasi melalui audit operasional supaya pengendalian internal yang diterapkan menjadi lebih efektif, terutama pada aktivitas penjualan. Audit operasional bertujuan untuk menilai efektivitas pengendalian internal badan usaha dan memberikan rekomendasi perbaikan untuk meningkatkan kinerja badan usaha. Audit operasional dimulai dengan tahap pre-liminary survey yang bertujuan untuk mengetahui gambaran badan usaha secara mendalam dan dilanjutkan pada evaluasi terhadap pengendalian internal yang diterapkan badan usaha berdasarkan COSO framework. Hasil dari tahap ini diperoleh beberapa hal yang dianggap sebagai critical problem area. Critical problem area tersebut dikembangkan lebih lanjut melalui tahap audit program, field work, dan development of audit findings. Hasil dari tahapan tersebut menghasilkan temuan-temuan audit yang telah dikembangkan lebih lanjut untuk diberikan rekomendasi perbaikan atas temuan audit kepada pihak manajemen. Rekomendasi perbaikan dilaporkan pada tahap pelaporan. Rekomendasi perbaikan ini bertujuan agar aktivitas-aktivitas yang berhubungan dengan aktivitas penjualandi PT. Varia Usaha Beton menjadi semakin efektif dalam mencapai tujuannya. 
Downloads
Download data is not yet available.
References
Agoes. Sukrisno. 2012. Auditing Petunjuk Praktis Pemeriksaan Akuntan oleh Akuntan Publik. Jilid 1. Edisi Keempat. Jakarta. Salemba Empat.

Akmal. 2009. Pemeriksaan Manajemen Internal Audit. Edisi 2. Jakarta. PT.INDEKS JAKARTA.

Arens, Alvin A. Beasley, Mark S. Elder, Randal J. 2012. Auditing and Assurance Services an Integrated Approach. Fourteenth Edition. Pearson Education, Inc.

Bayangkara, IBK. 2008. Management Audit, Prosedur dan Implementasi. Jakarta. Salemba Empat.

Boyton, William C., Johnson, Raymond N. 2006. Modern Auditing: Assurance Services and the Integrity of Financial Reporting. Eighth Edition. United Stated of America. John Wiley & Sons, Inc.

Efferin, Sujoko. Stevanus Hadi Darmaji, dan Yuliawati Tan. 2008. Metode Penelitian Akuntansi – Mengungkap Fenomena dengan Pendekatan Kuantitatif dan Kualitatif. Edisi I. Yogyakarta: Graha Ilmu.

Lawrence B, Sawyer, Mortimer A. Dittenhoffer, James H, Scheiner. 2006. Audit Internal Sawyer. Edisi 5, Buku 1. Jakarta. Salemba Empat.

Moeller, Robert R. 2009. Brink's Modern Internal Auditing : A Common Body of Knowledge. 7 th ed. Hoboken, New Jersey: John Willey & Sons.

Rob, Reider. 2002. Operational Review Workbook-Case Studies, Forms, and Exercises. Hoboken, New Jersey: John Wiley & Sons, Inc.

Romney, Marshal B. Steinbart, Paul. 2012. Accounting Information Systems Global 12th edition. England: Pearson Education Limited.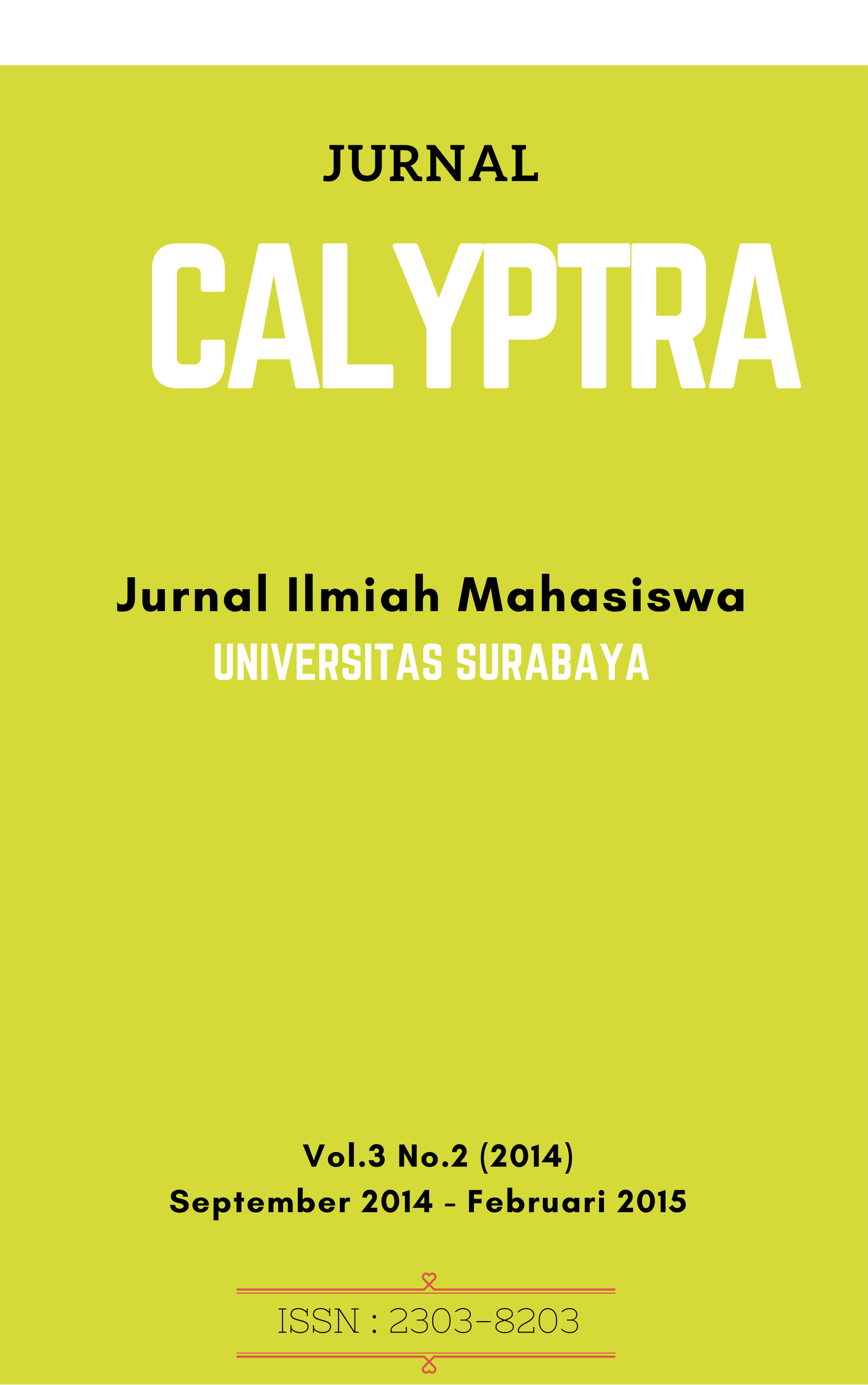 How to Cite
YULLANDA, Echa Putri Rachmawati. PENERAPAN AUDIT OPERASIONAL UNTUK MENGEVALUASI EFEKTIVITAS PENGENDALIAN INTERNAL TERHADAP AKTIVITAS PENJUALAN PT. VARIA USAHA BETON DI WARU.
CALYPTRA
, [S.l.], v. 3, n. 2, p. Hal. 1 - 19, sep. 2014. ISSN 2302-8203. Available at: <
http://journal.ubaya.ac.id/index.php/jimus/article/view/1374
>. Date accessed: 16 sep. 2019.
Section
Bidang Akuntansi (AK)