THE MOTIVATION OF SURABAYA SOCIETY ON SAVING MONEY IN UNIT LINK ASSURANCE ACCOUNT IN PT. PRUDENTIAL LIFE ASSURANCE
Raymond KurniawanTjiadi

International Business Networking Faculty of Business and Economics University of Surabaya
Abstract
Personal bankruptcy due to health costs is the concern of Indonesia Government to make sustainable economic condition. This paper emphasizes on the motivation on saving money in insurance products from PT Prudential Life Assurance. The purpose of this study is to identify the people's motivation toward insurance products in Indonesia due to low penetration of insurance market. Informations from field are analyzed based on Vroom's expectancy theory to break down the human motivation into three elements. The result shows different perceptions between different generations that lead their motivation toward insurance products. The knowledge from this paper serves as the recommendation and help agents from PT Prudential Life Assurance to enhance Indonesian's motivation on insurance products.
Downloads
Download data is not yet available.
References
Boonlertvanich, Kawee, (2009), "Consumer Buying and Decision Making Behavior of a Digital Camera in Thailand", RU. International Journal, Vol. 3 No. 1 pp. 57-66

Durmaz, Yakup, and Ibrahim, Diyarbakirlioglu (2011), "A Theoritical Approach to the Strength of Motivation in Customer Behavior", Global Journal of Human Social Science, Vol. 11 Iss. 10 pp. 36-42

Johnson, Richard R., (2010), "Making domestic violence arrests: a test of expectancy theory", Policing: An International Journal of Police Strategies & Management, Vol. 33 Iss: 3 pp. 531 – 547

Lunenburg, Fred C., (2011), "Expectancy Theory of Motivation: Motivating by Altering Expectations", International Journal of Management, Business, and Administrator, Vol. 15 No. 1

Murphy, William H., Dacin, Peter A., and Ford, Neil M., (2004), "Sales Contest Effectiveness: An examination of Sales Contest Design Preferences of Field Sales Forces", Journal of the Academy of Marketing Science, Vol. 32 Iss. 2 pp. 127-143

Verma, Monika, Hertel, Thomas W., and Preckel, Paul V. (2011). "Predicting Within Country Household Food Expenditure Variation Using International Cross-Section Estimates", Economics Letter, Vol. 133 pp. 218-220

Zanoli, Raffaele and Naspeti, Simona, (2002), "Consumer Motivation in the Purchase of Organic Food", British Food Journal, Vol. 104 No. 8 pp. 643-653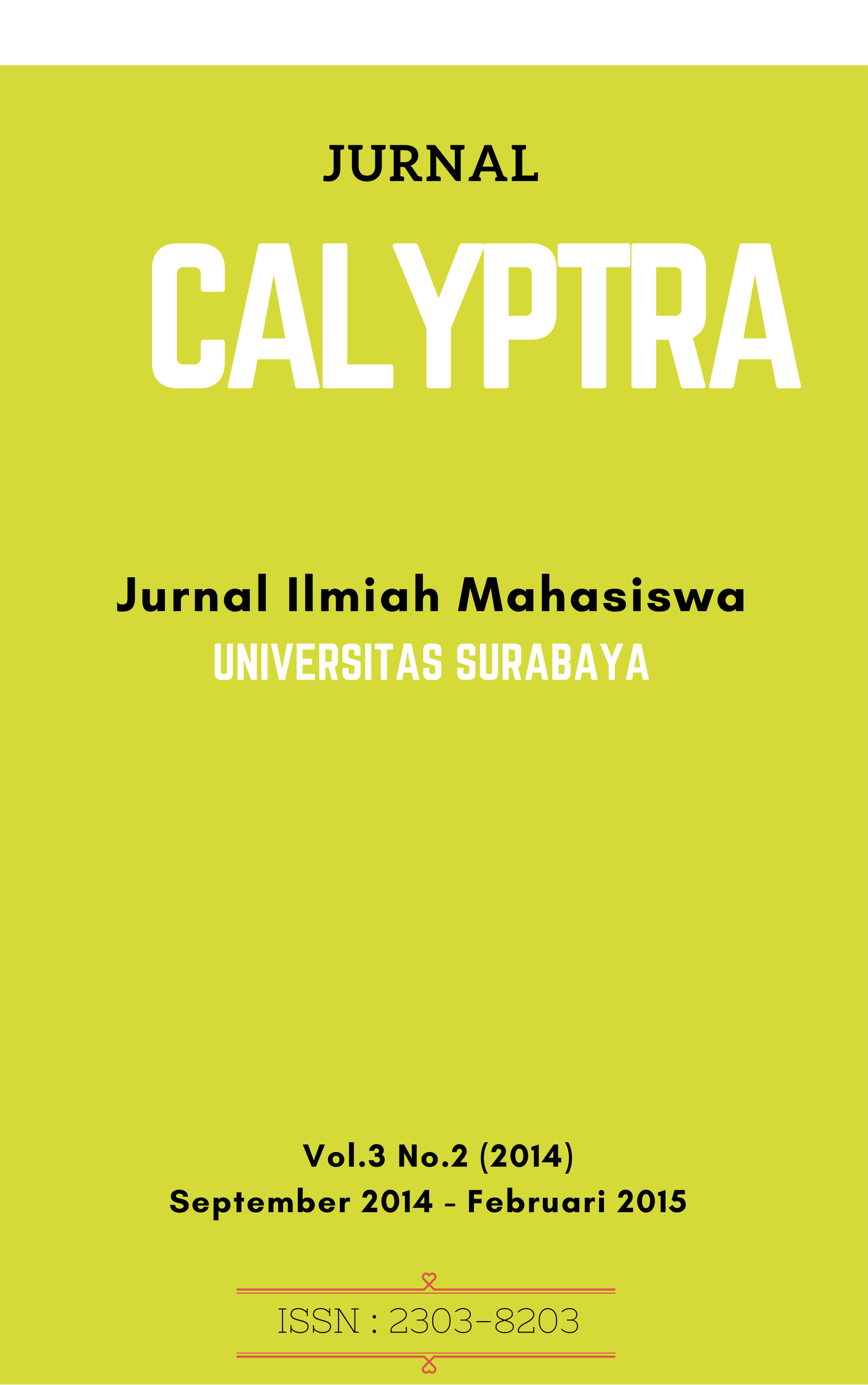 How to Cite
KURNIAWANTJIADI, Raymond. THE MOTIVATION OF SURABAYA SOCIETY ON SAVING MONEY IN UNIT LINK ASSURANCE ACCOUNT IN PT. PRUDENTIAL LIFE ASSURANCE.
CALYPTRA
, [S.l.], v. 3, n. 2, p. Hal. 1 - 13, sep. 2014. ISSN 2302-8203. Available at: <
http://journal.ubaya.ac.id/index.php/jimus/article/view/1408
>. Date accessed: 16 sep. 2019.
Section
Bidang International Business Network (IBN)