PERANCANGAN KONSEP SISTEM INFORMASI UNTUK MENINGKATKAN EFEKTIFITAS PROSES TRANSFER INFORMASI DAN MENDUKUNG STRATEGI ORGANISASI DI PERUSAHAAN X
Natasia Tjahjadi

Jurusan Magister Akuntansi Fakultas Bisnis dan Ekonomika Universitas Surabaya
Abstract
Tujuan dari penelitian ini untuk merancang konsep sistem informasi yang dapat meningkatkan proses transfer informasi dan selaras dengan strategi organisasi.  Penelitian ini menggunakan metode kualitatif interpretif melalui wawancara, pengamatan dan analisa dokumen untuk proses pengumpulan data dan mencari tahu apa yang menjadi kebutuhan serta permasalahan dalam perusahaan, untuk kemudian akan diberikan rekomendasi berdasarkan teori yang ada. Penelitian menunjukkan bahwa perusahaan membutuhkan sebuah sistem informasi untuk proses transfer informasi yang efektif, namun perusahaan juga memiliki permasalahan budaya organisasi dimana tiap divisi bekerja sendiri-sendiri tanpa koordinasi, untuk kepentingan divisinya sendiri. Budaya organisasi ini nampaknya memiliki sejarah kemunculannya tersendiri. Penelitian juga menunjukkan bahwa struktur organisasi perusahaan belum selaras dengan struktur organisasi grup perusahaan dan kurangnya sosialisasi akan visi misi perusahaan, yang mana hal ini makin mempertajam permasalahan tidak terjadinya proses transfer informasi yang efektif dalam perusahaan. Pada akhir penulisan, akan diberikan rekomendasi untuk membantu perusahaan merancang konsep sistem informasi yang selaras dengan strategi perusahaannya. Demikian pula akan diberikan konsep sistem informasi yang dibutuhkan oleh perusahaan. Penelitian ini tidak memberikan kerangka yang lebih mendetail tentang bagaimana bentuk teknis dari sistem informasi itu sendiri, mengingat hal ini membutuhkan pengetahuan secara mendalam tentang teknologi informasi itu sendiri. Penelitian menunjukkan bahwa visi misi perusahaan merupakan dasar utama dalam merancang sebuah sistem informasi dan budaya organisasi menjadi unsur yang perlu dipertimbangkan dalam perancangan konsep sistem informasi tersebut.
Downloads
Download data is not yet available.
References
Argenti, Paul A., 2003, "Corporate Communication Third Edition", The McGraw-Hill Companies Inc., New York.

Asan, Umut and Soyer, Ayberk, 2007, "Identifying Strategic Management Concepts : Ananalytic Network Process Approach", Computer and Industrial Engineering 56 (2009) 600-615, Elsevier Ltd., 2007

Avison, David E and Michael D. Myers, 1995, "Information System and Anthropology : An Anthropological Perspective on IT and Organizational Culture", Information Technology and People, Vol. 8 No. 3, 1995, p.43-56, MCB University Press.

Claver, Enrique, Llopis, Juan, Gonzalea, M. Reyes, Gasco, Jose L., 1995, "The Performance of Information Systems Through Organizational Culture", Information Technology & People Journal, Vol. 14 No. 3, p247-260

Collins, James C. and Porras, Jerry I., 2008, "Building Your Company's Vision", Harvard Business Review On Strategy, January 2008

Conrad, David dan Newberry Robert, 2011, 24 Business Communication Skills : Attitudes of Human Resources Manager Versus Business Educators, American Communication Journal, Vol. 13 Issue , p.4-23

David, Fred R., 2013, "Strategic Management : Concept and Case – Fourteenth Edition", Pearson Education Limited, England

DeLone, William H. and McLean, Ephraim R., 2003, "The DeLone And McLean Model Of Information System Success : A Ten Year Update", Journal Of Management Information Systems, Springs 2003, Vol. 19 No. 4, p.9-30

Economist Intelligence Unit, 2009, "Organisational Agility : How Business Can Survive and Thrive In Turbulent Times", A Report from The Intelligence Unit Sponsored by EMC.

Efferin, Sujoko, 2010, "Triangulasi dalam Penelitian Kualitatif-Interpretif di Bidang Akuntansi – Seni Mengelola Keterbatasan", materi disajikan pada Kolokium dan Seminar Nasional Program M.Si dan Doktor Fakultas Ekonomika dan Bisnis, Universitas Gadjah Mada, Yogyakarta, 10-11 Desember 2010

Efferin, Sujoko, Darmadji, Stevanus Hadi and Tan, Yuliawati, 2008, "Metode Penelitian Akuntansi; Mengungkap Fenomena Dengan Pendekatan Kuantitatif dan Kualitatif", Graha Ilmu, Yogyakarta

Forbes Insight, 2010, "The Untethered Executive: Business Information in the Age of Mobility", In Association With Google, Copyright Forbes, New York, p.1-17

Formanchuk, Alejandro, 2010, "Internal Communication 2.0.: A Cultural Challenge", Formanchuk and Asociados, Buenos Aires, Argentina.

Foulger, Davis, 2004, "Models of the Communication Process", Research Consultant Evolutionary Media, Adjunct Associate Professor Brooklyn College (CUNY).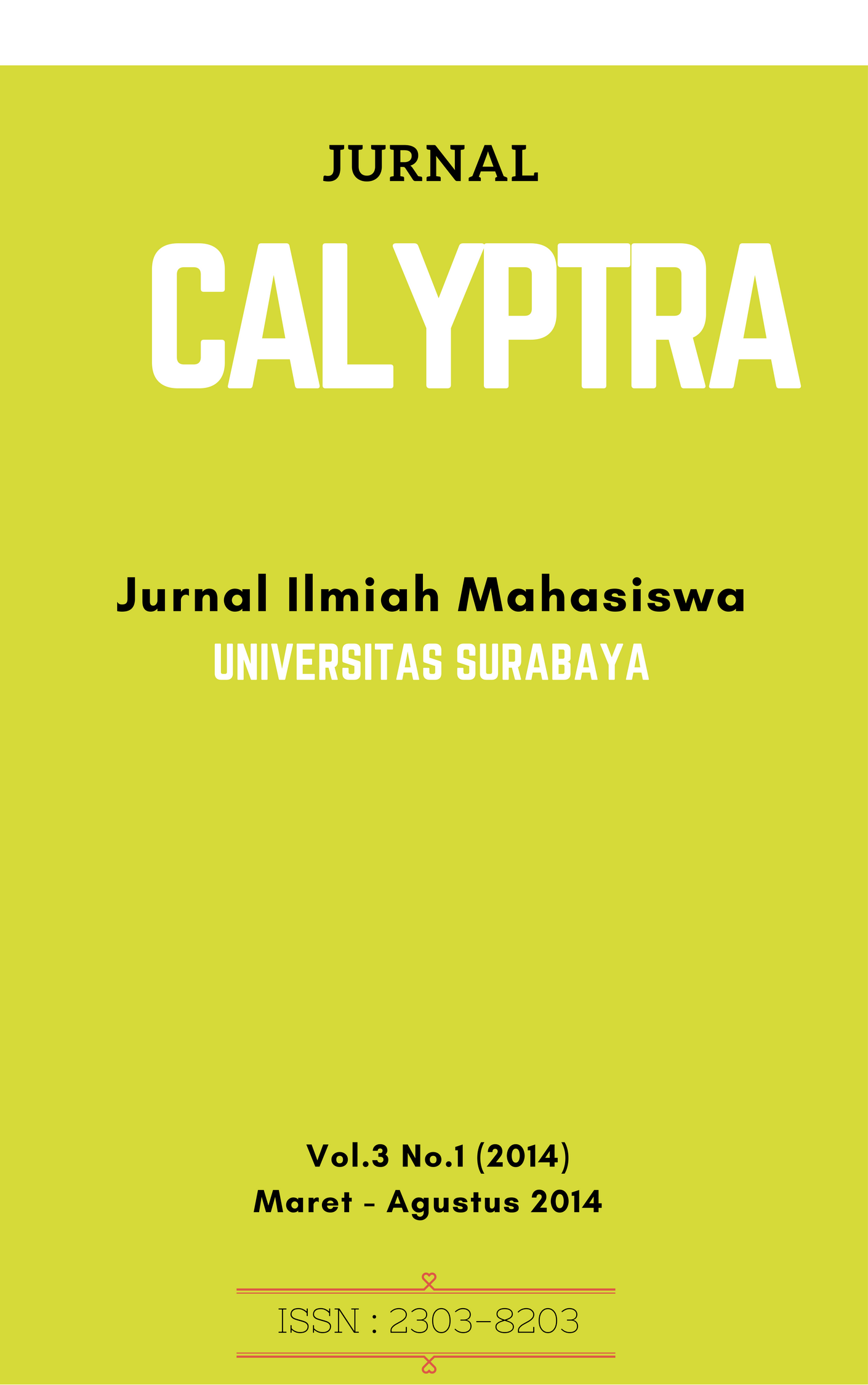 How to Cite
TJAHJADI, Natasia. PERANCANGAN KONSEP SISTEM INFORMASI UNTUK MENINGKATKAN EFEKTIFITAS PROSES TRANSFER INFORMASI DAN MENDUKUNG STRATEGI ORGANISASI DI PERUSAHAAN X.
CALYPTRA
, [S.l.], v. 3, n. 1, p. Hal. 1 - 19, mar. 2014. ISSN 2302-8203. Available at: <
http://journal.ubaya.ac.id/index.php/jimus/article/view/1545
>. Date accessed: 24 july 2019.
Section
Bidang Magister Akuntansi (MAK)