PENGARUH PERCEPTION PACKAGING, UTILITARIAN BENEFITS, HEDONIC BENEFITS TERHADAP BRAND SATISFACTION KOSMETIK THE FACE SHOP DI SURABAYA
Lucia Kiki Amelia

Jurusan Magister Manajemen Fakultas Bisnis dan Ekonomika Universitas Surabaya
Abstract
Penelitian ini bertujuan untuk mengetahui pengaruh perception packaging, utilitarian benefits, dan elemen – elemen hedonic benefits yang terdiri dari sensorial pleasure, sexual attractiveness, social interaction success dan relief from self-dissatisfaction terhadap brand satisfaction produk kosmetik merek The Face Shop di Surabaya. Penelitian ini menggunakan model yang dikemukakan oleh Ibanez, et al. (2011).  Penelitian ini menggunakan pendekatan kuantitatif dengan menggunakan metode Structural Equation Modelling (SEM) dengan bantuan software Lisrel 8.70 dalam pengolahan data.  Dalam penelitian ini, yang menjadi sampel adalah wanita yang pernah membeli dan menggunakan produk – produk kosmetik merek The Face Shop selama satu tahun terakhir, berpendidikan minimal SMA / sederajat, berdomisili di Surabaya, pernah mencoba tester dari produk – produk The Face Shop dan membaca informasi pada kemasan sebelum membeli produk. Data yang digunakan dalam penelitian ini diperoleh dengan melakukan penyebaran kuesioner hingga terkumpul 170 data. Penelitian ini menggunakan dua uji kecocokan model penelitian yaitu uji kecocokan model pengukuran dan uji kecocokan model struktural.  Hasil dari dari penelitian ini menunjukkan bahwa terjadinya perception packaging berpengaruh pada utilitarian benefits, dimana untuk selanjutnya  utilitarian benefits berpengaruh pada brand satisfaction pelanggan. Temuan penelitian ini tidak sepenuhnya sejalan dengan penelitian terdahulu,yaitu penelitian Ibanez, et al. (2011). Hasil penelitian ini menemukan bahwa dari elemen – elemen hedonic benefit yang berpengaruh terhadap brand satisfaction secara signifikan hanya  sexual attractiveness dan relief from self-dissatisfaction. Hal ini disebabkan adanya perbedaan konteks penelitian, dan obyek penelitian.
Downloads
Download data is not yet available.
References
Conte, C. 2004. How to Improve Sales Promotion Effectiveness: The Role of Age and Product Category. Thesis. Universita Ca' Foscari Venezia

Davis, L.C., 2013. African American Women's Use of Cosmetics Products in Relation to Their Attitudes and Self-indentity. Thesis. Iowa State University.

Drascovic, N., Temperley, J. dan Pavicic, J., 2009. "Comparative Perception(s) of Consumer Goods Packaging: Croatian Consumers' Perspective(s)". International Journal of Management Cases. pp 154-161.

Heiss, S.N. 2011. Locating the Bodies of Women and Disability in Definitions of Beauty: An Analysis of Dove's Campaign for Real Beauty. Dissabilities Studies Quarterly. Vol 31, no.1.

Ferguson, et al. 2011. "Mirror, Mirror On The Wall: Peer Competition, Television Influences, and Body Image Dissatisfaction". Journal of Social and Clinical Psychology. 30(5), pp. 458-483.

Ibanez, et. al. 2011. "Women Sattisfaction with Cosmetic Brands: The Role of Dissatisfactionand Hedonic Brand Benefits". African Journal of Business Management. 5(3). pp 792-802.

Ismail, R., Boye, C.L., dan Muth, A. 2012. Customer Brand Relationship: An Empirical Study of Customers' Perception of Brand Experience, Brand Satisfaction, and How They Affect Brand Loyalty. Thesis. Linnaeus University.

Lopes, et al. 2004. "Emotional Intelligence and Social Interaction". Personality and Social Psychology Bulletin. Vol. 30 No. 8

Kauth, M. 2000. True Nature: A Theory Of Sexual Attraction. Kluwer Academic/Plenum Publishers. New York

Polyakova, K. 2013. Packaging Design as a Marketing Tool and Desire To Purchase. Thesis. Saimaa University of Applied Science.

Rozin, P D. Kahneman, E. Diener & N. Schwarz (eds.). 1999. Preadaption and the Puzzle and The Properties of Pleasure.. Well being: The foundations of hedonic psychology. (Pp. 109-133). Russell Sage. New York.

Talbot, T.L. 2012. Comparing Self-Perception of Attractiveness and Overal Life Satisfaction: The Differences Between Men and Women. Thesis. Western California University.Walter, N., Cleff, T., dan Chu, G. 2013. "Brand Experience's Influence on Customer Satisfaction and Loyalty: A Mirage in Marketing Research?". International Journal of Management Research and Business Strategy. Vol 2, no.1.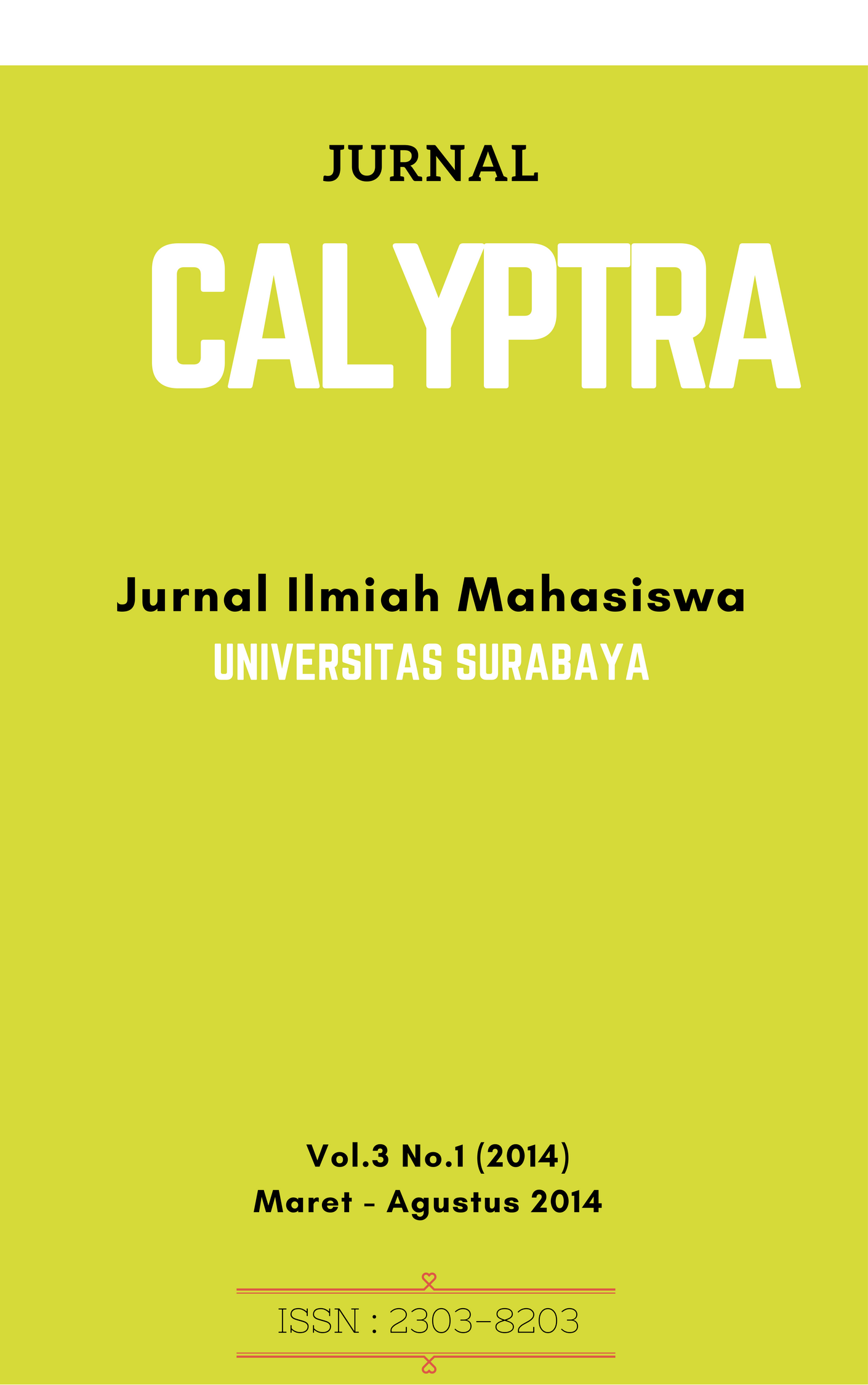 How to Cite
AMELIA, Lucia Kiki. PENGARUH PERCEPTION PACKAGING, UTILITARIAN BENEFITS, HEDONIC BENEFITS TERHADAP BRAND SATISFACTION KOSMETIK THE FACE SHOP DI SURABAYA.
CALYPTRA
, [S.l.], v. 3, n. 1, p. Hal. 1 - 20, mar. 2014. ISSN 2302-8203. Available at: <
http://journal.ubaya.ac.id/index.php/jimus/article/view/1566
>. Date accessed: 24 july 2019.
Section
Bidang Magister Manajemen (MM)