PENYUSUNAN ALAT UKUR KINERJA BAGIAN PERSONALIAS RUMAH SAKIT 'X' DENGAN METODE HUMAN RESOURCE SCORECARD (HR SCORECARD)
Yohane Kurniawan

Jurusan Magister Psikologi Fakultas Psikologi Universitas Surabaya

Nurlaila Effendy

Jurusan Magister Psikologi Fakultas Psikologi Universitas Surabaya
Abstract
Sumber daya manusia sebagai salah satu intangible asset juga berperan sebagai salah satu aset strategis perusahaan karena mempengaruhi kinerja keuangan perusahaan. Gates dan Langevin (2002) menyatakan ketika perusahaan semakin ahli membangun Human Capital Measures (HCM), maka semakin tinggi pula kinerja perusahaan. Indikator kunci bukanlah hasil dari kinerja, namun lebih sebagai aspek yang menggerakkan hasil untuk mencapai visi perusahaan (Parmenter, 2007). Hal ini ditunjukkan oleh penelitian yang dilakukan Haffer dan Kristensen (2010) yang menyatakan bahwa indikator kunci peran manajemen orang (people management) akan memberikan dampak pada pertumbuhan iklim bisnis. Indikator kunci ini akan diterjemahkan sebagai indikator kinerja bagian personalia di RS 'X'. Penelitian bertujuan menyusun indikator kinerja bagian personalia sesuai arahan strategis RS 'X' sehingga mampu mencapai visi organisasi. Indikator kinerja merupakan ukuran dari masing-masing strategic objective dari perspektif strategis, operasional, pelanggan dan finansial.  Hal ini disebabkan selama ini bagian personalia dianggap sebagai cost center daripada bagian yang bertanggungjawab terhadap SDM sebagai intangible asset. Metode penelitian ini adalah action research dengan dua siklus penelitian. Siklus kedua merupakan hasil evaluasi dari siklus pertama dengan tahapan yang sama.  Teknik pengambilan data menggunakan observasi, wawancara, dan diskusi. Subjek penelitian ini adalah bagian personalia dengan narasumber staf personalia, direksi, kepala bagian non personalia. Hasil yang diperoleh berupa rancangan alat ukur yang disusun dengan metode HR Scorecard.
Downloads
Download data is not yet available.
References
Adhikari, D.R. (2009) Human resource development (HRD) for performance management: the case of Nepalese organizations. International Journal of Productivity and Performance Management, 59:4, 306-324

Becker, B.E., Huselid, M.A., & Ulrich, D. (2001). The HR Scorecard: MengaitkanManusia, Strategi dan Kinerja. Alih Bahasa: D.R. Basuki. Penerbit Erlangga.

Cohen, J.A (2005) Intangible Assets: Valuation and Economic Benefit . New Jersey: John Wiley & Sons, Inc.

Gates, S. &Langevin, P. (2010). Human capital measures, strategy, and performance: HR managers' perceptions. Accounting, Auditing & Accountability Journal, 23:1, 111-132.

Geuser, F.D., Mooraj, S., Oyon, D. (2009). Does the balanced scorecard add value? empirical evidence on its effect on performance.European Accounting Review, 18:1, 93-122.

Haffer, R. &Kristensen, K. (2010) People management as indicator of business excellence: the Polish and Danish perspectives. The TQM Journal, 22:4, 386-398

Hubbard, D.W. (2007) How to measure anything: finding the value of "intangibles" in Business. New Jersey: John Wiley & Sons, Inc.

Kollberg, B., &Elg, M. (2010). The practice of the Balanced Scorecard in health care services.International Journal of Productivity and Performance Management, 60:5, 427-445.

Kaplan, R.S. & Norton, D.P. (2004). Strategy Maps: Converting Intangible Assets into Tangible Outcomes. United States of America: Harvard Business School Publishing Corporation.

Kaplan, R.S. & Norton, D.P. (1996). The Balanced Scorecard: Translating Strategy into Action. United States of America: Harvard Business School Press.

Luis, S., Biromo, P.A., &Hadisubroto, R. (2011).Even Elephants Can Dance: Transforming Organizations Through Strategy and Performance Execution Excellence (SPEx2). Jakarta: PT GramediaPustakaUtama.

Mulyadi. (2001). Balanced Scorecard: Alat Manajemen Kontemporer untuk Pelipat ganda KinerjaKeuangan Perusahaan. Jakarta: Penerbit Salemba Empat.

Niven, P.R. (2002). Balanced Scorecard Step by Step: Maximizing Performance and Maintaining Results. New York: John Wiley & Sons, Inc.

Qingwei, F. (2011). Research on Evaluation Index System of Management Effectiveness on Hospital Human Resource Based on Balanced Scorecard. Elsevier: 2011 International Conference on Environmental Science and Engineering.

Rangkuti, F. (2011). SWOT Balanced Scorecard: Teknik Menyusun Strategi Korporat yang Efektif plus Cara Mengelola Kinerja dan Risiko. Jakarta: PT Gramedia Pustaka Utama. Penerbit Buku Kedokteran EGC.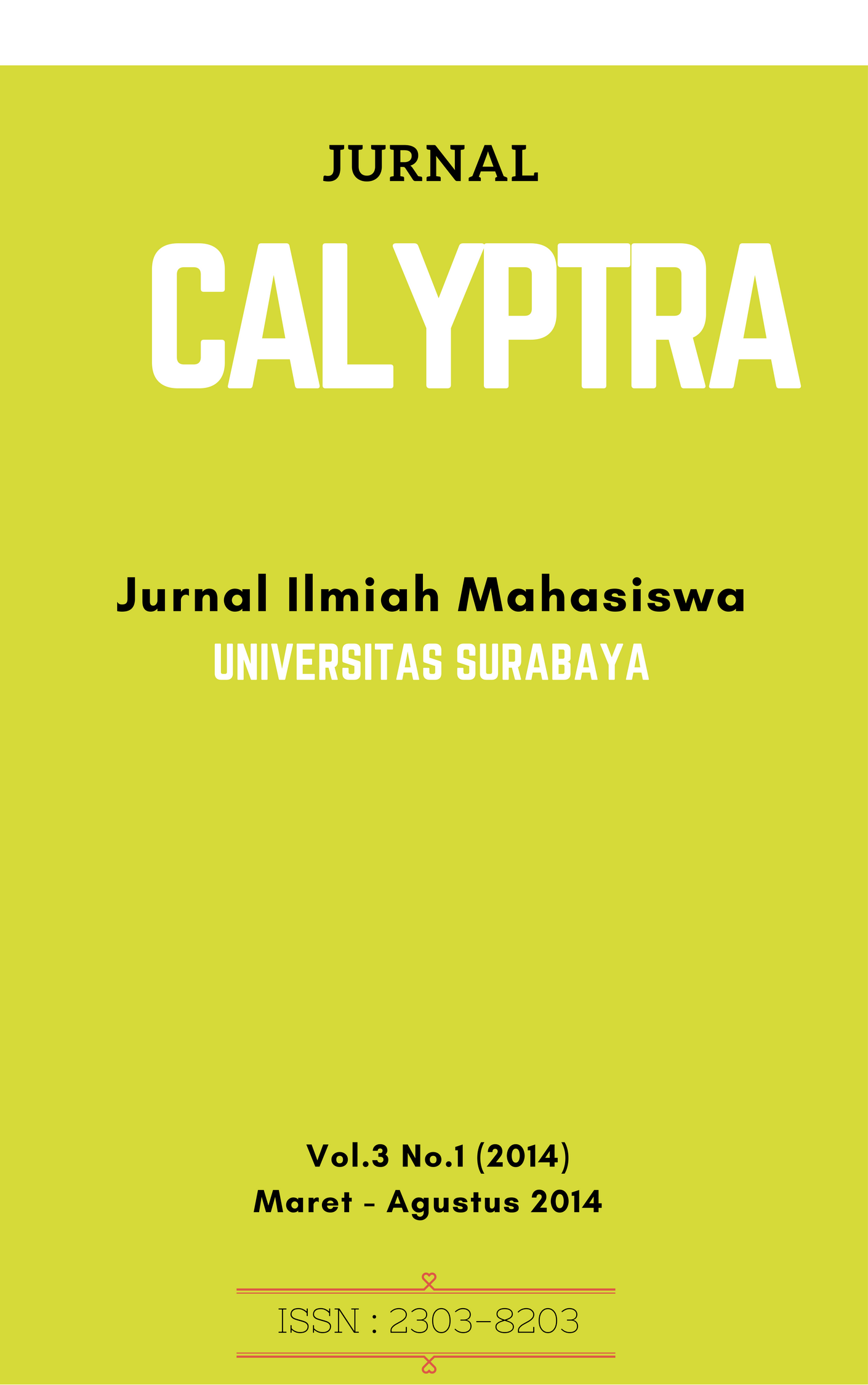 How to Cite
KURNIAWAN, Yohane; EFFENDY, Nurlaila. PENYUSUNAN ALAT UKUR KINERJA BAGIAN PERSONALIAS RUMAH SAKIT 'X' DENGAN METODE HUMAN RESOURCE SCORECARD (HR SCORECARD).
CALYPTRA
, [S.l.], v. 3, n. 1, p. Hal. 1 - 18, mar. 2014. ISSN 2302-8203. Available at: <
http://journal.ubaya.ac.id/index.php/jimus/article/view/1660
>. Date accessed: 19 aug. 2019.
Section
Bidang Magister Psikologi (MPSI)