PENGARUH PELATIHAN "COURAGEOUS FOLLOWERSHIP" UNTUK MENINGKATKAN KUALITAS LEADER-MEMBER EXCHANGE (LMX) PEGAWAI DI BP2KB PROVINSI JAWA TIMUR
Diah Asri Dinimartani

Jurusan Magister Psikologi Fakultas Psikologi Universitas Surabaya
Abstract
Penelitian ini bertujuan untuk mengetahui pengaruh dari peningkatan kualitas leader-member exchange dengan pelatihan courageous followership pada pegawai di Badan Pemberdayaan Perempuan dan Keluarga Berencana (BP2KB) Provinsi Jawa Timur. Subjek penelitian ini adalah 11 pegawai pada level pemimpin dan staf yang berada di empat bidang teknis (PKHP, KB, PPA, PUG & PUA). Alat ukur yang digunakan dalam penelitian ini adalah skala leader-member exchange dari Liden dan Mslyn (1998) dalam bentuk angket tertutup. Hasil uji nonparametrik dengan korelasi Wilcoxon Signed-Rank test berdasarkan relasi dyadic menunjukkan bahwa terdapat peningkatan kualitas relasi leader-member exchange dengan diberikannya pelatihan courageus followership 0.043 (p<α = 0.05), hasil uji beda melalui relasi dyadic, menunjukkan pemimpin dan staf berusaha untuk meningkatkan kualitas relasi leader-member exchange dalam menghadapi setiap perubahan dan permasalahan yang terjadi melalui pendekatan personal yang lebih baik sehingga meminimalkan adanya kesalahpahaman dan bentuk keterbukaan untuk menerima kekurangan serta kelebihan dari orang lain maupun diri sendiri.   
Downloads
Download data is not yet available.
References
Adiningtyas. (2012). Pengaruh Peningkatan Leader-Member Exchange terhadap Motivasi Kerja Karyawan dengan Pemberian Pelatihan Komunikasi Interpersonal pada Atasan (Studi pada Divisi EM PT. XYZ). Tesis, tidak diterbitkan, Fakultas Psikologi, Universitas Indonesia, Jakarta.

Arnold, John & Randall, Ray. (2010). Work Psychology: Understanding Human Behaviour in the Workplace (2nd Ed.). London: Pitman Publishing.

Azwar, S. (2001). Penyusunan Skala Psikologi. Cetakan III. Yogyakarta : Pustaka Belajar.

Bass, B.M. (1990). Bass and Stogdill's Hand Book of Leadership. New York: FreePress.

Blanchard,P.Nick., Thacker, James.W. (2010). Effective Training: systems, strategies and practices (4th Ed). New Jersey: Prentice Hall.

Burns, James MacGregor. (1978). Leadership. New York: Harper & Row.

Bycio, P., Hackett, R.D., & Allen, J.S. (1995). Further Assessment of Bass's (1985). Conceptualization of Transactional and Transformational Leadership. Journal of Applied Psychology, 80 (4): 468-478.

Cummings, T.G., & Worley, C.G. (2009). Organization Development and Change. Mason: South-Western Cengage Learning.

Deaux, K., Dane, F.C., & Wrightsman, L.S,. (1993). Social Psychology in The 90's (6th ed.). Pacific Grove: Brooks/Cole Publishing Company.

Dienesch, R. M. S., & Liden, R. C. (1986). Leader-member exchange model of leadership: A critique and further development. Academy of Management Review, 11, 618-634.

Dionne, Lionel. (2000). Leader-Member Exchange (LMX); Level of Negotiating Latitude and Job Statisfaction. Shippagan. Universite De Moncton.

Donovan, P., & Thowsend, J. (2007). Training Need Analysis Pocketbook. London. Management Pocketbook, Ltd.

Frederick, .J, Gravetter,L. & Forzano, B.(2009). Research Methods for the Behavioral Sciences.USA: Wadsworth Cengage Learning.

Gerstner C. R., & Day, D. V. (1997). Meta-analytic review of leader-member exchange theory: Correlates and construct issues. Journal of Applied Psychology, 82(6), 827-844.

Graen, G., Novak, M. A., & Sommerkamp, P. (1982). The effects of leader-member exchange and job design on productivity and satisfaction: Testing a dual attachment model. Organizational Behavior and Human Performance, 30, 109-131.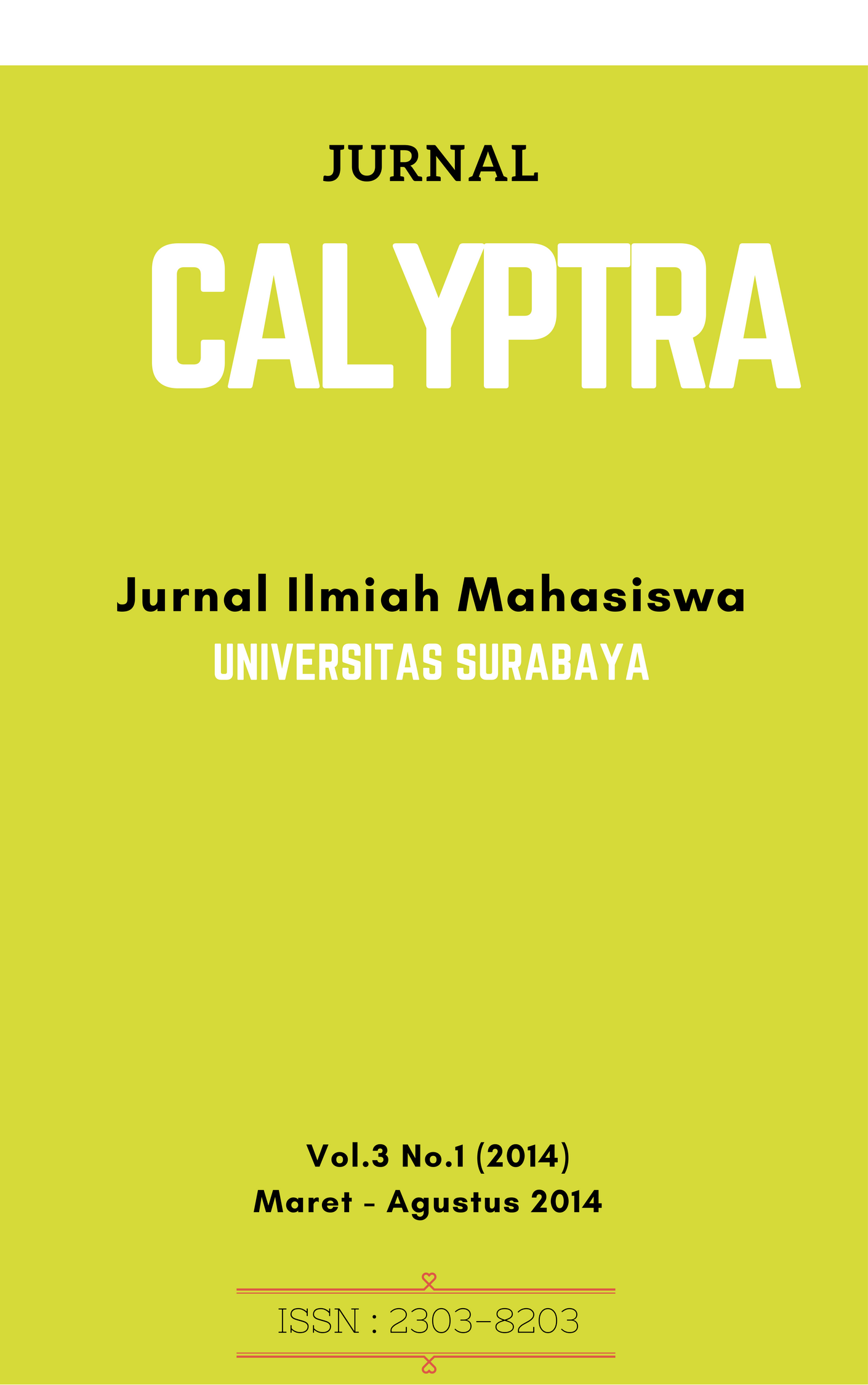 How to Cite
DINIMARTANI, Diah Asri. PENGARUH PELATIHAN "COURAGEOUS FOLLOWERSHIP" UNTUK MENINGKATKAN KUALITAS LEADER-MEMBER EXCHANGE (LMX) PEGAWAI DI BP2KB PROVINSI JAWA TIMUR.
CALYPTRA
, [S.l.], v. 3, n. 1, p. Hal. 1 - 13, mar. 2018. ISSN 2302-8203. Available at: <
http://journal.ubaya.ac.id/index.php/jimus/article/view/1663
>. Date accessed: 23 aug. 2019.
Section
Bidang Magister Psikologi (MPSI)