TANGGUNG GUGAT PERSEROAN TERBATAS KBS ATAS PEMUTUSAN KONTRAK SECARA SEPIHAK KEPADA PERSEROAN TERBATAS ASIP BERDASARKAN KITAB UNDANG-UNDANG HUKUM PERDATA
Rahmita Suryani

Jurusan Hukum Perdata Fakultas Hukum Universitas Surabaya
Abstract
Agreement or contract is an event where someone promised to another person or in which two men were each promised to implement something . Agreement made by the parties for the purpose they want to achieve . ( Article 1313 Civil Code, Civil Code ). Bank guarantees are guarantees given by the banks in terms of the bank stating that the contents of a written acknowledgment agreeing to adhere to the insured in a certain period of time and under certain conditions in the future if it turns out is guaranteed not fulfill its obligations to guarantee the recipient . Agreements that use the services of the bank as an agreement by PT . ASIP and PT . KBS. Agreement made by the parties to use the bank guarantee as collateral to PT. KBS if PT. ASIP does not fulfill the agreement.
Downloads
Download data is not yet available.
References
Abdulkadir Muhammad, Hukum Perseroan Terbatas Indonesia, PT. Citra Aditya Bakti, Bandung, 1996.

Agus Yudha Hernoko, Hukum Perjanjian, Kencana Pradana, media group, Jakarta, 2010.

Daeng Naja., Hukum Kredit dan Bank Garansi, Citra Aditya Bakti, Bandung, 2005.

Djoni S. Gazali dan Rachmadi Usman, Hukum Perbankan, Sinar Grafika, Jakarta 2010.

Hermansyah, Hukum Perbankan Nasional Indonesia, KENCANA, Jakarta, 2005.

Kartini Muljadi dan Gunawan Widjaja, Perikatan Pada Umumnya, Raja Grafindo Persada, Jakarta, 2003.

Rai Widjaya, Hukum Perusahaan Perseroan Terbatas, megapion, Jakarta, 2003.

Rai Widjaya, Merancang Suatu Kontrak, Kesaint Blanc, Jakarta, 2007.

Riduan syahrani, Seluk Beluk dan Asas-Asas Hukum Perdata, PT. Alumni, Bandung, 2000.

Sentosa Sembiring, Hukum Perusahaan Tentang Perseroan Terbatas, Nuansa Aulia, Bandung, 2006.

Soetojo Prawirohamidjojo, Onrechmatige daad, Jumali, Surabaya, 1979.

Subekti, Hukum Perjanjian, Intermasa, Jakarta, 2005.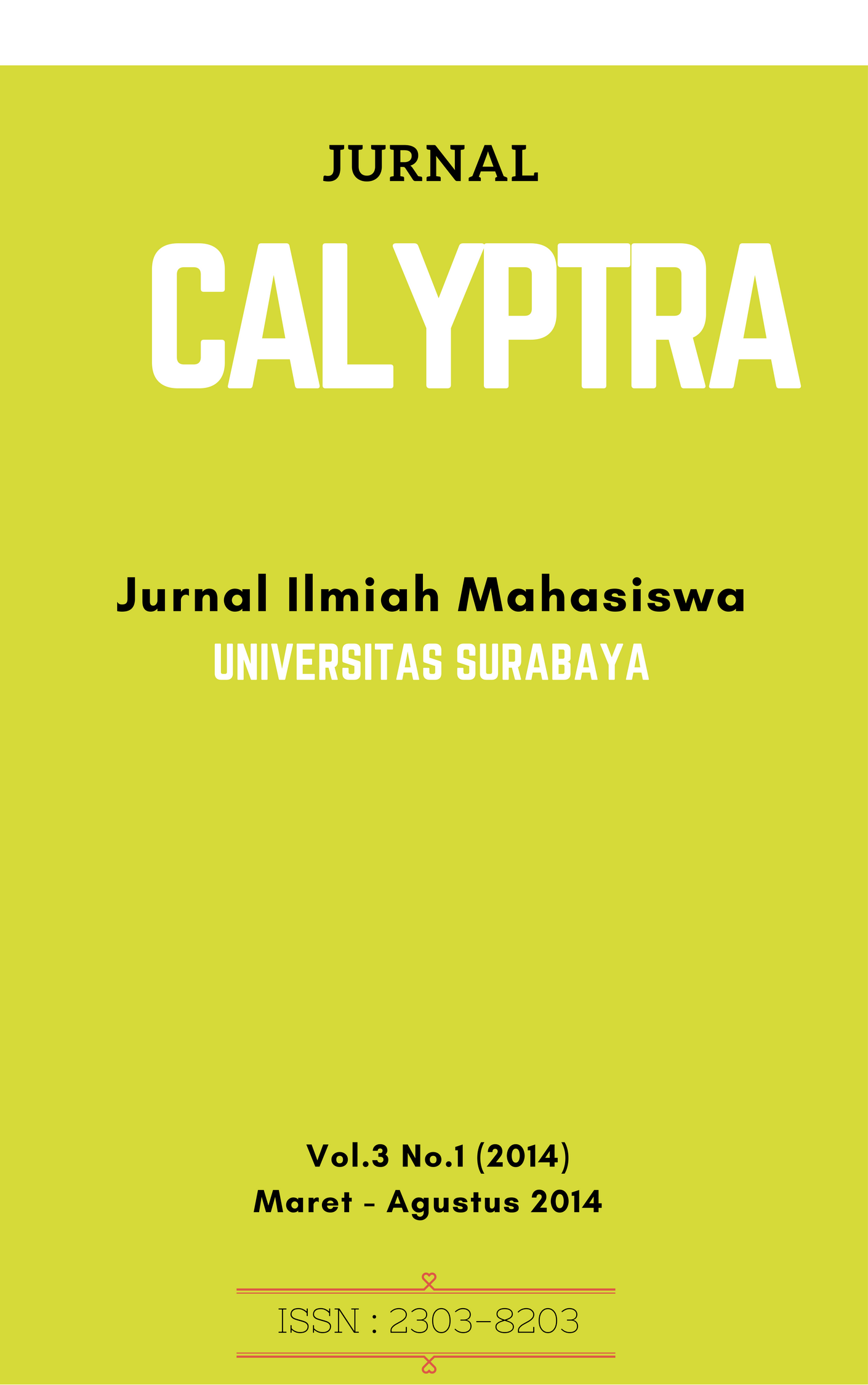 How to Cite
SURYANI, Rahmita. TANGGUNG GUGAT PERSEROAN TERBATAS KBS ATAS PEMUTUSAN KONTRAK SECARA SEPIHAK KEPADA PERSEROAN TERBATAS ASIP BERDASARKAN KITAB UNDANG-UNDANG HUKUM PERDATA.
CALYPTRA
, [S.l.], v. 3, n. 1, p. Hal. 1 - 13, mar. 2014. ISSN 2302-8203. Available at: <
http://journal.ubaya.ac.id/index.php/jimus/article/view/1685
>. Date accessed: 23 aug. 2019.
Section
Bidang Hukum (PE)