APLIKASI PERSONNEL DAN CULTURAL CONTROL UNTUK MENINGKATKAN KINERJA PADA PT MPA DI SURABAYA
Felicia Angelina Ongko Djojo

Jurusan Akuntansi Fakultas Bisnis dan Ekonomika Universitas Surabaya
Abstract
Tujuan penelitian ini adalah explanatory research yaitu menjelaskan mengenai aplikasi personnel dan cultural control untuk mengatasi control problem dalam rangka meningkatkan kinerja pada PT MPA di Surabaya. Pengendalian personal dan pengendalian budaya menjadi menarik apabila diterapkan pada badan usaha yang masih mengandalkan banyak tenaga kerja / sumber daya manusia dalam proses produksinya, karena sumber daya manusia merupakan aset yang sangat unik.  Masalah pengendalian merupakan tantangan yang harus dihadapi oleh setiap badan usaha dan tentu saja harus dicarikan solusinya. Sistem pengendalian manajemen yang diterapkan diharapkan dapat membantu manajemen untuk mengendalikan masalah-masalah yang ada sehingga memberikan dampak positif dan kemajuan bagi badan usaha. Kemajuan yang dialami suatu badan usaha menunjukkan kinerja yang mampu dicapai. Kinerja tidak hanya merujuk pada kuantitas namun juga mengenai kualitas produk bahkan proses produksi. Kolaborasi SPM dan gemba kaizen mampu mengendalikan masalah pengendalian yang ada, terutama motivational problem pada karyawan dan akan menciptakan peningkatan kinerja badan usaha sehingga menjadi kunci kesuksesan dalam persaingan.
Downloads
Download data is not yet available.
References
Armesh, Hamed. (2010) Management Control System. Interdiciplinary Journal of Contemporary Research in Business. Vol. 2, No. 6

Bisnis.com. (2013) KOMODITAS HORTIKULTURA: China Ngebet 4 Produk Masuk Tanjung Priok. [Online]. Available: (http://industri.bisnis.com/read/20130603/99/142671/komoditas-hortikultura-china-ngebet-4-produk-masuk-tanjung-priok

Bhoi, Jigness. A., Darshak A. Desai, and Rohit M. Patel. (2014) The Concept & Methodology of Kaizen. International Journal of Engineering Development and Research, Volume 2, Issue 1

Caffyn, Sarah. (1999) Development of a continuous improvement self‐assessment tool. International Journal of Operations & Production Management, Vol. 19, Iss 11, pp. 1138 – 1153

Efferin, Sujoko and Bonie Soeherman. (2010) Seni Perang Sun Zi dan Sistem Pengendalian Manajemen Filosofi dan Aplikasi. Elex Media Komputindo: Jakarta

Harm, Kodo Yokozawa dan Jan Steenhuis. (2013) The influence of national level factors on international kaizen transfer. Journal of Manufacturing Technology Management, Vol. 24 Iss 7 pp. 1051 – 1075

Imai, Masaaki. (1986) The Key to Japan's Competitive Success. The Kaizen Institute, Ltd.

Kementerian Koperasi dan Usaha Kecil dan Menengah Republik Indonesia. (2011) Kebangkitan Koperasi dan UMKM Menuju Kesejahteraan Rakyat – Kinerja Kementerian Koperasi dan Usaha Kecil dan Menengah Republik Indonesia. [Online]. Available: http://www.depkop.go.id/phocadownload/Laporan_Tahunan/lap%20tahunan%202011.pdf

Kementerian Perdagangan Republik Indonesia. (2014) Perkembangan Ekspor NonMigas (Provinsi) Periode: 2009-2014. [Online]. Available: http://www.kemendag.go.id/id/economic-profile/indonesia-export-import/growth-of-non-oil-and-gas-export-provincial

Kementerian Perindustrian Republik Indonesia. (2012) Perkembangan Ekspor Indonesia Berdasarkan Sektor. [Online]. Available: http://kemenperin.go.id/statistik/peran.php?ekspor=1

Kvalfors, Henning Neerland Thor. (2000) Practical experience with quality improvement in small companies. Integrated Manufacturing Systems, Vol. 11 Iss 3 pp. 156 – 164

Mangkunegara, A.A. Anwar Prabu. (2006) Evaluasi Kinerja SDM. Bandung: Refika Aditama

Merchant, Kenneth A. and Wim A. Van der Stede. (2007) Management Control System Performance Measurement, Evaluation, and Incentives. 2nd Edition. New Jersey: Pearson Prentice Hall Education.

Recht, Ricardo dan Celeste Wilderom. (1998) Kaizen and culture: on the transferability of Japanese suggestion systems. International Business Review 7 p. 7–22. Elsevier Science Ltd.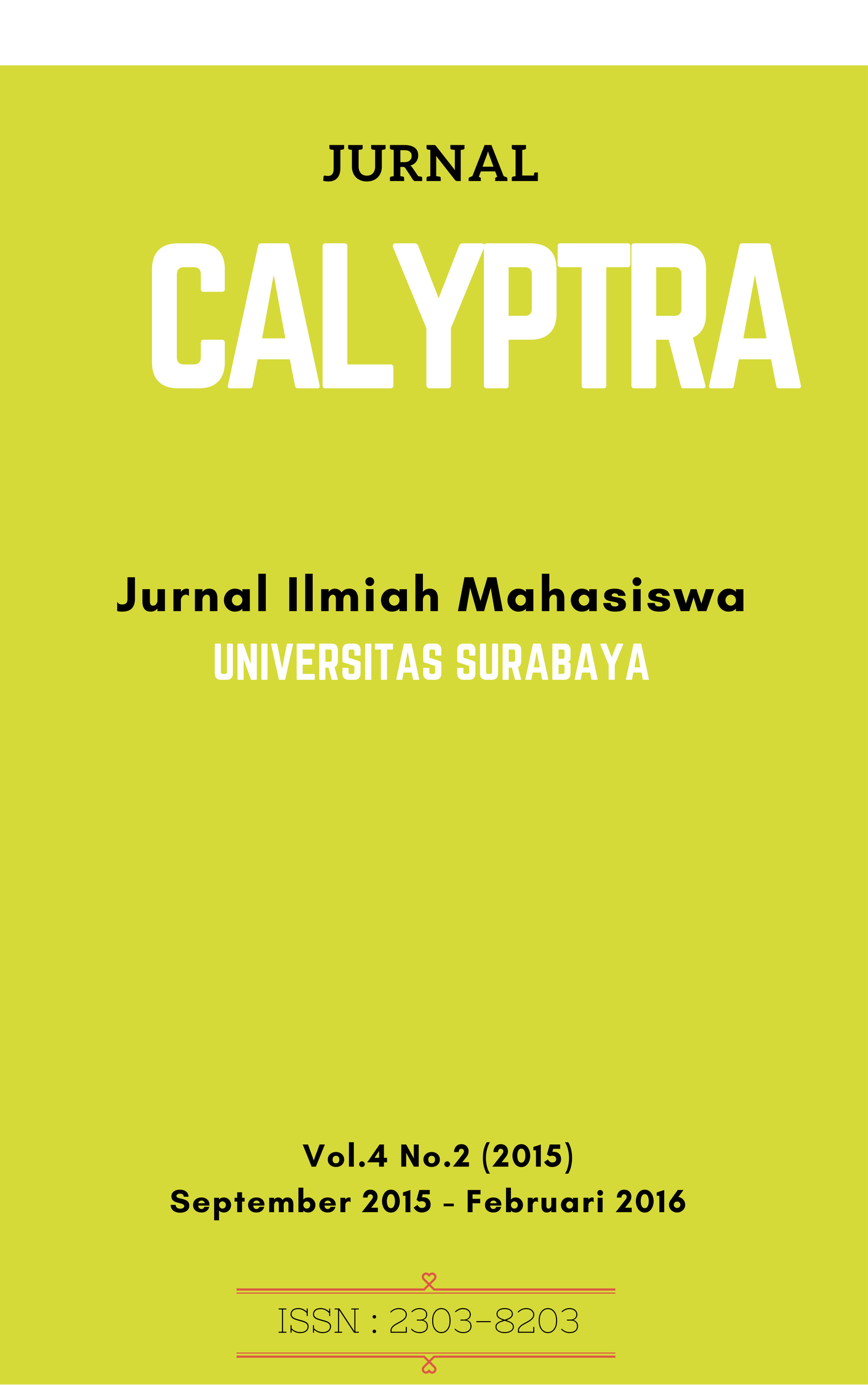 How to Cite
DJOJO, Felicia Angelina Ongko. APLIKASI PERSONNEL DAN CULTURAL CONTROL UNTUK MENINGKATKAN KINERJA PADA PT MPA DI SURABAYA.
CALYPTRA
, [S.l.], v. 4, n. 2, p. Hal. 1 - 17, sep. 2015. ISSN 2302-8203. Available at: <
http://journal.ubaya.ac.id/index.php/jimus/article/view/1951
>. Date accessed: 21 aug. 2019.
Section
Bidang Akuntansi (AK)