CORPORATE SOCIAL AND ENVIRONMENTAL REPORTING : KASUS MIMETIC ISOMORPHISM PADA PERUSAHAAN GO PUBLIC DI INDONESIA PERIODE 2011 – 2013
Valita Winata

Jurusan Akuntansi Fakultas Bisnis dan Ekonomika Universitas Surabaya
Abstract
Penelitian ini bertujuan untuk menganalisa corporate social and environmental reporting (CSER) pada perusahaan go public di Indonesia pada periode 2011 – 2013 melalui mimetic isomorphism. Melalui mimetic isomorphism, dapat diketahui apakah pengungkapan CSER di Indonesia cenderung didominasi peniruan terhadap perusahaan lain atau tidak. Penelitian ini menggunakan pendekatan kuantitatif dengan menggunakan metode content analysis. Penelitian ini menggunakan sampel seluruh perusahaan dari tujuh sektor industri untuk periode 2011 – 2013 yang terdaftar di Bursa Efek Indonesia. Penelitian ini menggunakan indeks kombinasi dari indeks lingkungan Clarkson dan indeks sosial Sutantoputra. Indeks ini dibagi ke dalam dua kategori utama, yaitu hard disclosure dan soft disclosure. Jumlah sampel yang digunakan dalam penelitian ini adalah sebesar 363 tahun observasi. Temuan penelitian menunjukkan bahwa pengungkapan CSER di Indonesia mengalami peningkatan dari tahun 2011 hingga 2013 dan didominasi oleh soft disclosure. Dengan masih adanya ketidakpastian peraturan mengenai CSER di Indonesia, perusahaan cenderungan meniru perusahaan lain (mimicry). 
Downloads
Download data is not yet available.
References
Aras, Guler et al. 2010. Managing Corporate Performance Investigating The Relationship Between Corporate Social Responsibility and Financial Performance in Emerging Markets. International Journal of Productivity and Performance Management Vol. 59 No.3, pp. 229-254.

Bondy, Dr. Krista. 2009. Isomorphism in the Practice of Corporate Social Responsibility: Evidence of an Institution and its Decline. University of Bath School of Management Working Paper Series, United Kingdom.

Bonilla-Priego, Ma Jesus et al. 2013. Corporate Sustainability Reporting Index and Baseline Data for The Cruise Industry. Elsevier Tourism Management 44 pp.149-160.

Chambers, Eleanor et al. 2003. A Seven Country Study of CSR Website Reporting. ICCSR Research Paper Series, No. 09-2003, 1-40.

Clarkson, Peter M. et al. 2007. Revisiting The Relation Between Environmental Performance and Environmental Disclosure. Accounting, Organization and Society, 33, 303-327.

Darus, Faizah et al. 2013. CSR Web Reporting: The Influence of Ownership Structure and Mimetic Isomorphism. International Conference on Economics and Business Research 2013 (ICEBR 2013), Procedia Economics and Finance 7 pp.236-242.

Dechow et al. 1995. Detecting Earnings Management. The Accounting Review Vol.7 pp. 193-225.

DiMaggio, P. J., dan Walter W Powell. 1983. The Iron Cage Revisited: Institutional Isomorphism and Collective Rationality in Organizational Fields. American Sociological Review, Vol 48, issue 2, 147-160.

Furrer et al. 2010. Attitudes Toward Corporate Responsibilities in Western Europe and in Central and Eastern Europe. Corporate Responsibilities in Europe.

Ghozali,Imam. 2006. Aplikasi Analisis Multivariate Lanjutan dengan Program SPSS. Semarang : Badan Penerbit Universitas Diponegoro.

Ghozali,Imam. 2009. Aplikasi Analisis Multivariate Lanjutan dengan Program SPSS. Semarang : Badan Penerbit Universitas Diponegoro.

Gujarati, Damodar N. 1995. Basic Econometrics Third Edition. Mc Graw- Hill: Singapore.

Joseph, Corina dan Ross Taplin. 2012. Local Government Website Sustainability Reporting : A Mimicry Perspective. Social Responsibility Journal, Vol.8 Iss: 3, pp. 363-372.

KPMG International. 2013. KPMG International Survey of Corporate Responsibility Reporting 2013. KPMG International Cooperative.

Muthuri, Judy N. dan Victoria Gilbert. 2010. An Institutional Analysis of Corporate Social Responsibility in Kenya. Journal of Business Ethics pp. 467-483.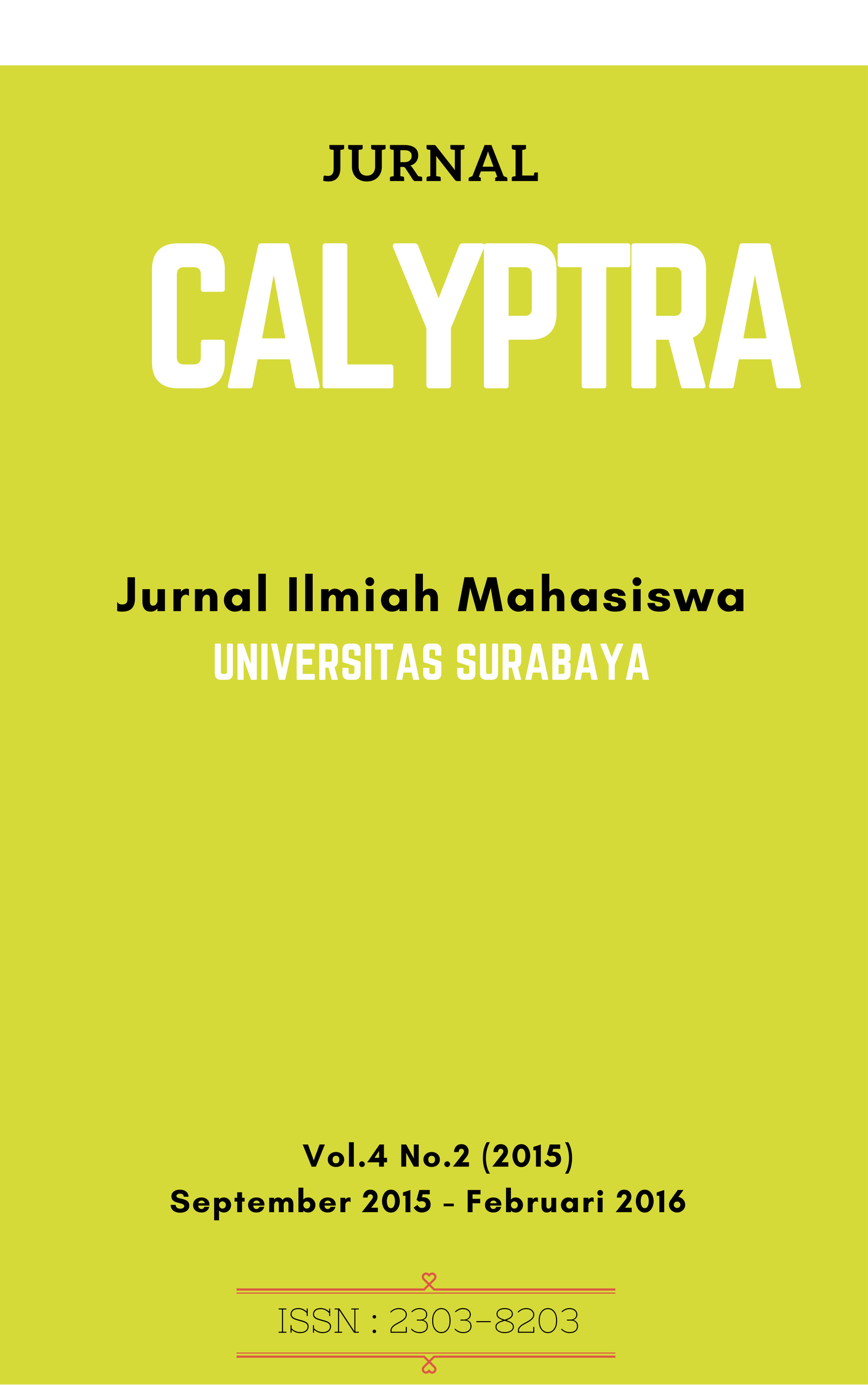 How to Cite
WINATA, Valita. CORPORATE SOCIAL AND ENVIRONMENTAL REPORTING : KASUS MIMETIC ISOMORPHISM PADA PERUSAHAAN GO PUBLIC DI INDONESIA PERIODE 2011 – 2013.
CALYPTRA
, [S.l.], v. 4, n. 2, p. Hal. 1 - 10, sep. 2015. ISSN 2302-8203. Available at: <
http://journal.ubaya.ac.id/index.php/jimus/article/view/1968
>. Date accessed: 18 feb. 2020.
Section
Bidang Akuntansi (AK)