PERBEDAAN KNOWLEDGE ACQUISITION DAN RELEVANCE TO ACCOUNTING WORK, ANTARA PRIA DAN WANITA DALAM PENYELESAIAN MASALAH AKUNTANSI DENGAN MEMANFAATKAN SOFTWARE AKUNTANSI
(Studi Kasus Pada Mahasiswa Jurusan Akuntansi Universitas Surabaya)
Irene Sugianto

Jurusan Akuntansi Fakultas Bisnis dan Ekonomika Universitas Surabaya
Abstract
Penelitian ini bertujuan untuk mengembangkan konsep atau penelitian yang sudah ada mengenai pengaruh penggunaan software akuntansi dalam pembelajaran mahasiswa guna menambah pengetahuan mahasiswa mengenai siklus akuntansi. Penelitian ini dilakukan dengan membuat eksperimen terhadap kelompok mahasiswa yang menempuh Akuntansi Keuangan Menengah I. Penelitian ini menggunakan pendekatan kuantitatif dengan menggunakan metode uji beda. Penelitian ini menggunakan sampel berupa mahasiswa akuntansi Universitas Surabaya yang sedang mengambil mata kuliah Akuntansi Keuangan Menengah I. Jumlah sampel yang digunakan dalam penelitian ini adalah sebesar 236 mahasiswa. Temuan penelitian menunjukan bahwa software akuntansi tidak memiliki pengaruh terhadap penyerapan knowledge acquisition mahasiswa terhadap siklus akuntansi. Namun, persepsi mahasiswa mengenai relevansi software akuntansi dengan pekerjaan sangat kuat. Selain itu, ditemukan pula bahwa tidak ada perbedaan antara pria dan wanita dalam menyerap knowledge acquisition dan dalam persepsi mengenai relevance to accounting work dalam pengerjaan masalah akuntansi baik itu secara manual maupun dengan menggunakan software akuntansi.
Downloads
Download data is not yet available.
References
Adri, Muhammad. 2003. Pemanfaatan Teknologi Informasi dalam Pengembangan Media Pembelajaran. Komunitas eLearning IlmuKomputer.Com.

Boulianne. Emilio. 2014. Impact of Accounting Software Utilization On Students' Knowledge Acquisition: An Important Change In Accounting Education. Journal of Accounting and Organizational Change. Vol. 10 No. 1, pp. 22-48.

Coate, C and Frey, K. 2000. Some Evidence on the Ethical Disposition of Accounting Students: Context and Gender Implications. Teaching Business Ethics. Vol 4 No 4, pp 379-404

Curtis, M.B., Jenkins, J.G., Bedard, J.C. dan Deis, D.R. 2009. Auditors' training and proficiency in information systems: a research synthesis. Journal of Information Systems, Vol. 23 No. 1, pp. 79-96.

Cushing, Bary E. dan Marshall B. Romney. 1994. Accounting Information System. Wesley Publishing Company.

Efferin, S. et al. 2008. Metode Penelitian Akuntansi (Mengungkap Fenomena dengan Pendekatan Kuantitatif dan Kualitatif). Cetakan Pertama. Graha Ilmu, Yogyakarta.

Florida, Richard. 2012. The Rise of The Creative Class Revisited. 10th Anniversary Edition. Basic Books, A Member of the Perseus Books Group.

Hair. Joseph F. et al. 2010. Multivariate Data Analysis: A Global Perspective. 7th edition. Pearson Education, Inc.

Harrison, A. W. dan Rainer, K. R.. 1992. The Influence of Individual Differences On Skill in End- User Computing. Journal of Management Information Systems. Vol. 9, No. 1, Summer.

Hatta, Madani dan Fenny Marietza. 2013. Kecemasan dalam Penggunaan Software Akuntansi dari Perspektif Gender dan Pengaruhnya terhadap Keahlian Pemakai dengan Locus Of Control sebagai Variabel Moderasi. Simposium Nasional Akuntansi XVI.

Junaidi. 2009. Pembelajaran Kooperatif pada Mata Kuliah Akuntansi Pengantar: Suatu Eksperimen Lapangan. Jurnal Akuntansi dan Keuangan, Vol. 11 No. 2, November 2009: 53-64.

Lawrence and Shaub, M. 1997. The Ethical Construction of Auditors: An Examination of the Effect of Gender and career Level. Managerial Finance. Vol 23 No 12, pp 3-21.

Malhotra, N. K. dan Birks, D. F., 2007. Marketing Research: An Applied Approach. 3rd European Edition. Harlow. UK: Pearson Education.

McDowall, T. dan Jackling, B. 2006. The impact of computer-assisted learning on academic grades: an assessment of students' perceptions. Accounting Education: An International Journal. Vol. 15 No. 4, pp. 377-389.

Nugraheni, B. Indah. 2006. Masalah Rendahnya ICT Literacy Dalam Pembelajaran Akuntansi Di Era Teknologi Informasi. Jurnal Pendidikan Akuntansi Indonesia. Vol. V No.1 Tahun 2006.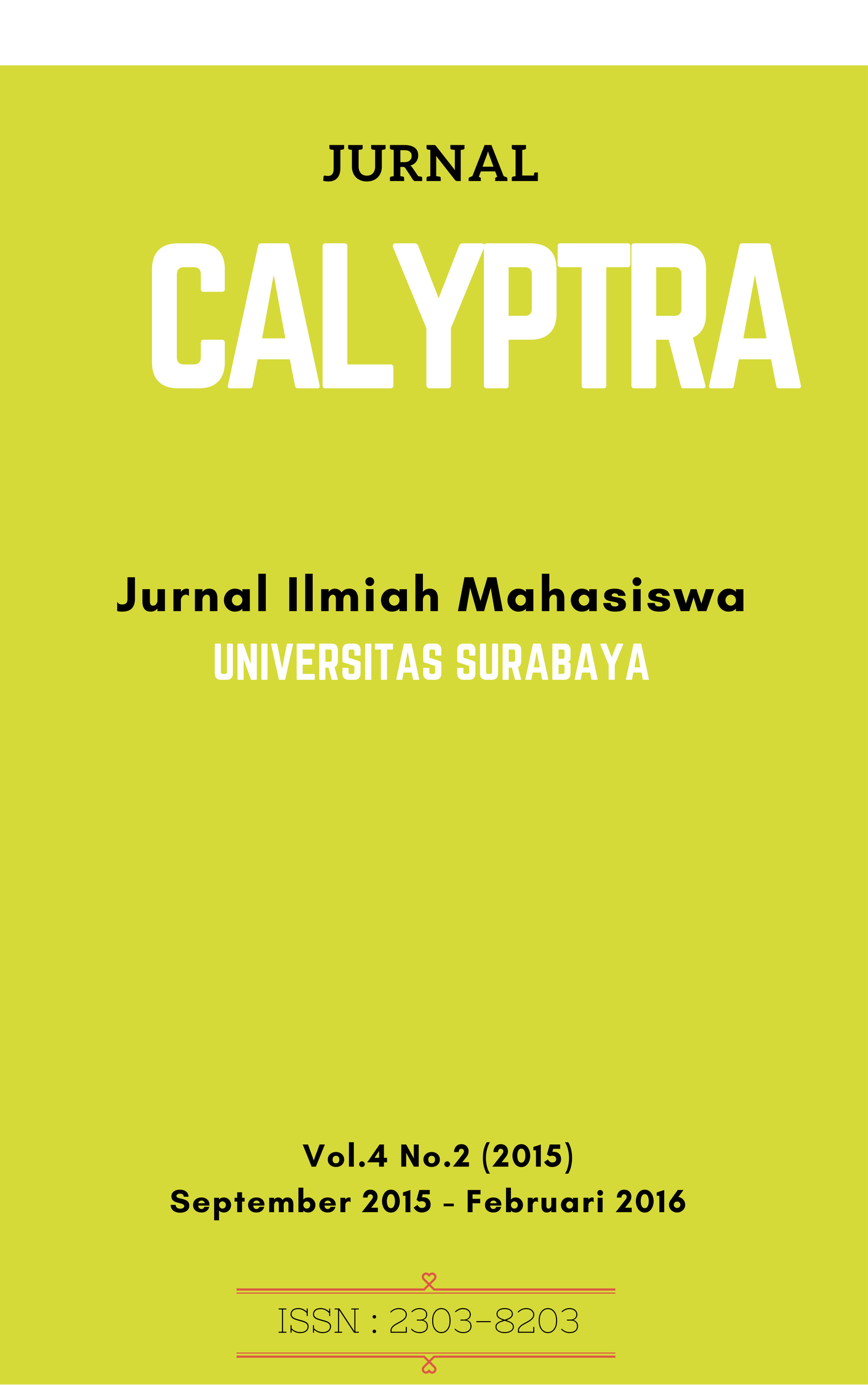 How to Cite
SUGIANTO, Irene. PERBEDAAN KNOWLEDGE ACQUISITION DAN RELEVANCE TO ACCOUNTING WORK, ANTARA PRIA DAN WANITA DALAM PENYELESAIAN MASALAH AKUNTANSI DENGAN MEMANFAATKAN SOFTWARE AKUNTANSI.
CALYPTRA
, [S.l.], v. 4, n. 2, p. Hal. 1 - 12, sep. 2015. ISSN 2302-8203. Available at: <
http://journal.ubaya.ac.id/index.php/jimus/article/view/1973
>. Date accessed: 28 mar. 2020.
Section
Bidang Akuntansi (AK)