PENGARUH COUNTRY OF ORIGIN DAN WORD OF MOUTH TERHADAP DIMENSI BRAND EQUITY DAN PENGARUH DIMENSI BRAND EQUITY TERHADAP BRAND EQUITY SMARTPHONE SAMSUNG DI SURABAYA
Stephens Balten Malino

Jurusan Manajemen Pemasaran Fakultas Bisnis dan Ekonomika Universitas Surabaya
Abstract
Penelitian ini menguji pengaruh Country Of Origin dan Word Of Mouth terhadap dimensi Brand Equity dan pengaruh dimensi Brand Equity terhadap Brand Equity smartphone Samsung di Surabaya. Temuan penelitian menunjukkan bahwa Country Of Origin terhadap dimensi Brand Equity smartphone Samsung di Surabaya berpengaruh positif signifikan. Word Of Mouth terhadap dimensi Brand Equity smartphone Samsung di Surabaya berpengaruh negatif signifikan. Dimensi Brand Equity smartphone Samsung di Surabaya berpengaruh positif signifikan kecuali Brand Association yang berpengaruh negatif siginifikan
Downloads
Download data is not yet available.
References
Aaker, D.A., 1991, Managing Brand Equity, Macmillan, New York, NY.

Aaker, D.A., 1997, Manajemen Ekuitas Merek, Jakarta: Mitra Utama

Bambauer, S. S., dan Mangold, S., 2011, Brand equity dilution through negative online word-of-mouth communication, Journal of Retailing and Consumer Services, Vol. 18 No. 1 : 38-45.

Bruhn, M., Schoenmueller, V dan Daniela B. Schafer., 2012, Are social media replacing traditional media in terms of brand equity creation?, Management Research Review, Vol. 35 No. 9 : 770-790.

Dodds, W.B., Monroe, K.B. and Grewal, D. 1991, Effects of price, brand, and store information on buyers product evaluations, Journal of Marketing Research, Vol. 28 No. 3 : 307-319.

Ferdinand, A., 2002, Structural Equation Modeling dalam Penelitian Manajemen, Badan Penerbit Universitas Diponegoro, Semarang.

Gruen, T.W., Osmonbekov, T. and Czaplewski, A.J., 2006, EWOM: the impact of customer-to customer online know-how exchange on customer value and loyalty, Journal of Business Research, Vol. 59 No. 4 : 449-456.

Hair J.F, JR., R.E. Anderson, R.L. Tatham dan W.C. Black, 2010, Multivariate Data Analysis, 10th Edition, Prentice Hall.

Keller, K.L., 1998, Strategic Brand Management : Building, Measuring, and Managing Brand Equity, Upper Saddle River: Prentice-Hall

Lim, B. C., dan Cindy M.Y. Chung, 2014, Word-of-mouth - The use of source expertise in the evaluation of familiar and unfamiliar brands, Asia Pacific Journal of Marketing and Logistics, Vol. 26 No. 1 : 39-53.

Listiana, E., dan Elida, S. S., 2014, Pengaruh Country Of Brand Dan Country Of Manufacture Terhadap Asosiasi Merek (Studi Pada Pelanggan Produk Elektronik), Media Ekonomi Dan Manajemen, Vol. 29 No. 1

Murtiasih, S., Sucherly and Siringoringo, H., 2013, How word of mouth influence brand equity for automotive products in Indonesia, Procedia-Social and Behavioral Sciences, Vol. 81 : 40-43.

Murtiasih, S., Sucherly and Siringoringo, H., 2014, Impact of country of origin and word of mouth on brand equity, Journal Marketing Intelligence & Planning, Vol 32 No 5 : 616-629

Pappu, R., Quester, P.G. and Cooksey, R.W., 2006, Consumer-based brand equity and country-of-origin relationships - Some empirical evidence, European Journal of Marketing, Vol. 40 No. 5/6 : 696-717.

Paswan, A.K. and Sharma, D. (2004), Brand-country of origin (COO) knowledge and COO image: investigation in an emerging franchise market, Journal of Product & Brand Management, Vol. 13 No. 2/3 : 144-155.

Ramaseshan, B., Fazlul K. Rabbanee dan Laine Tan Hsin Hui, 2013, Effects of customer equity drivers on customer loyalty in B2B context, Journal of Business & Industrial Marketing, 28/4 : 335–346.

Rangkuti, F., 1997, Riset Pemasaran, Gramedia Pust. Utama

Solomon, M. R., 2009, Consumer Behavior : Buying, Having, and Being, Upper Saddle River: Pearson Education

Sweeney, J.C., Soutar, G.N. and Mazzarol, T., 2012, Word of mouth: measuring the power of individual messages, European Journal of Marketing, Vol. 46 No. 1/2 : 237-257.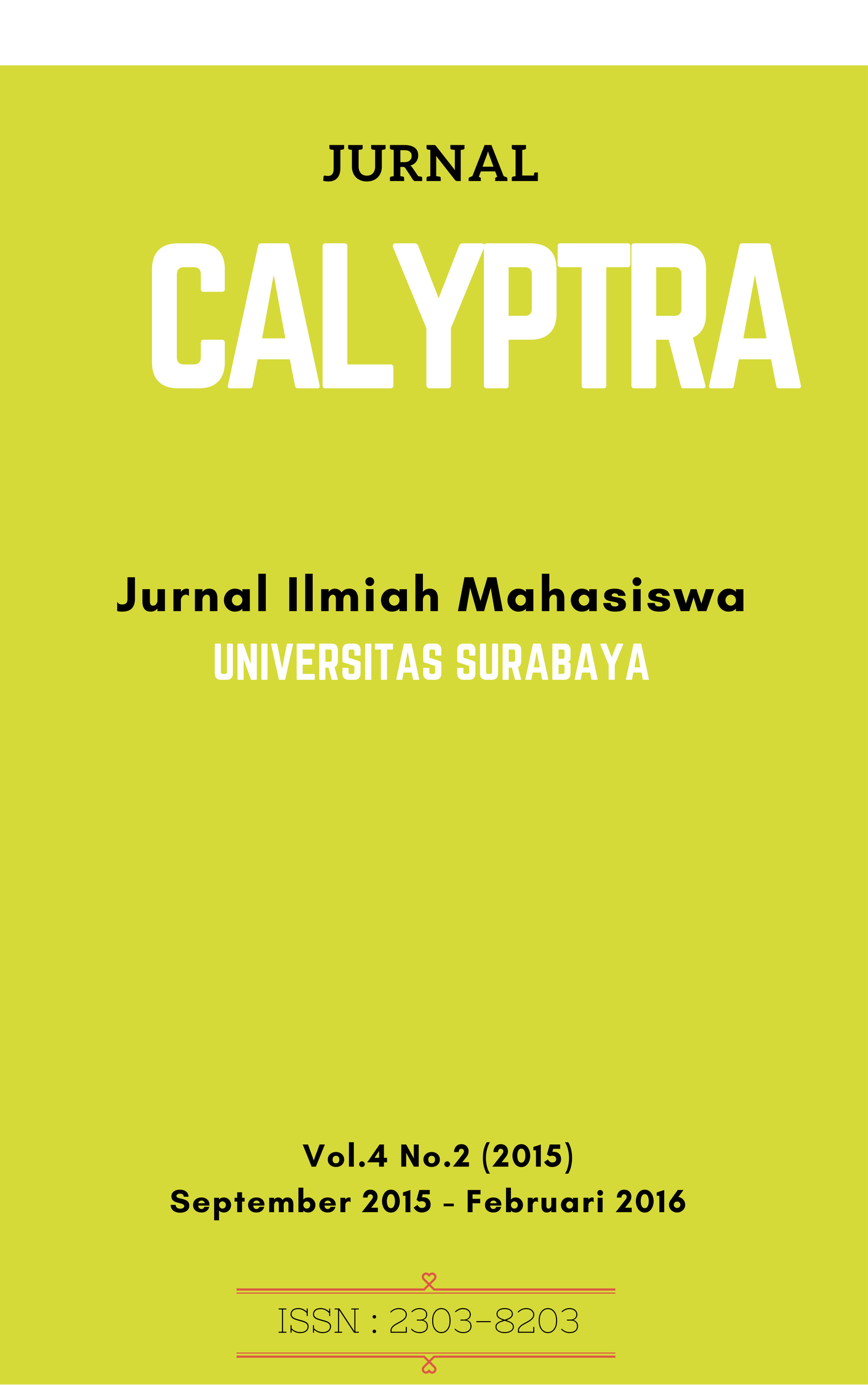 How to Cite
MALINO, Stephens Balten. PENGARUH COUNTRY OF ORIGIN DAN WORD OF MOUTH TERHADAP DIMENSI BRAND EQUITY DAN PENGARUH DIMENSI BRAND EQUITY TERHADAP BRAND EQUITY SMARTPHONE SAMSUNG DI SURABAYA.
CALYPTRA
, [S.l.], v. 4, n. 2, p. Hal. 1 - 11, sep. 2015. ISSN 2302-8203. Available at: <
http://journal.ubaya.ac.id/index.php/jimus/article/view/2101
>. Date accessed: 01 apr. 2020.
Section
Bidang Manajemen (M)