PENGARUH CUSTOMER SATISFACTION TERHADAP CUSTOMER LOYALTY DAN INTENTION TO SWITCH NASABAH BCA CABANG DARMO DI SURABAYA
Lukas Hendy Winata

Jurusan Manajemen Pemasaran Fakultas Bisnis dan Ekonomika Universitas Surabaya
Abstract
Tujuan dari penelitian ini adalah untuk mengetahui dan menganalisis pengaruh Customer Satisfaction terhadap Customer Loyalty dan Intention to Switch pada nasabah BCA cabang Darmo di Surabaya. Responden yang digunakan dalam penelitian ini berjumlah 120 orang responden yang pernah berkunjung dan melakukan transaksi di BCA cabang Darmo Surabaya dalam 2 tahun terakhir, responden dengan pendidikan minimal SMA atau sederajat. Selain itu  bertempat tinggal di Surabaya. Pengolahan data dilakukan dengan menggunakan Structural Equation Modeling (SEM) dengan software LISREL 8.70. Teknik pengambilan sampel yang digunakan adalah non probability sampling dengan jenis purposive sampling. Data diperoleh secara langsung dari responden yang memenuhi karakteristik populasi yang ditentukan dengan menyebarkan kuesioner. Jumlah sampel yang digunakan dalam penelitian ini adalah 120 responden. Hasil penelitian ini menunjukkan adanya pengaruh antara Customer Satisfaction terhadap Customer Loyalty. Sedangkan pengaruh Customer Satisfaction terhadap Intention to Switch dinyatakan tidak terdukung.
Downloads
Download data is not yet available.
References
Akbar, M. M., dan Parvez, N., 2009, Impact Of Service Quality, Trust, and Customer Satisfaction on Customer`s Loyalty, ABAC Journal, Vol. 29(1) : 24-38.

Allred., T. A., dan Addams., H.L., 2000, Service Quality at Banks and Credit Unions: What Do Their Customers Say,Manage Serv.Quality, 10(1),52-60.

Almossawi, M., 2001, "Bank Selection Criteria Employed By College Students In Bahrain: An Empirical Analysis",International journal Of Bank Marketing, Vol.19, pp 115-125.

Anderson, E.W., dan Sullivian, M. W., 1993, The Antecedents and Consequences of Customer Satisfaction For Firm., Mark.Sci, 12, 125-143.

Andriyani, D., 2012, Pengaruh Pergerakan Suku Bunga Tabungan Terhadap Minat Masyarakat Untuk Berinvestasi, UG Journal, Vol.6(5): 25-29.

Anthanassopoulos, A., Gounaris, S., dan Sathakopoulos, V., 2001, Behavioral Responses to Customer Satisfaction; An Empirical Study, European. J. Mark., 35(5/6), 687-707.

Bae, Y.H., 2012, Three Essays On The Customer Satisfaction-Customer Loyalty Association, Disertasi, Universitas of Iowa.

Bleomer,J., dan Ruyter, K.D., 1998. On The Relationship Between Store Image, Store Satisfaction and Store Loyalty. Eur.J.Mark., 32(5/6), 499-513.

Bowen, J.T., dan Chen, S.L., 2001, The Relationship Between Customer Loyalty and Customer Satisfaction, International Journal of Contemporary Hospitality Management, 213-217.

Cronin,J.J., dan Taylor, S.A., 1992. Measuring Service Quality: A Reexamination and Extension, J.Mark, 56, 55-68.

Dick, A.S dan Basu, K., 1994, "Customer Loyalty :Toward an Integrated Conceptual Framework",Journal of The Academy Marketing Science, Vol.22, p.99-113.

Evan, J.R., dan Lindsay., W.M., 1996, The Management and Control of Quality., St.Paul : West Publishing Company.

Ferdinand,A.,2002, Structural Equation Modelling dalam Penelitian Manajemen: Aplikasi Model Rumit dalam Penelitian Untuk Tesis, Magister, Disertasi, Universitas Diponegoro.

Fornell, C., 1992, A National Customer Satisfaction Barometer: The Swedish Experience., J.Mark, 56, 6-21.

Gerrard, P., dan Cunningham, J.B., 1997, Islamic Banking : A Study In Singapore. Int.J.Bank.Mark., 15(6),204-216.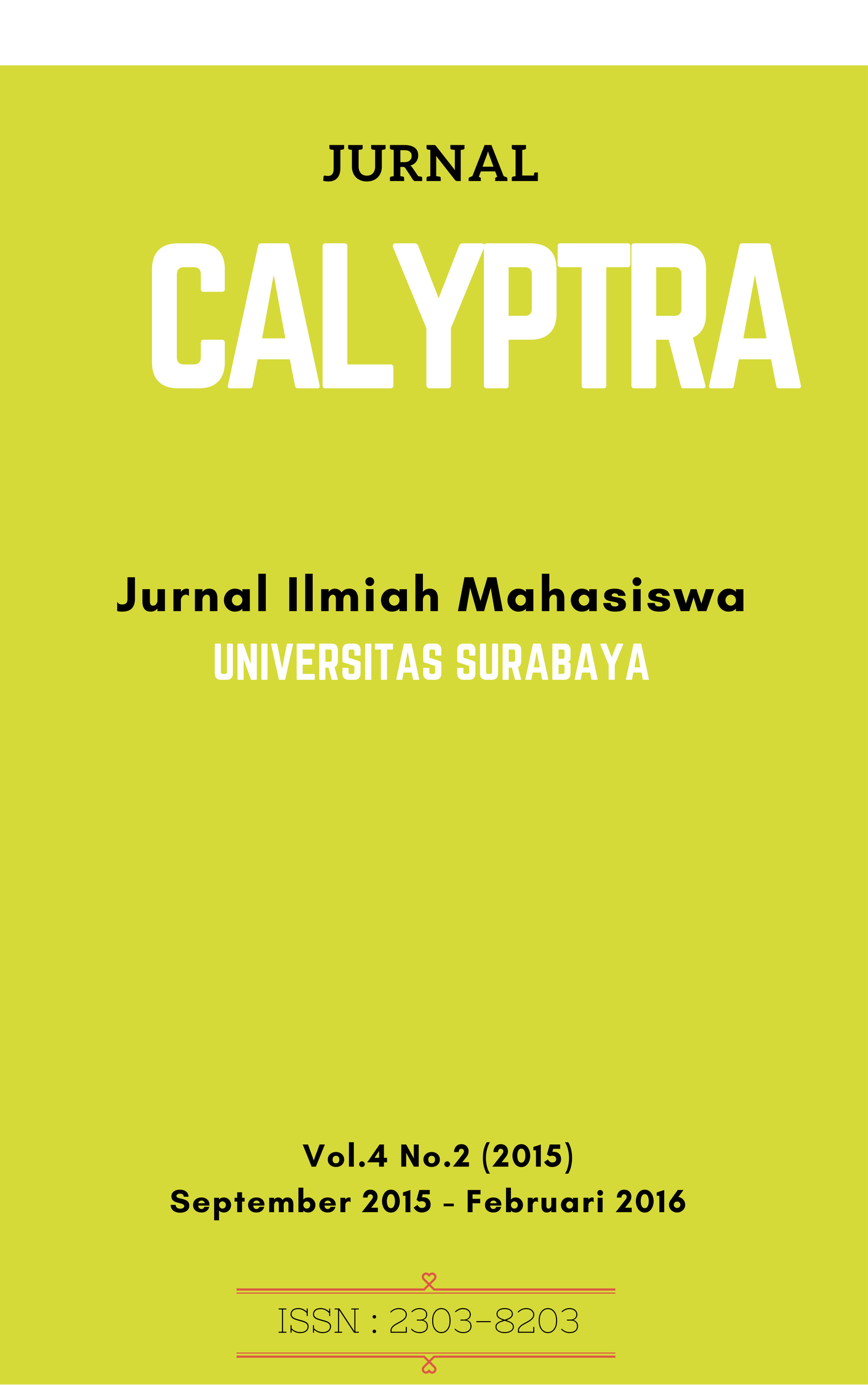 How to Cite
WINATA, Lukas Hendy. PENGARUH CUSTOMER SATISFACTION TERHADAP CUSTOMER LOYALTY DAN INTENTION TO SWITCH NASABAH BCA CABANG DARMO DI SURABAYA.
CALYPTRA
, [S.l.], v. 4, n. 2, p. Hal. 1 - 18, sep. 2015. ISSN 2302-8203. Available at: <
http://journal.ubaya.ac.id/index.php/jimus/article/view/2141
>. Date accessed: 01 apr. 2020.
Section
Bidang Manajemen (M)