PENGARUH DESTINATION ATTRIBUTES TERHADAP PEMBENTUKAN DESTINATION IMAGE BALI MENURUT PESERTA MICE DOMESTIK
Threslia Regina Martha Leuw

Jurusan Manajemen Fakultas Bisnis dan Ekonomika Universitas Surabaya
Abstract
Penelitian ini bertujuan untuk mengetahui pengaruh destination attributes terhadap destination image Bali menurut peserta MICE domestik. Selain itu juga untuk mengetahui perbedaan persepsi  mengenai pentingnya destination attributes MICE berdasarkan karakteristik sosio-demografis responden. Objek yang digunakan dalam penelitian ini adalah salah satu destinasi MICE di Indonesia yaitu Bali. Pengolahan data dilakukan dengan menggunakan SPSS 18 for windows. Teknik pengambilan sampel yang digunakan adalah non probability sampling dengan jenis judgement sampling. Data diperoleh secara langsung dari responden yang memenuhi karakteristik populasi yang ditentukan dengan menyebarkan kuesioner. Jumlah sampel yang digunakan dalam penelitian ini adalah 189 responden. Metode yang digunakan dalam penelitian ini adalah ANOVA, t-test, dan multiple regression. Hasil penelitian ini menunjukkan destination attributes berpengaruh signifikan positif terhadap pembentukan destination image Bali dan terdapat perbedaan persepsi antara peserta MICE mengenai pentingnya destination attributes.
Downloads
Download data is not yet available.
References
Dewi, S.N., R. Purnama dan H.P.D. Setiyorini, 2013, Pengaruh Citra Destinasi Pariwisata Kabupaten Belitung Terhadap Perilaku Pasca Berkunjung Wisatawan Nusantara, Tourism and Hospotality Essentials Anthology, Edisi I: 2.

Evan, Joel R. dan Berman Barry. 1995. Principles of Marketing, Third edition. New Jersey. Prentice-Hall International, INC.

Goeldner, Charles R. dan Ritchie, J. R. Brent. 2006. Tourism: Principles, Practices, Philosophies, Tenth edition. New Jersey: John Wiley & Sons, INC.

Hair, J.F., Black, W.C., Babin, B.J. dan Anderson, R.E, 2010, Multivariate Data Analysis, Seventh Edition, Prentice Hall Inc, New Jersey.

Jogiyanto. 2007. Metodologi Penelitian Bisnis: Salah Kaprah dan Pengalamanpengalaman. Cetakan pertama. Yogyakarta. BPFE.

Kesrul, M. 2004. Meeting, Incentive Trip, Conference, Exhibition. Yogyakarta: Penerbit Graha Ilmu.

Kotler, P dan Keller, Kevin Lane. 2009. Manajenen Pemasaran, edisi Ketiga Belas Jilid 1. Jakarta: Penerbit Erlangga.

Kuncoro, M. 2003. Metode Riset untuk Bisnis dan Ekonomi Jakarta: Penerbit Erlangga.

Lim, K.C. dan O.A. Ananzeh, 2012, The Role of Destination Attributes on Forming Jordan Touristic Image, SAVAF International, Vol. 3: 267-277.

Malhotra, N.K., 2007, Marketing Research An Applied Orientation, Fifth Edition, Pearson Education Inc.

Martin, H. S., dan I. A. RodrÍguez, 2008, Exploring The Cognitive–Affective Nature of Destination Image and The Role Of Psychological Factors In Its Formation, Tourism Management, Vol 29: 263-277.

Matos, N., J. Mondes., dan P. Valle, 2012, Revisiting The Destination Image Construct Through a Conceptual Model, A Multidisciplinary e-journal, N. 21: 105.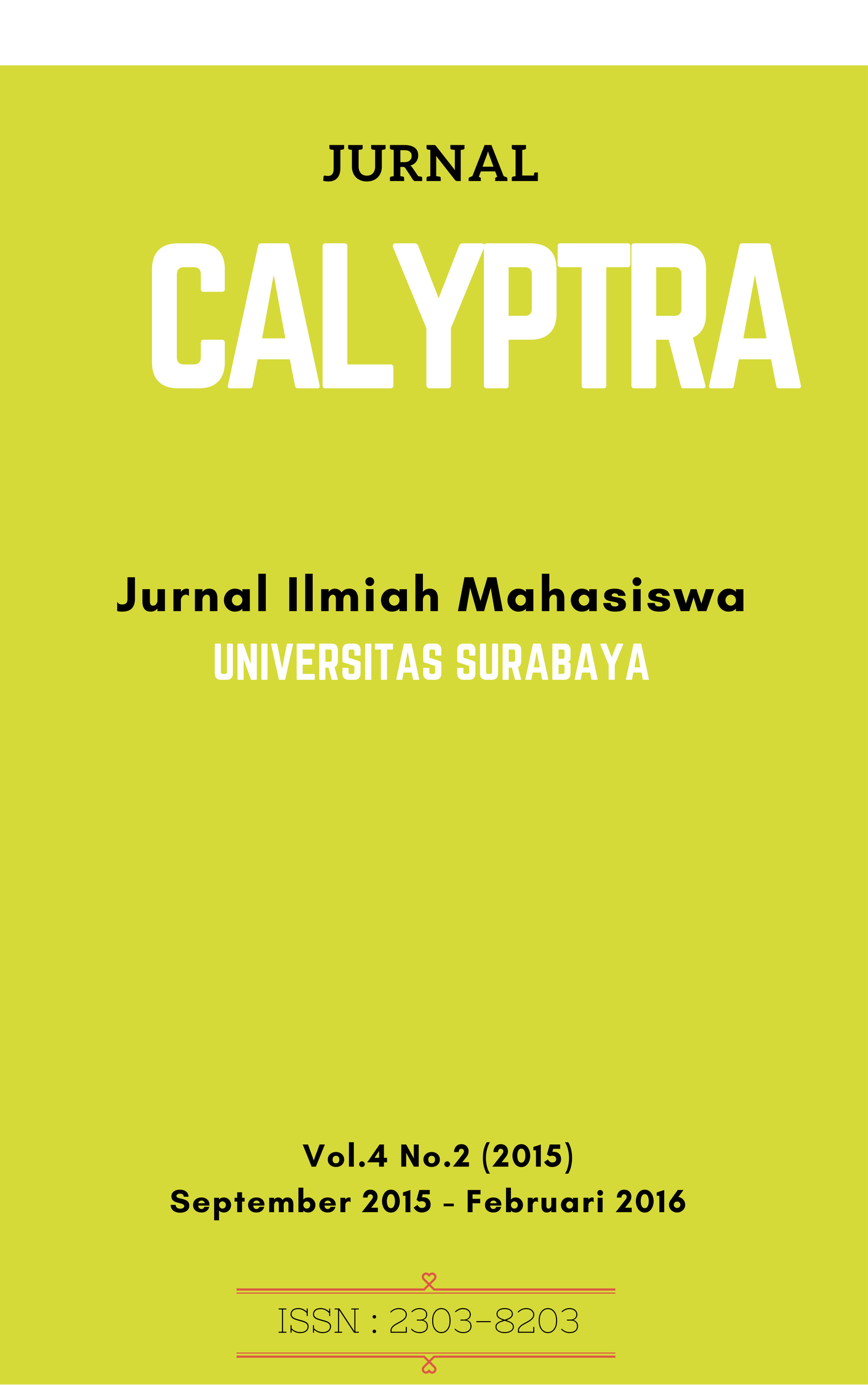 How to Cite
LEUW, Threslia Regina Martha. PENGARUH DESTINATION ATTRIBUTES TERHADAP PEMBENTUKAN DESTINATION IMAGE BALI MENURUT PESERTA MICE DOMESTIK.
CALYPTRA
, [S.l.], v. 4, n. 2, p. Hal. 1 - 14, sep. 2015. ISSN 2302-8203. Available at: <
http://journal.ubaya.ac.id/index.php/jimus/article/view/2156
>. Date accessed: 05 dec. 2019.
Section
Bidang Manajemen (M)