BIAS BETA DAN KOREKSI BETA DALAM BURSA EFEK INDONESIA PERIODE 2009 – 2011
Fransisca Soetjiono

Manajemen/ Fakultas Bisnis dan Ekonomika Universitas Surabaya

Werner R. Murhadi

Manajemen/ Fakultas Bisnis dan Ekonomika Universitas Surabaya

Endang Ernawati

Manajemen/ Fakultas Bisnis dan Ekonomika Universitas Surabaya
Abstract
Penelitian ini bertujuan untuk menguji nilai beta yang terdapat pada Bursa Efek Indonesia periode 2009-2011. Nilai beta pada periode ini memiliki kecenderungan bias dikarenakan adanya perdagangan tidak aktif yang terjadi pada bursa. Jika terdapat nilai beta yang bias maka harus dikoreksi dengan menggunakan metode Scholles Williams, Dimson, dan Fowler Rorke. Berdasarkan ketiga metode ini kemudian dipilih metode yang menghasilkan nilai beta yang paling mendekati 1. Penelitian ini menggunakan sampel sebanyak 108 emiten dari 359 emiten yang tercatat sebagai populasi penelitian. Data harga saham yang digunakan dalam penelitian ini adalah harga saham bulanan selama 3 tahun. Temuan penelitian menunjukkan bahwa terdapat nilai beta yang bias pada Bursa Efek Indonesia 2009-2011 sebesar 0.315. Nilai beta yang bias ini dikoreksi dengan tiga metode tersebut. Kemudian diperoleh hasil bahwa Metode Dimson menghasilkan nilai beta yang paling mendekati 1 yaitu 0,5106.
Downloads
Download data is not yet available.
References
Blume, M.E. 1971. On the assessment of risk. Journal of Finance 26, 1-10.

Blume, M.E. 1975. Betas and their regression tendencies. Journal of Finance 30, 785-799.

Dimson, E. 1979. Risk measurement when shares are subject to infrequent trading. Journal of Financial Economics 10, 197-226.

Ernawati, E., dan Aulia Hanani.2007. Bias Beta dan Model Koreksinya Pada Bursa Efek Jakarta. Kumpulan Jurnal Manajemen & Bisnis, Volume 6.

Fowler, D.J., C.H. Rorke, dan V.M. Jog. 1980. Thin trading and beta estimation techniques on the Toronto Stock Exchange. Journal of Business Administration 12, 77-90.

Fowler, D.J., C.H. Rorke, dan V.M. Jog. 1989. A bias-correcting procedure for beta correction in the presence of thin trading. Journal of Financial Research 12, 23-32.

Haryanto dan Surianto (1999). Bias Di Beta Sekuritas dan Koreksinya untuk Pasar Modal yang Sedang berkembang: Bukti Empiris di Bursa Efek Jakarta. Prosiding Seminar Nasional: Komunikasi Penelitian Manajemen dan Bisnis. UNDIP-Semarang.
Jogiyanto. 1998b. Teori Portfolio dan Analisis Investasi. Yogyakarta: BPFE

Jogiyanto, dan Surianto. 2000. Bias in Beta Values and Its Correction. Gadjah Madda International Journal of Business, September, Bol.2, No.3; 337-349.

Lucky, E.M.S. dan Widuri K. 2006.Koreksi Beta Pada Pasar Thin Trading (LQ-45 Di BEJ Periode 2000-2001). Kumpulan Jurnal Manajemen & Bisnis, Volume 1.

Pasaribu, Rowland Bismark Fernando.2009.Koreksi Bias Koefisien Beta Di Bursa Efek Indonesia. Jurnal Ekonomi dan Bisnis Vol. 3.

Scholes, M., dan J. Williams. 1977. Estimating betas from non-synchronous data. Journal of Financial Economics 5, 309-327.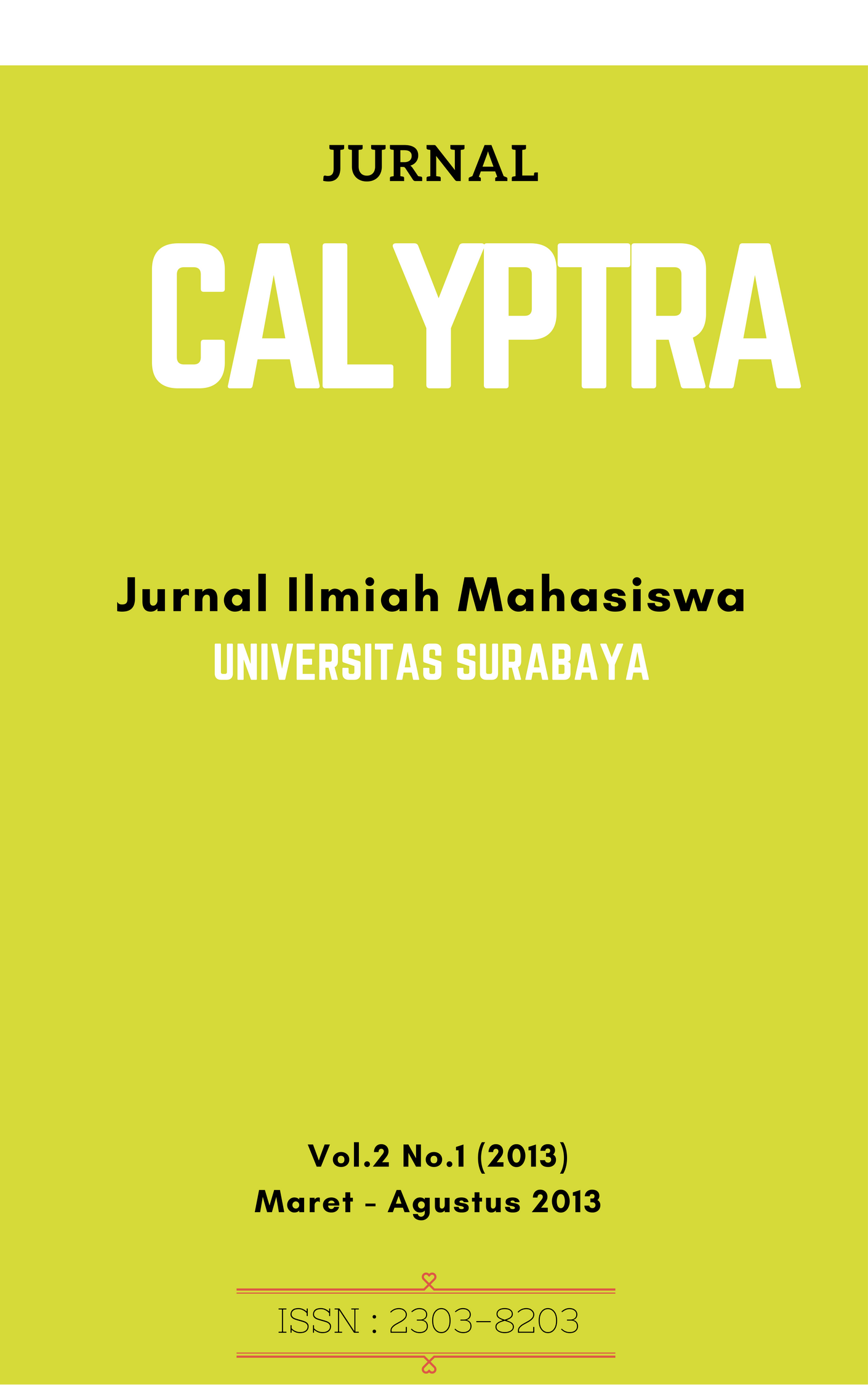 How to Cite
SOETJIONO, Fransisca; MURHADI, Werner R.; ERNAWATI, Endang. BIAS BETA DAN KOREKSI BETA DALAM BURSA EFEK INDONESIA PERIODE 2009 – 2011.
CALYPTRA
, [S.l.], v. 2, n. 1, p. Hal. 1 - 9, mar. 2013. ISSN 2302-8203. Available at: <
http://journal.ubaya.ac.id/index.php/jimus/article/view/333
>. Date accessed: 22 may 2018.
Section
Bidang Manajemen (M)