IMPLEMENTASI METODE DISTRIBUTION REQUIREMENTS PLANNING (DRP) PADA CV. KARYA MANDIRI SEJAHTERA DI SURABAYA
Regina Steven Surya

Manajemen / Fakultas Bisnis dan Ekonomika Universitas Surabaya
Abstract
CV. Karya Mandiri sebagai perusahaan distributor minuman ringan dalam kemasan produk Starfood seringkali mengalami kehilangan penjualan yang disebabkan oleh pendistribusian yang terhambat karena ketersediaan produk yang tidak memadai untuk memenuhi permintaan. Studi ini bertujuan untuk menerapkan perencanaan kebutuhan distribusi untuk mengendalikan ketersediaan produk melalui penjadwalan distribusi dalam rangka optimalisasi aktivitas distribusi produk minuman ringan dalam kemasan pada CV. Karya Mandiri Sejahtera. Studi ini menggunakan metode Distribution Requirements Planning (DRP). DRP berfokus pada manajemen distribusi inventori perusahaan. Dalam studi ini, penerapan DRP didahului oleh peramalan permintaan. Peramalan permintaan masing-masing produk akan menggunakan metode peramalan terbaik yang merupakan hasil perbandingan dari metode perataan bergerak tunggal dan metode pemulusan eksponensial tunggal. Hasil dari peramalan permintaan tersebut akan digunakan dalam pengendalian persediaan dan penjadwalan distribusi melalui penerapan metode DRP. Hasil dari studi ini menunjukkan bahwa penerapan DRP pada CV. Karya Mandiri Sejahtera dapat menyelesaikan permasalahan yang selama ini dihadapi perusahaan distributor tersebut dalam aktivitas pendistribusiannya. Dengan menerapkan DRP, ketersediaan produk menjadi memadai dan distribusi menjadi lancar. Hal ini menunjukkan bahwa penerapan DRP menghasilkan optimalisasi aktivitas distribusi pada perusahaan distributor tersebut. Dengan demikian, CV. Karya Mandiri Sejahtera tidak lagi harus kehilangan penjualan.
Downloads
Download data is not yet available.
References
Abdillah, A.Fahrozi, 2009, Perencanaan Dan Penjadwalan Aktivitas Distribusi Hasil Perikanan Dengan Menggunakan Distribution Requirement Planning (DRP), Jurusan Teknik Industri Fakultas Teknologi Industri Universitas Pembangunan Nasional "Veteran" Jatim.

Andre J. Martin, 1995, DRP : Distribution Resource Planning, Revised Edition, Foreword by Walter E. Goddard, New York : John Wiley & Sons, Inc.

Biegel, John, 2000, Pengendalian Produksi: Suatu Pendekatan Kuantitatif, Jakarta : Akademia Pressindo.

Blanchard, B.S., 2004, Logistic Engineering and Management, sixth ed., Prentice Hall, Pearson.

Chopra S, Meindl P., 2007, Supply Chain Management: Strategy, Planning, and Operation. Ed ke-3, New Jersey : Pearson Education.

Coyle, C.J. et al., 2008, Supply Chain Management: A Logistics Perspective, 8th Ed, USA: Cengage Learning publishers.

Gaspersz, Vincent, 2005, Production Planning and Inventory Control : Berdasarkan Pendekatan Sistem Terintegrasi MRP II dan JIT Menuju Manufakturing 21, Edisi Kelima, Jakarta : Vincent Foundation dengan PT. Gramedia Pustaka Utama.

Hanke, J. E dan Wichern, D. W., 2005, Business Forecasting, 8th Edition, New Jersey: Prentice Hall.

Heizer, J. dan Render, B., 2009, Manajemen Operasi, Edisi 8, Jakarta : Salemba Empat.

Indrajit, RE, Djokopranoto R., 2003, Manajemen Persediaan : Barang Umum dan Suku Cadang untuk Keperluan Pemeliharaan, Perbaikan, dan Operasi, Jakarta : PT Gramedia Widiasarana Indonesia.

Jebarus, Felix, 2001, Supply Chain Management, Usahawan no : 02 Th XXX Februari.

Kotler, Philip, 2001, Manajemen Pemasaran, Analisis, Perencanaan, Implementasi, dan Pengendalian, Edisi Indonesia, Jilid 2, Jakarta : Salemba Patria.

Lyson, K. Gillingham, M, 2003, Purchasing and Supply Chain Management, 6th edition, Financial Times, London : Prentice hall.

Makridakis, S., Whellwright, Steven C., and E. Victor, 1999, Metode dan Aplikasi Peramalan, Jakarta: Binarupa Aksara.

Nasution, A. H., 2003, Perencanaan dan Pengendalian Produksi, Surabaya : Guna Widya.

O'Brien, W.J., 1999, Construction Supply Chain Management: A Vision for Advanced Coordination, Costing and Control, Construction Supply-Chain Management, Desertation, Stanford University.

Pujawan, I Nyoman, 2005, Supply Chain Management, Edisi Pertama, Surabaya : Guna Widya.

Rutner, S. M., 2007, Principles of Transportation - LOGT 3231 – Business Logistics Additional Chapter.

Saladin, Djaslim dan Yevis Marty Oesman, 2002, Intisari Pemasaran dan Unsur-unsur Pemasaran, Bandung : Linda Karya.

Simchi-Levi D, Kaminsky P, Simchi-Levi E, 2003, Designing, and Managing the Supply Chain: Concepts, Strategies, and Case Studies, New York: Mc. Graw-Hill.

Stevenson, William J., 2005, Operations Management, International Edition, Eight Edition, New York : McGraw-Hill, Inc.

Tersine, Richard J., 1994, Principles of Inventory and Material Management, Fourth Edition, Englewood Cliffs, New Jersey : Prentice-Hall, Inc.

Vollman, T.E., Berry, W.L., Whybark, D.C., Jacobs, F.R., 2005, Manufacturing Planning and Control for Supply Chain Management, New York: The McGraw-Hill/Irwin.

Waters, Donald, 2003, Inventory Control and Management, Second Edition, England : John Willey and Sons Ltd.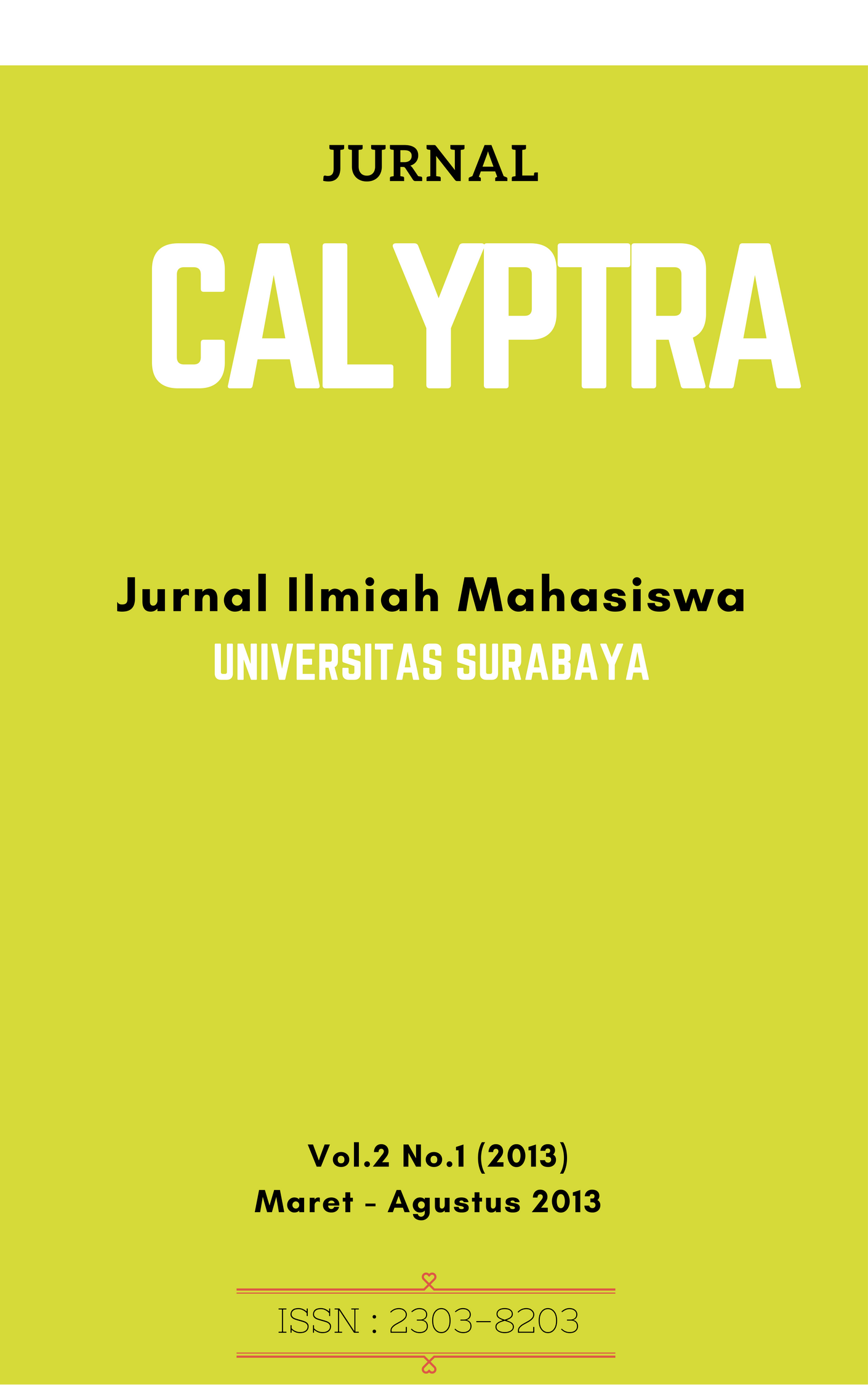 How to Cite
SURYA, Regina Steven. IMPLEMENTASI METODE DISTRIBUTION REQUIREMENTS PLANNING (DRP) PADA CV. KARYA MANDIRI SEJAHTERA DI SURABAYA.
CALYPTRA
, [S.l.], v. 2, n. 1, p. Hal. 1 - 19, mar. 2013. ISSN 2302-8203. Available at: <
http://journal.ubaya.ac.id/index.php/jimus/article/view/336
>. Date accessed: 22 may 2018.
Section
Bidang Manajemen (M)