STUDI EKSPLORATORY ELEMEN EXPERIENTIAL MARKETING EVENT CAMPUS LEAGUE PADA PENONTON DI SURABAYA
Christian Septiadi

Manajemen Pemasaran / Fakultas Bisnis dan Ekonomika Universitas Surabaya
Abstract
Perkembangan kompetisi basket di Indonesia maju pesat yang didukung dengan experiential marketing, hal ini menjadi suatu fenomena tersendiri khususnya pada event kompetisi basket Campus League. Penelitian ini bertujuan untuk menggali lebih dalam fenomena elemen experiential marketing pada event Campus League berdasarkan pengalaman penonton ketika datang menonton pertandingan basket pada event Campus League di Surabaya. Melalui penelitian ini diharapkan dapat diketahui pengalaman apa saja yang dirasakan oleh penonton selama berada di venue pertandingan Penelitian ini menggunakan data primer, dimana data tersebut diperoleh dari hasil wawancara secara mendalam dengan informan yang berjumlah 7 orang, lewat pernyataan-pernyataan yang dikatakan oleh informan. Teknik pengambilan sampel yang digunakan adalah non-probability sampling dengan jenis judgemental sampling. Data yang didapat diolah berdasarkan elemen experiential marketing yaitu sense experience, feel experience, think experience, act experience, related experience. Data kemudian dianalisis menggunakan prosedur coding, dimana proses pencodingan tersebut diawali dengan open coding lalu axial coding dan proses yang terakhir adalah selective coding. Berdasarkan hasil dari penelitian yang dilakukan, terlihat ada fenomena experiential marketing dalam event campus league. Hasil penelitian menunjukan bahwa terdapat elemen-elemen experiential marketing seperti elemen sense experience lewat hal-hal yang menarik pancaindra penonton, elemen feel experience lewat kondisi perasaan dan emosi pada saat menonton pertandingan, elemen think experience lewat proses berpikir kreatif dan juga mengevaluasi yang dilakukan, elemen act experience lewat respon yang dilakukan oleh penonton ketika mendukung tim kesayangan, dan elemen related experience lewat hubungan antara informan dengan penonton lain.
Downloads
Download data is not yet available.
References
Andreani, Fransisca, Experiential marketing (sebuah pendekatan pemasaran), Staf Pengajar Program Manajemen Perhotelan, Fakultas Ekonomi, Universitas Kristen Petra – Surabaya


Bodet, Guillaume, Experiential Marketing and Sporting Event : a Spectator Perspective, 19th Conference of the European Association for Sport Management, Loughborough University, UK


Patrick, Lapido, Ganiyu,Rahim, Experiential Marketing: An Insight into the Mind of the Consumer , Asian Journal of Business and Management Sciences.


Pine II, B. joshep, and Gilmore, james H, , 1999, The Experience Economy : Work Is Theatre And Every Business A Stage, Havard Business School press, Boston


Schmitt, Bernd. H, , 1999 Experiential Marketing : How To Get Customer To Sense, Feel, Think, Act, Relate To Your Company And Brand, The Free Press, New York.


Zikmund, 1997, Business Research Methods, 5th edition , The Dryden Press, Harcourt Brace College Publisher, USA


Poerwandari, K, 2001, Pendekatan Kualitatif Untuk Penelitian Perilaku Manusia, Jakarta : LPSP 3, Fakultas Psikologi Universitas Indonesia.

(http://travel.nationalgeographic.com/travel/top-10/sporting-events/) (diunduh April 2013)


http://id.olahraga.yahoo.com/news/turnamen-la-lights-campus-league-2012-segerabergulir-104845916--spt.html (diunduh 8 April 2013)


http://m.koran-sindo.com/node/303757 (diunduh 8 April 2013)


http://olahraga.kompas.com/read/2012/03/03/17251217/Besok.Malang.Jadi.Tuan.Rumah (diunduh 8 April 2013)


http://sport.ghiboo.com/adu-basket-antar-mahasiswa-ajang-menuju-profesional (diunduh 8 April 2013)


http://www.merdeka.com/olahraga/la-lights-campus-league-2012-kembalibergulir.html (diunduh 8 April 2013)


http://ligamahasiswa.co.id/pages/news‐detail/penandatanganan‐kerjasama‐limaperbasi‐20120615 (diunduh 26 juli 2013)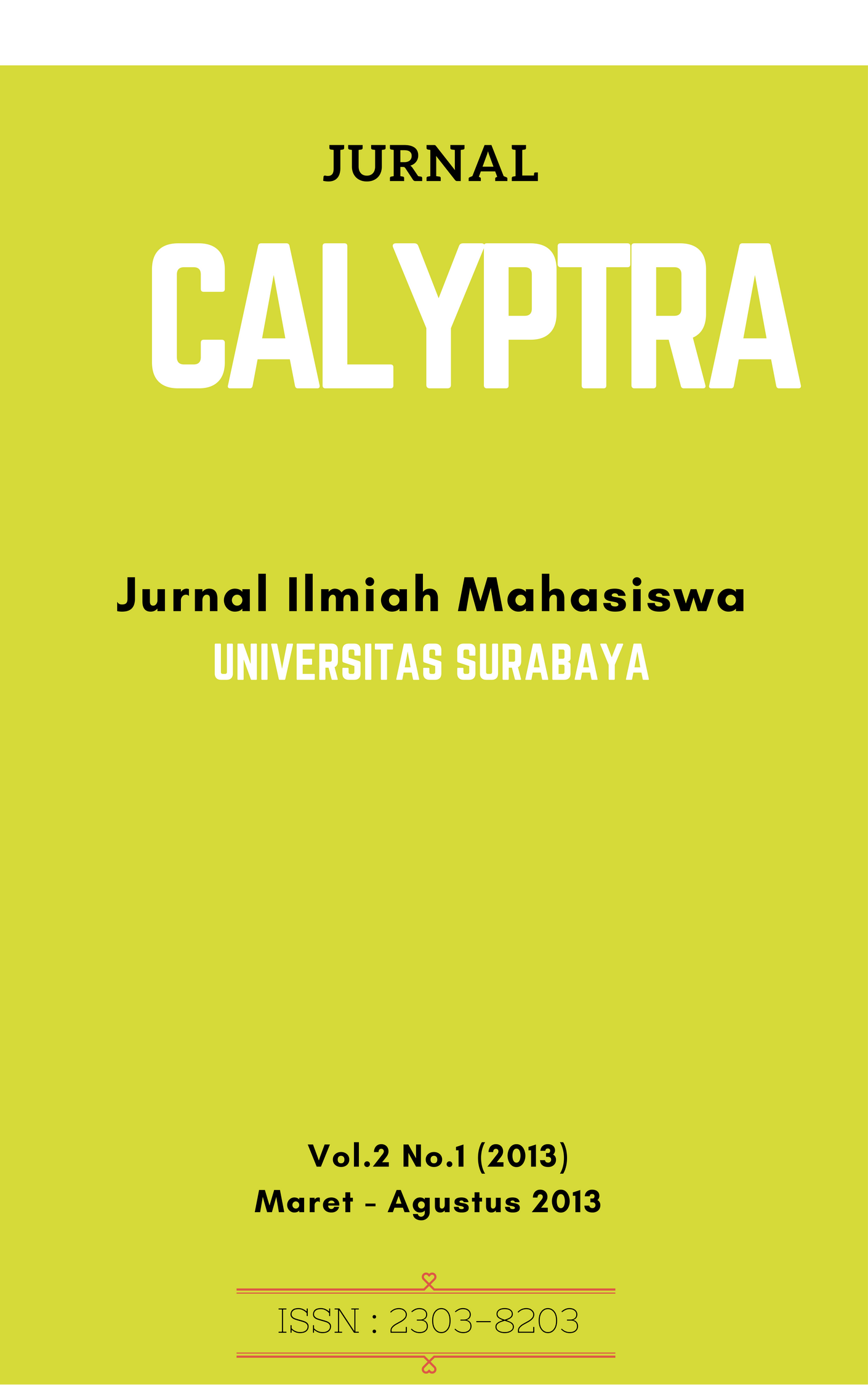 How to Cite
SEPTIADI, Christian. STUDI EKSPLORATORY ELEMEN EXPERIENTIAL MARKETING EVENT CAMPUS LEAGUE PADA PENONTON DI SURABAYA.
CALYPTRA
, [S.l.], v. 2, n. 1, p. Hal. 1 - 12, mar. 2013. ISSN 2302-8203. Available at: <
http://journal.ubaya.ac.id/index.php/jimus/article/view/378
>. Date accessed: 18 sep. 2019.
Section
Bidang Manajemen (M)