PENINGKATAN KUALITAS LAYANAN TRAVEL PT. YOLA LANCAR JAYA KEDIRI DENGAN METODE INTEGRASI SERVICE QUALITY DAN KANO KE DALAM QUALITY FUNCTION DEPLOYMENT
Yustian Duta Ahimsa

Jurusan Teknik Industri Fakultas Teknik Universitas Surabaya
Abstract
PT. Yola Lancar Jaya adalah perusahaan yang bergerak di bidang jasa penyedia layanan transportasi antar kota. Persaingan yang semakin ketat dan kompetitif menuntut PT. Yola Lancar Jaya untuk meningkatkan kualitas layanannya, sehingga perlu dilakukan suatu pengukuran kualitas layanan agar dapat mengetahui bentuk pelayanan yang diinginkan konsumen. Metode pengukuran yang digunakan adalah metode integrasi Kano, Service Quality kesenjangan persepsi dan harapan konsumen dengan Quality Function Deployment berdasarkan dimensi tangibles, reliability, responsiveness, assurance, empathy. Berdasarkan analisis kesenjangan persepsi dengan harapan konsumen didapatkan bahwa ke-18 variabel mengalami kesenjangan, dengan 5 variabel dengan mean kesenjangan terbesar adalah pemberian informasi layanan (-1,77), ketepatan waktu penjemputan penumpang (-1,68), penerima order melayani permintaan konsumen (-1,30), driver menyetir dengan hati – hati dan mematuhi rambu lalu lintas (-1,28), karyawan cepat dan tanggap dalam melayani komplain (-1,23). Selanjutnya pada tahap rancangan usulan perbaikan dengan metode Quality Function Deployment yaitu membuat standar pelayanan konsumen, memberikan informasi layanan kepada konsumen saat pengorderan dan membuat iklan di media cetak maupun internet, driver berangkat lebih awal dalam menjemput konsumen, membuat standar dalam menerima order konsumen, melakukan maintenance secara berkala, memberikan pelatihan safety driving kepada driver, menyediakan snack dan air minum serta mengadakan promo layanan, membuat standar dalam menerima komplain konsumen, membuat standar kerapian karyawan.
Downloads
Download data is not yet available.
References
Agresti, A., 1996. An Introduction to Categorical Data Analysis. John Wiley & Sons, Inc. New York, New York, USA.

Azwar, Saiffudin. 2001. Reliabilitas & Validitas, Pustaka Pelajar, Yogyakarta.

Cohen, Lau, 1995, QFD: How to make QFD work for you, Addision Wesley, Longman,Inc., Reading, Massachusetts.

Kotler, Philip and Kevin Lane Keller., 2006. Marketing Management: Analysis, Planning, Implementation and Control, 8th ed. Englewood Cliffs, New Jersey: Prentice Hall Internasional, Inc.

Lovelock, Christopher H & Jochen Writz., 2007, Services Marketing: People, Technology, Strategy Prentice-Hall Series in Marketing, Prentice Hall, New Jersey

Parasuraman, et al., 1990, Delivering Quality Service, Balancing Customer Perceptions and Expectation,The Free Press A Divisio of Macmillian, Inc, New york, USA

Malhotra, N. K., 2010, Marketing Research: An Applied Orientatio, 6th ed, Pearson Education

Tan, K. C., and Pawitra, Integrating SERVQUAL and Kano's Model into QFD for Service Development, Vol. 11, No. 6, 2008, pp. 418-430

Tjiptono, Fandy., 2005. Pemasaran Jasa. Yogyakarta: Penerbit Andi Offset

Walden, D, 1993, Kano's Model for Understanding Customer-defined Quality. Center for Quality Management Journal, Vol. 2 No. 4

Zeithaml, Valerie A. and Mary Joe Bitner, 2006, Services Marketing, Integrating Customer Focus Across the Firm, 4th ed, McGraw-Hill/Irwin Inc,

http://www.phrikediriraya.com/page/show/70/transportation(diakses tanggal 4 Januari 2012)

http://www.yellowpages.co.id/find?what=travel+agent&where=kediri+jawa+timur&log=yes (diakses tanggal 4 januari 2012)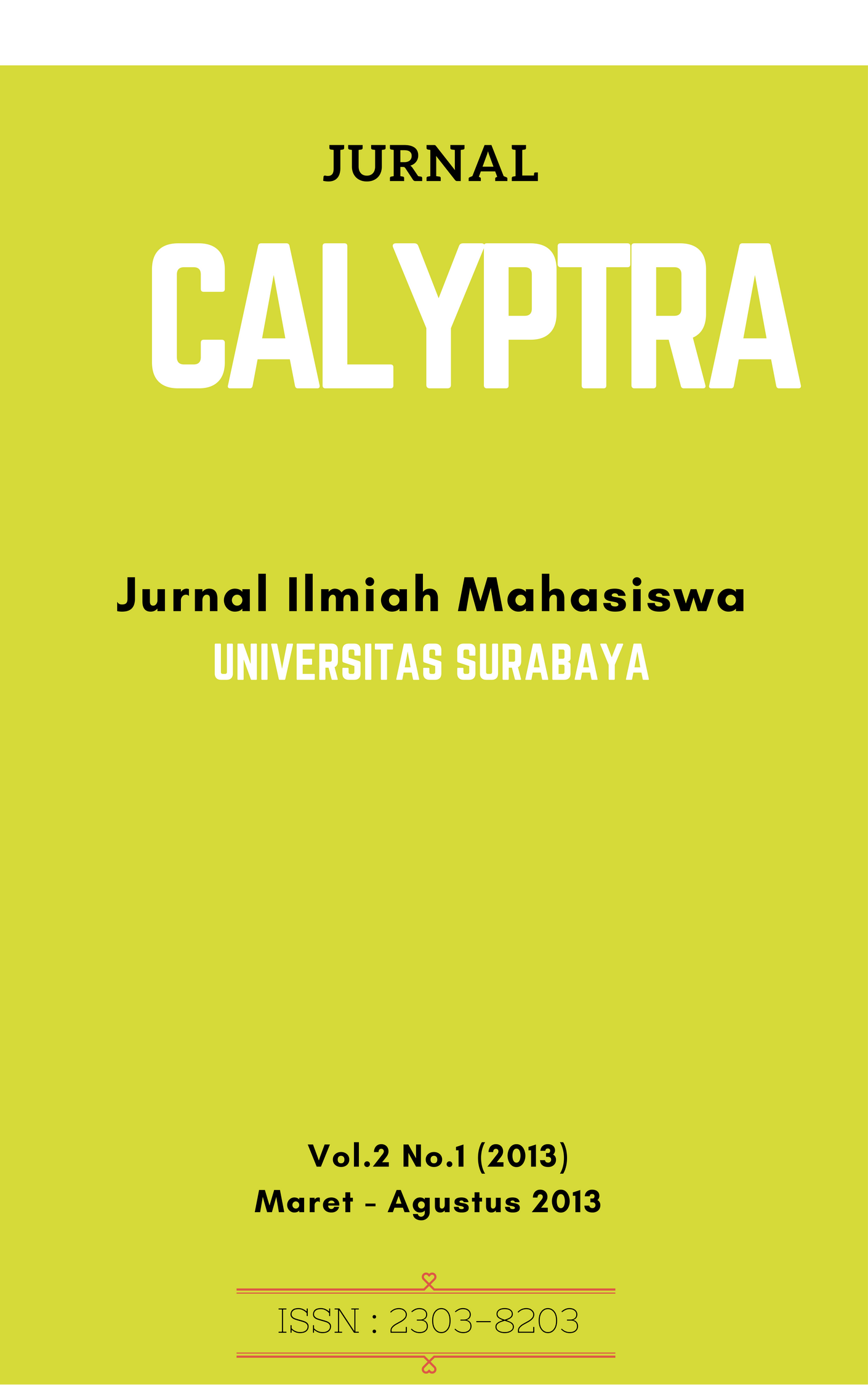 How to Cite
AHIMSA, Yustian Duta. PENINGKATAN KUALITAS LAYANAN TRAVEL PT. YOLA LANCAR JAYA KEDIRI DENGAN METODE INTEGRASI SERVICE QUALITY DAN KANO KE DALAM QUALITY FUNCTION DEPLOYMENT.
CALYPTRA
, [S.l.], v. 2, n. 1, p. Hal. 1 - 14, mar. 2013. ISSN 2302-8203. Available at: <
http://journal.ubaya.ac.id/index.php/jimus/article/view/432
>. Date accessed: 18 sep. 2019.
Section
Bidang Teknik Industri (TM)