PROSES AUDIT OPERASIONAL UNTUK MENGEVALUASI EFISIENSI DAN EFEKTIFITAS PROSES PRODUKSI PADA UD. X DI SOLO TAHUN 2013
Natasha Natasha

Jurusan Akuntansi Fakultas Bisnis dan Ekonomika Universitas Surabaya
Abstract
Persaingan dalam bisnis industri manufaktur sekarang ini sangat kompetitif. Semakin berkembangnya pembangunan di Indonesia, menuntut badan usaha yang bergerak di bidang manufaktur untuk meningkatkan mutu dan kualitas dari produknya. UD "X" merupakan salah satu industri manufaktur yang memproduksi berbagai jenis macam karton punggung dengan berbagai jenis karton. Penerapan audit operasional bertujuan untuk meningkatkan efisiensi dan efektivitas dalam proses produksi. Agar dapat tercapai efisiensi dan efektivitas dalam proses produksi, diperlukan adanya penerapan audit operasional pada proses produksi, sehingga badan usaha ini dapat mengetahui hal-hal apa saja yang menghambat efektivitas dan efisiensi proses produksi pada UD "X". Audit operasional ini dimulai dengan tahap pre-liminary survey mengenai badan usaha, dilanjutkan tahap evaluasi terhadap pengendalian internal dengan metode COSO framework. Dari tahapan ini akan memperoleh hasil berupa pengetahuan mengenai area-area mana saja yang termasuk critical problem area dan diaudit lebih lanjut. Hasil pekerjaan lapangan menghasilkan temuan audit dan dilakukan pengembangan yang bertujuan memberikan rekomendasi pada tahap pelaporan untuk improvement yang dapat dilakukan oleh pihak manajemen. Perbaikan ini bertujuan agar aktivitas-aktivitas yang terkait proses produksi dapat semakin efektif dan efisien dalam pencapaian tujuannya.
Downloads
Download data is not yet available.
References
Agoes, Sukrisno. 2012. Auditing (Pemeriksaan Akuntan) oleh Kantor Akuntan Publik, edisi 4. Jakarta, Indonesia: Lembaga Penerbit Fakultas Ekonomi Universitas Indonesia.

Arens, A.A., Randal J. Elder, Mark S. Beasley and Amir Abadi Jusuf. 2012. Auditing and Assurance Service: An Intergrated Approach An Indonesian Adaption, 14th ed. Jurong, Singapore: Pearson Education South asia PTE LTD

Badan Pusat Statistik (BPS). 2012. Perkembangan Beberapa Indikator Utama Sosial-Ekonomi Indonesia. Jakarta. Katalog BPS/BPS Catalogue: 3101015. ISSN: 2085.5664.

Boynton, William C., Raymond N. Johnson. 2006. Modern Auditing: Assurance Servisces and the Integrity of Financial Reporting 8th edition. Haboken, New Jesrey: John Wiley and Sons, Inc.

Moeller, Robert R. 2009. Brink's Modern Internal Auditing : A Common Body of Knowledge. 7th ed. Haboken, New Jesrey : John Wiley & Sons, Inc.

Mulyadi. 2010. Auditing. Jilid I, Cetakan ke Tujuh, Jakarta: Salemba Empat. Powell, John. 1978. Understanding Bussiness : Production Decisions. Longman Group Limited : London.

Reider, Rob. 2002. Operational Review : Maximum result at Efficient Costs. 3rd ed. Haboken, New Jesrey : John Wiley & Sons, Inc

Rittenberg, Larry E., Bradley J. Schwieger, and Karla M. Johnstone. 2008. Auditing : A Bussiness Risk Approach, 6th edition. Manson, USA: Thomson Higher Education.

Romney, Marshall B. and Steinbart, Paul. 2009. Accounting Information System 11th edition. USA : Prentice Hall.

Robbins, Coulter. 2011. Management, 10 th edition. USA : Pearson Prentice Hall.

The World Bank. 2013. Perkembangan Triwulan Perekonomian Indonesia. Ringkasan Eksekutif: Tekanan Meningkat.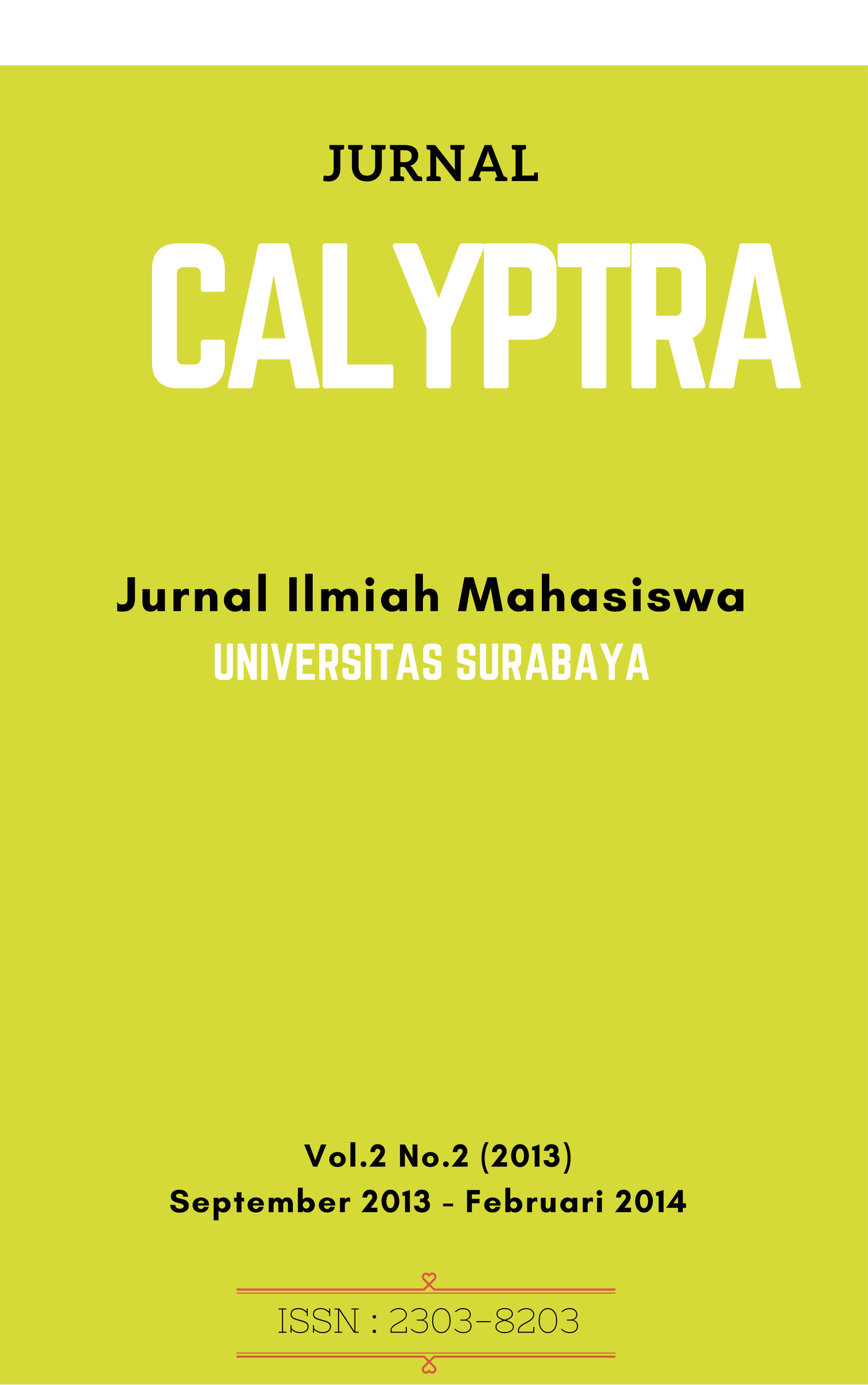 How to Cite
NATASHA, Natasha. PROSES AUDIT OPERASIONAL UNTUK MENGEVALUASI EFISIENSI DAN EFEKTIFITAS PROSES PRODUKSI PADA UD. X DI SOLO TAHUN 2013.
CALYPTRA
, [S.l.], v. 2, n. 2, p. Hal. 1 - 16, sep. 2013. ISSN 2302-8203. Available at: <
http://journal.ubaya.ac.id/index.php/jimus/article/view/453
>. Date accessed: 23 apr. 2018.
Section
Bidang Akuntansi (AK)