STUDI PENGARUH MANAJEMEN LABA TERHADAP OPINI AUDIT PADA BADAN USAHA SEKTOR MANUFAKTUR YANG TERDAFTAR DI BURSA EFEK INDONESIA PERIODE 2009 – 2011
Arlyn Efrina Abidin

Jurusan Akuntansi Fakultas Bisnis dan Ekonomika Universitas Surabaya

Yuliawati Tan

Jurusan Akuntansi Fakultas Bisnis dan Ekonomika Universitas Surabaya
Abstract
Penelitian ini bertujuan untuk mengetahui pengaruh antara manajemen laba dengan opini audit pada badan usaha sektor manufaktur yang terdaftar di Bursa Efek Indonesia periode 2009 – 2011. Peneliti juga meneliti mengenai pengaruh manajemen laba dan kualitas audit terhadap opini audit untuk mengetahui pengaruh kualitas audit dalam mendeteksi manajemen laba yang mempengaruhi pemberian opini atas laporan keuangan perusahaan. Penelitian ini merupakan basic research dengan pendekatan positivism. Model regresi yang digunakan dalam penelitian ini ialah model binary logistic regression. Hasil penelitian ini menunjukkan bahwa manajemen laba tidak signifikan terhadap opini audit yang diberikan oleh auditor. Selain itu hasil penelitian ini juga menunjukkan bahwa kualitas audit yakni BIG4 dan auditor industri spesialis dan manajemen laba tidak signifikan terhadap opini audit yang diberikan oleh auditor.
Downloads
Download data is not yet available.
References
Baharuddin, Ishar dan Heru Satyanugraha. Praktik Earnings Management Perusahaan Publik Indonesia. Jurnal Bisnis dan Akuntansi Vol. 10, No. 2, Agustus 2008, pp 69 – 80. (diunduh https://www.isjd.pdii.lipi.go.id/admin/jurnal/102086980.pdf pada tanggal 9 Desember 2012)

Bazerman, Max H., Kimberly P. Morgan dan George Loewenstein. 1997. Opinion: The Impossibility of Auditor Independence. Sloan Management Review Vol.38 No.4. (diunduh http://www.cmu.edu/dietrich/sds/docs/loewenstein/ImpossAuditorIndep.pdf pada tanggal 24 Juni 2013)

BBC News. 2002. Andersen's fall from grace. (diunduh http://news.bbc.co.uk/2/hi/business/2049237.stm pada tanggal 9 Desember 2012)

Bell, Timothy B. dan Richard R. Tabor. 1991. Empirical Ananlysis of Audit Uncertainty Qualifications. Jurnal of Accounting Research Vol.29 No.2. (diunduh http://www.jstor.org/stable/2491053 pada tanggal 5 Mei
2012)

Efferin, Sujoko, Stevanus Hadi Darmadji dan Yuliawati Tan. 2008. Metode Penelitian Akuntansi: Mengungkap Fenomena dengan Pendekatan Kuantitatif dan Kualitatif. Yogyakarta: Graha Ilmu.

Gerayli, Mahdi Safari., Abolfazl Momeni Yanesari dan Ali Reza Ma'atoofi. 2011. Impact of Audit Quality on Earning Management : Evidence from Iran. International Research Journal of Finance and Economics,
Issue 66 pp. 77 – 84. ( diunduh http://www.eurojournals.com/IRJFE_66_07.pdf pada tanggal 10 Desember 2012)

Ghozali, Imam. 2006. Aplikasi Analisis Multivariate dengan Program SPSS. Semarang: Badan Penerbit Universitas Diponegoro.

Guna, Welvin I dan Arleen Herawaty. 2010. Pengaruh Mekanisme Good Corporate Governance, Independensi Auditor, Kualitas Audit, dan Faktor lainnya terhadap Manajemen Laba. Jurnal Bisnis dan
Akuntansi Vol. 12 No.1. (diunduh http://www.tsm.ac.id/JBA/JBA12.1April2010/5_Artikel_JBA12.1April
2010.pdf pada tanggal 24 Juni 2013)

Johl, Shireenjit., Christine A. Jubb dan Keith A. Houghton. 2007. Earnings Management and the Audit Opinion: Evidence from Malaysia. Managerial Auditing Journal, Vol. 22 Iss: 7 pp. 688 – 715. (diunduh
http://www.emeraldinsight.com/journals.htm?articleid=1616104 pada tanggal 3 Desember 2012)

Kasidi. 2007. Faktor – Faktor yang Mempengaruhi Independensi Auditor Persepsi Manajer Keuangan Perusahaan Manufaktur di Jawa Tengah. Thesis Magister Sains Akuntansi Universitas Diponegoro. (diunduh http://eprints.undip.ac.id/18045/1/Kasidi.pdf pada tanggal 19 Juni 2013)

Krishnan, Gopal V. 2003. Does Big 6 Auditor Industry Expertise Constrain Earnings Management?. Accounting Horizons pp. 1-16. (diunduh http://www.bus.iastate.edu/aclem/592/SS03/krishnan.pdf pada tanggal 20 Mei 2013)

Leuz, Christian., Dhananjay Nanda dan Peter D. Wysocki. 2003. Earnings Management and Investor Protection: An International Comparison. Journal of Financial Economics 69, 2003 pp. 505 – 527 (diunduh
http://www.sciencedirect.com/science/article/pii/S0304405X03001211 pada tanggal 10 Desember 2012)

Luhgiatno. 2008. Analisis Pengaruh Kualitas Audit terhadap Manajemen Laba Studi pada Perusahaan yang Melakukan IPO di Indonesia. STEI Pelita Nusantara. (diunduh http://stiepena.ac.id/wpcontent/uploads/2012/11/pena-fokus-vol-5-no-2-15-31.pdf pada tanggal 25 Juni 2013)

Rusmin, Rusmin. 2010. Auditor Quality and Earnings Management: Singaporean Evidence. Curtin University of Technology. (diunduh http://www.emeraldinsight.com/0268-6902.htm pada tanggal 5 Mei
2013)

Tucker, Robert R., Ella Mae Matsumura dan K. R. Subramanyam. 2003. Going Concern Judgements: An Experimental Test of The Self-fulfilling Prophecy and Forecast Accuracy. Journal of Accounting and Public
Policy. September 2003. (diunduh http://papers.ssrn.com/sol3/papers.cfm?abstract_id=557065 pada
tanggal 9 Desember 2012) __________, www.idx.co.id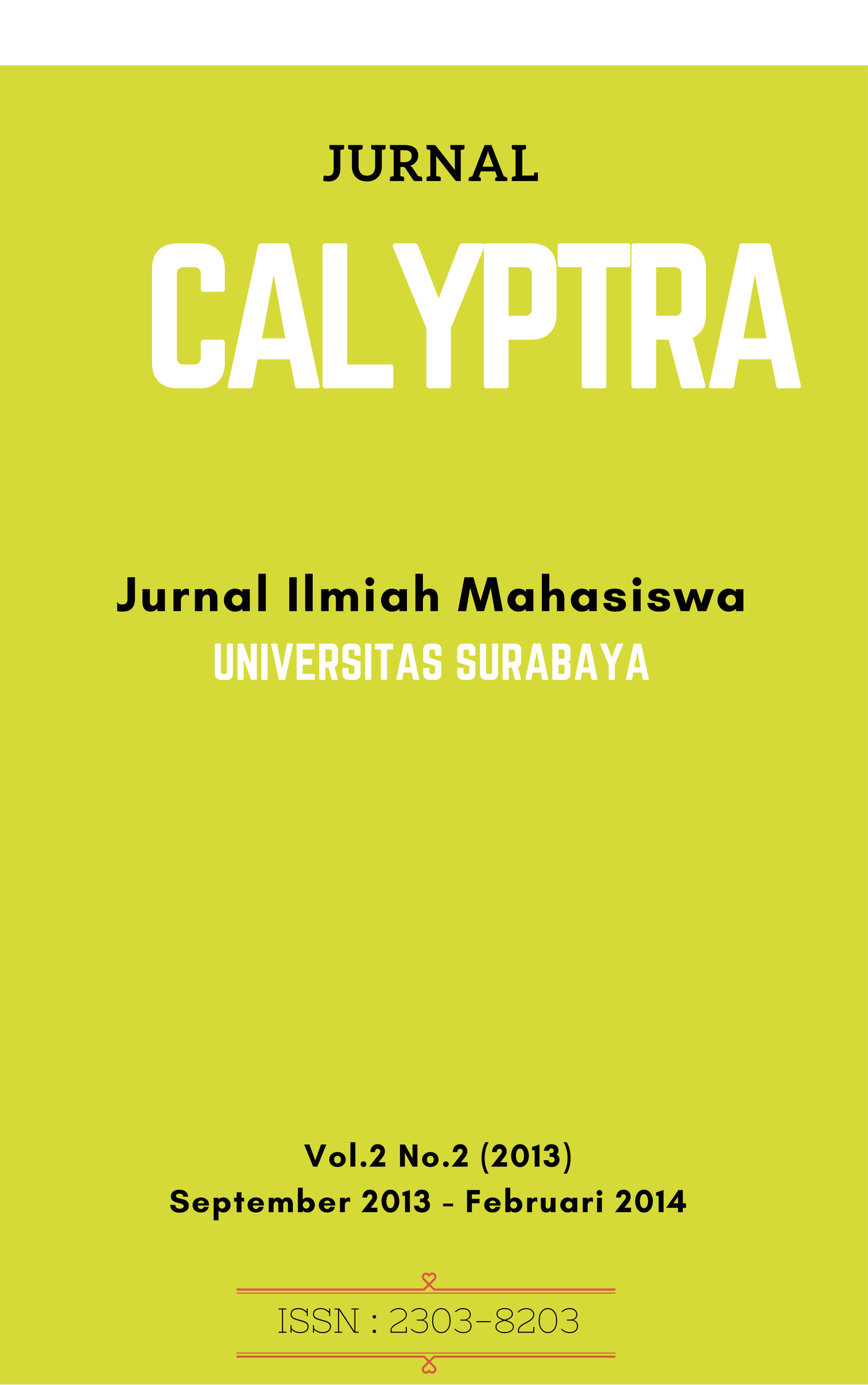 How to Cite
ABIDIN, Arlyn Efrina; TAN, Yuliawati. STUDI PENGARUH MANAJEMEN LABA TERHADAP OPINI AUDIT PADA BADAN USAHA SEKTOR MANUFAKTUR YANG TERDAFTAR DI BURSA EFEK INDONESIA PERIODE 2009 – 2011.
CALYPTRA
, [S.l.], v. 2, n. 2, p. Hal. 1 - 18, sep. 2013. ISSN 2302-8203. Available at: <
http://journal.ubaya.ac.id/index.php/jimus/article/view/454
>. Date accessed: 21 oct. 2018.
Section
Bidang Akuntansi (AK)