ANALISIS PENERAPAN CORPORATE SOCIAL RESPONSIBILITY DI PERUSAHAAN MULTILEVEL MARKETING PT. HARMONI DINAMIK INDONESIA
Gabriela Handjaja

Jurusan Akuntansi Fakultas Bisnis dan Ekonomika Universitas Surabaya
Abstract
Corporate Social Responsibility merupakan sebuah komitmen dari suatu perusahaan untuk memberikan kontribusi yang lebih pada masyarakat, baik melalui tindakan sosial maupun tanggung jawab lingkungan. Di Indonesia, CSR sekarang dinyatakan lebih tegas lagi dalam Undang-Undang Perseroan Terbatas (UUPT) Pasal 74 No.40 Tahun 2007. Melalui undang-undang ini, industri atau korporasi wajib untuk melaksanakanya, tetapi kewajiban ini bukan suatu beban yang memberatkan. Perlu diingat pembangunan suatu negara bukan hanya tangungjawab pemerintah dan industri saja, tetapi setiap insan manusia berperan untuk mewujudkan kesejahteraan sosial dan pengelolaan kualitas hidup masyarakat. Penelitian ini bertujuan untuk menganalisis penerapan CSR yang ada di Perusahaan yang bergerak dalam bidang Multilevel Marketing yaitu PT. Harmoni Dinamik Indonesia, khususnya CSR dalam bidang pendidikan. Program CSR di bidang pendidikan untuk anak-anak tingkat SMA yaitu dengan mendirikan sekolah gratis SMA Selamat Pagi Indonesia di Batu-Malang, Jawa Timur.
Downloads
Download data is not yet available.
References
APLI Asosiasi Penjualan Langsung Indonesia. 2007. Ciri-Ciri MLM. (online),
(http://apli.or.id/website/index.php?option=com_content&view=article&id=139:apakah-ciri-ciri-mlm-&catid=32:pertanyaan-umum&Itemid=47, diakses pada tanggal 21 Maret 2013)

APLI MLM Indonesia. 2007. Daftar MLM Indonesia Anggota APLI, (online), (http://mlm-indonesia.blogspot.com/2007/11/anggota-apli.html , diakses pada tanggal 16 Maret 2013)

Bloch, Brian. 1996. Multilevel Marketing : what's the catch?. (online), http://www.emeraldinsight.com.pustaka.
ubaya.ac.id/journals.htm?issn=07 36-3761&volume=13&issue=4&articleid=856231, diakses pada tanggal 11 April 2013)

Efferin, Sujoko,dkk.2008.Metode Penelitian Akuntansi.Yogyakarta: Graha Ilmu

Kiyosaki, Robert T. 2010.The Cashflow Quadrant. Jakarta: Gramedia Pustaka Utama

Kurniawan, Teguh. 2008. Penerapan Corporate Social Responsibility (CSR): Perspektif Administrasi Publik. (online), (http://staff.ui.ac.id/internal/0900300014/publikasi/Penerapan_Corporate_Social_Responsibility_
TeguhKurniawan.pdf, diakses pada tanggal 3 Maret 2013)

Kustin, Richard A. Jones, Robert A. 1995. Research note : a study of direct selling perceptions in Australia. (online) , (http://www.emeraldinsight.com/journals.htm?articleid=855325, diakses pada tanggal 21 Mei 2013)

Majalah Warta Ekonomi.Maret 2001. 10 Profesi Termahal Tahun 2000-2001. (online), (http://www.wartaekonomi.co.id, diakses pada tanggal 15 Mei 2013)

Rahman, Reza. 2009. Corporate Social Responsibility. (online), (http://repository.usu.ac.id/bitstream/123456789/26162/3/Chapter%20II.pdf , diakses pada tanggal 2 April 2013)

Schwartz, David J. 1995. Berpikir dan Menjadi Sukses.Jakarta : Binarupa Aksara

Suharto, Edi. 2002. Corporate Social Responsibility : What is and Benefits for Corporate. (online),
(http://www.policy.hu/suharto/Naskah%20PDF/CSRIntipesanJkt.pdf ,diakses pada tanggal 2 Maret 2013)

Tranggono, Anindito. 2012. Tren Perubahan CSR di Indonesia. (online), (http://repository.library.uksw.edu/bitstream/handle/123456789/1212/T1_212007069_Lampiran.pdf?sequence=7, diakses pada tanggal 3 April 2013)

Untung, Hendrik Budi.2008. Corporate Social Responsibility. Jakarta: Grafika Offset.

Wibisono, Yusuf. 2007. Membedah Konsep dan Aplikasi CSR. Gresik: Fascho Publishing.

Wineberg, Danette and Phillip H. Rudolph. (May2004). "Corporate Social Responsibility – WhatEvery In House Counsel Should Know", dalam ACC Docket.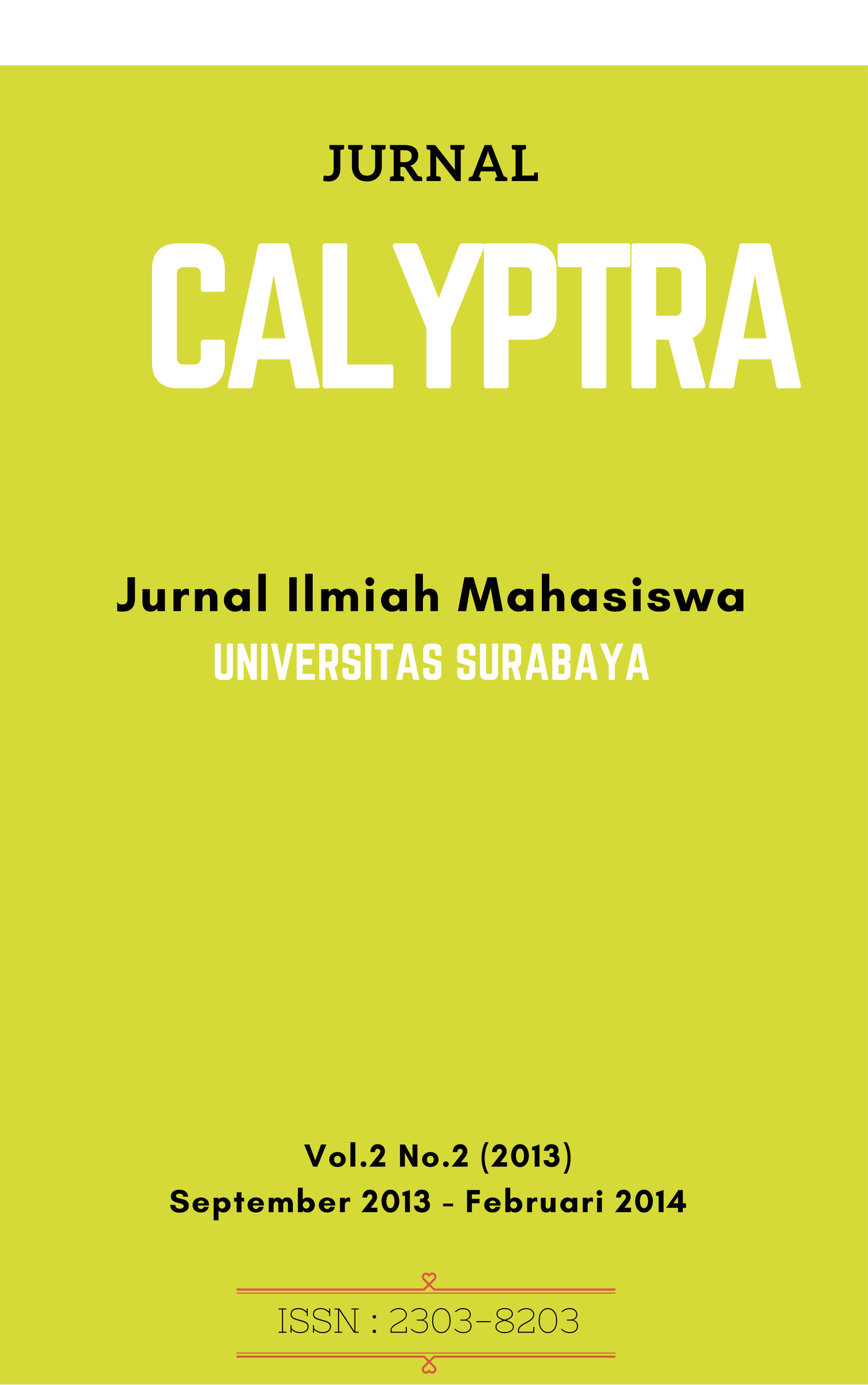 How to Cite
HANDJAJA, Gabriela. ANALISIS PENERAPAN CORPORATE SOCIAL RESPONSIBILITY DI PERUSAHAAN MULTILEVEL MARKETING PT. HARMONI DINAMIK INDONESIA.
CALYPTRA
, [S.l.], v. 2, n. 2, p. Hal. 1 - 17, sep. 2013. ISSN 2302-8203. Available at: <
http://journal.ubaya.ac.id/index.php/jimus/article/view/458
>. Date accessed: 19 apr. 2018.
Section
Bidang Akuntansi (AK)