PENERAPAN NILAI-NILAI KEKRISTENAN DALAM IMPLEMENTASI PERSONNEL DAN CULTURAL CONTROL UNTUK MENINGKATKAN KINERJA PT. XYZ, DI SURABAYA
M. Catherine Handoko

Jurusan Akuntansi Fakultas Bisnis dan Ekonomika Universitas Surabaya
Abstract
Penelitian ini bertujuan menguji teori sistem pengendalian manusia khususnya personnel dan cultural control pada badan usaha yang memasukkan nilai spiritualitas dalam upaya meningkatkan kinerja karyawan. Nilai spiritualitas yang dipakai oleh badan usaha adalah nilai-nilai Kekristenan. Penelitian ini menggunakan pendekatan kualitatif dengan menggunakan wawancara, observasi,dan analisis dokumen sebagai metode untuk mendapatkan data. Penelitian ini dapat mengetahui bagaimana penerapan personnel dan cultural control yang diterapkan oleh badan usaha saat ini, dengan memasukkan nilai-nilai Kekristenan didalamnya. Pada saat penelitian ini ditemukan bagaimana cara manajemen membentuk control yang memasukkan nilai-nilai Kekristenan tersebut, sampai pada reward yang diberikan juga mengandung nilai-nilai Kekristenan. Pada penelitian ini dijelaskan bagaimana kelemahan dan kelebihan yang dapat timbul dengan adanya penerapan personnel dan cultural control yang telah dibuat oleh badan usaha dan bagaimana cara mengatasi masalah-masalah yang dapat mempengaruhi kinerja dari karyawan.
Downloads
Download data is not yet available.
References
Alkitab. (2004). Jakarta: Lembaga Alkitab Indonesia

Armstrong, M. and Baron, A. 1998. Performance Management – The New Realities. London: Institute of Personnel and Development.

Bagir, H. (2003). Sejahtera Spiritual dan Financial.2007, 30 September [online]. Diunduh dari: http://www.jalalcenter.com/index.php?option=com_content&task=view &id =147

Bryant,L, D.A. Jones, and S.K.Widner.2004." Managing Value Creation within the Firm:An examination of Multiple Performance Measures", Journal of Management Accounting Research. Vol 10, 107-131

Cummings, L.L. and Schwab, D.P. 1973. Performance in Organizations: Determinants and Appraisal. Glenview, Illinois: Scott, Foresman and Company.

Giacalone, R. A. &Jurkiewiez, C. L. (2005). Handbook of Workplace Sirituality and Organizational Performance. Armonk: M.E. Sharpe.

Irawan, P., dkk. 1992. Manajemen Sumber Daya Manusia. Jakarta: STIA LAN Press.

King, S. M. (2007). Religion, Spirituality, and The Workplace: Challenges for Public Administration. Public Administration Review, 67, 1, 103-114.

Kruse, D.L.1992. " Provit Sharing and Productivity: Microeconomic Eviden from the United States", The Economic Journal, January. 24-36

Litzsey, C. (2003). Spirituality in The Workplace and The Implications It Has on Employees and Organizations. 2008, 29 Juli. [online]. Diunduh dari: http://wed.siu.edu/public/departement/Litzsey%20paper.pdf

Marques, J.F. (2005). The Spiritual Worker an Examination of the Ripple Effect that Enchances Quality of Life in- and Outside the Work Environment. Journal of Management Deveopment, 25, 9, 884-895.ew

Marques, J., dkk (2005). Spirituality Paloutzian, R. F. dan Park, C. L. 2005. Handbook of the Psychology of Religon and Spirituality. New York: The Guilford press.

Merchant, Kenneth A. , Van Der Stede, Wim A. 2007. Management Control Systems: Performance Measurement, Evaluation and Incentives. New Jersey : Prentice Hall

Mondy, R.W. and Noe, R.M. 1990. Human Resource Management 4th Edition. USA: Allyn and Bacon.

O'Reilly, C. A., Chatman, J., & Caldwell, D. F., 1991, People and Organizational Culture: A Profile Comperison Approach to Assesing Person-Organization Fit, 34(3), pp. 487-516.

Sheriden, J. E., 1992, Organizational Culture and Employee Retention, Academy of Management Journal, 35(3), pp. 1036-1056.

Soeherman, Bonnie, dan Wiyono Pontjoharyo.2008. Pengembangan Sistem Pengendalian Manajemen Dalam Prespektif Kristen.12 Desember 2010

Stewart, V. and Stewart, A. 1977. Practical Performance Appraisal. England: Gower Press.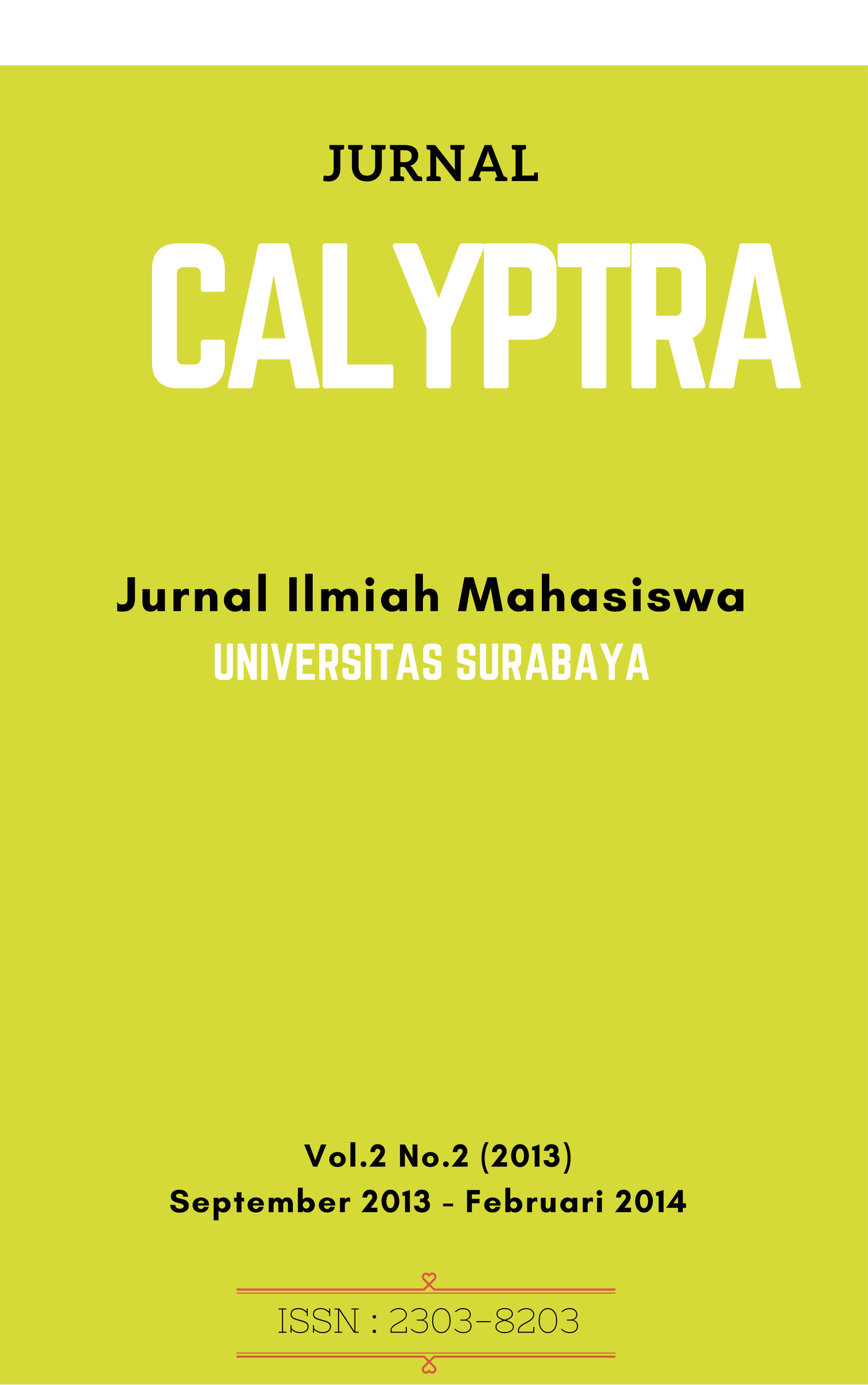 How to Cite
HANDOKO, M. Catherine. PENERAPAN NILAI-NILAI KEKRISTENAN DALAM IMPLEMENTASI PERSONNEL DAN CULTURAL CONTROL UNTUK MENINGKATKAN KINERJA PT. XYZ, DI SURABAYA.
CALYPTRA
, [S.l.], v. 2, n. 2, p. Hal. 1 - 7, sep. 2013. ISSN 2302-8203. Available at: <
http://journal.ubaya.ac.id/index.php/jimus/article/view/460
>. Date accessed: 21 oct. 2018.
Section
Bidang Akuntansi (AK)