ANALISIS ATAS EFISIENSI DAN EFEKTIVITAS PENERAPAN SISTEM INFORMASI AKUNTANSI TERKAIT PENGENDALIAN INTERNAL PADA STIE WIDYA GAMA LUMAJANG
Pratiwi Nindya Ningrum

Jurusan Akuntansi Fakultas Bisnis dan Ekonomika Universitas Surabaya
Abstract
Setiap organisasi dituntut untuk terus-menerus mempersiapkan dirinya mengantisipasi dan menyesuaikan diri dengan perubahan. Sistem informasi akuntansi dan pengendalian internal mempunyai peranan penting dalam membantu organisasi untuk kemajuan yang akan datang. STIEWIGA telah melakukan beberapa upaya untuk meningkatkan efisiensi dan efektivitas pengendalian internal dalam pelaksanaan operasional, namun masih terdapat beberapa permasalahan pada prosedur keuangan baru STIEWIGA yang dapat berdampak besar di masa yang akan datang. Perubahan prosedur keuangan yang baru akan menimbulkan risiko yang berbeda pada STIEWIGA. Perubahan ini tidak didukung dengan penilaian risiko yang baik, sehingga lebih lambat dalam mengetahui risiko atau permasalahan yang akan terjadi. Hal ini akan mempengaruhi lambatnya upaya penyelesaian masalah yang dilakukan STIEWIGA.
Downloads
Download data is not yet available.
References
Dewi, Anggryni Pranoto. 2010. Evaluasi Sistem Informasi Akuntansi Pembelian dan Pengeluaran Kas Pada Sekolah Kristen Ipeka.(online). (http://library.binus.ac.id/eColls/eThesis/Abstrak/2010-2-00059-AK/abstrak.pdf, diakses 21 September 2012)

Elder, Randal J., Mark S. Beasly, and Alvin A. Arens. 2010. Auditing and Assurance Service: An Integrated Approach, 13th Edition.Upper Saddle River: Pearson Education.

Rahayu, Sri Tutie. 2011. Transformasi Organisasi: Studi Kasus Pada Semarang Growth Centre. (online).
(www.kopertis6.or.id/journal/index.php/sosek/article/download/37/32, diakses 20 Nopember 2012)

Rama, Dasaratha V. dan Frederick L.Jones. 2008. Sistem Informasi Akuntansi. Buku 1. Terjemahan M. Slamet Wibowo. Jakarta: Salemba Empat.

Romney, Marshall B. dan Paul John Steinbart. 2006. Accounting Information Systems 10th Edition. Upper Saddle River: Prentice Hall.

Sutarso, Joko. 2009. Eksistensi Organisasi Negara Dalam Era Global: Perspektif Budaya. (online). (http://publikasiilmiah.ums.ac.id/bitstream/handle/123456789/2109/Joko/-/EKSISTENSI//ORGANISASI//NEGARA//DALAM//ERA//GLOBAL.pdf?sequence=1, diakses 20 Nopember 2012)

Sutarto. 2000. Dasar-Dasar Organisasi. Yogyakarta: Gadjah Mada University Press.

Wibisono, Yudi., Waslaludin, dan Vina S. Oktarina. (2010). Executive Information System di Organisasi Sekolah Menengah Atas. (online). (http://file.upi.edu/Direktori/JURNAL/PENDIDIKAN_TIK/Jurnal_Pend_
TIK_Vol_3_No_1/EXECUTIVE__INFORMATION
_SYSTEM_DI_ORGANISASI_SEKOLAH_
MENENGAH_ATAS.pdf, diakses 21 September 2012)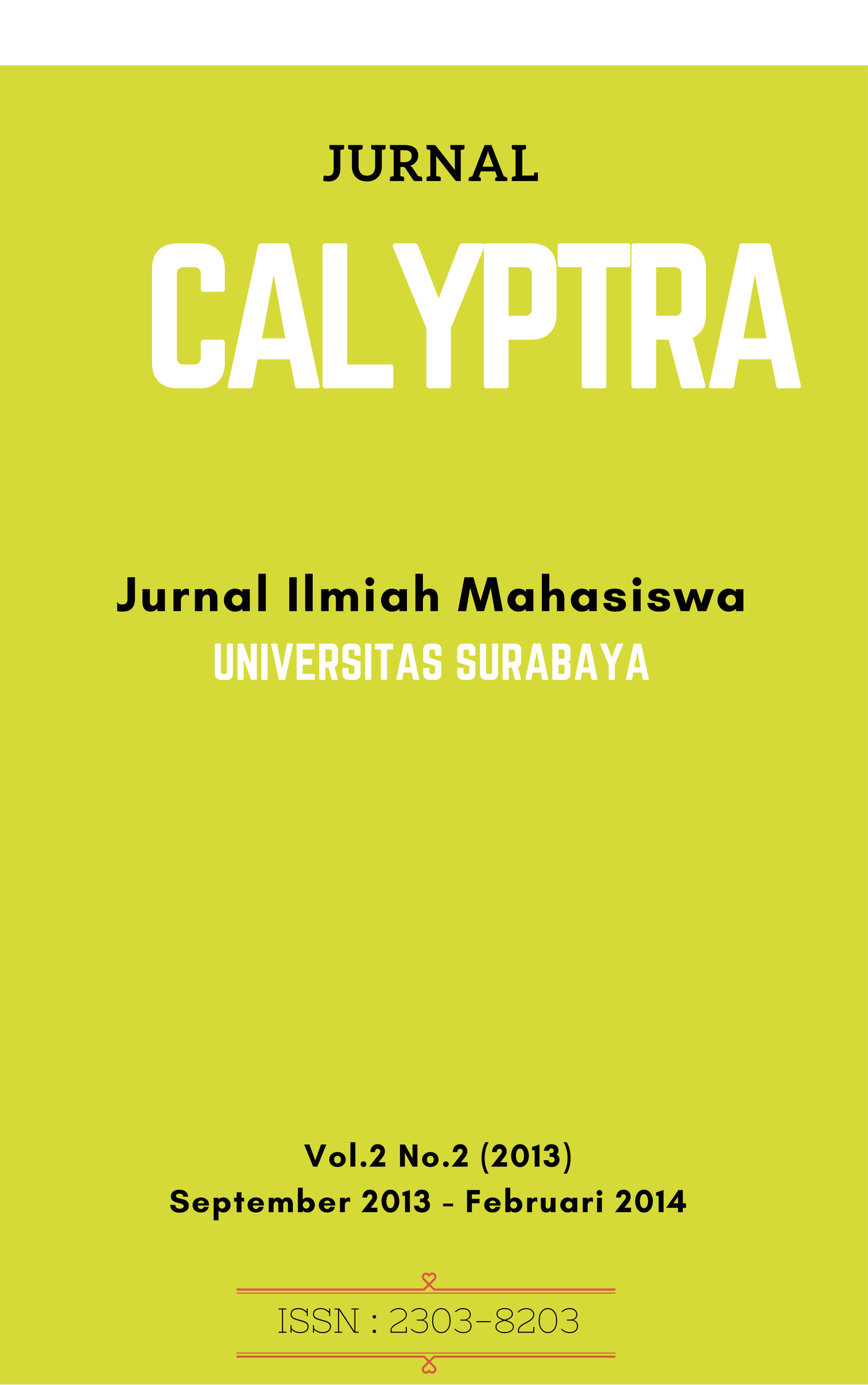 How to Cite
NINGRUM, Pratiwi Nindya. ANALISIS ATAS EFISIENSI DAN EFEKTIVITAS PENERAPAN SISTEM INFORMASI AKUNTANSI TERKAIT PENGENDALIAN INTERNAL PADA STIE WIDYA GAMA LUMAJANG.
CALYPTRA
, [S.l.], v. 2, n. 2, p. Hal. 1 - 11, sep. 2013. ISSN 2302-8203. Available at: <
http://journal.ubaya.ac.id/index.php/jimus/article/view/467
>. Date accessed: 21 oct. 2018.
Section
Bidang Akuntansi (AK)