PERANCANGAN SISTEM PENGENDALIAN INTERNAL BERBASIS COSO UNTUK EO JETSET DALAM MENINGKATKAN EFEKTIFITAS EVENTMANAGEMENT
Alfonsus Allan Muliyanto

Jurusan Akuntansi Fakultas Bisnis dan Ekonomika Universitas Surabaya
Abstract
Banyak organisasi pada jaman ini yang ingin menerapkan pengendalian internal yang baik, salah satu tujuannya adalah agar dapat meningkatkan efektivitas dari kegiatannya. Salah satu bentuk organisasi di bidang jasa yang juga membutuhkan pengendalian adalah event organizer. Bisnis event organizer dapat dibilang menjanjikan dan semakin berkembang di Jawa Timur, terutama di Surabaya. Salah satu organisasi yang bergerak di bidang event organizer adalah Jetset Party and Event Organizer (EO Jetset) yang telah berdiri sejak tahun 2010. Penerapan pengendalian internal dari organisasi ini bertujuan untuk meningkatkan efektivitas dan efisiensi dari kegiatan pengelolaan acara (event management). Penelitian ini merupakan applied research dimana penelitian ini akan membantu EO Jetset dalam mengatasi masalah – masalah pengendalian internal yang ada. Pengumpulan data dilakukan dengan metode wawancara dan juga observasi di lapangan. Selanjutnya pengolahan data dilakukan dengan menganalisis pengendalian internal dengan menggunakan pengendalian internal berbasis COSO, yang kemudian akan memberikan informasi pada tahap apa terdapat masalah pengendalian internal. Hasil analisis akan menghasilkan suatu evaluasi yang kemudian menghasilkan suatu rekomendasi perbaikan sistem pengendalian internal yang dapat dilakukan oleh EO Jetset. Perbaikan ini bertujuan agar aktivitas pengelolaan acara dari EO Jetset dapat semakin efektif dan efisien dalam mencapai visi dan misi dari organisasi.
Downloads
Download data is not yet available.
References
Arens, Alvin A,.et al. 2009. Auditing and Assurance Service : An Integrated Approach; An Indonesian Adaptation. Pearson : Singapore.

Bowdin, Glenn,.et al. 2006. Event Management 2nd Edition. Elsevier : Great Britain.

Fenich, George G. 2005. Meetings, Expositions, Events & Conventions: An Introduction to The Industry 2nd Edition. Pearson : New Jersey.

Fitzsimmons, James A and Mona J. Fitzsimmons. 2004. Service Management 4th Edition. McGraw-Hill : New York.

Gerard Hughes, Philip J. O'Connell, James Williams, (2004),"Company training and low-skill consumer-service jobs in Ireland", International Journal of Manpower, Vol. 25 Iss: 1 pp. 17 – 35 (http://dx.doi.org/10.1108/01437720410524974)

Harin, 2011. Perancangan Sistem Pengendalian Manajemen untuk Mengatasi Motivational Problem, Lack of Direction Problem, and Personal Limitation Problem pada Event Organizer 'Armour' di Surabaya dalam Tugas Akhir Universitas Surabaya, KS-AK-2872. http://www.bps.go.id/tab_sub/view.php?kat=2&tabel=1&daftar=1&id_subyek=11&notab=1 (diakses pada 15 Februari 2013)
http://www.bps.go.id/tab_sub/view.php?kat=2&tabel=1&daftar=1&id_subyek=11&notab=3 (diakses pada 15 Februari 2013)

Ignacio Danvila del Valle, Miguel Ángel Sastre Castillo, Antonio Rodríguez-Duarte, (2009),"The effects of training on performance in service companies: A data panel study", International Journal of Manpower, Vol. 30 Iss: 4 pp. 393 – 407 (http://dx.doi.org/10.1108/01437720910973070)

Judith Mair, 2011.Events and climate change: an Autralian perspective dalam International Journal of Event and Festival Management, Vol. 2 No. 3, 2011 pp. 245-253

Kim Ittonen, 2009.Investor reactions to disclosures of material internal control weakness dalam Managerial Auditing Journal, Vol. 25 No. 3, 2010 pp. 259-268

Stefan Michel, David Bowen, Robert Johnston, (2009),"Why service recovery fails: Tensions among customer, employee, and process perspectives", Journal of Service Management, Vol. 20 Iss: 3 pp. 253 – 273 (http://dx.doi.org/10.1108/09564230910964381)

Tunggal, Amin Widjaja. 2000. COSO-Based Auditing. Harvarindo : Jakarta.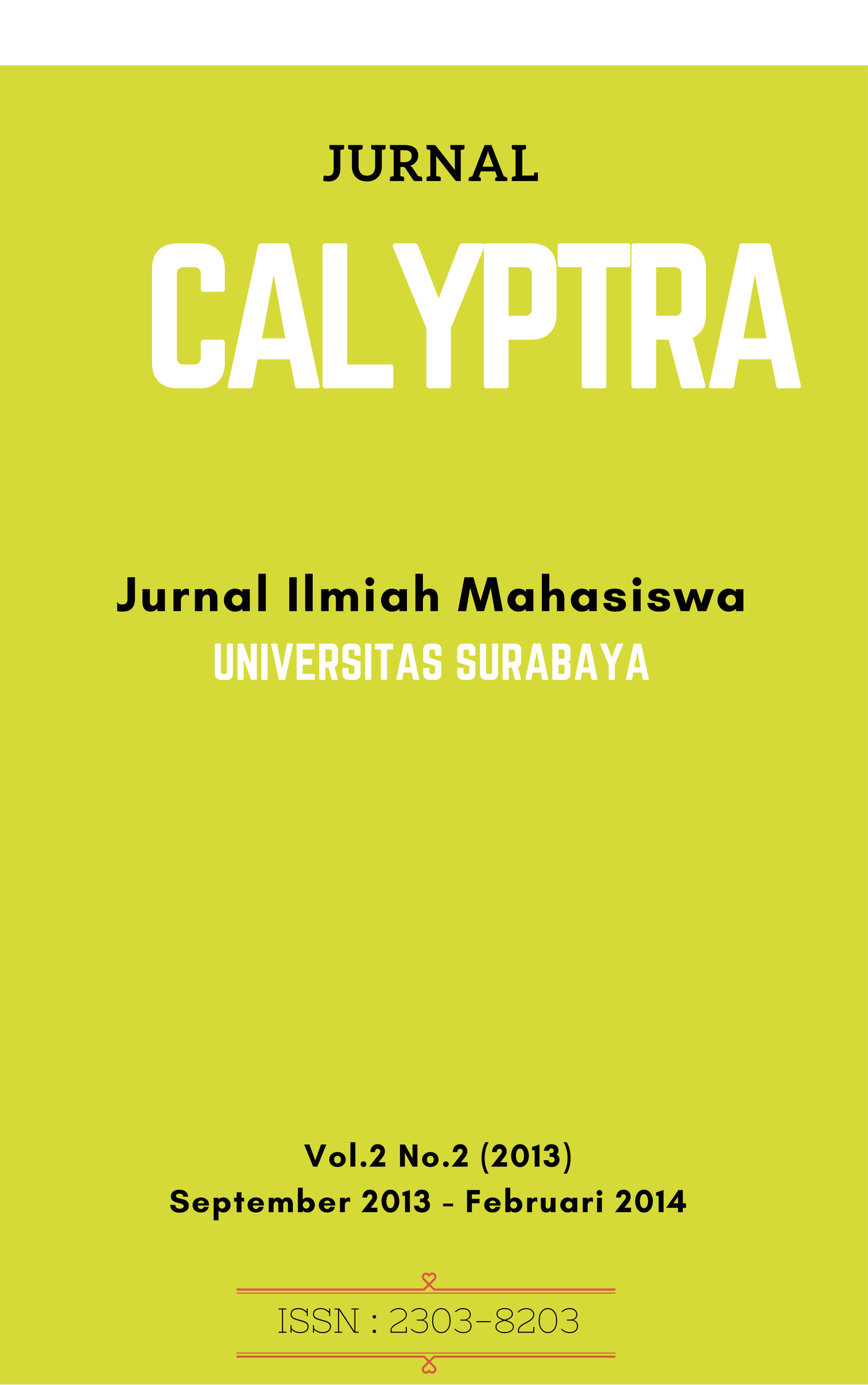 How to Cite
MULIYANTO, Alfonsus Allan. PERANCANGAN SISTEM PENGENDALIAN INTERNAL BERBASIS COSO UNTUK EO JETSET DALAM MENINGKATKAN EFEKTIFITAS EVENTMANAGEMENT.
CALYPTRA
, [S.l.], v. 2, n. 2, p. Hal. 1 - 11, sep. 2013. ISSN 2302-8203. Available at: <
http://journal.ubaya.ac.id/index.php/jimus/article/view/468
>. Date accessed: 21 oct. 2018.
Section
Bidang Akuntansi (AK)