EVALUASI ACTION& RESULT CONTROL DALAM IMPLEMENTASI SISTEM MANAJEMEN LIMA JARI-JARI PADA USAHA KECIL & MENENGAH (UKM) GRIYA KARYA TIARA KUSUMA DI SURABAYA
Handi Wijaya

Jurusan Akuntansi Fakultas Bisnis dan Ekonomika Universitas Surabaya

Imanuel Goestaman

Jurusan Akuntansi Fakultas Bisnis dan Ekonomika Universitas Surabaya
Abstract
Penelitian ini bertujuan untuk mengevaluasi action dan result control dalam mencapai tujuan usaha, sehingga implementasi Sistem Manajemen Lima Jari-Jari pada UKM GKTK dapat terlaksana dengan baik sesuai yang diharapkan. Penelitian ini menggunakan pendekatan kualitatif dengan metode wawancara, observasi, dan analisis dokumen atau yang disebut triangulasi untuk mendapatkan data yang objektif. Penelitian ini menggunakan objek penelitian yaitu UKM yang bergerak di bidang produksi olahan mangrove, pusat penelitian dan konservasi mangrove di Surabaya. Temuan penelitian menunjukkan bahwa terdapat kendala-kendala dalam implementasi Sistem Manajemen Lima Jari-Jari. Berbagai kendala tersebut, diantaranya seperti kurangnya koordinasi antara atasan dan karyawan, pekerjaan tidak tepat waktu, tidak ada standar kualitas yang ditetapkan oleh pemilik, terjadinya stockout pada persediaan bahan baku dan overstock pada produk jadi serta kurangnya pengetahuan karyawan.
Downloads
Download data is not yet available.
References
Anthony, R. N., dan V. Govindarajan. 2007. Management Control Systems 12th ed. Mc Graw Hill: NY, US.

Axelsson, C., dkk. 2012. Management Control Systems In Innovative, Technology-Based Start-Ups and Small Businesses. University of Gothenburg - School of Business, Economics and Law.

Chartered Quality Institute. 2013. Management Systems. (Online Available): http://www.thecqi.org/Knowledge-Hub/Knowledge-portal/Corporate-strategy/Management-systems/

Cuguero, N., dan J. M. Rosanas. 2011. Fairness, Justice, Subjectivity, Objectivity and Goal Congruence in Management Control Systems. IESE Businees School – University of Navarra. Working Paper WP-891 January, 2011.

Davila, T. 2005. An exploratory study on the emergence of management control systems: formalizing human resources in small growing firms. Accounting, Organizations and Society 30 (2005) 223-248.

Ediraras, D. T. 2010. Akuntansi dan Kinerja UKM. Jurnal Ekonomi Bisnis No. 2, Volume 15, Agustus 2010.

Efferin, S., dan B. Soeherman. 2010. Seni Perang Sun Zi dan Sistem Pengendalian Manajemen. PT Elex Media Komputindo: Jakarta.

Efferin, S., S. H. Darmadji., dan Yuliawati Tan. 2008. Metode Penelitian Akuntansi: Mengungkap Fenomena dengan Pendekatan Kuantitatif dan Kualitatif. Yogyakarta: Graha Ilmu.

Ejiogu, A. R., dan N. Jain. 2012. Contingency Theory and Management Control Packages in Small Firms: Case Evidience From India. International Journal of Management, Entrepreneurship & Technology, Vol 2, DOI 072012.5.

Hosen, Y. K., dkk. 2011. Use of Management Control Systems among Libyan Small and Medium-Sized Firms. Asian Journal of Business Management Studies 2 (3): 135-143, 2011.

Jamali, D., dkk. 2013. SME and CSR in Developing Countries: Advancing Academic and Policy-Oriented Knowledge. Business & Society Special Issue (Call for Papers).

Jamil, C. M., dan R. Mohamed. 2011. Performance Measurement System (PMS) in Small Medium Entreprises (SMES): A Pratical Modified Framework. World Journal of Social Sciences Vol. 1. No. 3 July 2011. pp. 200-212.

Jankala, S., dkk. 2005. The Use of Management Control Systems (MCS) Information in The Small Business Sector and The Relationship between MCS, Strategy and Performance. Department of Business and Administration.

Kaplan, R. S., dan D. P. Norton. 2008. Mastering Management System. Havard Business Review. January 2008.

Kruis. Anne-Marie. 2008. Management Control System Design and Effectiveness. Nyenrode Business Universiteit.

Merchant, K. A., dan W. A. Van der Stede. 2007. Management Control System: Performance Measurement, Evaluation, and Incentives 2nd ed. Prentice Hall: London, UK.

Peljhan, D., dan M. Tekavcic. 2008. The Impact of Management Control Systems-Strategy Interaction on Performance Management: A Case Study.

Riadi., M. 2013. Usaha Mikro, Kecil, dan Menengah. (Online Available): http://www.kajianpustaka.com/2013/01/usaha-mikro-kecil-dan-menengah.html#.UhnAqRtkP4Z

Sanchez-Exposito, M. J., dan D. Naranjo-Gil. 2012. Honesty and Management Control System Design: experimental study. Department of Finance and Accounting - University Pablo de Olavide de Sevilla.

Simons, R. 2000. Performance Measurement& Control Systems for Implementing Strategy. Prentice Hall: London, UK.

Sistem Manajemen Lima Jari-Jari. 14 Maret 2012. (Online Available): http://batikrungkut.blogspot.com/2012/03/sistem manajemen-lima-jari-jari.html

The British Standards Institution. 2013. What are management system?. (Online Available): http://www.bsiamerica.com/en-us/Assessment- and Certification- services /Management -systems/At-a-glance/What-are- management-systems/

Undang-Undang Republik Indonesia Nomor 20 Tahun 2008 Tentang Usaha Mikro Kecil dan Menengah.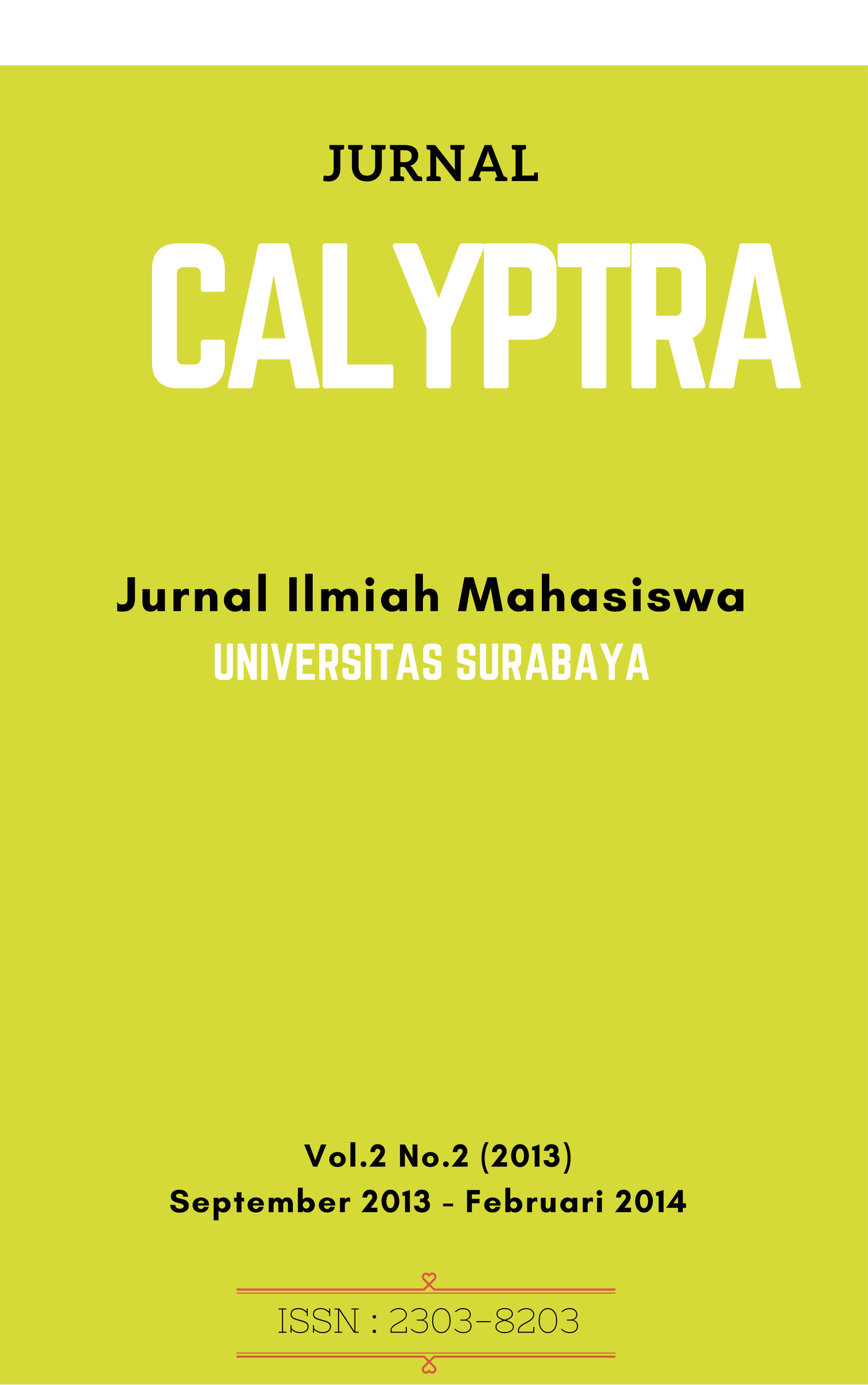 How to Cite
WIJAYA, Handi; GOESTAMAN, Imanuel. EVALUASI ACTION& RESULT CONTROL DALAM IMPLEMENTASI SISTEM MANAJEMEN LIMA JARI-JARI PADA USAHA KECIL & MENENGAH (UKM) GRIYA KARYA TIARA KUSUMA DI SURABAYA.
CALYPTRA
, [S.l.], v. 2, n. 2, p. Hal. 1 - 20, sep. 2013. ISSN 2302-8203. Available at: <
http://journal.ubaya.ac.id/index.php/jimus/article/view/476
>. Date accessed: 21 oct. 2018.
Section
Bidang Akuntansi (AK)