PERAN ACTION CONTROL TERHADAP PERILAKU BERMASALAH MAHASISWA FBE DI PERGURUAN TINGGI "X" SURABAYA
Selli Rhema Hendrajaya

Jurusan Akuntansi Fakultas Bisnis dan Ekonomika Universitas Surabaya
Abstract
Penelitian ini bertujuan untuk mengetahui peran action control terhadap perilaku bermasalah mahasiswa jurusan akuntansi di Universitas Surabaya. Action control yang dimaksud adalah peraturan dalam perencanaan studi, perkuliahan dan ujian/ evaluasi. Penelitian ini menggunakan pendekatan kualitatif. Objek yang digunakan adalah mahasiswa jurusan akuntansi semester 4-8 Universitas Surabaya. Perilaku bermasalah adalah suatu persoalan yang harus menjadi kepedulian para pengajar saat ini. Selain itu, Perilaku bermasalah mahasiswa dapat menghambat universitas untuk mencapai tujuan. Dimana tujuan dari universitas adalah untuk mengembangkan dan menyebar luaskan ilmu pengetahuan dan teknologi. Dengan adanya permasalahan tersebut universitas membutuhkan Management Control Systems yang dapat digunakan untuk mengatasi keprihatinan dan inisiatif para pengajar untuk mengurangi perilaku bermasalah mahasiswa. Salah satunya menggunakan action control. Action Control merupakan tindakan pengendalian untuk memastikan tindakan karyawan sudah sesuai dengan tujuan suatu organisasi. Hasil penelitian ini menunjukkan bahwa Action control yang ada di FBE sudah baik dan dapat mengurangi perilaku bermasalah. Namun, action control tersebut kurang maksimal karena tidak didukung oleh mahasiswa, dosen, dan karyawan di dalamnya. Salah satu penyebabnya dikarenakan lemahnya control. Penyebab lain adalah faktor diri sendiri (internal) dan orang lain (eksternal).
Downloads
Download data is not yet available.
References
Anthony, R. N., dan V. Govindarajan. 2007. Management Control Systems Twelft Edition. Mc Graw Hill.

Batool, Sana. (2011). Analyze the Factors that have an Influence on the Management Control System. Research journal of finance and accounting, Vol. 2, No. 3.

Colin, Scott. (2010). Management control system support of initiatives for disruptive students. New Zealand: School of Business and Computing Technology, Nelson Marlborough Institute of Technology.

Efferin,S., S. H. Darmaji, dan Y. Tan. 2008. Metode Penelitian Akuntansi: Mengungkap Fenomena dengan pendekatan kuantitatif dan kualitatif. Yogyakarta: Graha Ilmu.

Fakultas Bisnis dan Ekonomika. 2012. Ketentuan Perencanaan Studi. Surabaya. Universitas Surabaya.

Fakultas Bisnis dan Ekonomika. 2012. Ketentuan Self Entry. Surabaya. Universitas Surabaya.

Fakultas Bisnis dan Ekonomika. 2012. Ketentuan Pelaksanaan uts uas. Surabaya. Universitas Surabaya.

Fakultas Bisnis dan Ekonomika. 2012. Ketentuan Perencanaan Studi. Surabaya. Universitas Surabaya.

Malmi, T., dan D.A. Brown. 2008. Management Control System as A Package- Opportunities, Challenges and Research Directions. Management Accounting Research 19 (2008) 287-300.

Marciarello, JA, and Kirby, C.J. 1994. Management Control System, Using Adaptive systems to Attain Control. Second Edition, Engelwood Cliffs, New Jersey: Prentice-Hall, Inc.

Merchant and Van der Stete. 2007. Magement Control System. Pearson Education Limited.

Merchant, K.A., and W. A. Van der Stede. 2007. Management Control System: Performance Measurement, Evaluation and Incentives. Prentice Hall: London, UK.

Peljhan, Tekavcic. (2008). The Impact of Management Control System-Strategy Interaction on Performance Management. Faculty of Economics. Univer-sity of Ljubljana.

R. Dionne. (2007). Discipline Practices Used to Control Disruptive Behavior of Students. Faculty of the Virginia Polytechnic Institute and State University.

Towl, P. (2007). Best Practice Behaviour Management. New Zealand: Research Commissioned by the New Zealand Post Primary Teachers' Association.

Universitas Surabaya. 2010. Buku Pedoman Mahasiswa Universitas Surabaya. Surabaya: Universitas Surabaya.

Universitas Surabaya. 2010. Sejarah FBE Ubaya. Universitas Surabaya. https://fbe.ubaya.ac.id/ diunduh tanggal 29 Mei 2013.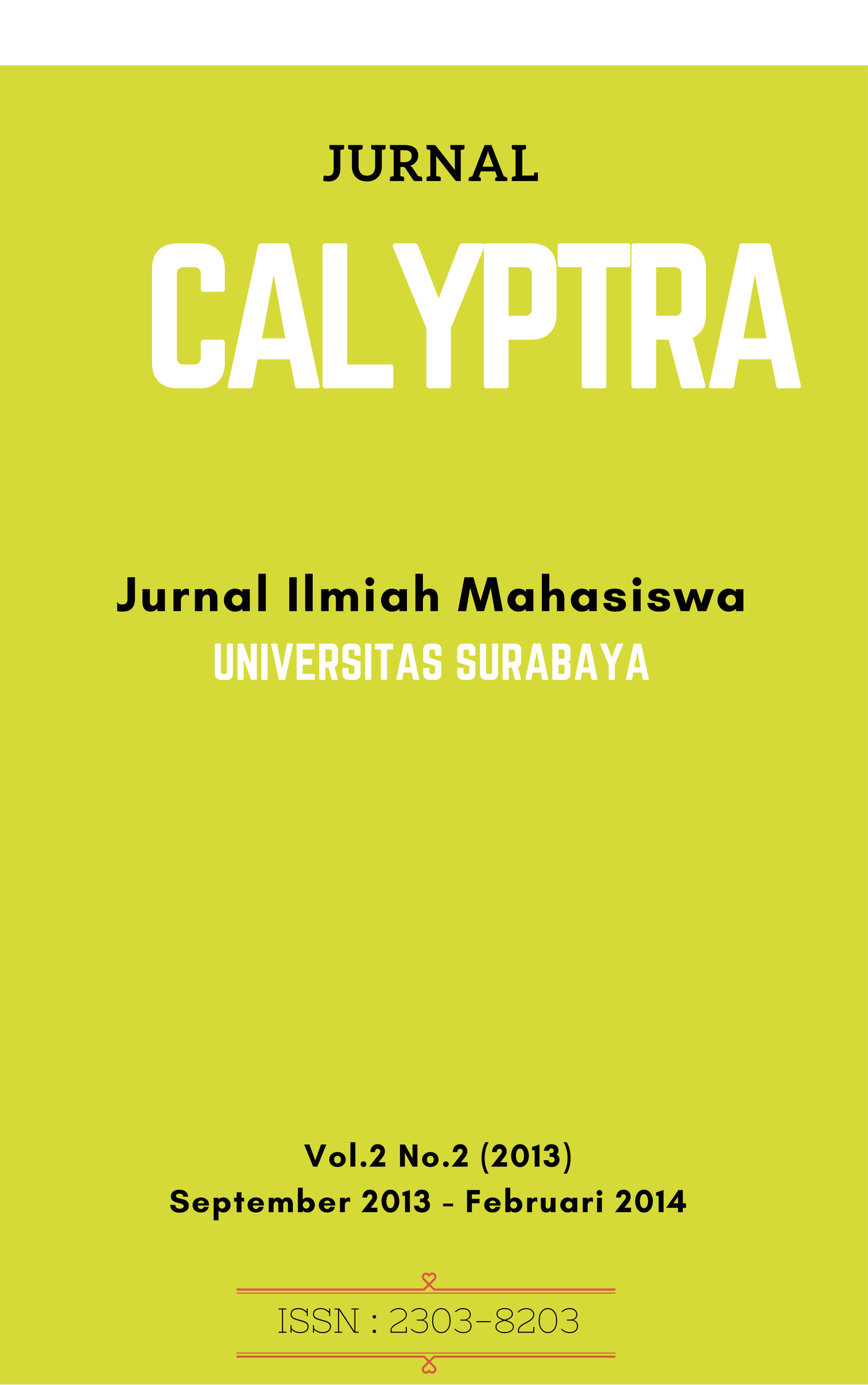 How to Cite
HENDRAJAYA, Selli Rhema. PERAN ACTION CONTROL TERHADAP PERILAKU BERMASALAH MAHASISWA FBE DI PERGURUAN TINGGI "X" SURABAYA.
CALYPTRA
, [S.l.], v. 2, n. 2, p. Hal. 1 - 17, sep. 2013. ISSN 2302-8203. Available at: <
http://journal.ubaya.ac.id/index.php/jimus/article/view/479
>. Date accessed: 21 oct. 2018.
Section
Bidang Akuntansi (AK)