PENGARUH STRUKTUR KEPEMILIKAN DAN GOOD CORPORATE GOVERNANCE TERHADAP JENIS EARNINGS MANAGEMENT PADA PERUSAHAAN MANUFAKTUR YANG TERDAFTAR DI BEI PERIODE 2009-2011
Henny Kesatria

Jurusan Akuntansi Fakultas Bisnis dan Ekonomika Universitas Surabaya
Abstract
Penelitian ini bertujuan untuk menguji apakah jenis earnings management yang banyak dilakukan oleh perusahaan terbuka di Indonesia terutama pada sektor manufaktur itu termasuk opportunistic ataukah efficient.Selain itu, penelitian ini juga menginvestigasi apakah struktur kepemilikan dan praktik corporate governance dapat mempengaruhi jenis earnings management yang dilakukan perusahaan.Berdasarkan hasil pengujian, ditemukan bahwa variabel discretional accruals (proksi earnings management) berpengaruh negatif terhadap profitabilitas masa depan. Hal ini berarti perusahaan manufaktur di Indonesia cenderung melakukan opportunistic earnings management.Selain itu, ditemukan bahwa adanya kepemilikan keluarga dapat mengubah earnings management yang dilakukan dari opportunistic menjadi efficient.
Downloads
Download data is not yet available.
References
Anderson, R. C., Mansi, S. A., & Reeb, D. M. 2003. Founding family ownership and the agency cost of debt.Journal of Financial Economics, 68(2), 263−285.

Ang, J.S., Cole, R.A., Lin, J.W., 2000. Agency costs and ownership structure. Journal of Finance 55, 81–106.

Balsam, S., Bartov, E., & Marquardt, C. 2002.Accruals management, investor sophistication, and equity valuation: Evidence from 10-Q filings. Journal of Accounting Research, 40(4), 987−1012.

Barth, M., Cram, D., Nelson, K., 2001.Accruals and the prediction of future cash flows. The Accounting Review 76, 27–58.

Beasley, M. 1996. An Empirical analysis of the relation between the board of director composition and financial statement fraud. Accounting Review, 71, 443-465.

Burgstahler, D., & Dichev, I. 1997. Earnings management to avoid earnings decreases and losses. Journal of Accounting and Economics, 24, 99−126.

Bursa Efek Indonesia.http://www.idx.co.id

Darmawati, D. 2003. Corporate governance dan Manajemen Laba: Suatu Studi Empiris. Jurnal Bisnis dan Akuntansi, 5(1), 47−68.

Dechow, P. M., Sloan, R. G., & Sweeney, A. P. 1996. Causes and consequences of earnings manipulation: An analysis of firms subject to enforcement actions by SEC. Contemporary Accounting Research, 13(1), 1−36.

Demsetz, H. and Lehn, K. 1985. The Structure of Corporate Ownership: Causes and Consequences. Journal of Political Economy Vol. 93 No. 6.1155-1177.

Fama, E., & Jensen, M. 1983. Separation of ownership and control.Journal of Law and Economics, 26, 301−325.

Fraser, Lyn M. & A. Ormiston. 2013. Understanding Financial Statement 10th edition.Pearson Education.

Healy, P. 1985. The impact of bonus schemes on the selection of accounting principles. Journal of Accounting and Economics, 7, 85−107.

Healy, P. M., & Palepu, K. G. 1993.The effect of firms' financial disclosure policies on stock prices.Accounting Horizons, 7, 1-11.

Holthausen, R. W. 1990. Accounting method choice: opportunistic behavior, efficient contracting and information perspectives. Journal of Accounting and Economics, 12, 207-218.

Jones, J. J. 1991. Earnings management during import relief investigation. Journal of Accounting Research, 29,193−228.

Kasznik, R. 1999. On the association between voluntary disclosure and earnings management. Journal of Accounting Research, 37, 57−81.

Schulze, W. S., Lubatkin, M. H., Dino, R. N., &Buchholtz, A. K. 2001.Agency relationships in family firms: Theory and evidence. Organizational Science, 12(2), 99–116.

Scott, William R. Financial Accounting Theory. Fifth edition. Toronto: Pearson Education Canada, 2009.

Shyu, J. 2011. Family ownership and firm performance: evidence from Taiwanese firms. International Journal of Managerial Finance Vol. 7 No. 4.397-411.

Siregar, V. S., & Utama, S. 2008. Type of Earnings Management and the Effect of Ownership Structure, Firm Size, and Corporate-Governance Practices: Evidence from Indonesia. The International Journal of Accounting, 43, 1-27.

Subramanyam, K. R. 1996. The pricing of discretionary accruals.Journal of Accounting and Economics, 22, 249-281.

Watts, R., & Zimmerman, J. 1986. Positive accounting theory.Englewood Cliffs, NJ: Prentice-Hall.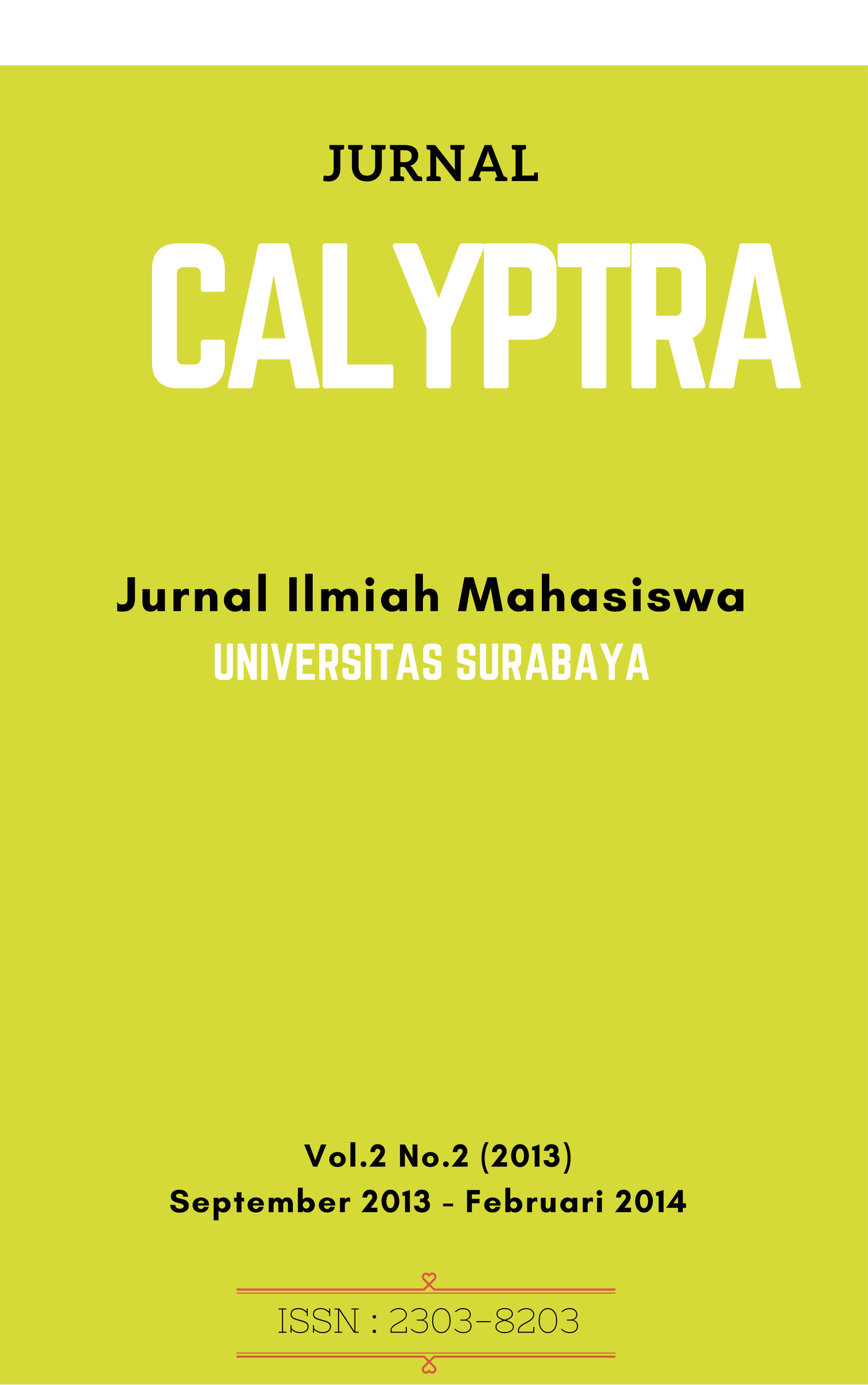 How to Cite
KESATRIA, Henny. PENGARUH STRUKTUR KEPEMILIKAN DAN GOOD CORPORATE GOVERNANCE TERHADAP JENIS EARNINGS MANAGEMENT PADA PERUSAHAAN MANUFAKTUR YANG TERDAFTAR DI BEI PERIODE 2009-2011.
CALYPTRA
, [S.l.], v. 2, n. 2, p. Hal. 1 - 15, sep. 2013. ISSN 2302-8203. Available at: <
http://journal.ubaya.ac.id/index.php/jimus/article/view/489
>. Date accessed: 21 oct. 2018.
Section
Bidang Akuntansi (AK)