EVALUASI PENERAPAN SALES FORECASTING DALAM AUTHORITATIVE BUDGETING SEBAGAI ACUAN PENILAIAN KINERJA KARYAWAN DAN DIVISI PENJUALAN DI PT. XYZ CABANG SURABAYA
Inge Laurentia Widjaja

Jurusan Akuntansi Fakultas Bisnis dan Ekonomika Universitas Surabaya
Abstract
Tujuan penulisan skripsi ini termasuk explanatory research karena fokus dari penulisan ini mengevaluasi penerapan sales forecasting dalam authoritative budgeting sebagai acuan penilaian kinerja karyawan dan divisi penjualan di PT XYZ cabang Surabaya. Hasil penelitian di perusahaan adalah peramalan penjualan dilakukan oleh kantor pusat (China) dalam melakukan penyusunan anggaran penjualan kantor-kantor cabang di Indonesia termasuk cabang Surabaya menggunakan sistem penganggaran authoritavtive dan kantor pusat (China) menentukan dasar peramalan penjualan untuk kantor-kantor cabang di Indonesia termasuk cabang Surabaya secara simple yang hanya didasarkan pada pencapaian anggaran penjualan selama 3 bulan sebelumnya. Dampak yang terjadi atas anggaran penjualan perusahaan yang disusun dengan menggunakan sisitem penganggaran authoritavtive dan peramalan penjualan yang ditentukan secara simple tersebut adalah menurunnya motivasi kinerja karyawan penjualan (SPM dan SPG) dalam memenuhi anggaran penjualan yang telah ditetapkan oleh perusahaan.
Downloads
Download data is not yet available.
References
Atkinson, Anthony, A., Rajiv D. Banker, Robert S. Kaplan, dan S. Mark Young. (2001) Management Accounting 3th edition. New Jersey: Prentice Hal.

Christina, Ellen, M. Fuad, Sugiarto, dan Edy Sukarno. (2001) Anggaran Perusahaan. Jakarta: PT Gramedia Pustaka Utama.

Dugdale, David, dan Stephen Lyne, University of Bristol. (2010) Budgeting
Practice and Organisational Structure. Research Report. Available: http://www.cimaglobal.com/Documents/Thought_leadership_docs/Budgeting%20and%20planning/cid_ressum_budgeting_practice_
organisational_structure_may2010.pdf

Hilton, W., Ronald. (2008) Managerial Accounting 7 th edition. New York: Mc Graw Hill.

Horngren, T., Charles, Gary L. Sundem, William O. Stratton, David Burgstahler., dan Jeff Scahzberg. (2008)

Introduction to Management Accounting 14th edition. New Jersey: Prentice Hal.

Right 90, Inc. (2009) Answering the Sales Forecasting Challenge for Manufacturers. Research Report. Available: http://www.right90.com/whitepapers/answering_the_sales_forecasti...ge_for_
manufacturersFINALPRINT.pdf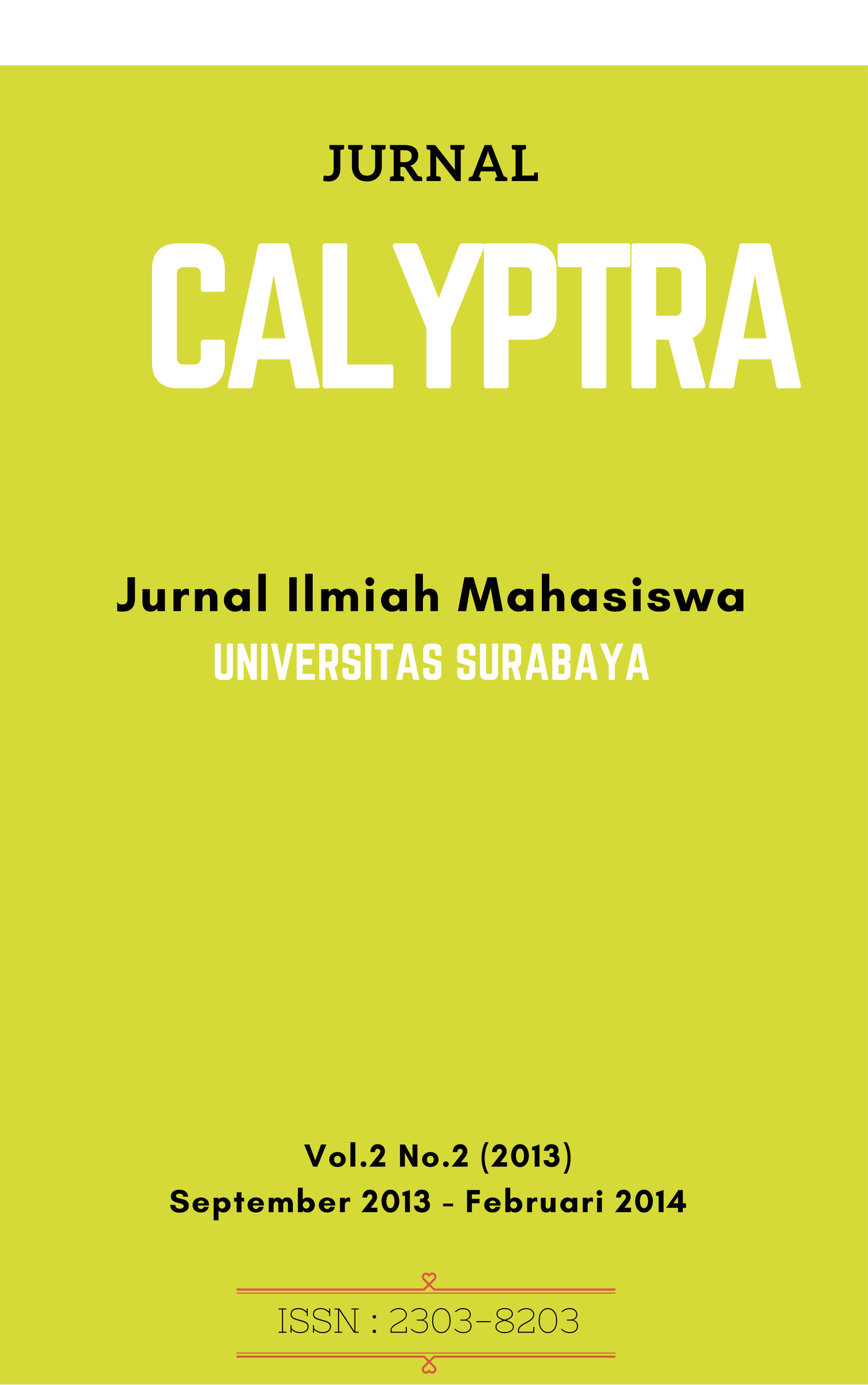 How to Cite
WIDJAJA, Inge Laurentia. EVALUASI PENERAPAN SALES FORECASTING DALAM AUTHORITATIVE BUDGETING SEBAGAI ACUAN PENILAIAN KINERJA KARYAWAN DAN DIVISI PENJUALAN DI PT. XYZ CABANG SURABAYA.
CALYPTRA
, [S.l.], v. 2, n. 2, p. Hal. 1 - 18, sep. 2013. ISSN 2302-8203. Available at: <
http://journal.ubaya.ac.id/index.php/jimus/article/view/490
>. Date accessed: 20 apr. 2018.
Section
Bidang Akuntansi (AK)