PENGARUH GOOD CORPORATE GOVERNANCE TERHADAP EARNINGS MANAGEMENT PADA BADAN USAHA SEKTOR PROPERTY DAN REAL ESTATE YANG TERDAFTAR DI BEI PERIODE 2009 – 2012
Agnes Febriana Santoso

Jurusan Akuntansi Fakultas Bisnis dan Ekonomika Universitas Surabaya

Eko Pudjolaksono

Jurusan Akuntansi Fakultas Bisnis dan Ekonomika Universitas Surabaya
Abstract
Tujuan dari penelitian ini adalah untuk menguji dan menganalisa pengaruh good corporate governance (board size, proportion of independent commissioner, institutional ownership, managerial ownership, foreign ownership, ownership concentration) terhadap earnings management. Leverage dan firm size adalah variabel kontrol. Penelitian ini menggunakan badan usaha sektor property dan real estate yang terdaftar di Bursa Efek Indonesia periode 2009 – 2012. Metode analisis dalam penelitian ini menggunakan regresi berganda. Dalam penelitian ini, earnings management diproksi dengan discretionary accruals dengan menggunakan Cross-Sectional Modified Jones' Model 1991 (Dechow et al, 1995) yang digunakan untuk menentukan nilai discretionary accruals. Temuan penelitian menunjukkan bahwa good corporate governance berpengaruh signifikan terhadap earnings management.
Downloads
Download data is not yet available.
References
Abed, S., Ali Al-Attar, dan Mishiel Suwaidan. 2012. Corporate Governance and Earnings Management: Jordanian Evidence. International Business Research Vol. 5, No. 1; January 2012.

Ardison, K.M.M., Antonio L.M., dan Fernando, C.G. 2012. The Effect Of Leverage On Earnings Management In Brazil. Advances in Scientific and Applied Accounting. São Paulo, v.5, n.3, p. 305-324, 2012.

Asian Corporate Governance Association. 2012. CG Watch 2012: Market Rankings. http://www.acga-asia.org/public/files/CG_Watch_2012_ ACGA_Market_Rankings.pdf, diakses pada tanggal 3 September 2013.

Baharuddin, Ishar Dan Satyanugraha, Heru. 2008. Praktik Earnings Management Perusahaan Publik Indonesia. Jurnal Bisnis Dan Akuntansi Vol. 10, No. 2, Agustus 2008, Hlm. 69 – 80.

Boediono, Gideon SB. 2005. Kualitas Laba: Studi Pengaruh Mekanisme Corporate Governance dan Dampak Manajemen Laba Dengan Menggunakan Analisis Jalur. SNA VIII Solo, 15 – 16 September 2005.
http://smartaccounting.files.wordpress.com/2011/03/kakpm-09_2.pdf, diakses pada tanggal 18 September 2013.

Gulzar, M. Awais, Wuhan, dan Zongjun Wang. 2011. Corporate Governance Characteristics and Earnings Management: Empirical Evidence from Chinese Listed Firms. International Journal of Accounting and Financial Reporting. ISSN 2162-3082 2011, Vol. 1, No. 1.

Jubaedah, Edah. 2007. Pengembangan Good Corporate Governance Dalam Rangka Reformasi Badan Usaha Milik Negara. Jurnal Ilmu Administrasi Vol. 4 No. 1 Maret 2007. http://beta.stialanbandung.ac.id/images/stories/jurnal_administrasi/107-05edah.pdf, diakses pada tanggal 1 September 2013.

Keputusan Direksi Bursa Efek Jakarta No. Kep-305/BEJ/07-2004.

Kim, Hyo Jin dan Yoon, Soon Suk. 2008. The Impact of Corporate Governance on Earnings Management In Korea. Malaysian Accounting Review, Volume 7 No. 1, 2008.

Kumaat, Lusye Corvanty. 2013. Corporate Governance dan Struktur Kepemilikan Terhadap Manajemen Laba dan Kinerja Keuangan. Jurnal Keuangan dan Perbankan, Vol.17, No.1 Januari 2013, hlm. 11–20.

Leuz, Christian, Dhananjay Nanda, dan Peter D. Wysocki. 2003. Earnings Management and Investor Protection : an International Comparison. Journal of Financial Economics 69 (2003) 505–527.
http://web.mit.edu/wysockip/www/papers/LNW2003.pdf, diakses pada tanggal 1 September 2013.

Nugroho, Bernardus Y., dan Eko, Umanto. 2011. Board Characteristics and Earnings Management. Journal of Administrative Science & Organization, January 2011, Volume 18, Number 1, Page 1-10.

Murhadi, Werner R. 2009. Studi Pengaruh Good Corporate Governance Terhadap Praktik Earnings Management pada Perusahaan Terdaftar di PT Bursa Efek Indonesia. Jurnal Manajemen dan Kewirausahaan, Vol. 11, No.1.

Priyatno, Duwi. 2010. Paham Analisa Statistik Data dengan SPSS. Yogyakarta : MediaKom.

______________. 2011. Cara Kilat Belajar Analisis Data dengan SPSS 20. Yogyakarta: ANDI.

Rahman, Rashidah Abdul dan Ali, Fairuzana Haneem Mohamed. 2006. Board, Audit Committee, Culture and Earnings Management : Malaysian Evidence. Managerial Auditing Journal Vol. 21 No. 7, 2006 pp. 783-804.

Rinaldi, Denoan. SWA, 7 Januari 2013. Roy Sembel: GCG Harus Jadi Kultur dalam Perusahaan. http://swa.co.id/corporate/gcg/roy-sembel-gcg-harusjadi-kultur-dalam-perusahaan, diakses pada tanggal 1 September 2013.

Roodposhti, F. Rahnamay dan Chashmi, S. A. Nabavi. 2011. The Impact of Corporate Governance Mechanisms On Earnings Management. African Journal of Business Management Vol. 5 (11), pp. 4143-4151, 4 June, 2011.

Siregar, Sylvia Veronica N.P., dan Utama, Siddharta. 2006. Pengaruh Struktur Kepemilikan, Ukuran Perusahaan, dan Praktek Corporate Governance Terhadap Pengelolaan Laba (Earnings Management). Jurnal Riset Akuntansi Indonesia Vol. 9, No. 3, September 2006, hal. 307-326.

Sulistyanto, H. Sri dan Wibisono, Haris. 2003. Good Corporate Governance: Berhasilkah Diterapkan di Indonesia?. http://researchengines.com/hsulistyanto3.html, diakses pada tanggal 30 Agustus 2013.

Taman, Abdullah dan Nugroho, Bily Agung. 2011. Determinan Kualitas Implementasi Corporate Governance Pada Perusahaan yang Terdaftar di Bursa Efek Indonesia (BEI) Periode 2004-2008. Jurnal Pendidikan Akuntansi Indonesia, Vol. Ix. No. 1 – Tahun 2011, Hlm. 1 – 23.

Terzaghi, Muhammad Titan. 2012. Pengaruh Earning Management Dan Mekanisme Corporate Governance Terhadap Pengungkapan Tanggung Jawab Sosial Perusahaan Manufaktur yang Terdaftar Di Bursa Efek
Indonesia. Jurnal Ekonomi dan Informasi Akuntansi Vol. 2 No. 1 Januari 2012.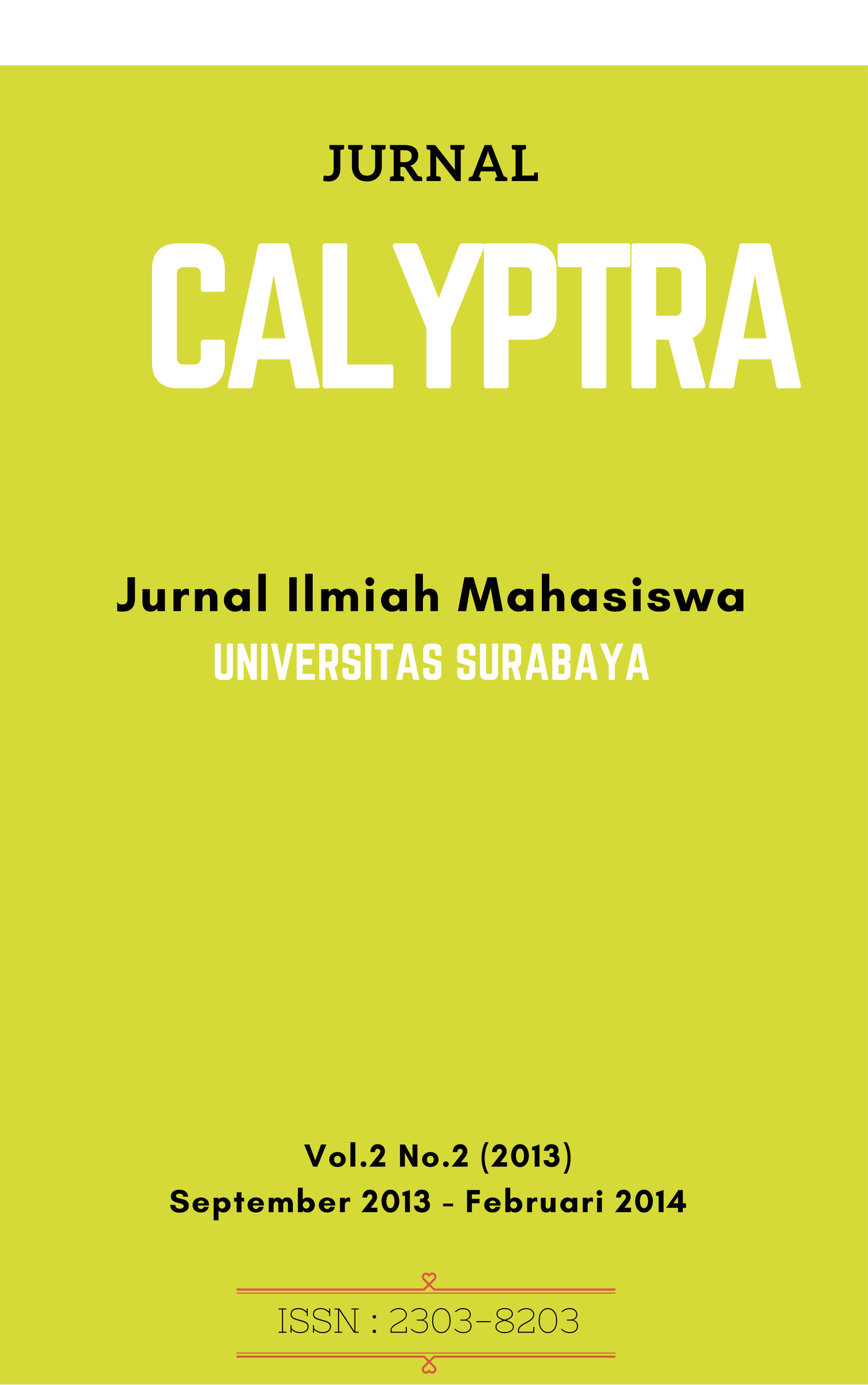 How to Cite
SANTOSO, Agnes Febriana; PUDJOLAKSONO, Eko. PENGARUH GOOD CORPORATE GOVERNANCE TERHADAP EARNINGS MANAGEMENT PADA BADAN USAHA SEKTOR PROPERTY DAN REAL ESTATE YANG TERDAFTAR DI BEI PERIODE 2009 – 2012.
CALYPTRA
, [S.l.], v. 2, n. 2, p. Hal. 1 - 20, sep. 2013. ISSN 2302-8203. Available at: <
http://journal.ubaya.ac.id/index.php/jimus/article/view/493
>. Date accessed: 24 june 2019.
Section
Bidang Akuntansi (AK)