AKTIVITAS ANTIBAKTERI EKSTRAK ETANOL KULIT BATANG MANGGIS (Garcinia mangostana Linn.) TERHADAP Bacillus subtilis DAN Escherichia coli ATCC 25922
Ni Putu Ratna Kumalasari

Fakultas Farmasi Universitas Surabaya
Abstract
Telah dilakukan penelitian untuk mengetahui aktivitas antibakteri ekstrak etanol kulit batang manggis (Garcinia mangostana Linn.) terhadap bakteri Bacillus subtillis dan Escherichia coli ATCC 25922. Penelitian dilakukan melalui penentuan diameter daerah hambatan pertumbuhan dengan metode difusi agar. Ekstrak Etanol kulit batang manggis dibuat dengan konsentrasi 50.000, 100.000, 200.000, 400.000, dan 600.000 bpj. Sedangkan larutan pembanding kloramfenikol yang digunakan dengan konsentrasi 80, 120, 160, 200, dan 240 bpj. Hasil penelitian menunjukkan bahwa ekstrak etanol kulit batang manggis pada konsentrasi sampai dengan 600.000 bpj memberikan zona hambatan terhadap pertumbuhan Bacillus subtilis sebesar 1,802 cm dan Escherichia coli ATCC 25922 sebesar 1,665 cm. Semakin besar konsentrasi ekstrak etanol kulit batang manggis, maka semakin besar diameter daerah hambatan yang terbentuk.
Downloads
Download data is not yet available.
References
Agoes G., 2009, Teknologi Bahan Alam (Serial Farmasi Industri-2) edisi revisi, ITB, Bandung, 14-23,25-29,34,37-44,
54-56,60,63,66.

Cheftel JC, Cuq JL, Lorient D, 1985, Amino acid, peptides, and proteins, Di dalam Fennema OR (ed) Food Chemistry, Marcel Deffer, Inc., New York, 245-370.

Cowan Marjorie Murphy, 1999, Plant Products as Antimicrobial Agents, Clinical Microbiology Reviews, 12 (4): 564-582.

Dika Diayu Desmar, 2008, Aktivitas Insect Repellent Ekstrak dan Perry Hasil Maserasi Kinetik Terhadap Bioindikator Calandra Oryzae L., Skripsi tidak dipublikasikan, Fakultas Farmasi UBAYA, Surabaya, 34.

Elya Berna, Soemiati Atiek, dan Farida, 2009, Antibakteri Ekstrak Kulit Batang Manggis Hutan (Garcinia Rigida Miq.), Majalah Ilmu Kefarmasian, 6: 09-17.

Jones S. David, 2010, Statistik Farmasi, Penerbit Buku Kedokteran EGC, Jakarta, 457-467, 516-517.

Leite, S., Vieira, J., Medeiros, P., Leite, R., Lima, V., Xavier, H., et al, 2006, Antimicrobial Activity of Indigofera suffruticosa. 3(2): 261 -265.

Nilar, Nguyen, L.H.D., Venkatraman, G.,Sim, K.Y., Harrison, L.J., 2005, Xanthones and benzophenones from Garcinia griffithii and Garcinia mangostana, Phytochemistry, 66: 1718-1723.

Nugroho Endro Agung, 2011, Manggis (Garcinia mangostana Linn.) : Dari Kulit Buah yang Terbuang Hingga Menjadi Kandidat Suatu Obat, Fakultas Farmasi UGM.

Pedraza C. Jose, Rodriguezz C. Noemi, et al., 2008, Medicinal Properties of mangosteen (Garcinia mangostana), J. Food and Chemical Toxicology, 46: 3227-3239.

Poeloengan Masniari, Praptiwi, 2010, Uji Aktivitas Antibakteri Ekstrak Kulit Buah Manggis (Garcinia mangostana Linn.), Media Litbang Kesehatan XX, 2: 65-69.

Radji, M, 2010, Buku Ajar Mikrobiologi, Penerbit Buku Kedokteran EGC, Jakarta, 27, 68, 125, 150, 273,284,295.

Schefler, W, 1999, Statistika Untuk Biologi, Farmasi, Kedokteran, dan Ilmu yang Bertautan, ITB, Bandung, 174-187.

Setiabudy Rianto, 2007, Farmakologi dan Terapi, edisi ke-5, Fakultas Kedokteran Universitas Indonesia, Jakarta, 700-701.

The USP Convention, 2005, The United State of Pharmacopoeia 28, Twinbrook Parkway, Rockville, 2242-2257.

Tortora, G. J., Case, C. L., & Funke, B. R, 2010, Microbiology An Introduction 10th Edition, Addison Wesley Longman, Inc, USA, 77-78,86-87,132,161,224-226,301,310,
317-318,403,563.

Voravuthikunchai, S.P., Kitpipit, L., 2005, Activity of Medicinal Plant Extracts Against Hospital Isolates of Methicilin-Resistant Staphylococcus aureus, Clin. Microbiol. Infect, 11: 510-512.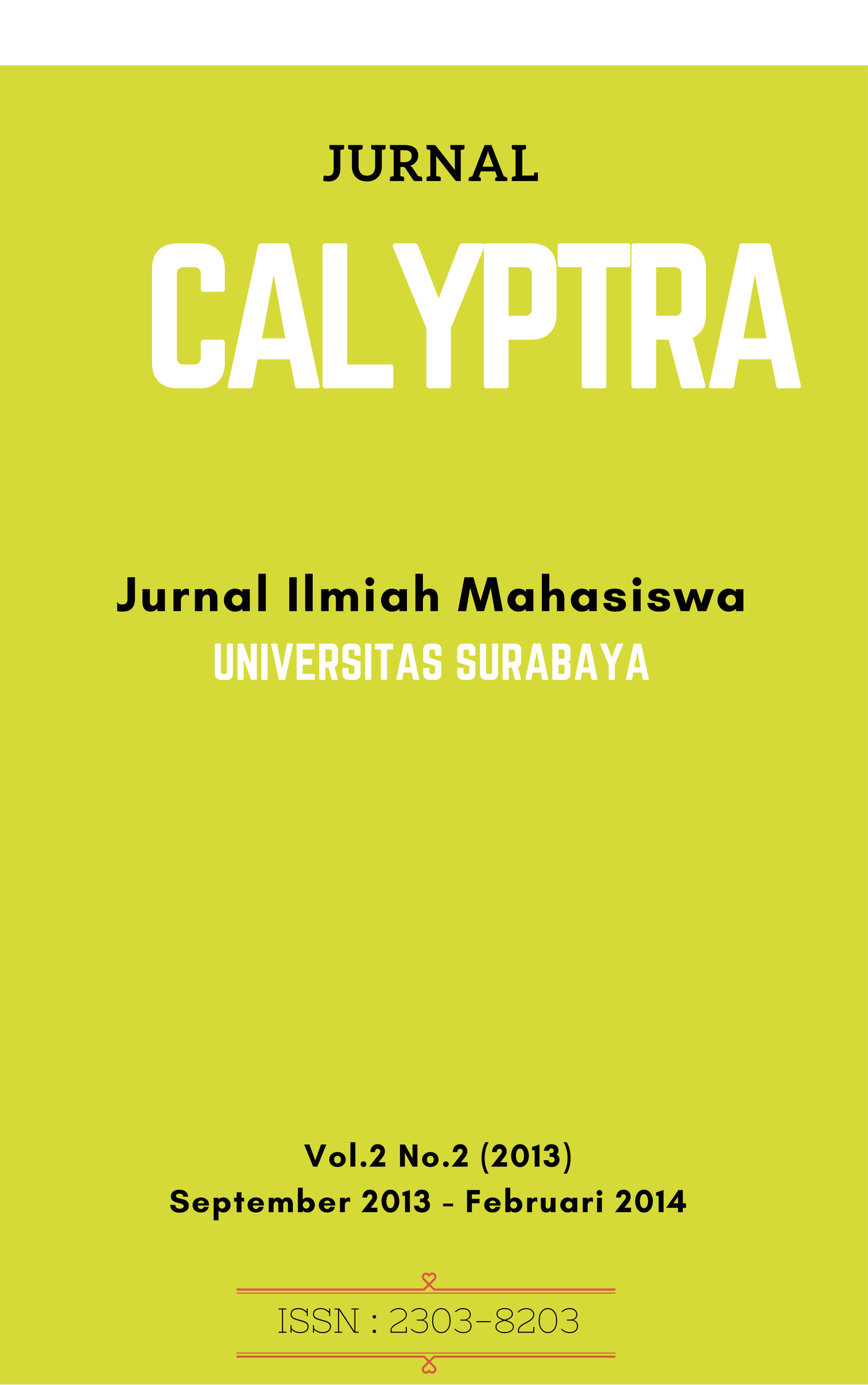 How to Cite
KUMALASARI, Ni Putu Ratna. AKTIVITAS ANTIBAKTERI EKSTRAK ETANOL KULIT BATANG MANGGIS (Garcinia mangostana Linn.) TERHADAP Bacillus subtilis DAN Escherichia coli ATCC 25922.
CALYPTRA
, [S.l.], v. 2, n. 2, p. Hal. 1 - 10, sep. 2013. ISSN 2302-8203. Available at: <
http://journal.ubaya.ac.id/index.php/jimus/article/view/549
>. Date accessed: 19 apr. 2018.
Section
Bidang Farmasi (F)