EFEKTIFITAS PENGGUNAAN ANTIBIOTIK PADA PASIEN SEKSIO SESAREA ELEKTIF DI RUMAH SAKIT X SIDOARJO
Dika Bakti Prasetya

Fakultas Farmasi Universitas Surabaya
Abstract
Seksio sesarea elektif adalahcara melahirkan janin melalui insisi pada dinding abdomen dan dinding uterus yang telah direncanakan sebelumnya, dimana tindakan ini memiliki resiko terjadinya infeksi. Pemberian antibiotik dapat menurunkan resiko infeksi pada luka paska seksio sesarea. Penelitian ini bertujuan untuk menganalisa efektifitas penggunaan antibiotik pada pasien seksio sesarea elektif. Penelitian mengenai efektifitas penggunaan antibiotik pada pasien seksio sesarea elektif dilakukan secara observasional bersifat retrospektif yang dilakukan pengamatan pada 74 pasien. Jenis antibiotik profilaksis dan antibiotik terapi yang paling banyak digunakan berturut-turut yakni sefotaksim sebesar 66,21% dan 64,86%. Data yang dianalisis meliputi kesesuaian jenis, dosis dan frekuensi antibiotik serta lama perawatan pasien dibandingkan dengan pedoman terapi dan jurnal. Ditinjau dari jenis antibiotik yang digunakan 100% tidak sesuai. Dosis dan frekuensi antibiotik 100% sesuai. Lama perawatan pasien 87,83% sesuai. Penilaian efektifitas dilihat dari penggunaan antibiotik yakni 89,18% efektif, 4,05 tidak efektif dan 6,75% tanpa keterangan.
Downloads
Download data is not yet available.
References
Andrews,W., 2009. Evolving concepts in antibiotic prophylaxis for cesarean delivery. Birmingham: NIH Public Access.

http:/www.pubmed.com Diakses tanggal 15 Juni 2013

Avip, B., 2013. Populasi dan sampel. Bandung: UPI

Baqeel, H., Baqeel, R., 2012. Timing of administration of prophylactic antibiotics for caesarean section. Jeddah: BJOG

http:/www.pubmed.com Diakses tanggal 15 Juni 2013

Charles, F., 2010. Drug information handbook, 19th edition.America: lexi comp. hal 267

Cunningham, W., 2010. Obstetrics 23rdEdition. USA: McGrawHill-Companies

Darmadi., 2008. Infeksi nosokomial problematika dan pengendaliannya. Jakarta: Salemba medika. hal 306

Departemen of surgery. 2009. Pedoman terapi Rumah Sakit, Sidoarjo

Gondo, H., 2006. Penggunaan antibiotik pada kehamilan: Wijaya Kusuma, hal 57-62

Gunawan, S G., Setiabudi, R., Nafrialdi, E., 2007. Farmakologi dan terapi edisi ke 5. Jakarta: Balai Penerbit FKUI

Indonesia Kementrian Kesehatan. 2011. Petunjuk teknis jaminan persalinan. Jakarta: Kementrian Kesehatan Republik Indonesia (online)

(http,:ditjenpp.kemenkumham.go.id) Diakses tanggal 17 Juni 2013

Khanem, J.,Howaida, K., Roos, B., 2012. Antibiotic prophylaxis for caesarean section at Tawam Hospital. UAE: Gulf Medical Journal

Kusuma, L., 2011. Tinjauan Penggunaan antibiotik Profilaksis pada pasien operasi appendicitis akut yang menjalani rawat inap di salah satu rumah sakit swasta di Surabaya periode januari sampai desember 2009. Skripsi. Surabaya: Fakultas Farmasi Universitas Surabaya.

Lehne, R A., 2007. Pharmacology for Nursing Care. Missouri:Saunders Martin, J.,Anne, L.,Jordan, B., Patterson, AF., Ryan, R., Wagle, S., Macfarlane, CR., 2011.British National Formulary, 62rd. London: BMJ Publishing Group and Royal Pharmaceuticalof great Britain.hal 349

NICE. 2012. Caesarean section. UK: NHS evidence

Norman, J E., 2013. Outcomes of Induction of Labour in Women with Previous Caesarean Delivery. Philippa Middleton: PLoS ONE

Prabaningrum, N S., 2008. Farmakoterapi-info cefotaxime (online) (http:/ yosefw.wordpress.com) Diakses tanggal 20 Juli 2013

Regional medica center. 2006. Antibiotik prophylaxis in surgery. Orlando: Departement of surgical ducation

Saifudin., Abdul, B., 2008. Pelayanan Kesehatan Maternal dan Neonatal. Jakarta: Yayasan Bina Pustaka

Setiabudy, R., 2008. Antimikroba in: Departemen Farmakologi dan Terapeutik Fakultas Kedokteran Universitas Indonesia, 5 th ed. Farmakologi dan Terapi. Jakarta: Balai Penerbit FK UI

Siswandono., Bambang, S., 2008. Kimia Medisinaled 2. Surabaya: Airlangga University Pres

Soemohardjo, S., 2009. Pemakaian antibiotik rasional (online) (http:/ biomedikamataram.wordpress.com) Diakses tanggal 20 Juli 2013

Surgery and patient choice: the ethics of decision making. 2010 : ACOG Committe Opinion.Int. J Gynecol Obstet

Tayyeba,A., Ara, J., Ali, L., Tayyab, S., 2010. Chemoprophylaxis in caesarean section.Karachi: Lyari General Hospital &Dow University of Health Sciences

Tjay, HR., 2007. Obat-obat penting. Jakarta: Elex Med. Komputindo, hal 58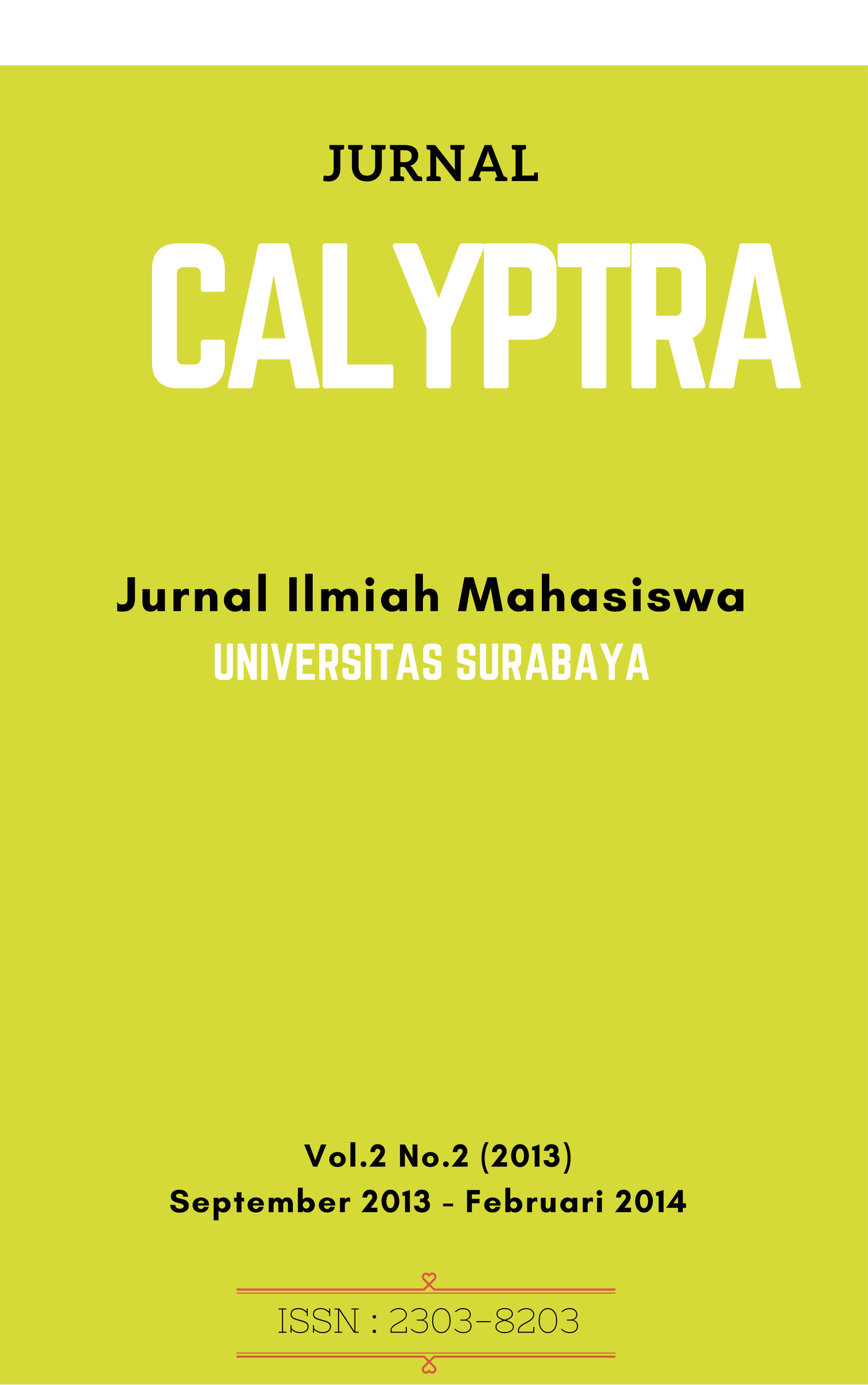 How to Cite
PRASETYA, Dika Bakti. EFEKTIFITAS PENGGUNAAN ANTIBIOTIK PADA PASIEN SEKSIO SESAREA ELEKTIF DI RUMAH SAKIT X SIDOARJO.
CALYPTRA
, [S.l.], v. 2, n. 2, p. Hal. 1 - 10, sep. 2013. ISSN 2302-8203. Available at: <
http://journal.ubaya.ac.id/index.php/jimus/article/view/603
>. Date accessed: 20 apr. 2018.
Section
Bidang Farmasi (F)