ANALISIS KADAR MERKURI (Hg) DALAM SEDIAAN HAND BODY LOTION WHITENING PAGI MEREK X, MALAM MEREK X, DAN BLEACHING MEREK X YANG TIDAK TERDAFTAR PADA BPOM
Fransisca Wijaya

Fakultas Farmasi Universitas Surabaya
Abstract
X brand morning whitening body lotion, X brand night whitening body lotion, and X brand bleaching unregistered to National Agency of Drugs and Foods Controls (BPOM) are widely used for skin whitening. This research was carried out to analyze mercury (Hg) level which could possibly be found in the preparations. Mercury (Hg) should not be used as skin whitening since it can be accumulated in the body in the long run and eventually can be toxic and damage body organs. Organoleptic test was conducted using miscibility test got from Pharmaceutics The Science of Dosage Form Design to determine emulsion types of each preparation. The results showed that the preparations used had emulsion type of oil in water (o/w). The mercury analysis used the method adopted from 2005's AOAC (Official Methods of Analysis of AOAC International). The study using ICPS (Inductively Coupled Plasma Spectrometer) showed linearity results with r = 0.9993 and Vxo = 2.02%; wave length used was ƛ = 253.652 nm; LLOD (Lower Limit of Detection) and LLOQ (Lower Limit of Quantitation) values were 0.25 ppm and 0.84 ppm; CV (Coefficient of Variation) for each preparation was 0%; 0.28%; 0.26%; recovery % value for mercury (Hg) in each preparation range from 80.30-101.0%; 80.5-98.5%; 80.25-98.5%. the overall findings implied that this method meets the requirements in terms of linearity, selectivity, precision, LLOD, LLOQ, and accuracy.
Downloads
Download data is not yet available.
References
Anderson R, 1987, Sample Pretreatment and Separation: Analytical Chemistry by Open Learning, John Wiley & Sons, Singapore, 46-47, 54-55, 58, 94-95, 106-107.

Aulton Michael E, 2002, Pharmaceutics The Science of Dosage Form Design, Elsevier, Philadelphia, USA, 343.

Badan POM Public Warning No : KH.00.01.3352, 2006, Tentang Kosmetik yang Mengandung Bahan dan Zat Warna yang Dilarang.

Christian, Gary D, 1994, Analytical Chemistry, 5th ed, John Wiley & Sons, New York, 465.

Gandjar IG, Rohman A, 2007, Kimia Farmasi Analisis, Pustaka Pelajar, Yogyakarta, 8.

Horwitz W, Latimer GW, 2005, Official Methods of Analysis of AOAC International, 18th edition, Vol. I, Gathersburg: AOAC International, Chapter 18, 14.

Nater JP, de Groot AC, Liem DH, 1983, Unwanted Effects of Cosmetics and Drugs Used in Dermatology, Excerpta, Amsterdam, 151.

Palar H, 2004, Pencemaran dan Toksikologi Logam Berat, Rineka Cipta, Jakarta, 94

Peraturan Kepala Badan POM Republik Indonesia Nomor : HK.00.05.42.1018, 2008, Tentang Bahan Kosmetik.

Robinson JW, 1996, Atomic Spectroscopy, 2nd ed, Baton Rouge, Louisiana, Departement of Chemistry University of Louisiana, 277-279, 282-283.

Skoog DA, and Leary JJ, 1992, Principles of Instrumental Analysis, 4th ed, Saunders Collage Publisher, Amerika Serikat, 632.

Sweetman SC, 2007, Martindale 35th ed, Published by The Pharmaceutical Press, UK, 2123-2124.

Tranggono, RIS, 1992, Kiat Apik Menjadi Sehat dan Cantik Petunjuk Praktis, Perawatan Kulit dan Penggunaan Kosmetik Bagi Kaum Muda, PT. Gramedia Pustaka Utama, Jakarta, 27-30, 47.

Tranggono, Latifah, 2007, Buku Pegangan Ilmu Pengetahuan Kosmetik, PT Gramedia Pustaka Utama, 82.

Wasitaatmadja, Sjarif M, 1997, Penuntun Ilmu Kosmetik Medik, Penerbit Universitas Indonesia, Jakarta, 3, 5, 22-23, 117, 119.

Widowati IM, Sastiono MD, & Jusuf R, 2008, Efek Toksik Logam: Pencegahan dan Penanggulangan Pencemaran, Penerbit ANDI, Yogyakarta, 1-2, 127.

Wilkinson JB, Moore R.J, 1982, Harry's Cosmetology, Chemical Publishing. New York, 264-267.

Yuwono M, M Mulja M, Indrayanto G, 1999, HPLC, Unit Layanan Konsultasi Pengujian dan Kerjasama Penelitian Fakultas Farmasi Universitas Airlangga, Surabaya, 51-55.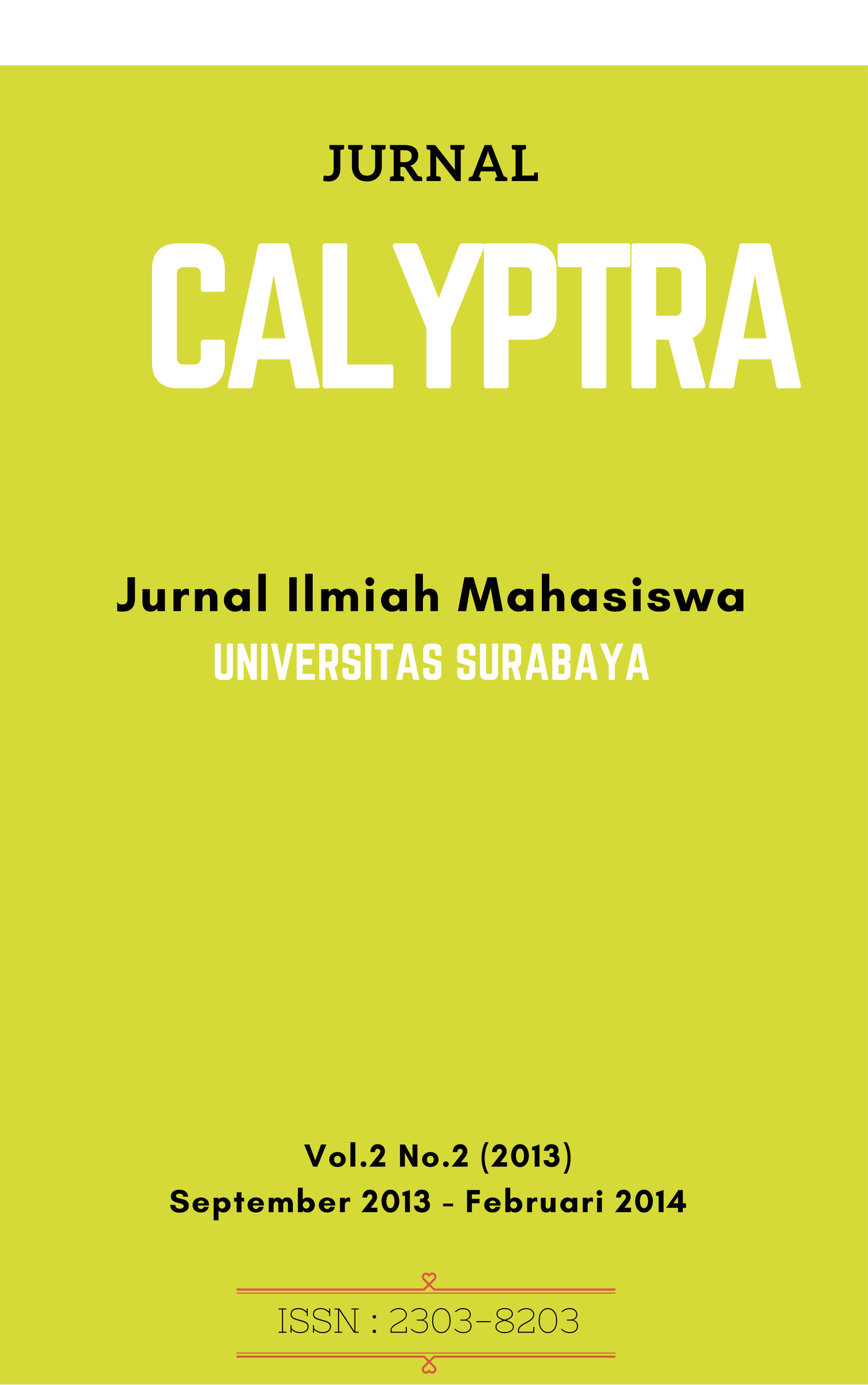 How to Cite
WIJAYA, Fransisca. ANALISIS KADAR MERKURI (Hg) DALAM SEDIAAN HAND BODY LOTION WHITENING PAGI MEREK X, MALAM MEREK X, DAN BLEACHING MEREK X YANG TIDAK TERDAFTAR PADA BPOM.
CALYPTRA
, [S.l.], v. 2, n. 2, p. Hal. 1 - 12, sep. 2013. ISSN 2302-8203. Available at: <
http://journal.ubaya.ac.id/index.php/jimus/article/view/609
>. Date accessed: 20 nov. 2018.
Section
Bidang Farmasi (F)