PENGARUH KUALITAS LAYANAN TERHADAP KEPUASAN PELANGGAN DALAM MEMBENTUK LOYALITAS PELANGGAN McDONALD'S BASUKI RAHMAT SURABAYA
Karina Hartono

Jurusan Manajemen Fakultas Bisnis dan Ekonomika Universitas Surabaya
Abstract
Tujuan dari penelitian ini adalah untuk menganalisa bagaimana kualitas pelayanan dapat mempengaruhi kepuasan pelanggan dalam membentuk loyalitas pelanggan terhadap McDonald Basuki Rahmat Surabaya. Penelitian ini menggunakan Structural Equation Modeling (SEM) dengan software AMOS versi 18.0. Teknik pengambilan sampel dalam penelitian ini adalah teknik non probability sampling dengan jenis convenience sampling. Penelitian ini menggunakan survei untuk mengumpulkan data dengan bertanya secara langsung kepada responden melalui kuesioner. Jumlah sampel dalam penelitian ini adalah 155 responden. Hasil penelitian menunjukkan bahwa lima dimensi, tangibility, empati, reliability, responsiveness, dan assurance, mempengaruhi kualitas pelayanan. Hasil lain menunjukkan bahwa kepuasan pelanggan tidak mempengaruhi loyalitas pelanggan. Pengaruh langsung kualitas pelayanan terhadap loyalitas pelanggan tidak mempertahankan penelitian, karena peneliti tidak menemukan hubungan langsung yang signifikan antara kualitas pelayanan dan loyalitas pelanggan.
Downloads
Download data is not yet available.
References
Aryani, Dwi., Rosinta, Febrina., 2010. Pengaruh Kualitas Layanan terhadap Kepuasan Pelanggan dalam Membentuk Loyalitas Pelanggan. Jurnal Ilmu Administrasi dan Organisasi. Hal 114-126

Blumberg, Donald,F., 1991. Managing Service as a Strategic Profit Center, International Edition, Mc Graw-Hill Inc.,New York

Boone, Louis E. dan David L.Kurtz.,1995. Contemporary Marketing Plus, 8th Edition. Florida: The Dryden Press

Dutka, Alan., 1994. AMA Handbook for Customer Satisfaction : A Complete guide to Research, Planning and Implementation, International Edition, NTC Business Book,Lincolnwood, Illionis : New York

Ferdinand,Agusty.,2002. Structural Equation ModelingDalam Penelitian Manajemen Aplikasi Model-Model Rumit Dalam Penelitian Untuk Tesis Magister dan Disertasi Doktor, Fakultas Ekonomi UNDIP, Semarang

Griffin, Jill., 1995. Consumer Loyalty : How To Earn It, How To Keep It, A Divisionor Simon And Schuster Inc, New York

Hasan, Ali., 2008. Marketing, Media Presindo, Jakarta

Kotler,Philip.,2003. Marketing Management : Eleventh Edition, Upper Saddle River: Prentice Hall

Kotler, Philip., 2001 . Marketing Management Milenium Edition, Tenth Edition., Prentice Hall International Inc., Upper Sadle River , New Jersey

Kotler, Philip., 1997. Marketing Management : Analysis, Planning, Implementation, and Control, 9th Edition., Prentice Hall International, Inc., Upper Sadle River, New Jersey

Kotler, Philip., Bowen, John., and Makens, James., 1999. Marketing for Hospitality and Tourism , 2nd Edition., Prentice Hall International, Inc., Englewood Cliffs, New Jersey.

Lupiyoadi, Rambat., A.Hamdani., 2006. Manajemen Pemasaran Jasa, Edisi kedua . Jakarta : Penerbit : Salemba Empat.

Musanto, Trisno., 2004. Faktor-faktor Kepuaan Pelanggan dan Loyalitas Pelanggan: Studi Kasus pada CV. Sarana Media Advertising Surabaya.

Nasution M.N., 2004. Management Jasa Terpadu: Total Service Management. Bogor: Gahlia Indonesia

Rahayu,D.S., 2008. Pengaruh Kepuasan Pelanggan Terhadap Loyalitas Pelanggan di Restoran Panda Kitchen di G-Walk, Citraland, Surabaya, Universitas Surabaya

Segoro, Waseo., 2011. Pengaruh Persepsi Kualitas Pelayanan, Faktor Penambat Dan Kualitas Hubungan Relasional Terhadap Kepuasan Dan Loyalitas Pelanggan:Suatu Penelitian Pada Penyedia Jasa Telepon Selular Di Jawa Barat, Jurnal Telekomunikasi dan Komputer, vol 2, no2, 181-198

Wijaya, Serli., 2005. Studi Eksploratorif Perilaku Mahasiswa UK Petra Dalam memilih fast food Restaurant dan Non Fast Food Restaurant di Surabaya, Jurnal Manajemen Perhotelan, Vol 1, No 2, September 2005:80-86

Wang I-Ming dan Chich-Jen Shieh., 2006. The Relationship Between Service Quality and Customer Satisfaction : the example of CJCU library.

Wijayanto, Setyo .H., 2008. Structural Equation Modelling dengan Lisrel 8.8, Graha Ilmu, Yogyakarta.

Zeithaml, V .A., Berry, L.L., Parasuraman, A., 1990. Delivering Quality Service : Balancing Customer Perception and Expectation, the Free Press, New York

Zeithaml, V .A., Mary Jo Bittner, and Dwayne D. Gremler.,2006. Service Marketing: Integrity Customers Focus Accros the Firm. 4th Edition. New York: McGraw-Hill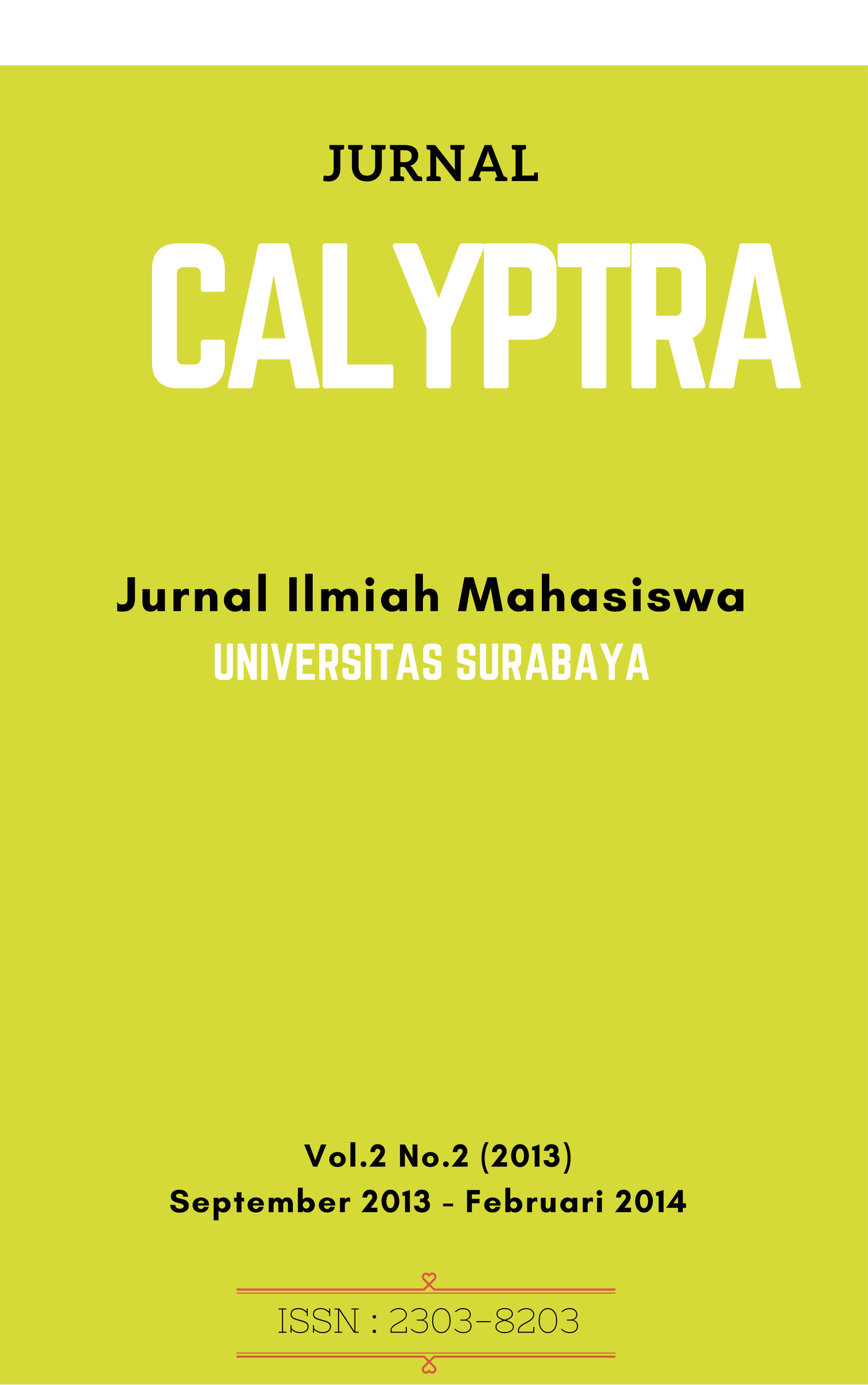 How to Cite
HARTONO, Karina. PENGARUH KUALITAS LAYANAN TERHADAP KEPUASAN PELANGGAN DALAM MEMBENTUK LOYALITAS PELANGGAN McDONALD'S BASUKI RAHMAT SURABAYA.
CALYPTRA
, [S.l.], v. 2, n. 2, p. Hal. 1 - 20, sep. 2013. ISSN 2302-8203. Available at: <
http://journal.ubaya.ac.id/index.php/jimus/article/view/641
>. Date accessed: 23 apr. 2018.
Section
Bidang Manajemen (M)