STUDI DESKRIPTIF MENGENAI PSYCHOLOGICAL WELL-BEING PADA PEKERJA OUTSOURCING DI PT. X DI SURABAYA
Nurul Alviana Rianti

Psikologi Universitas Surabaya
Abstract
 Dewasa ini, sistem outsourcing semakin kerap digunakan oleh berbagai perusahaan yang ada di Indonesia. Hal tersebut dilakukan demi melakukan efisiensi biaya produksi, salah satunya dengan menekan upah buruh. Sehingga, banyak pekerja melakukan demo menuntut penghapusan sistem ini karena tidak memberikan kesejahteraan bagi pekerja. Tujuan dari penelitian ini yaitu menggambarkan psychological well-being pada pekerja outsourcing. Subjek penelitian berjumlah 200 orang pekerja outsourcing  yang bekerja di PT. X bagian 108. Pengambilan data menggunakan  metode snowball sampling. Hasil penelitian menunjukkan bahwa psychological well-being pekerja outsourcing penelitian ini berada dalam kategori yang tinggi. Hasil ini berbeda dengan yang terdapat dalam angket terbuka bahwa 93 subjek mengungkapkan mereka terpaksa menjalani sistem outsourcing dan sejumlah 160 subjek mengungkapkan mereka memiliki kekhawatiran dalam hal pemutusan kontrak. Kesenjangan tersebut dimungkinkan terjadi karena alat ukur yang digunakan dalam angket tertutup hanya menilai aspek-aspek umum dan belum masuk pada konteks pekerjaan. Oleh karena itu diharapkan agar bagi peneliti selanjutnya dapat memodifikasi angket psychological well-being yang sesuai konteks pekerjaan, sehingga dapat menjelaskan hasil lebih jelas lagi sesuai dengan apa yang di ukur.
Downloads
Download data is not yet available.
References
Azwar, S. (2009). "Reliabilitas dan validitas" (Edisi ketiga). Pustaka pelajar. Yogyakarta.

Amirin, T. M. (2011). Populasi dan sampel penelitian 4: ukuran sampel rumus slovin. Di unduh 21 November 2011 dari http://tatangmanguny.wprdpress.com/2010/04-19-ukuran-sampel-rumus-slovin.

Daniels, K ., Harris C. (2000). Work, psychological well-being and performance. In-Depth Review, 50, 304-309.

Ryff, C. D. (1989). Happiness is everything, or is it? Exploration on the meaning of psychological well-being. Journal of personality and social psychology, 57(6), 1069-1081.

Ryff, D., & Keyes, C. L. (1995). The structure of psychological well-being revisited. Journal of personality and social psychology, 69. 719-727.

Tjandraningsih, I., Herawati, R., & Suhadmadi. (2010). Diskriminatif dan eksploitatif: praktek kerja kontrak dan outsourcing buruh di sector industry metal di Indonesia. Bandung: AKATIGA-FSPMI-FES.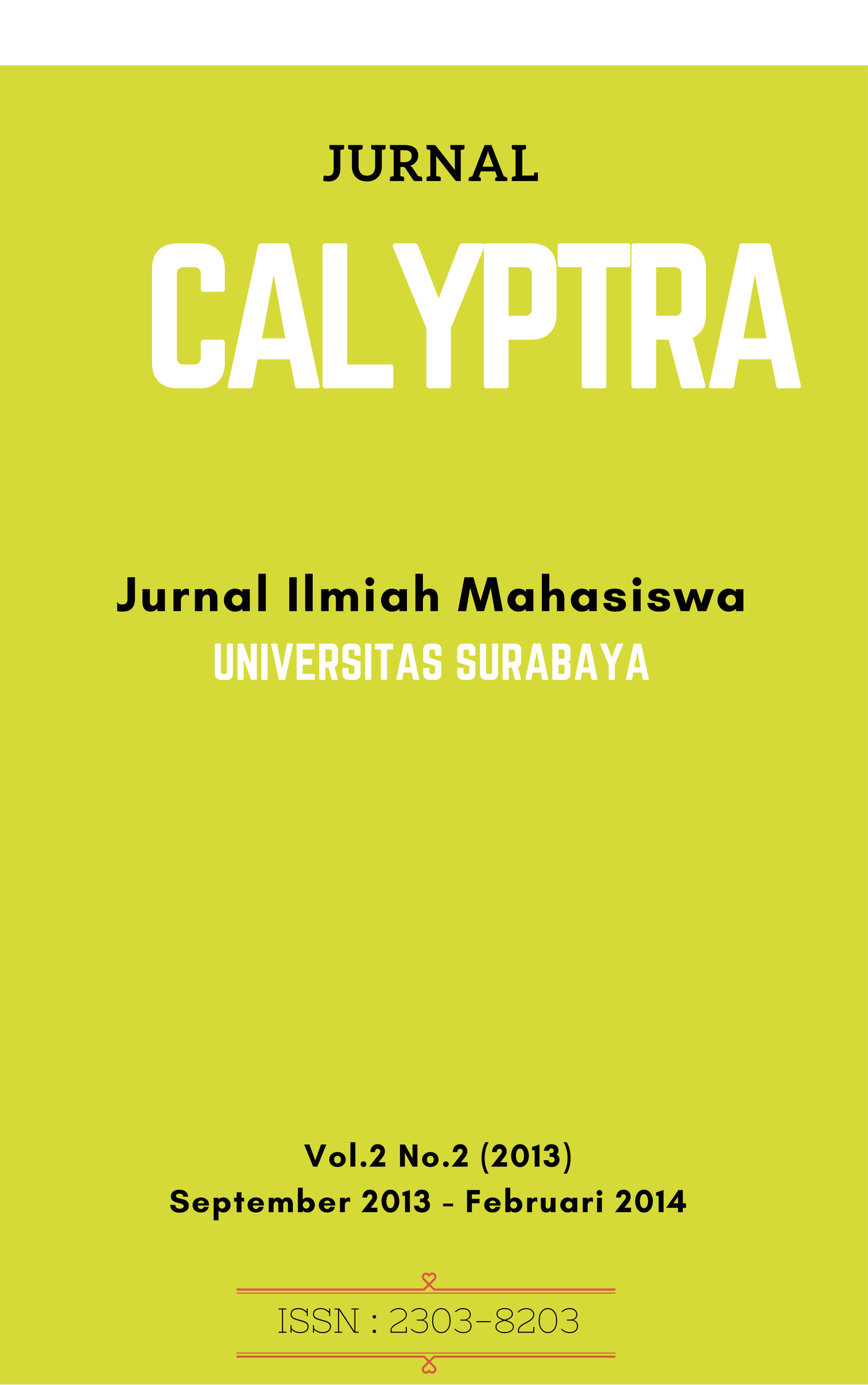 How to Cite
RIANTI, Nurul Alviana. STUDI DESKRIPTIF MENGENAI PSYCHOLOGICAL WELL-BEING PADA PEKERJA OUTSOURCING DI PT. X DI SURABAYA.
CALYPTRA
, [S.l.], v. 2, n. 2, p. Hal. 1 - 61, sep. 2013. ISSN 2302-8203. Available at: <
http://journal.ubaya.ac.id/index.php/jimus/article/view/785
>. Date accessed: 22 may 2018.
Section
Bidang Psikologi (S)