HUBUNGAN ANTARA CORPORATE SOCIAL PERFORMANCE (CSP) DAN CORPORATE FINANCIAL PERFORMANCE (CFP) PADA SEKTOR PERTAMBANGAN YANG TERDAFTAR DI BURSA EFEK INDONESIA PERIODE 2010-2012
Melisa Wibisono

Jurusan Akuntansi Fakultas Bisnis dan Ekonomika Universitas Surabaya

Stevanus Hadi Darmadji

Jurusan Akuntansi Fakultas Bisnis dan Ekonomika Universitas Surabaya

Aurelia Carina Sutanto

Jurusan Akuntansi Fakultas Bisnis dan Ekonomika Universitas Surabaya
Abstract
Penelitian ini bertujuan untuk mengetahui bagaimana hubungan antara Corporate Social Performance (CSP) dan Corporate Financial Performance (CFP), lebih tepatnya yaitu ingin membuktikan apakah CSP berpengaruh signifikan terhadap CFP ataukah sebaliknya. Penelitian ini menggunakan pendekatan kuantitatif dengan menggunakan metode regresi berganda. Sampel yang digunakan pada penelitian ini adalah perusahaan pada sektor pertambangan yang terdaftar di Bursa Efek Indonesia periode 2010 sampai 2012. Ada dua model yang digunakan dalam penelitian ini yaitu Interactive Model dan Lead-Lag Model. CSP diukur dengan menggunakan weighted approach, sedangkan CFP diukur dengan menggunakan adjusted rate of return on equity (AROE). Hasil dari penelitian ini menunjukkan bahwa CSP tidak terbukti berpengaruh signifikan terhadap CFP namun justru yang mempengaruhi adalah CFP periode lalu, begitu pula sebaliknya, CFP juga tidak berpengaruh signifikan terhadap CSP namun justru yang mempengaruhi adalah CSP periode lalu. Dari hasil uji koefisien korelasi, menunjukkan bahwa CSP periode lalu ternyata memiliki hubungan negatif dengan CFP periode ini meskipun tidak secara signifikan. Dilihat dari variabel kontrolnya, ukuran perusahaan dan risiko perusahaan tidak berpengaruh signifikan pada CSP dan CFP. 
Downloads
Download data is not yet available.
References
Anggraini, Fr. Reni Retno. 2006. Pengungkapan Informasi Sosial dan Faktor-Faktor yang Mempengaruhi Pengungkapan Informasi Sosial dalam Laporan Keuangan Tahunan (Studi Empiris pada Perusahaan-Perusahaan yang Terdaftar di Bursa Efek Jakarta). Simposium Nasional Akuntansi IX, Padang, 23-26 Agustus 2006.

Daniri, Mas Achmad. 2008. Standarisasi Tanggung Jawab Sosial Perusahaan (Bag I). http://www.madaniri.com/2008/01/17/ standarisasi-tanggung-jawab-sosialperusahaan-bag-i/. Diakses tanggal 30 Mei 2013.

Fu, Gang, Junjie Wang, Mingwen Jia. 2012. The Relationship between Corporate Social Performance and Financial Performance : Modified Models and Their application. Journal of Contemporary Managemet. Cina.

Hackston, David and Markus J. Milne. 1996. Some Determinants of Social and Environmental Disclosure in New Zealand Companies. Accounting, Auditing and Accountability Journal, Vol. 9, No. 1, p. 77-108.

Hartanti, Dwi, S.E. M.Sc., Dr. Rosantina Elvia, Dr. Chaerul D. Djakman, Dwi Sulistyorini S.E M.M, Dahlia Sari S.E. M. SI. 2008. Perceptions on Corporate Social and Environmental Reporting: A Study in Capturing Public Confidence, Economics Business and Accounting Review. Jakarta.

Lin, Huang Chin, Ho Li Yang, Dian Yan Liou. 2008. The Impact of Corporate Social Responsibility on Financial Performance:Evidence from business in Taiwan. Elsevier Ltd. Taiwan.

Mulyadi. 2003. Pengelolan Program Corporate Social Responsibility: Pendekatan, Keberpihakan dan Keberlanjutannya. Center for Population Studies, UGM.

Scott, William R. 1997. Financial Accounting Theory. New Jersey: Prentice Hall.
Sugiarto, Danang. 2011. Kasus Freeport: Bagaimana Nasib Papua?. http://km.itb.ac.id/site/kasus-freeport-bagaimana-nasib-papua/. Diakses tanggal 8 Juni 2013.

Sun, Lee. 2012. Further Evidence on the Association Between Corporate Social Responsibility and Financial Performance. Emerald Group Publishing Ltd. USA.

Tempo. 31 Juli 2009. Tolak Ukur Keberhasilan CSR - Perusahaan Senang, Pegawai Loyal, Masyarakat Puas. http://www.ibl.or.id/index.php?id =article&sid=details&articleID=115&lang=en/. Diakses tanggal 4 Juni 2013.

Uadiale, Marte Olayinka dan Temitope Olamide Fagbemi. 2012. Corporate Social Responsibility and Financial Performance in Developing Economies: The Nigerian Experience. Journal of Economics and Sustainable Development Vol. 3 No. 4. Nigeria.

Undang-Undang Nomor 40 Tahun 2007 tentang Perseroan Terbatas. https://www.google.com/url?sa=t&rct=j&q=&esrc=s&source=web&cd=
1&cad=rja&sqi=2&ved=0CCoQFjAA&url=
http%3A%2F%2Fwww.bpkp.go.id%2Fuu%
2Ffiledownload%2F2%2F36%2F173.bpkp&
ei=65aqUq_rBoG5iQfyr4DwDA&usg=
AFQjCNGtwzmI1QZ5a6ihzOk9SUKbhvBAfQ&sig2
=-6CaqgSHR88TU90X2tk4A&bvm=
bv.57967247,d.dGI.Diakses tanggal 12 Mei 2013.

Utomo, Muslim. 2000. Praktik pengungkapan sosial pada laporan tahunan perusahaan di Indonesia. Laporan penelitian. Simposium Nasional Akuntansi III, IAI Kompertemen Akuntan Pendidik. Jakarta.

Waddock, S. A. and S. M. Graves. 1997. "The Corporate Social Performance-Financial Performance Link", Strategic Management Journal 18(4), 303–319. doi:10. Causality Between Corporate Social Performance and Financial Performance 4211002/(SICI)1097 0266(199704)18:4<303::AID-SMJ869>3.0.CO;2-G.

Wibisono, Yusuf. 2007. Membedah Konsep dan Aplikasi CSR. Gresik. Fascho Publishing.

www.idx.co.id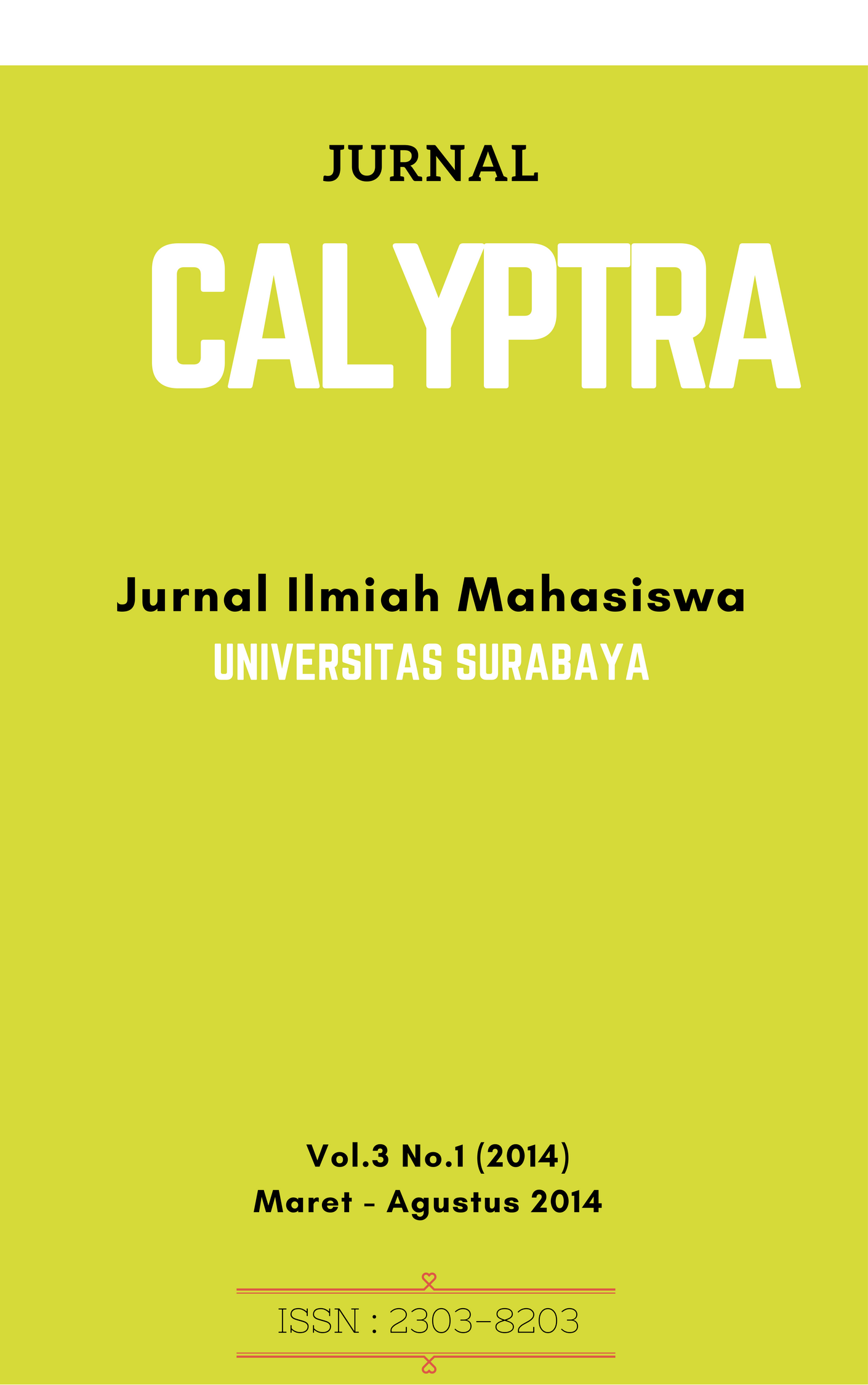 How to Cite
WIBISONO, Melisa; DARMADJI, Stevanus Hadi; SUTANTO, Aurelia Carina. HUBUNGAN ANTARA CORPORATE SOCIAL PERFORMANCE (CSP) DAN CORPORATE FINANCIAL PERFORMANCE (CFP) PADA SEKTOR PERTAMBANGAN YANG TERDAFTAR DI BURSA EFEK INDONESIA PERIODE 2010-2012.
CALYPTRA
, [S.l.], v. 3, n. 1, p. Hal. 1 - 19, mar. 2014. ISSN 2302-8203. Available at: <
http://journal.ubaya.ac.id/index.php/jimus/article/view/843
>. Date accessed: 22 june 2018.
Section
Bidang Akuntansi (AK)