EVALUASI PERAN ENTERPRISE RISK MANAGEMENT DALAM UPAYA PENGELOLAAN RISIKO PADA USAHA PERCETAKAN UD. X DI SURABAYA
Faurisca Shiely Santoso

Jurusan Akuntansi Fakultas Bisnis dan Ekonomika Universitas Surabaya
Abstract
Penelitian  ini bertujuan untuk memahami lebih dalam penerapan Enterprise Risk Management pada usaha percetakan UD. X. Penelitian ini menggunakan metode kualitatif, dengan menggunakan metode wawancara, observasi, serta analisa dokumen-dokumen perusahaan. Pada dasarnya perusahaan telah melakukan manajemen risiko, namun masih belum menggunakan pendekatan yang sistematis. Hal ini mengakibatkan masalah-masalah yang ada di dalam perusahaan belum dapat diatasi dengan baik. Perusahaan akan menggunakan ISO 31000 sebagai pendekatan manajemen risiko perusahaan agar risiko perusahaan dapat diatasi dengan baik. Terdapat beberapa risiko lain yang belum teridentifikasi oleh UD. X, misalnya risiko pengendalian internal terkait code of conduct serta pencatatan dan penyimpanan dokumen. Risiko-risiko tersebut memiliki perlakuan risiko dan cara pengelolaan yang berbeda-beda. Beberapa pengelolaan risiko yang telah dilakukan oleh perusahaan dirasa kurang tepat, sehingga penulis memberikan rekomendasi yang lebih tepat bagi perusahaan menggunakan Enterprise Risk Management berbasis ISO 31000.
Downloads
Download data is not yet available.
References
Alex. 2012. http://www.linkedin.com/groups/COSO-ERM-ISO-31000-Which-1834592.S.101903680, diakses 3 Februari 2014.

Anonim. 2013. Industri Percetakan Tumbuh 5,3%. http://www.suarapembaruan.com, diakses tanggal 26 Mei 2013.

Boynton, Johnson dan Kell. 2003. Modern Auditing jilid 1. (edisi ke-7). Jakarta: Penerbit Erlangga.

Christina, Diane. 2012. Asesmen Manajemen Risiko berbasis ISO 31000:2009. http://dianechristina.wordpress.com, diakses tanggal 10 Juni 2013.

COSO. 2013. Internal Control – Integrated Framework. http://www.coso.org/documents/990025P_Executive_Summary_final_may20_e.pdf, diakses tanggal 15 Juli 2013.

G31000. 2012. Global ISO31000 Survey 2011 Result and Analysis. http://www.iso31000survey.com/Global_Survey_ISO_31000_English.pdf, diakses 17 juni 2013.

ISO 31000. 2009. A Structured Approach Enterprise Risk Management (ERM) and The Requirements of ISO 31000. http://www.iso.org, diakses tanggal 18 Juni 2013.

Susilo, Leo J., Victor Riwu Kaho. 2011. Manajemen Risiko Berbasis ISO 31000 untuk Industri Non Perbankan. Jakarta: PPM.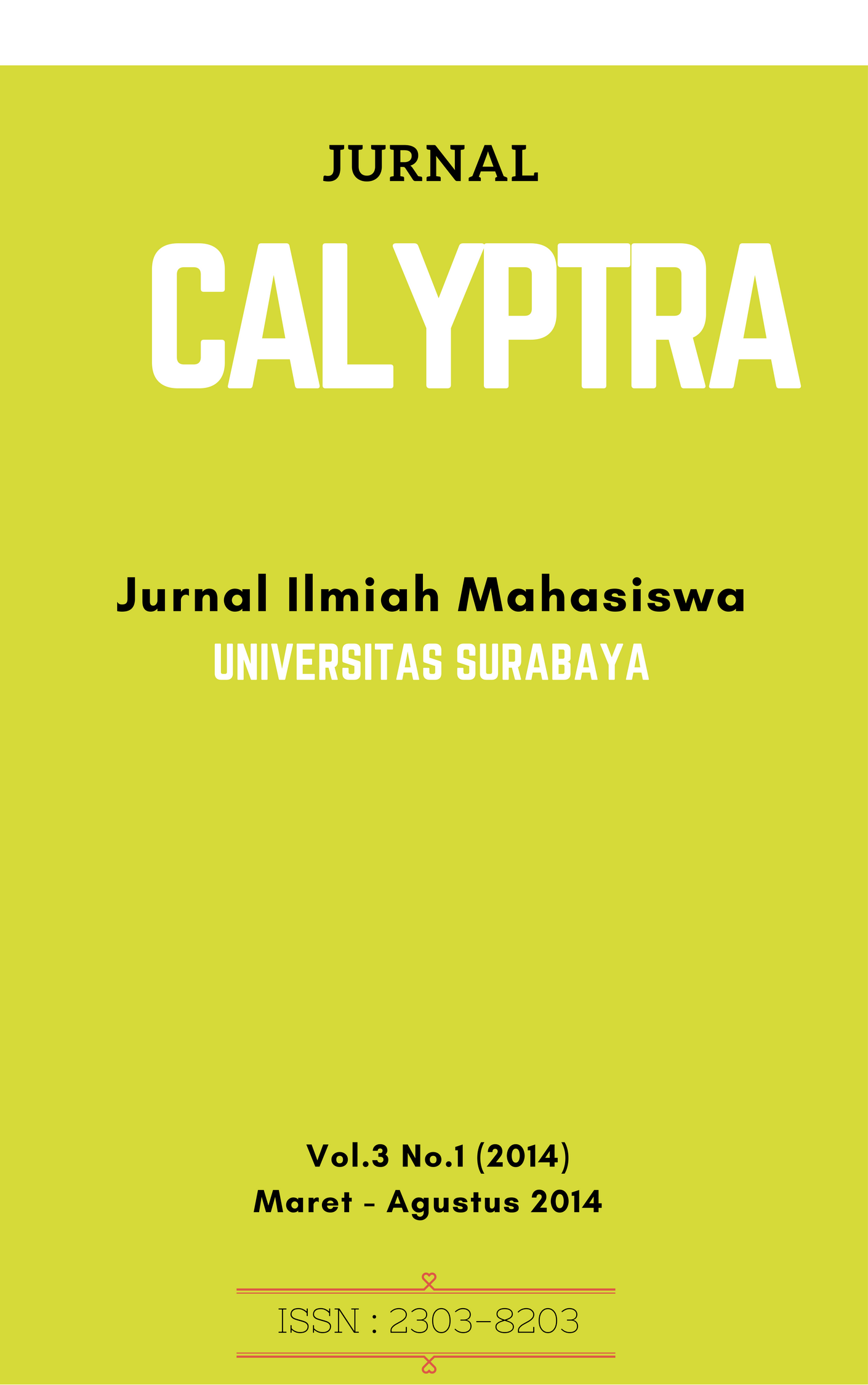 How to Cite
SANTOSO, Faurisca Shiely. EVALUASI PERAN ENTERPRISE RISK MANAGEMENT DALAM UPAYA PENGELOLAAN RISIKO PADA USAHA PERCETAKAN UD. X DI SURABAYA.
CALYPTRA
, [S.l.], v. 3, n. 1, p. Hal. 1 - 16, mar. 2014. ISSN 2302-8203. Available at: <
http://journal.ubaya.ac.id/index.php/jimus/article/view/859
>. Date accessed: 21 july 2019.
Section
Bidang Akuntansi (AK)
This work is licensed under a Creative Commons Attribution-NonCommercial 4.0 International License.