PENGARUH ANTARA CORPORATE GOVERNANCE DENGAN EARNINGS MANAGEMENT PADA PERUSAHAAN MANUFAKTUR YANG TERDAFTAR DI BEI PERIODE 2010-2012
Rosa Meilia Wijoyo

Jurusan Akuntansi Fakultas Bisnis dan Ekonomika Universitas Surabaya
Abstract
Penelitian ini bertujuan untuk menggali lebih dalam mengenai pengaruh antara Good Corporate Governance terhadap Earnings Management.Penelitian ini merupakan penelitian yang bersifat kuantitatif dengan menggunakan data sekunder.Populasi yang digunakan dalam penelitian ini adalah perusahaan manufaktur yang terdaftar di Bursa Efek Indonesia (BEI) periode 2010-2012. Earnings management diproksikan dengan discretionary accrual dengan model cross-sectional modified version of jones.Untuk corporate governance diproksikan dengan proporsi dewan komisaris independen, kompetensi dewan komisaris independen, jumlah dewan komisaris, proporsi dewan komisaris independen di komite audit, concentrated ownership, frekuensi meeting  komite audit.Hasil penelitian ini menemukan bahwa tidak terdapat pengaruh antara proporsi dewan komisaris independen, kompetensi dewan komisaris independen, jumlah dewan komisaris, proporsi dewan komisaris independen di komite audit, concentrated ownership dengan Earnings Management. Namun terdapat pengaruh positif signifikan terhadap variabel frekuensi meeting  komite audit dengan earnings management.
Downloads
Download data is not yet available.
References
Aji, A.B dan Sugeng Pamudji.2011.Analisis Pengaruh Karakteristik Komite Audit Terhadap Kualitas Laba dan Manajemen Laba di Bursa Efek Indonesia. Jurnal Mahasiswa Akuntansi Universitas Diponegoro.

Alves, Sandra.2012. Ownership Structure and Earnings Management:Evidence from Portugal.Australian Accounting Business and Finance Journal vol.6.

Badan pengawas pasar modal.2002.Siaran pers badan pengawas pasar modal.http://www.bapepam.go.id/old/old/news/Des2002/PR_27_12_2002.

Bapepam LK Nomor IX.I.5 tentang Pembentukan Dan Pedoman Pelaksanaan Kerja Komite Audit. http://www.bapepam.go.id/pasar_modal/regulasi_pm/draft_peraturan_pm/draft/Draft-Perubahan-IX.I.5.pdf.Diakses 8 oktober 2012.

Boediono, Gideon SB., 2005. KualitasLaba: Studi Pengaruh Mekanisme Corporate Governance dan Dampak Manajemen Laba dengan Menggunakan AnalisisJalur. Artikel yang Dipresentasikan pada Simposium Nasional Akuntansi 8 Solo tanggal 15 - 16 September 2005

Belkaoui. A. Riahi. 2004. Accounting Theory. Edisi Kelima. Jakarta : Salemba Empat

Chtourou, S.M., Bedard, J. and Courteau, L. (2001), "Corporate governance and earnings management", working paper, University of Laval Canada.

Efferin Sudjoko, Stevanus Hadi Darmadji, dan Yuliawati Tan.2008. Metode Penelitian Akuntansi Mengungkap Fenomena dengan Pendekatan Kuantitatif dan Kualitatif. Yogyakarta.Graha Ilmu.

Forum for Corporate Governance in Indonesia (FCGI). 2006. FCGI Publication 2006. www.fcgi.or.id/en/aboutgc.shtml

Ghozali,Imam.2006. Aplikasi Analisis Multivariate dengan Program SPSS.Semarang:Badan Penerbit Universitas Diponegoro.

Gulzar, M.A and Wuhan, P.R.2011. Corporate Governance Characteristics and Earnings Management: Empirical Evidence from Chinese Listed Firm,International Journal of Accounting and Financial Reporting, vol.1, No.1.

Jao,Robert dan Gagaring Pagalung.2010.Corporate Governance,Ukuran Perusahaan, dan Leverage Terhadap Manajemen Laba Perusahaan Manufaktur Indonesia. Jurnal Akuntansi & Auditing Volume 8/No. 1/November 2011: 1-94.

Kieso , Donald , Jerry J.W, dan Terry D.W.2011.Intermediate Accounting Vol 1. IFRS Edition.John Wiley &Sons,Inc.

Klein, A. (2002), "Audit committee, board of directors' characteristics, and earnings management", Journal of Accounting and Economics, Vol. 33, pp. 375-400.

Komite Nasional Kebijakan Governance. 2011. http://www.knkg-indonesia.com/KNKGDOWNLOADS/Konsep%20Final%20Pedoman%
20GCG%20Pialang%20Asuransi%
20Reasuransi.pdf

Majalah Fortune 100.Daftar 100 emitenterkinclongversi fortune Indonesia.09 Juli 2013.

Majalah SWA. Evaluasi Bisnis Anne Ahira. Edisi 09/XXI/28 april – 11 mei 2005.

Nasution, M dan Setyawan. D. 2007. "Pengaruh Corporate Governance terhadap Manajemen Laba Di Industri Perbankan Indonesia". Simposium Nasional Akuntansi X Makasar.

Nugroho, B dan Eko, U.2011."Board Characteristics amd Earning Management".Journal of Administrative Science & Organization.

OECD. 2004. OECD. Principles of Corporate Governance. Paris, France. Publications Services.

Pamudji, Sugeng dan Trihartati, Aprillya, 2008, Pengaruh Independensi Dan Efektifitas Komite Audit Terhadap Manajemen Laba (Studi Empiris pada Perusahaan Manufaktur yang Terdaftar di BEI), SNA XII Pontianak

easnell, K.V., Pope, P.F. and Young, S. (2001), "Board monitoring and earnings management: do outside directors influence abnormal accruals?", working paper, Lancaster University,Lancaster.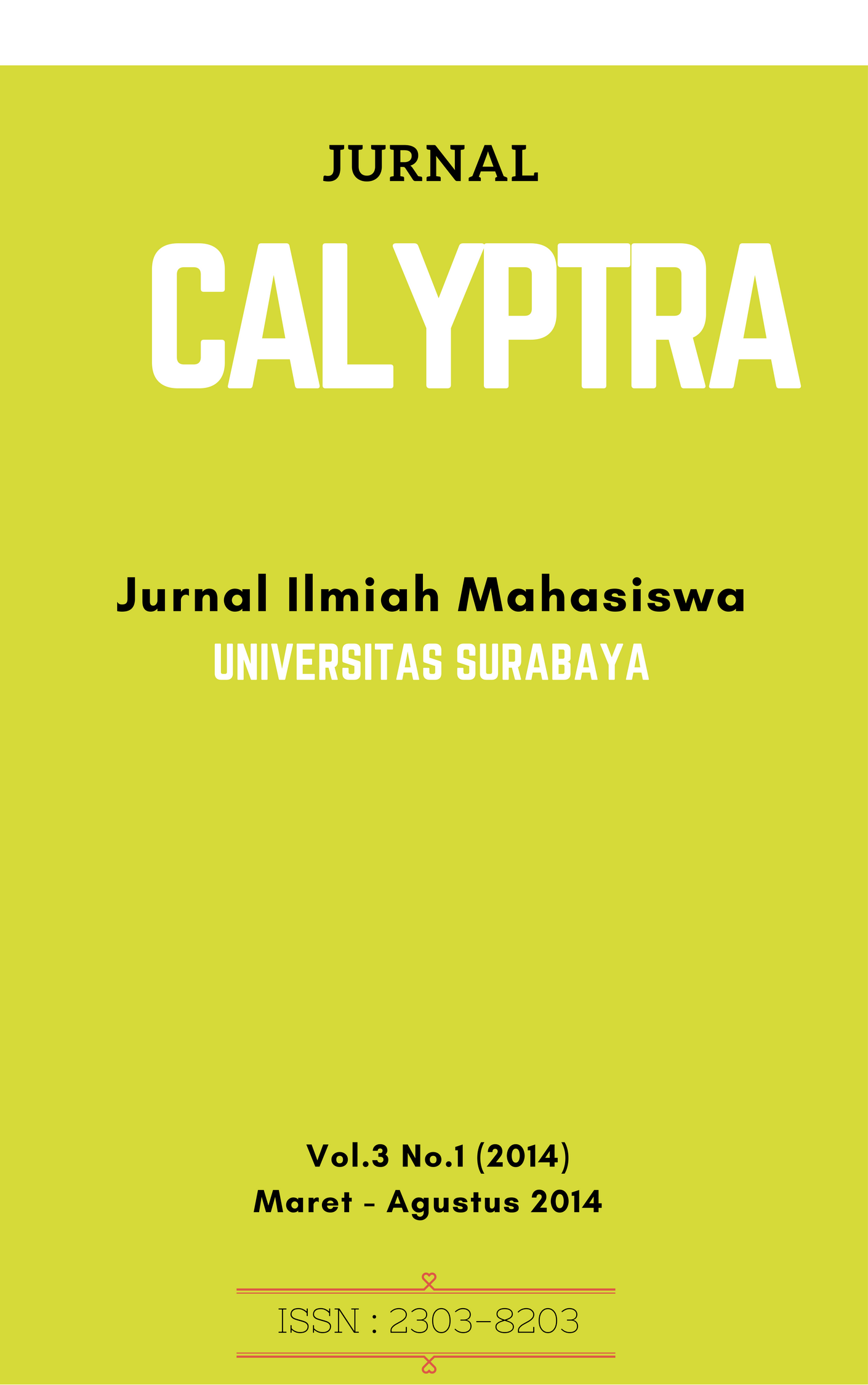 How to Cite
WIJOYO, Rosa Meilia. PENGARUH ANTARA CORPORATE GOVERNANCE DENGAN EARNINGS MANAGEMENT PADA PERUSAHAAN MANUFAKTUR YANG TERDAFTAR DI BEI PERIODE 2010-2012.
CALYPTRA
, [S.l.], v. 3, n. 1, p. Hal. 1 - 17, mar. 2014. ISSN 2302-8203. Available at: <
http://journal.ubaya.ac.id/index.php/jimus/article/view/870
>. Date accessed: 17 july 2019.
Section
Bidang Akuntansi (AK)